As an Amazon Associate we earn from qualifying purchases made on our website. If you make a purchase through links from this website, we may get a small share of the sale from Amazon and other similar affiliate programs. You can read our complete
legal information
for more details.
When it comes to having a hassle-free fishing experience, splurging a few bucks on the best baitfeeder reels is always a good decision. A baitfeeder loaded spinning reel offers two robust drag systems, which is vital if you don't want to mess around with drags while catching fighting fish.
Get the Shimano Baitrunner D Spinning Reels

if you want an instant recommendation. Their graphite frame and side plate, propulsion line management, Varispeed oscillation, Dyna balance, Super Stopper II, and standard rust-free bearings all create a rigid, smooth, and tough reel.
In this guide, I have considered many factors to come up with the best baitfeeder reels for you. So, let's get into it!
Best Baitfeeder Spinning Reels You Can Buy
Not all baitfeeder reels are meant to give you the best results. However, bait feeding can be made easier with some of the best options on the market.
We've made a concise list of our top 10 selections to help you choose your perfect baitfeeder reel. Let's move to our review section to make a worthwhile choice! 
1. Shimano Thunnus CI4 Spinning Reels
Whether it's a stray-lining design or angling with live or cut bait, it can't get any better than the Thunnus CI4 model by Shimano

. If you are looking for unrivaled adjustability while fishing, this one is a must-have.
Despite its lightweight construction, this model can easily tackle every inshore and medium to light offshore application. This is also an excellent choice if you plan to fish for large and saltwater species.
CI4 carbon and aluminum are used to alleviate the weight of the Thunnus CI4 spinning reel

, an upgraded version of the 2010 model. What makes it so convenient is that you'll get it in three different sizes to meet different fishing needs – 4000, 6000, 8000, and 12000.
Shimano CI4 featured a fusion of forged aluminum drives. Its hardened brass pinion offers you an unmatched smoothness and ease of use. On top of that, its propulsion line management pattern includes a unique rolled lip style. That means you don't have to deal with friction while casting, which gives you a smooth casting.
Overall, this high-quality and lightweight baitfeeder reel will ensure lasting durability. 
Pros
Lightweight yet robust construction
Excellent adjustability with dual drag systems
Good performance in high impact states
Ergonomic Septon grip for comfortable handling
Patented 6 shielded A-RB bearing system for a smooth retrieval
Cons
It may be heavy for a whole day of fishing.
---
2. Shimano Baitrunner Sea Striker Beach Runner Surf Spin 
When you're heading out to surf fishing, you'll need a fishing setup that can withstand even the most aggressive fish. The Shimano Sea Striker

is the best example of a spinning reel for surf fishing.
This spinning reel includes state-of-the-art technology and a legendary drivetrain. 
It has an auto-return baitrunner feature that improves castability, line lay, and drag systems. 
With a graphite frame and side plate, this spin reel doesn't compromise between sensitivity and strength.
Unlike a standard oscillation system that delivers inconsistent spool speeds, an oval oscillation gear can alter the oscillation cam's speed to offer a consistent spool speed. 
With the Baitrunner Sea Striker

, you'll always get better manageability and castability.
It incorporates a Dyna-Balance feature to avert wobble during retrieval, apart from these excellent features. Smoothness and responsiveness are improved as a result of this feature. What's more, it has a Fluidrive II process to enhance the efficiency of the retrieve.
Baitrunner features a super stopper II system to provide you with an instantaneous hook setting speed. This is an excellent pick for those who want a reel that will allow them to fish comfortably in the surf.
Pros
Dyna-Balance incorporated to eliminate reel wobble
Smooth performance thanks to the floating shaft
Prolonged lifespan due to excellent A-RB ball bearing system
Varispeed oscillation ensures good line lay
Fishing lines with fewer knots or friction
Cons
---
3. PENN Spinfisher VI Live Liner Spinning Reel 
Thanks to Penn's CNC gear system and IPX5 seal, the Spinfisher VI Live Liner Spinning Reel

is a top competitor in its class. Even if you spend a lot of time in the water, saltwater will not get into the drag system or gearbox.
Spinfisher VI's HT-100 drag washer is mounted on a full-sealed spool to provide you with excellent stopping power when catching large bait. This latest live liner model works on a 4-position switch that improves the rear drag system.
When live bait fishing, this will always be adjustable via its secondary drag system. It even lets you fish with a variety of baits and maintains accurate control over your baits.
As soon as the handle is rotated, the live liner can be automatically disengaged, and then the drag switch returns to the spool to fight drag. The light setting is activated with one click, making it excellent for live bait in calm conditions.
And two-click is a medium/ light setting, whereas three clicks allow a medium/heavy setting. With four clicks, it provides heavy tension for large live baits as well as assistance when fishing medium- or small baits when a lot of tension is required. Also, the 4-position live liner technology makes angling so easy and comfortable.
Video Source: TackleDirect

Pros
Incorporates CNC gear technology for long-term uses
Waterproof IPX5 sealed frame
HT drag washer to provide excellent stopping power
Works well for scrupulous game fish and live bait
Metal body and side plate ensure alignment under extreme loads
Cons
The handle is a bit small in size than regular.
Some angler says a little bit heavy
---
4. Shimano Baitrunner D Spinning Reels 
Suppose you wish to start your fishing journey on a reasonable budget. In that case, the Shimano Baitrunner D spinning reel

is the way to go. This medium-budget spinning reel will give you good performance if the proper care is given.
Shimano's new design also makes the spinning reel sturdy and comfortable. The graphite frame and side plate ensure extended service life. And you'll never fail to tackle any species size with a diverse range of baitrunner settings.
Another top feature of the Shimano Baitrunner D is its propulsion line management. It contributes to increased casting distance by removing wind knots and backlash. Varispeed technology uses an oval cam to create a smooth spool rotation. It also ensures an even distribution of lines on the reel's spool.
Fluidrive II technology adds improved gear strength, resulting in a smooth and effortless retrieve. In addition to these attributes, this reel also includes Dyna-Balance, SA-RB shield, and stopper II to give you an incredible fishing performance.
Video Source: TackleDirect

Pros
Available in four sizes to support multiple application
Water-resistant drag system
Best performance on saltwater fishing
Anti-rust, smooth bearings
Dyna balance technology prevents wobble and wind knot
Cons
Drag washer quality needs to improve
A slower rate of retrieval
---
5. Okuma CDX Coronado Baitfeeder Spinning Reels 
For those willing to give a classy look to their fishing rod, the Okuma CDX Coronado Baitfeeder

is just what they need. It's incorporated with an on/off baitfeeder system that allows fishermen to disengage the spool on spinning reels and let the bait move quickly.
A unique dual drag system with a carbon drag washer aids in enhancing drag pressure. The four plus one stainless steel ball bearings are entirely corrosion-free. So, you'll always expect smoothness and efficiency with the Okuma CDX Baitfeeder spinning ree

l.
The handle on this reel is made of aluminum and fastened with screws, making it tough and comfortable. Okuma CDX has come with a slower oscillation system to provide you with a better line lay and lower friction.
Credit: Okuma Fishing Tackle USA

Pros
Multi-disc carbon drag washer for optimal efficiency
Rotor equalizing system minimizes spool wobbles
Slower oscillations produce a tighter and straighter line
Hydroblock technology that prevents water and foreign particles from entering
Cons
The clicker on the reel is a little quiet.
---
6. DAIWA EMCAST BITE & Run Spinning Reel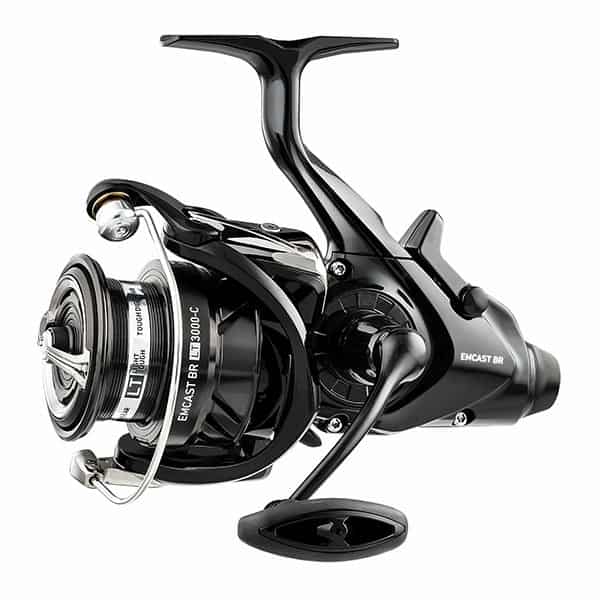 With the Daiwa spinning reel's EMCAST Bite N' Run feature, your line can pay off the reels as a gamefish consumes a natural or live bait. Its auto-clutch mechanism will allow a solid hook set when the line finally pays off this reel. This process is much more controlled than any of the traditional methods.
From 2500 to 5000 series, making it a versatile spinning reel for plenty of fishing applications. The design is based on the LT concept yet powerful enough to handle any high-impact situation.
Additionally, the air-rotor is lightweight and strong to give you toughness, balance, and sensitivity. Its slick machined handle offers a comfortable and tight grip. If you're looking for a new reel explicitly designed for live and natural bait fisherfolk, look no further than the innovative EMCAST BR LT.
Pros
Comfortable and tight-grip handle
Patented Bite N' Run technology for optimal output
Based on LT light tough concept
Automatic tournament drags for more incredible spool support
Cons
The reel size is a bit small.
---
7. Penn Fierce II Live Liner Spinning Reels 
The Penn Fierce II

is unbeatable for its unmatched performance when it comes to dependability and power. The entire frame is made of full metal and uses carbon HT-100 drag washers, making it perfect for both nearshore and inshore fishing.
Thanks to its 4+1 stainless steel bearing system, this spinning reel enables smooth retrieval. Besides, its superline spool and heavy-duty bail wire are designed to let you manage your catch easily.
The Pen Fierce II spinning reel

is ideal for a broad range of angling adventures. Its design allows for quality performance with a balanced cast as well as easy retrieval. Adjusting the drag system during a catch is simple, thanks to the top dial on the reel.
You can smoothly handle the reel, and it helps you give a quick response with its large or oversized handgrip. This fishing gear is lightweight yet powerful enough to tackle heavy bait.
Even after many years of use, it requires only a tiny amount of care and shows no sign of severe damage. With Penn Fierce II

, you can maintain better control over your lure, allowing it to fall more quickly without swinging back and forth.
Pros
Corrosion-free full metal body
Requires just two minutes for installation
Adjustable drag will come in handy to catch any size of fish
Stainless steel bearings for controlled catch
High-performance graphite rotor 
Cons
It may have a slight drag sound
The bearings are not fully sealed but shielded
---
8. Okuma Ceymar Baitfeeder 
Okuma's Ceymar Baitfeeder reel enables anglers to quickly release their fishing reel spool and let the bait operate freely. Its micro-adjustable drag systems will give you an accurate spool adjustment for the bait control.
When it comes to disengaging the system, all you need to do is turn the handle. This has an on/off lever just on the back of the reel that will disengage the system automatically, allowing you to fight with fish using the central drag system.
For those looking for a perfect balance between price and performance, the Ceymar baitfeeder

is a quality reel at a reasonable price. It uses a multi-disc oil drag system, which feels as smooth as butter.
There is a graphite frame with an aluminum handle and spool, ensuring an excellent result under the most demanding conditions. A precise elliptical gear system is added to eliminate friction during casting. Not just that, but it also improves casting accuracy and distance as well.
Thanks to its large spool, this spinning reel's line capacity and retrieval rate are good enough. And a high-end gear and rotor ensure that you get the most out of each crank, which is especially helpful when dealing with stubborn fish.
Ultimately, the Okuma Ceymar Baitfeeder

is an intelligent choice if you're looking for a decent price-to-quality ratio.
Pros
Reduces water incursion and corrosion
Maximum traction with its multi-disc drag washer
Sensitive and reliable baitfeeder mode
Black-anodized handle to withstand the daily wear and tear
Suitable for light application and long day fishing
Cons
Some angler say the handle too bulky
---
9. KastKing Sharky Baitfeeder III Spinning Reel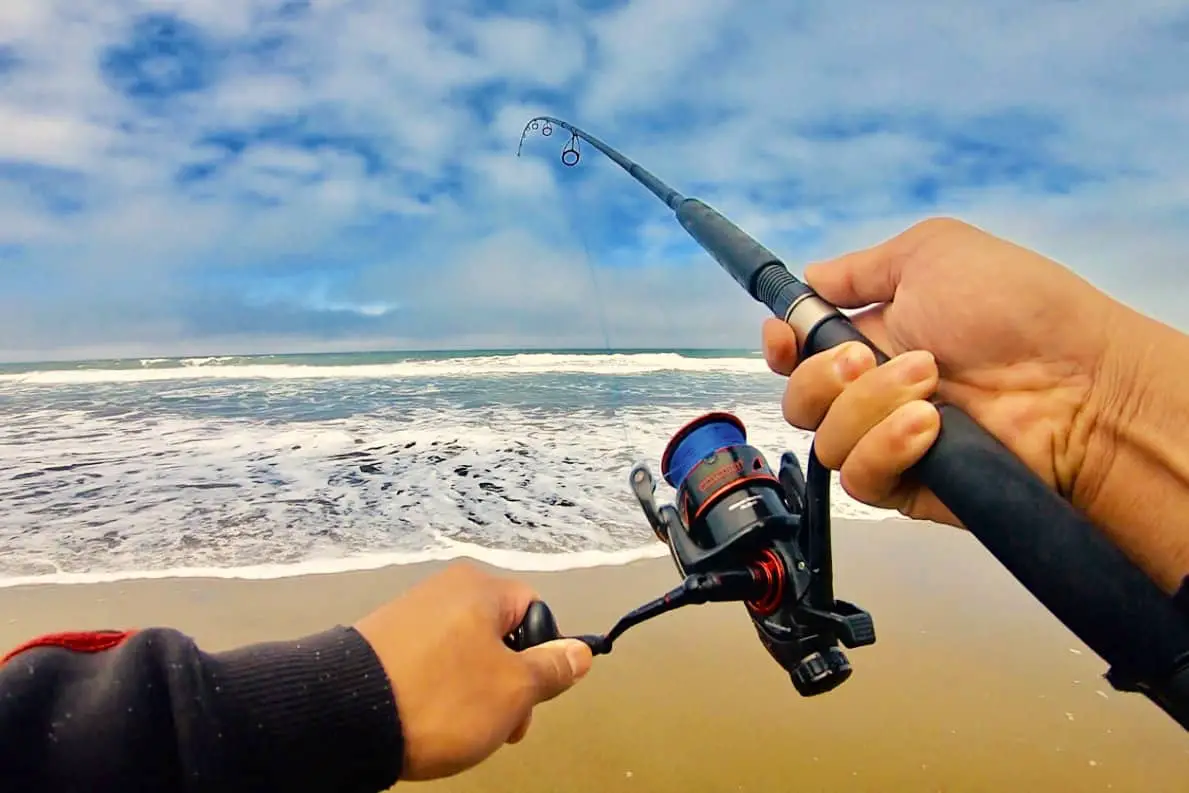 The KastKing Sharky Baitfeeder III

is an excellent choice if you're on a budget but still want a high-performance baitfeeder reel. This one is designed for both saltwater and freshwater adventures. What makes it unique from its market competitors is the 10+1 shielded butter-smooth bearing system.
KastKing Sharky Baitfeeder III Reel

provides maximum performance while fishing with its stainless steel shaft and powerful 5:5:1 gear ratio. Its carbon fiber drag delivers excellent power, even under stressful situations.
This has been designed with a CNC aluminum braid spool for added value. Considering its compact size, it can handle any saltwater or freshwater game fish with ease. While the front drag offers drag power up to 26 lbs., the baitrunner rear drag is suitable for cut or live bait.
This present model of KastKing Sharky is constructed to meet any fishing demands. This reel is much softer, durable, lighter, and solid than the older ones. Besides, there is an interchangeable handle with a T-grip aluminum handle for a smooth and relaxing angling performance.
Pros
Premium grade bearing and gearing systems
T-knob and aluminum handle to meet several applications
Corrosion-resistant graphite body
The Rotor system is computer balanced
Best for both salt and freshwater application
Cons
The retrieve is relatively slow
Sometimes it's difficult to disengage baitfeeder mode
---
When To Use A Baitfeeder Reel? 
Going for the best baitfeeder fishing is a wise idea if you plan to go fishing with bait. A wide range of bait can be used for fishing – chunk or meat, live bait, or dead fish.
When it comes to saltwater fishing, surf casting, or boat fishing, professional anglers prefer baitfeeder reels. To catch a fish using bait, you must first give the fish the least time to taste the bait before deciding to hook it up.
This means that you allow the fish to move along with the bait unimpeded. If you feel the fish got enough time to feed the bait into the mouth, you can turn off the drag and place the hook.
This baitfeeder feature generally helps you out if you plan to fish some stubborn or saltwater species like snapper, bluefish, catfish, striper, jewfish, etc.
What Is The Best Way To Use A Baitfeeder Spinning Reel?
What makes a difference between conventional and baitfeeder reels is the dual drag system? The primary purpose of this added drag is to deliver maximum support when you're fighting with some aggressive species.
The only thing you need to do is attach your bait, set your preferred drag, and cast the bait at the location where you believe you'll catch a fish. When the baitfeeder mode is employed, the string and bait come off the reel at a low resistance.
After ensuring that the fish takes your bait, you must wait for 2 to 6 seconds and let the fish take your line in baitrunner mode. Once you make sure that the fish puts the bait into the mouth, you have to flick the switch to take your reel out of baitfeeder mode to engage the preferred drag and set the hook.
And, voila! Now you're ready to tackle the fish with your preferable drag setting.
Things That Set Baitfeeder Spinning Reels Apart From Others
Bait feeders have a significant advantage over conventional because of their unique drag system. In this section, we'll go over some features to look for when comparing baitfeeder spinning reels.
Drag System
The drag system on your reel defines how smoothly you'll be able to retrieve. You must consider the size of the fish species you want to catch, and that's why you should look for the maximum drag power.
Baitfeeder Mode
While choosing a baitfeeder reel, it would be best to choose a reel that'll allow you to set a drag without any difficulty. If your chosen baitfeeder fails to provide quick access, you may lose a lot of bites or tackle. It's preferable to have the best reel with baitfeeder mode.
Build Quality
Considering the overall quality of a baitfeeder reel is a crucial point to consider. It's a waste of money if your reel doesn't last a long time. Generally, fishing reels are made of carbon, stainless steel, graphite, and aluminum. It's good to check out the product's specifications to make a practical choice.
Line Capacity
The size of your reel determines what length of line it can hold. The larger the fish, the extra line is required on your reel. You need additional stopping power to tackle the situation.
With the best baitrunner spin reel, you won't have to set the drag setting manually. However, it's kind of a nuisance to set the drag from zero to the desired level with a traditional spinning reel.
You need a minimum amount of time to find the correct drag setting. Sometimes, it may be impossible to get it in a hurry. But with a baitfeeder, all you need to do is flick a button, and you're ready to go!
Conclusion
If you're a fan of live bait fishing, getting the best baitfeeder spinning reels is good. However, it's not easy to find the best one out of many options.
Our article includes a list of the best baitrunner spinning reels. Nonetheless, if you wonder which one is most likely to best suit your needs, we would recommend the Shimano Baitrunner D Spinning Reels

.
Shimano's Baitrunner is a standout because of its innovative features, durability, and legendary performance. Baitrunners' newly redesigned profile lineup can handle almost any live-bait application. None of the nine baitfeeder spinning reels we've chosen won't let you down, though!