As an Amazon Associate we earn from qualifying purchases made on our website. If you make a purchase through links from this website, we may get a small share of the sale from Amazon and other similar affiliate programs. You can read our complete
legal information
for more details.
Surf fishing rods look complicated to people who have never used them. It can seem very daunting to buy your first fishing rod. So, I'm making this guide to help you pick the best surf fishing rods for beginners.
If you don't have the time or patience to read through the whole article, consider getting the Okuma Cedros Suf CSX Rod

. It has a strong carbon fiber build which also makes it lightweight. The grip is comfortable as well. All in all, it is a solid spinning rod and something I wish I had when I started fishing. 
But there are more. The perfect first-time rod can be different for different people based on your individual needs and preference. So, keep reading to find what's best for you. 
Best Surf Spinning Rods for Beginners
The rod is just the base structure of the construction. Many other factors define the viability of a rod. There's the rod, reel, line, guides, and many other factors to consider when buying one. So, now as a beginner, it can be difficult to check on all of that and your perfect fit. So, I've decided to make this list of the best spinning rods with beginners in mind. 
1. Okuma Cedros Surf CSX Rods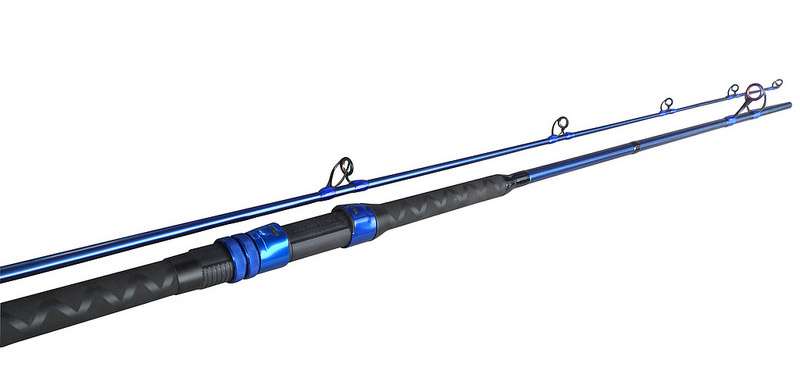 I like the Okuma Cedros Surf CSX

rod because it is easy to use. The blank carbon rating of the shaft is 30 tons. That places it above average in terms of durability. But not enough to directly compete with one-piece graphite. It is a two-piece rod, so be careful about that. 
The thing with two-piece rods is that you need to align them the right way. Misaligned rods will put more burden on the guides, which will corrode them. That would happen even without braided lines

.
Speaking of guides, the Cedros CSX-S-1002M

has 7 of those without counting the tip. But the guide rings are a bit funky and cause line snap. 
The Cedros series has a lot of options you can try. It is a fast-action rod with exceedingly high bite sensitivity. Ranging from 9-feet to 11-feet rod length, these rods are perfect for beginners. 
It is a carbon fiber rod, so the weight is significantly lower than most other rods. I don't like using rod holders too much, so the lightweight rods feel better for carrying all the time.
Overall, Okuma has top-tier components while being on the affordable side. The strength is lower than some graphite rods, but it is not far off. What it lacks in raw durability, it compensates with unmatched flexibility.
Pros
Strong Carbon-fiber Build
High Sensitivity
Comfortable Rubber Grip
Long Casting Distance
Cons
---
2. Tsunami Airwave Surf Spinning Rods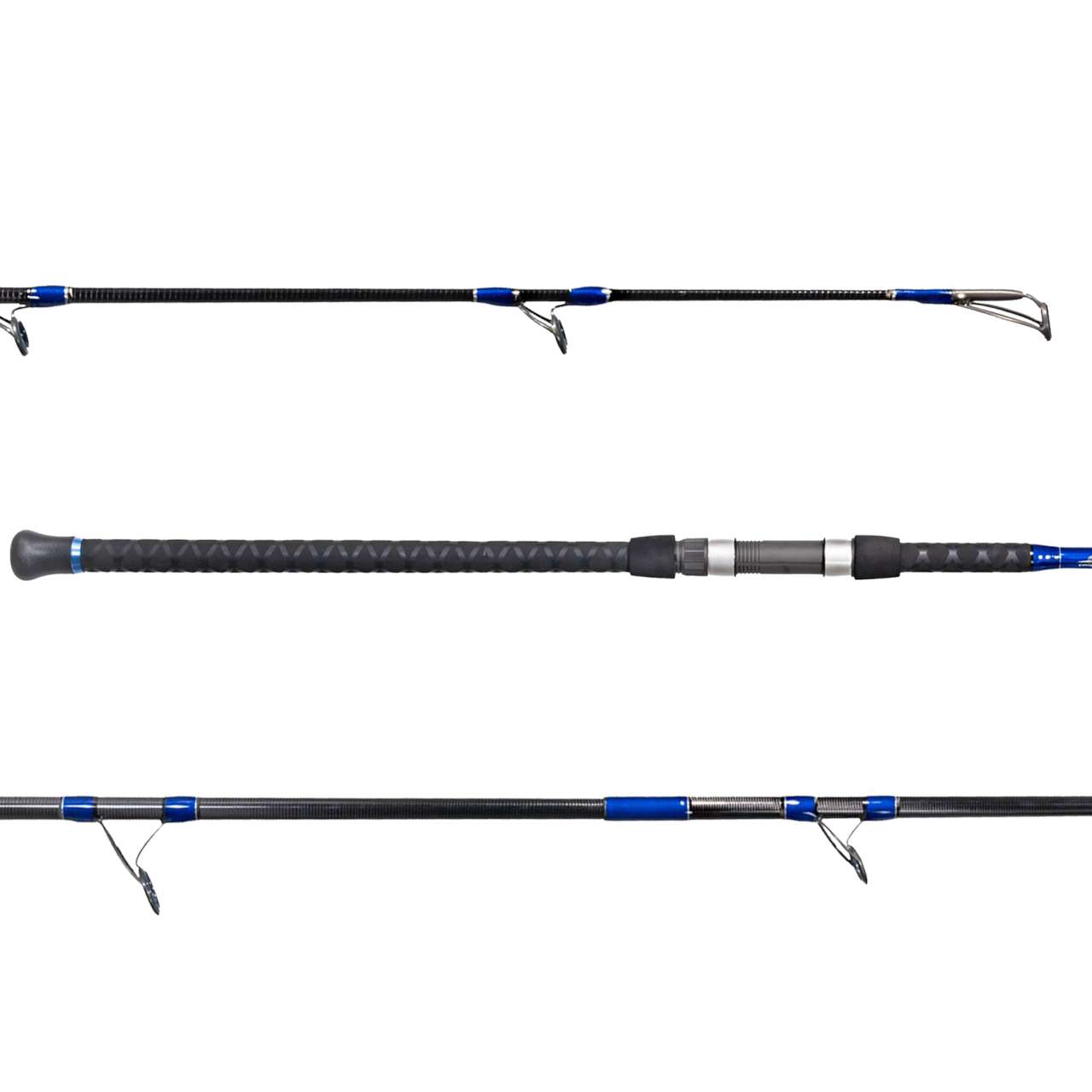 The Tsunami Airwave Surf Spinning Rods

is a powerful two-piece rod that is lightweight and durable. It performs well enough to be comparable to custom rods. I have a custom 10-foot fiberglass rod, and the Tsunami performs just as well. Except, my custom rod costs three times as much.
The casting on this feels exceptionally smooth. It has a deceptively long range compared to other similar rods. The longer casting range comes in handy when I want to fish from the beach. It also has a rating for 1–4-ounce tackle. I usually use 1–2-ounce tackles for general purposes.
It has a 15–30 lbs. line rating, which is a bit lower than the rod strength. I would avoid going any higher than that, though. This, however, means that it will protect your rod from possible snapping.
The guides are very durable for a rod this cheap. I generally use braided lines

, so the guides wear out sooner. But the ones on Tsunami Airwave seem to handle the friction rather well. It is a great pencil popping rod due to its exceedingly high blank strength and flexibility.
Pros
Lightweight Carbon Blank
Aluminum Guides
Fuji Graphite Reel Seat
Cons
---
3. Tica TC2 Surf Spinning Rods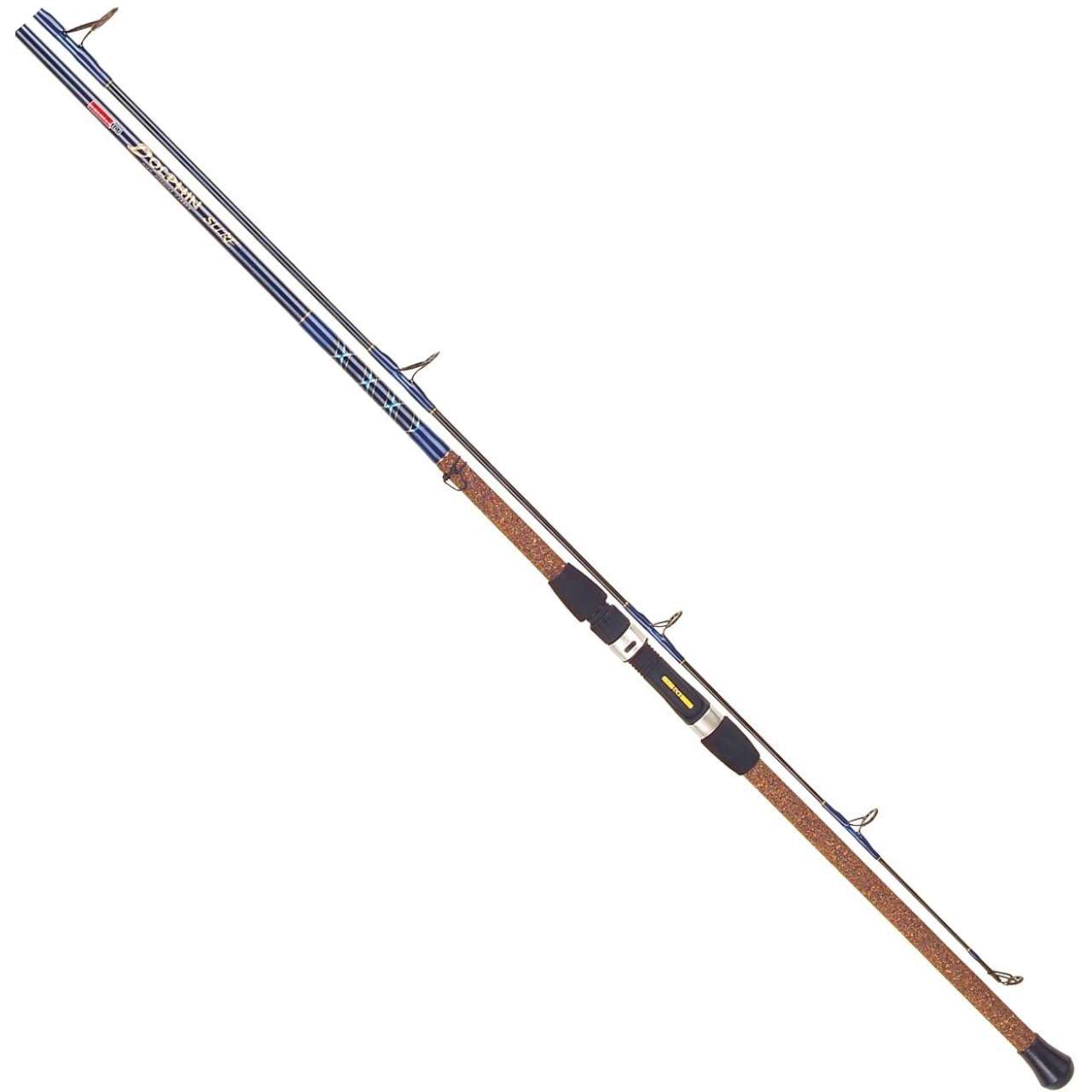 Now, let's move on to some heavier stuff. The Tica TC2 Surf Spinning Reel

is a graphite rod that is stronger and more durable than carbon fiber rods. The TC2 UEHA series uses high modulus Tc3 graphite to make the blanks. This material is far more durable than run-of-the-mill graphite.
The cool thing about the TC2 UHEA is that it has some of the best guides paired with an exceedingly strong blank. That makes its casting range exceptional, even among other long-range rods.
You can't cast long distances without having a heavy lure. Lightweight rods can barely handle 3 or 4 ounces of weight in this regard. But this UHEA TC2 rod

can handle up to 8-ounces. That means you can easily put 4-5-ounce crankbaits down without a hitch.
Despite being on the heavy side, these rods are not that tall. They are not short but long enough to be placed on a pole. I mostly just use it closer to the shoreline or from piers. 
When fishing from a pier

or a jetty, you need a fishing rod capable of carrying the fish out of the water. Lighter rods are usually not suited to that kind of stress. So, I keep this rod as a backup for when I need that extra bit of power.
Unlike the other surf rods, this one does not have a rubber grip. Instead, it uses a non-slip cork grip like river fishing rods. The guides are made of titanium oxide, and it is one of the toughest guide rings you can find.
Pros
High-Quality Fuji Ring Guides
Custom Outer Shell Design
Powerful Reel
Can Handle Large Lures
Cons
---
4. Tsunami Airwave Elite Surf Spinning Rod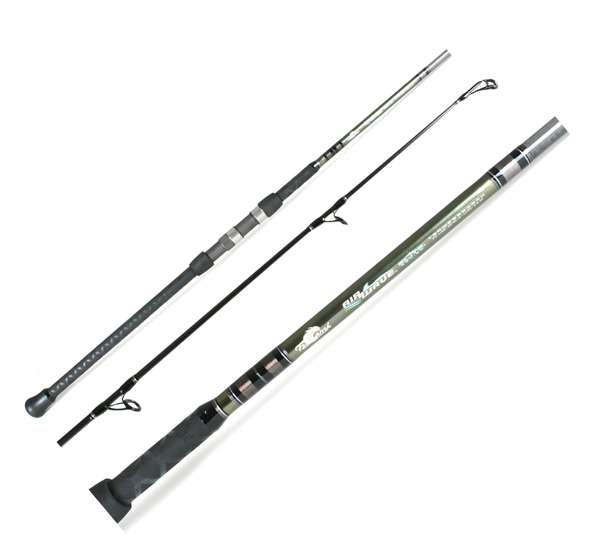 The Airwave Elite

is a lighter version of the already light Airwave series. With each new update, Tsunami tries to incorporate more quality-of-life features. The Elite series mostly consists of comfort rods.
That means that these rods offer higher performance even with low effort. I would say power management is the selling point of this rod. Other rods made from the same quality materials do not stand a chance against the energy transfer of this rod.
The 8′ is a smaller version of an already light rod. It is almost too lightweight and makes me feel a bit uncomfortable. But don't worry, it still boasts substantial durability.
The Airwave Elite

is a 70/30 split two-piece rod with a seamless joint. It's so well-made that it feels like a functioning one-piece instead. The 70/30 split also ensures perfect action strength. Its fast action bend makes it perfect for fishing from piers.
These rods come with a K series braided line, which pairs well with its resilient guide rings. After using it after a few years, I eventually moved to a more expensive braided line. The guides still look new. Their smoothness also helps protect the lines from wearing out.
The only downside to the smaller 8′ model is its lure rating. It can only handle 1.5-ounce lures effectively. That will be an issue if you are looking to land bigger fish. So, try to get a larger model. The larger models are stronger, but they cost a lot more too.
Pros
Higher Shock Recovery
Comes With Braided Lines
Corrosion Resistant Vinyl grip
Lightweight
Cons
---
5. Tsunami Trophy II Surf Rods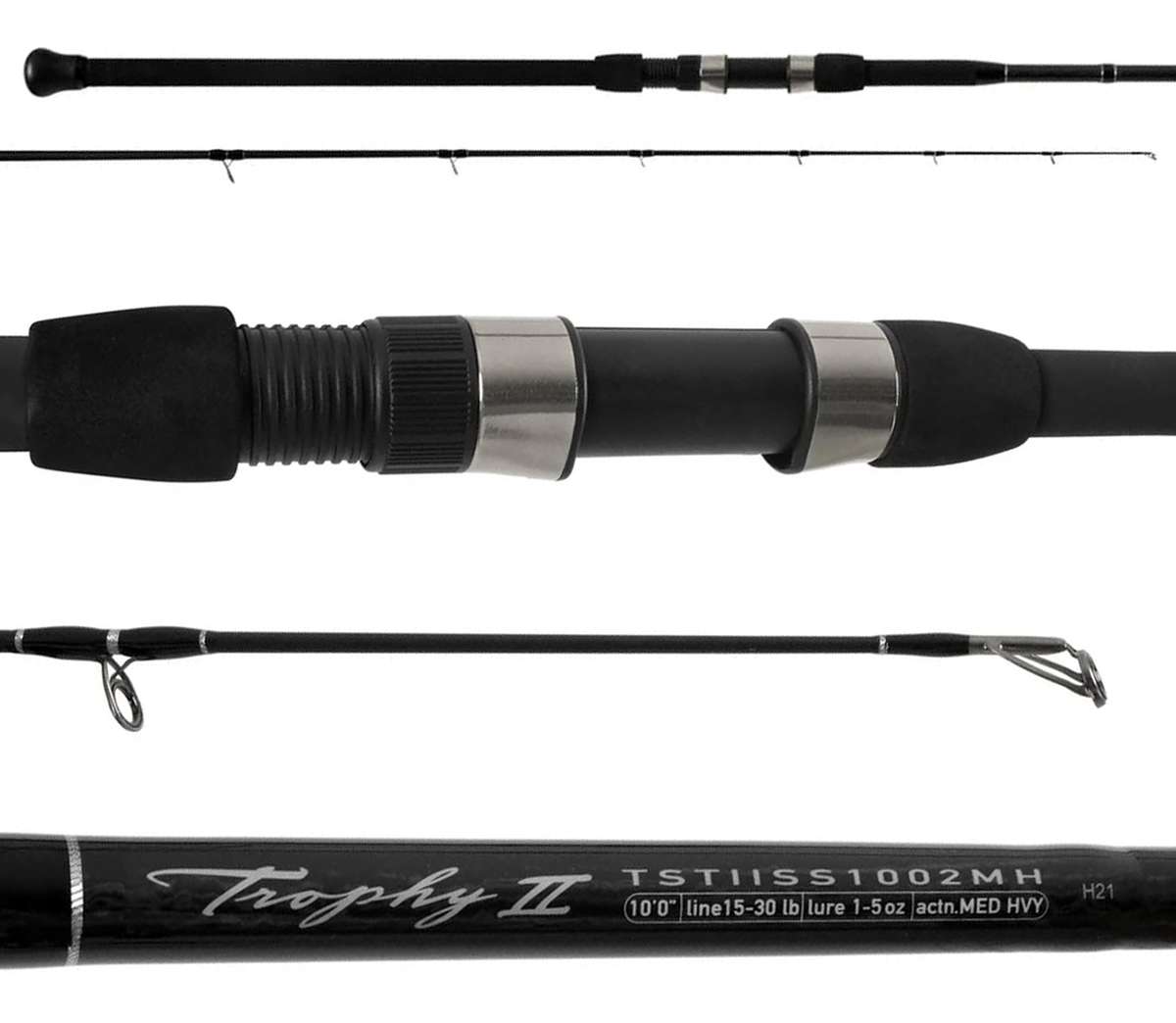 You probably heard of the Tsunami Trophy Rods

a few years ago. It is popular among many surf anglers due to its sheer versatility. But this one still lives up to the hype. Many newer rods still fail to meet the standards of the original Tsunami Trophy.
The Tsunami Trophy II

is a massive upgrade over the original Tsunami Trophy's design. It has more streamlined features than the first one while also easier to use.
The most outstanding part about it is the price range. It is significantly lower than what you would expect from a rod of this caliber. It is one of the best budget options for beach fishing due to how long it is.
Version 2 is a 70/30 split rod ferrule system with medium action. It makes a perfect arc, so it's less responsive than a fast-action rod. But that is fine for beach fishing. It's not suitable for catching small fish, though.
The high-density graphite blank gives it enough strength to handle larger fish. The rod also has a relatively smaller diameter. That helps concentrate the strength to give better pulling power. It also has foul-resistant guides to prevent braided lines from wearing it out.
One of the defining characteristics of graphite rods is their superior casting distance. The tsunami rod has many features to complement this trait. A powerful reel and forward-facing guides both add to the casting distance.
Pros
Heavy-Duty Graphite Blank
Exceedingly Long Casting Range
Forward Facing guides
Cons
---
6. Okuma Rockaway Surf Spinning Rods

The Okuma Rockaway

is a dedicated surf fishing rod by Okuma. It's a medium rod with a lot of strength for pulling in larger fish. It can also handle the elements better than most others. What stands out to me, though, is its awesome durability.
It has two layers of strength added to it. The first one is the 24-ton carbon blank. The second one is the XQ series stainless steel frame. As a bonus, the rod tip gets a unidirectional fiber tip. That thing adds both durability and flexibility to the tip.
The Rockaway

is a medium-sized rod, which means that the bend starts around the middle. That increases the pulling power and slightly increases the casting distance. The rod usually gets into a perfect arc while you try to pull something out.
I stuck with this rod mostly because of its weight. Normally, dedicated surf rods for large fish tend to be heavy. But this baby is lighter than some of the so-called "light" rods. 
This rod has a bit of a whacky grip cover. It looks like a cross-stitch design, but it is not cork. It's a foam grip that feels almost like rubber. I would reckon it is a composite grip material. And it is by no means a bad thing. I have never lost my grip while using this rod.
They added zirconium inserts to the guides as an added layer of protection. This reinforcement increased the corrosion resistance of the guides to soar. That also made it compatible with braided lines.
Pros
Highly Durable Graphite Blank
Can Handle Heavy Lure
Zirconium Guide Rings
Stainless Steel Frame
Cons
---
7. Daiwa Emcast Surf Rods

Daiwa Emcast Surf Rods

are an old classic that most veterans are familiar with. Being a spinning reel

rod, it was ahead of its time back in the day. Even now, I don't see many rods that can rival it in the same price range.
These rods are ridiculously cheap compared to some other ones. Even with reinforced graphite, the rod is easy to handle.
This model ranges from an 8-foot to 12-foot two-piece rod with a 50/50 split. The split ensures a perfect balance, and it still retains a semi-fast action speed. You could do some beach fishing or plug with it. But I would pick one a few sizes larger. Something around 9 feet to 11 feet is the sweet spot for me.
The Daiwa surf rod

does not have a cork handle. They used a foam handle made from something called EVA foam. The foam handles are comfortable and very durable. I'm usually very skeptical about foam, but I was pleasantly surprised this time.
I would rather have some good zirconia guides, but these are not that bad either. They can resist saltwater corrosion and friction from the line. They used aluminum oxide to build the guides.
One of the selling points of Daiwa is its sensitivity. I can feel every nibble and prob through the handle even though the rod is a two-piece. Then again, modern two-piece rods have come a long way from what they used to be. 
Pros
Lightweight Construct
Graphite Blank
Corrosion Resistant rings
Cons
Foam Handles are Not the Best
---
8. Tsunami Sapphire XT Surf Spinning Rods

The Tsunami Sapphire XT

is the ultimate budget option if you want to get into surf fishing. I would also recommend it to people who are still tentative about taking up a new hobby. It is a rod with a few bells and whistles, but it has all the necessary features.
This rod is a very well-maintained, functioning rod that does not cost anywhere near as much as the conventional ones. It does give it some extra sensitivity and strength. It is a composite rod made of both graphite and fiberglass.
The cool thing about this rod is its versatility. It's flexible enough to handle every fishing technique if it's not too strenuous. However, it does not have a flexible tip like most lighter rods. The solid tip is approximately 30% lighter, but it slightly reduces sensitivity.
The texture-shrink vinyl grips are alright, in my opinion, but they are not the best. I would prefer something more slip-resistant. It does come with some decent aluminum oxide ring guides. The ring guides are very decent for the price range. 
The Tsunami Sapphire XT Surf Spinning Rods

 have many options. You can choose from 8 feet to 11 feet in length, The power of the rods is medium-heavy to heavy. 
Beginners can use this rod as a training set until they are ready to invest in something better. Even if you don't want to reinvest, this rod can still give you some fun fishing time.
Pros
Aluminum Oxide Guide rings
Respectable Casting Distance
Lightweight Frame
Cons
---
What To Check Before Buying a Fishing Rod
Fishing rods are far more complicated than most people think. That makes selecting the right one for your needs much harder. But a few universal qualities of fishing rods define their characteristics.
Here's a list of things you would probably want to pay attention to before purchasing a rod:
Rod Length
The length of a fishing rod is more crucial in surf fishing than any other aspect. The length represents how far you can wiggle the line and your casting range. 
Often, you'll need enough length to swing over crashing waves just to get the Lure in the right place. That is especially true when fishing for sharks.
The ideal length for a surf fishing rod

is ten feet long. But anything over eight feet works just as well. But getting a longer rod should always be your goal. Shorter rods give better accuracy and sensitivity, but longer rods have more reach and power.
Action Strength
Most non-associated folks don't know what a rod's action strength means. It is a technical term that describes where the bend starts when a fish pulls the hook.
You may notice that some rods start bending at the tip first, followed by the middle, and even further below. The fastest rods bend at the tip first, and the slowest ones start bending from below the midway point.
The fast rods offer more sensitivity. You will notice even the smallest nibbles when the tip moves. That is why most fishing rods these days are either fast action or, at most, medium action. The rods with slower action strength tend to be easier to maneuver. You can also control the bait better with those.
Reel Type
There are two types of reels you will see people use. The old-school one is the conventional reel. Conventional reels are perpendicular to the rod, and spinning reels are parallel.
The main technical difference is that spinning reels

are faster. The conventional reels have more drag and are easier to control. They also offer more casting distance.
There's a huge controversy over which one is superior. Both types have their strong points. So, I suppose it comes down to personal preference. But for surf fishing, you want all the cast distance you can get.
Lifting Power
This is where many beginners get confused when they go out to pick a rod. A lightweight rod implies that it's a rod that weighs very little. But there's always some rating on a buyer's website that says "heavy," "medium," or "medium-heavy."
This weight class is not for the rod itself. This category is for identifying what kind of weight the rod can handle. Medium power rods are commonly used to catch slot redfish, Flounder, and Pompano.
Medium-heavy rods can work on bull redfish, stripers, and the like. Heavy ones are for medium sharks, larger mackerels, and tarpon.
Depending on the fish species, you want to get the heaviest power possible rod for surf fishing. That's because surf fishing is the easiest fishing sport to land larger fish. Even baby sharks are categorized as medium-to-large fish. So, check this rating before buying a rod.
The Material Composition
The core material plays a significant role in determining a rod's performance. These days, the blanks, or the base rods, can consist of many materials. 
The most expensive one would be graphite. Sometimes you will see reinforced graphite or a mixture of other substances. These are a tad bit heavier than conventional building materials. But they offer superior durability and sensitivity.
The cheaper option is fiberglass. It can also come with reinforcement or some other modifier. But most of these rods have very similar characteristics.
There's also a mixture of both fiberglass and graphite. They are the composite rods that have started gaining popularity. It has the qualities of both, but they cost more than fiberglass and are not as high quality as graphite. Think of it as hippies wearing business suits.
Rod Segments
Two-piece rods are getting all the hype these days, but there are still plenty of one-piece rods out there. Choosing between the two types comes down to convenience. 
The two-piece rods are easily portable because you can disassemble them. But they often come with flaws like misaligned guide rings and brittleness. Even sensitivity suffers from time to time.
That kind of stuff happens if you get a low-quality rod, though. Most top-tier two-piece rods should never have those issues. My preferences come down to my storage space. If it's over eight feet long, I'd prefer a two-piece over a one-piece.
One-piece rods are generally fantastic in performance but lugging them around is a chore. And most surf fishing rods tend to belong there. That is why manufacturers make them two-piece.
Conclusion
The fight for supremacy between the best surf fishing rods for beginners is tough. In the end, Cedros and Airwave both are neck and neck, but I think the former is just that bit better. Though, that might be purely based on my preference for Okuma. 
You should probably avoid different confusing types of rods on a side note. Ideally, you want longer rods with a fast action setup. There are trolling rods that are mostly for boats. You don't want those for surf fishing. Ice fishing rods are also something you want to avoid.