As an Amazon Associate we earn from qualifying purchases made on our website. If you make a purchase through links from this website, we may get a small share of the sale from Amazon and other similar affiliate programs. You can read our complete
legal information
for more details.
If you are looking to get into fishing, you might be looking to buy a wader for it. However, this can be a very difficult task because of the abundance of products in the market. That is why I have come up with a list of the best waders for fish surfing to help you decide.
If you want to know about the perfect wader for fishing, I'll suggest the Simms Waders

. These waders are made of patented fabric technology, making them robust, durable, and very comfortable. They are abrasive resistant and also have multifunctional waterproof pockets and zippers. All these features made it my top choice at its price. 
That being said, there is no shortage of options in the market when it comes to fishing waders. All have their own special features and advantages. So, before buying one, you must think of your needs and the price. That is why I've come up with various waders at different price points. So, give this article a read to have a proper idea about fishing waders. 
Best Chest Waders For Fishing 
Price is a big issue when it comes to buying fishing waders. Usually, there are three price points. These are premium, mid-budget, and budget waders. All of these have their own advantages and advantages.
For example, Premiums are good overall, but their price is very high. So, you need to assess all the features and the price before ordering one.
That is why the list I've come up with has 3 different price ranges:
Premium waders above $500.
I discussed the mid-budget ones, which are around $300.
I picked some waders, which are under $200.
So, it will hopefully give you a proper idea about waders and help you decide on your purchase. 
1. Simms G4Z Wader – Stockingfoot
The Simms G4Z Wader – Stockingfoot is one of the best waders for fishing available on the market. It offers excellent durability and comfort for the wearer. 
It uses a new fabric technology from Gore-Tex. The upper part is a 3-layer Gore-Tex Pro Shell. On the other hand, the lower part is made with a 4-layer Gore-Tex Pro Shell for better performance and durability.
Because of the proprietary fabric technology, the wader is also completely waterproof, very light in weight, and provides the highest level of breathability. So, it will be great for mobility, and congestion will not be an issue.
The YKK extendable zippers are waterproof and great for very easy on/off and quick relief. So, this particular wader is good for long sessions of fish surfing.
This wader is also great on gravel and rocky surfaces. That's because it has patented gravel guards that are 2mm abrasion-resistant. So, this wader works excellent for both conditions without any worry. This wader also has compression-molding boots.
So, they will fit better with the legs. As a result, no risk of slipping or anything. The anti-microbial finish ensures no bacterial growth.
The Simms G4Z Waders

also have a lot of storage systems in them. They have 2 zippered pockets on the chest with retractor docking ports for easy access to fishing necessities. The zippers are also waterproof.
Along with these, this wader also has an air-mesh suspender system with durable and safe buckles. Finally, these waders are all handmade. So, the quality is very high. 
Pros
Fabrics are made with Gore-Tex technology for maximum durability.
Waterproof zipper.
Multiple pockets to keep essential.
Has an antibacterial finish on the surface
Resistant to the abrasive surface
Handmade in the USA
Great mobility
Cons
Not available for women's size.
Pricey
---
2. Orvis Men's Pro Zipper Waders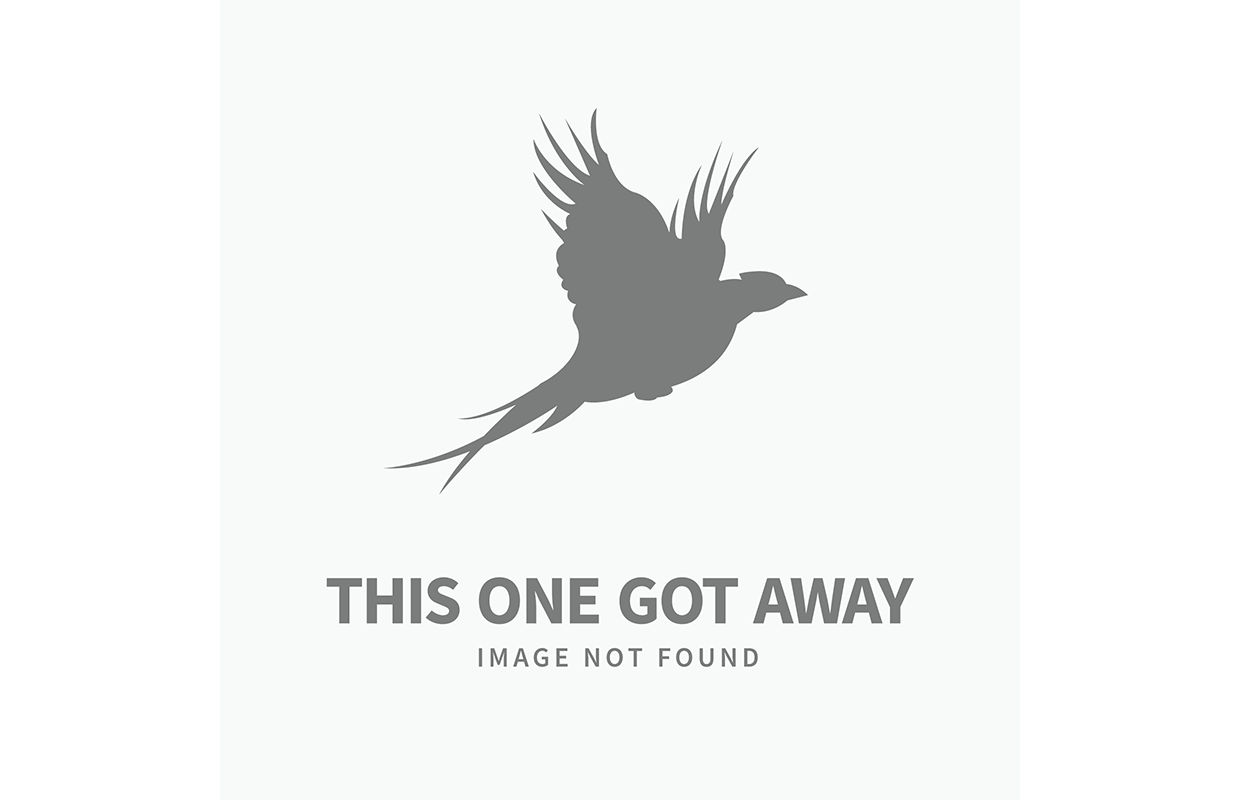 The Orvis Men's Pro Zipper Waders are one of the popular choices when it comes to fishing waders. They are known for their convenient and comfortable experience. These waders are made of a unique Cordura® fabric that is very robust.
The lower legs of this wader have a 5-layer shell, and the upper legs have a 4-layer fabric shell. So, they have one of the best quality builds overall.
Another great thing about them is that you can easily put them on and off. That is because they include TIZIP MasterSeal zippers to ensure convenience. These waterproof zippers will keep the inside dry.
On top of these, they also have gravel guards for increased durability on rocky surfaces. It also decreases drag and water accumulation inside the water. 
They also include Split fleece-lined pockets. In addition, two more pockets with YKK AquaGuard® coated zippers are there for additional storage. You will also find another tool docking chain on the upper body.
The chain is a proprietary Hypalon Daisy chain for consistent performance. Along with these, the water comes in various sizes to fit anybody. 
Unlike many waders, the Orvis Men's Pro zipper waders include knee pads for better safety. These patented OrthoLite X25 provide much-needed comfort and help to prevent any injury. You can also remove them if you want.
The elastic suspenders in the wader are also adjustable. As a result, you can change the waist height as you want. 
Pros
Long-lasting patented fabric technology.
Additional storage pockets
Waterproof zippers
Removable knee pads 
Reinforced gravel guards
Various size available
Very lightweight
Cons
---
3. Simms G3 Guide StockingFoot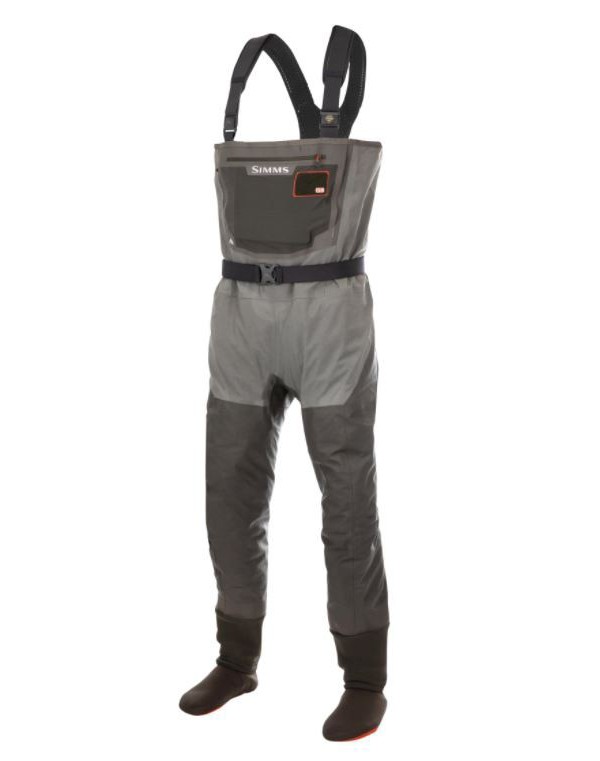 These waders are great for their budget. They provide great value for money. The Simms G3 Guide StockingFoot Waders

is made with innovative Gore-Tex fabric to be more durable. The great thing about this fabric is that it is 33% more breathable than the previous versions.
The upper part has a 3-layer protective Gore-Tex Shell, and the lower part is a 4-layer. So, durability is not a question with this. 
They have two warming pockets for your hand when you fish on the upper body. In addition to these, they also include additional storage on the chest. 
These pockets and storage contain waterproof zippers. There is also an additional Flip-out Tippet Tender pocket for storage, and it's easily removable. It also includes zippers capable of dual entry for other needs.
These waders come with front and rear leg seams that are also patented. They give an articulated fit, optimal comfort, and movement in these waders through the water. 
Gravel guards prevent abrasions and any injury to the wearer. Adjustable suspenders help to fit them perfectly. The built-in belt loops allow the wearer to adjust the wader with their waist. 
Pros
Durable and comfortable 5-layer fabric shell
Very lightweight
Zippered pockets
Adjustable suspenders
Comes with gravel guards
Fits any body and size
Dries really quickly
Less pricey than the others
Cons
---
4. Simms Freestone Z Men's Stockingfoot Waders
The Simms Freestone Z waders

 can handle any kind of weather and heavy use. These robust waders have 4 layers of Quadra-Lam fabric and breathable patented fabric.
So, you'll not feel uncomfortable in them. As a result, you can easily wear these waders in fish surfing and trails. They will ensure both comfort and agile movement. The price is also low compared to others.
These waders have waterproof patented TIZIP zippers. These help the wearer to quickly take them on and off. So, there are also two large fleece-lined pockets to warm your hands.
Tools and flies are kept in two chest compartments with built-in magnetic retainers. Above all, these waders keep you toasty and dry while you're out on the water.
The neoprene stocking feet are anatomically designed to fit properly. So, you can fit them perfectly. The included waist belt has elastic 3 belt loops.  
They also include an antibacterial finish on the body to prevent fungus and other things. The built-in gravel guard keeps the wader safe from any kind of damage or puncture from abrasive surfaces. So, you can surf without worries.
Pros 
Breathable multi-layer fabric for durability
TIZIP zippers for reliability
Elastic suspenders along with belt loops
Storage pockets
Patented gravel guard to prevent abrasions
Maximum comfort
Cons
---
Top Waders For Fishing Under $300
Now, if you have a tight budget, specifically under 300$, then there are plenty of options out there as well. Let's take a look at some of them. 
5. Redington Men's Sonic Pro Fishing Waders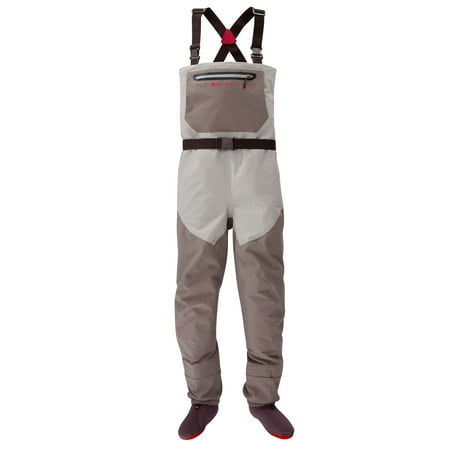 If your budget is under $300, then Redington Men's Sonic Pro Fishing Waders are an excellent option for you. These Waders feature 4-layer breathable and waterproof fabric and SonicWeld seams for uncompromised performance on the water and trails.
So, the material will provide you comfort in longer fish surfing sessions on the river. So, the performance of this wader is excellent.
These waders are made of anti-corrosive materials from top to bottom. As a result, the lifespan and the durability of these waders are great. In addition, they also include pockets to warm your hands. They are fleece-lined two-sided pockets.
There are also storage pockets. These mesh tippet pockets come with zippers to prevent water leakage to the things inside. 
These budget waders are designed with a minimalist view. So, they only contain all the necessary features for fishing. They have neoprene booties which are 3.5 mm in size to provide comfort.
The bottom is 4 mm thick for long-term usage and avoids compression and puncture on rough terrain. 
They also feature adjustable belt loops to comply with the wearer's needs. The belt loop can fit almost all utility equipment like pliers and others.
The suspenders are also very elastic and quite soft. They rest easily on the shoulders and don't put any additional pressure. So, sore shoulders are not a problem with Redington Men's Sonic Pro waders.
Pros
Very inexpensive
Adjustable shoulder strap
Pockets to warm hands
Belt loops for various types of equipment
Neoprene booties for durability
Multi-function pockets
Come in various sizes
Cons 
Lacks enough pockets
Not that abrasive resistant
---
6. Simms Freestone Waders
The Simms Freestone Waders

are a very lightweight fishing accessory at an affordable price. They are perfect for any weather conditions and water and various trails. That is because they use patented Toray Quadra-Lam fabric to make this wader.
The wader comes with 4 layers of this high-quality fabric to provide durability for longer. So, it can easily withstand heavy use and pressure.
These waders do have multiple pockets for various purposes. The upper part has two fleece-lined pockets to warm your hands in cold conditions. Along with these, a chest side pocket is also present to carry any kind of tools that you might want. Another good thing about the pocket is that you can turn it over if you want to do so. 
It also features a gravel guard to safeguard it from any kind of abrasion and puncture. As a result, it can withstand rough areas and trails quite easily. The stocking feet have an anti-microbial coat on them to prevent bacterial growth. They also fit perfectly. The waist belt in this wader has 3 loops to configure the belt with your body. 
Pros
Premium quality 4-layer fiber
Multi-purpose pockets
Gravel guards
Pockets with good zippers
Belt loops for tools
Affordable price
Cons
Can leak sometimes
No knee pads
---
7. Orvis Clearwater Bootfoot Fly-fishing Wader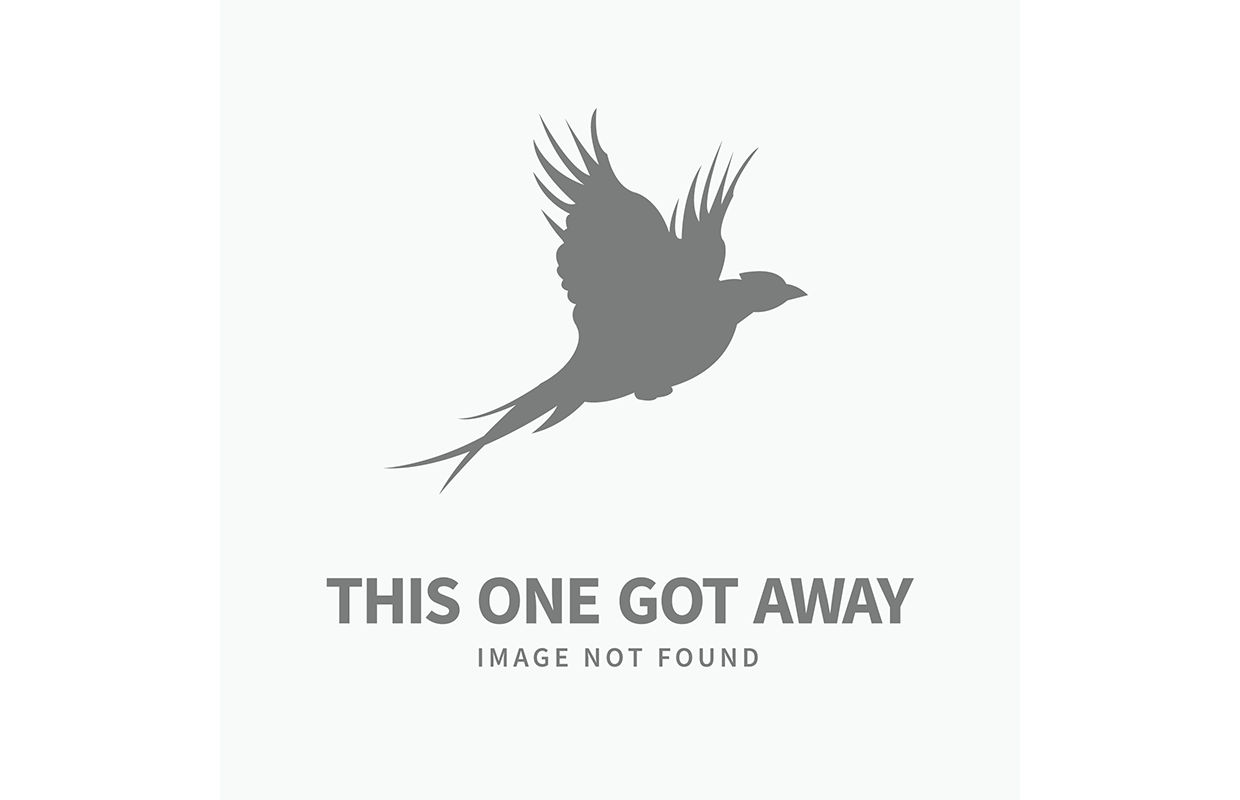 If you're looking for a fishing wader under $300, you may give Orvis Clearwater Bootfoot Fly-fishing Wader

a thought. This particular wader is very lightweight and slim-looking. The fabric used here is nylon, but it is a 4-layer fabric that is very robust. It also allows adequate air to enter.
The wader is waterproof. So, it will cause no trouble even in the longer fishing sessions.
It has multiple pockets on it. It also includes a hand-warming pocket on the upper part. It is a kangaroo-style pocket for your cold hands on the chest of the wader. 
Along with this, it has other pockets for storage also. As a result, you can carry all the necessary utility tools for your needs. The pockets also contain stretch panels. There is also a place to attach another pocket. 
Orvis Clearwater Bootfoot Fly-fishing waders

allow waist-high conversion for hot weather. It contains seam construction with a low profile to maximize mobility and comfort. The belt loops are great for carrying things.
Another great thing about this wader is that it has adjustable suspenders to fit properly. It also includes felt-soled on the bottom for added comfort.
Pros
Felt-soled bottom
Budget-friendly
Storage pockets available
Belt loops included
Waterproof
Cons
---
8. Orvis Men's Ultralight Convertible Fishing Waders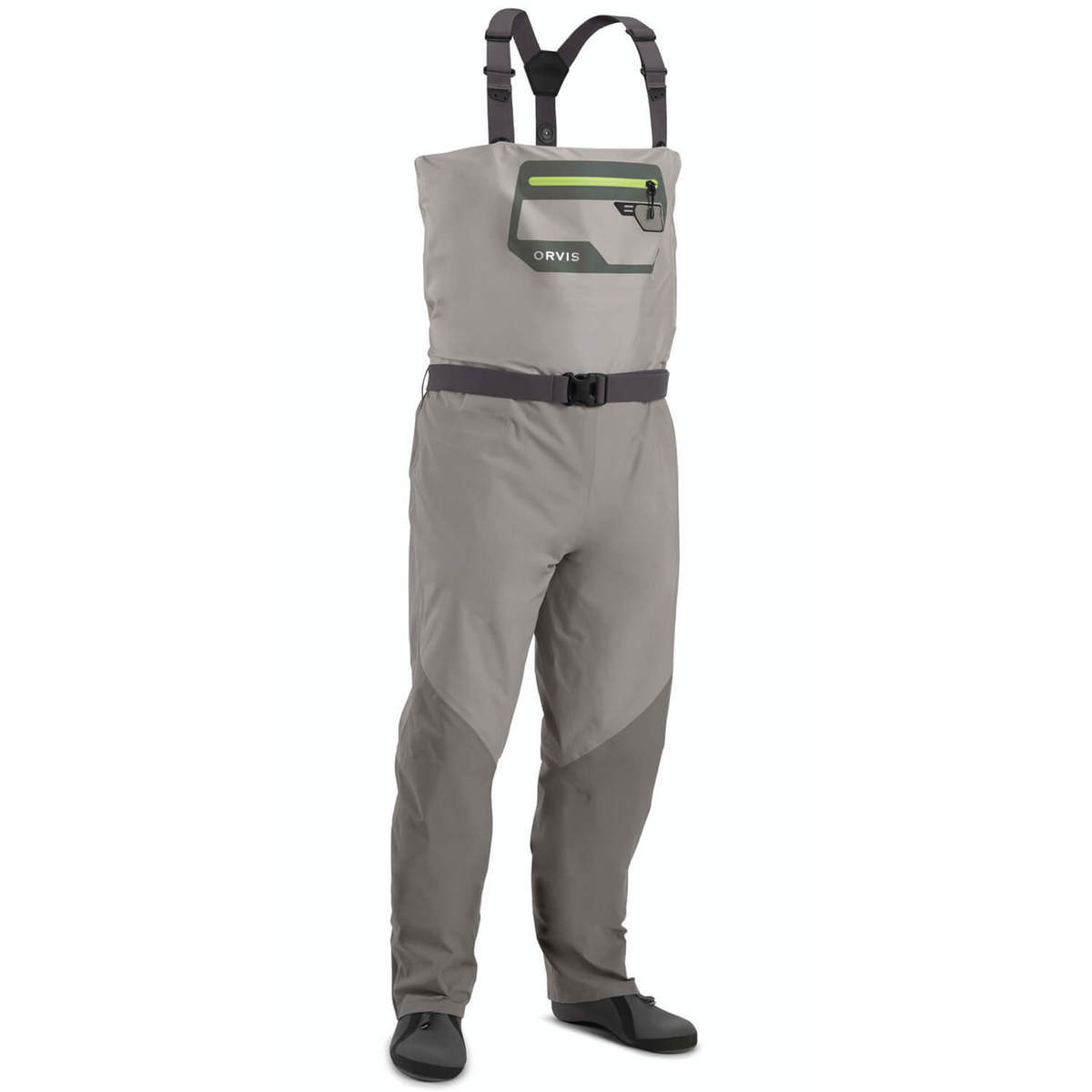 The Ultralight Convertible Fishing Waders

from Orvis is an excellent combination of comfort and convenience. It gives you superior performance on the water during long trips. The wader is extremely lightweight.
As a result, you can comfortably move around in a quick time. It also has a very slim design. So, expect no extra bulk is visible on the fishing wader. It fits your body perfectly. 
Orvis used 4 layers of 100% nylon fiber on this wader. So, the wader is waterproof. However, the wader let in enough air also. As a result, there's no chance of congestion inside the wader.
Another great thing is it has additional storage pockets on the body and is equipped with a YKK Aquaguard zipper which prevents water from getting in. 
These waders also come with gravel guards, which protect the wader from puncture and abrasion. In addition, it also lessens the drag in the waters.
The Fidlock magnetic fasteners in the wader help you to wear it on your waist. In addition, the gusseted crotch design increases the mobility and the durability of the seam. The booties are mainly neoprene.
This wader also includes belt loops so that you can carry the necessary utility tools with you during your fish surfing. It also allows you to attach a removable waterproof pocket. 
The wader contains a new low-profile seam structure with targeted reinforcement in high-stress parts. Adjustable suspenders permit you to tight them accordingly to your body.
Pros
Budget-friendly
Gravel guards for protection
4 layer nylon fabric
YKK Aquaguard Zipper
Quick on and off
Adjustable suspenders
Lightweight
Cons
Might leak 
Gravel guards can detach
The strap system can falter.
---
9. Frogg toggs Hellbenders Chest Waders 

The Frogg Toggs Hellbenders Chest waders

provide you with many features at a minimal budget. They come with 4 layers of nylon fabric on the body. So, they deliver both comfort and robust performance to the wearer.
They can withstand heavy use on rough terrains or rivers. They also boast a chest pocket that comes with zippers. This pocket works as a hand warmer also. 
This wader comes with extra horizontal storage pockets for carrying various tools and gears along with the hand warmer. It also has neoprene boots. So, it will provide the needed warmth to the feet on long river sessions.
The midsoles will provide you with extra support also. In addition, the knees have extra padding for comfort. 
These fishing waders also have X-shaped suspenders, which can be easily adjustable. They are very soft on the shoulder. As a result, you will not suffer from any sore shoulders.
The steel shanks they have, provide solid footing in the water, while toe covers shield you from submerged obstacles. The cleated soles are great for trails also. 
Lastly, the wader also includes a wading belt for better fitting. The belt comes with a locking buckle; as a result, the wearer can adjust it whether he likes. All of the buckles are capable of quick release. So, you can take it on and off easily.
Pros
Waterproof nylon fabric
Boots with neoprene materials
Toe caps for extra safety
Storage pockets
Extra knee padding
The wading belt for fitting
Adjustable soft suspenders
Cons
---
Best Waders For Fishing Under $200
If you've just decided to get into fishing or just plan on casual surf fishing, maybe paying around $300 is not the best idea. If you belong to this pool of consumers, then here are 5 waders below $200 for you to choose from. 
10. Caddis Neoprene Bootfoot Waders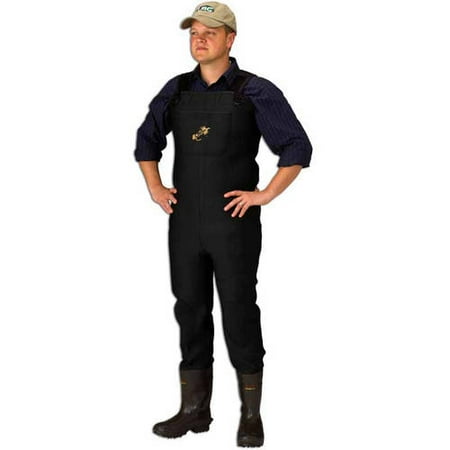 The Caddis Neoprene Bootfoot Waders

is one of the finest waders for surf fishing. It is designed to provide maximum warmth. Another important spec of this wader is that it is very flexible, which is not very common at this price point.
This wader is made with 3.5 mm neoprene which makes it waterproof. So, it is great for both rivers and trails.
 The wader also includes a great anatomic design and comes in a beautiful forest green color. It also has bib-style neoprene suspenders and a high back design. 
This material provides excellent comfort in colder situations. The high back construction provides support to your back. The knee paddings also help safeguard your knees and legs in the water.
In this wader, there are reinforced knees and two front D rings. It also includes a pocket where you can warm your hands. Additional storage pockets provide you with storage for tools.
Also, the seams are taped, glued, and stitched together on the inside of the warder to keep it warm. It also has a Knobby Bootfoot Design on the boots and 200 grams of Thinsulate.
Pros
Fully waterproof
It's simple to put on and take off.
It's easy to put on and walk-in
Suspenders with velcro closures.
Thicker fabric layer
Comfortable to wear
Cons
A little tall in size.
Heavier in weight than others
---
11. BASSDASH Men's Breathable Lightweight Chest and Waist Convertible Waders 
The BASSDASH Men's Breathable Lightweight Chest and Waist Convertible Waders are very well designed and also comfortable multifunctional fishing waders. 3 layers of thick, durable fabric make up this adaptable wader.
The material is very lightweight and robust. It also lets inadequate air inside the wader. So, the wearer will not feel uncomfortable. 
Convertible chest and waist levels are other great features of this warder. It's very simple to alter. This wader also features simple suspenders at the waist. So, it is very easy to work with. In addition, the wader can be converted to a waist-high wader. Because they are composed of elastic materials, these suspenders are easily adjustable.
It has a big chest storage pocket with a YKK waterproof zipper to keep the inside dry. The interior chest zippered pocket swings out for convenient access. There is also a side hook on the chest for attaching a fly patch.
Each pair of waders are tested to ensure high performance. So, it can easily withstand pressure from the sea, and high current rivers.
Pros 
Very comfortable and good design
Breathable and tough
Very lightweight
Convertible chest system
Cons
Sizing is off
It may leak easily
---
12. Frogg Toggs Men's Amphib Neoprene Bootfoot Chest Waders
The Frogg Toggs Amphib Neoprene Bootfoot Chest Waders

are composed of 3.5 mm neoprene. It provides the necessary comfort and warmth. 
It comes in a beautiful forest green color, which compliments the wader. They come with a slew of features often reserved for more expensive waders.
This wader is excellent for fishing in colder temperatures and circumstances. The RipTrack rubber outsoles of these boot foot waders are cleated, and the Thinsulate boot insulation is 200 grams. 
In chilly conditions, it keeps you warm. The knee pads provide additional support to the wearer in long surfing sessions. It also includes a fleece-lined hand-warmer chest pocket.
Its upper design, which features a high back, is suitable for wading in deep water. This item is also great for float tubing. Suspenders in a bib pattern made of neoprene with a hook and loop clasp in this warder.
Another of this warder's specialties is supplementary D-shaped rings. The suspenders are fairly simple to adjust. It also has a 1-year warranty.
Pros
Adjustable suspenders
Comes with warranty
Waterproof and keeps warm
Thinsulate boot
High back design
Cons
Boots leaked in some conditions
Not ideal in warm weather
---
13. Frogg Togg Cascades Cleated Bootfoot Wader

This budget wader uses 100% polyester materials for the body. The upper part is 300-denier polyester and 2 layers of rubber. As a result, the Frogg Togg Cascades wader

is pretty comfortable. It also includes a pocket on the chest.
One can use this zippered pocket to keep essential tools. There is a draught on the chest as well. 
The suspenders this wader uses are H-shaped in the back. I love this design as they don't have much chance of slipping like regular suspender designs. And unlike cross designs, they are a lot of hassle to put on.  
They also don't put much stress on the shoulder. The suspenders also include buckled, which are quick-release capable. The taped seams are stitched and vulcanized for maximum durability. This wader also features rubber boots on the bottom. 
The soles are cleated for solid footing on rivers. The boots are insulating, made with durable, high-quality rubber, and feature a cleated sole that provides good balance and firm footing.  
With its attention to simple yet functional design and high-quality build, and on top of that, considering its super low price, I'd highly recommend you get one of these for your fishing trip. 
Pros
2 layer polyester fabric
Chest pockets
Cleated soles
Adjustable suspenders
Quick-release buckles
Cons
Not great on abrasive surfaces
Boot would crack
Imay leak on the seams
---
14. Piscifun BX Chest Waders
The Piscifun BX Chest Waders' whole body is made of waterproof fabric. It is also very breathable. So, you won't feel uncomfortable and congested inside with this fishing wader. 
The joint between the trouser legs and the boots is compressed to create a precise connection and amazing durability. All seams are also sealed with waterproofing compounds. 
This wader also includes very comfortable boots. The S-curve outsole of the boots maximizes ground contact and provides exceptional traction even on slippery or muddy surfaces. 
The protruding curve at the back of the boot allows for easy exit. In addition, the entire neoprene lining gives your feet a considerably more pleasant sensation.
The Piscifun BX Chest Waders

also come with additional accessories like boot hangers, extra hooks, etc. They also have ankle belts to better fit any kind of body shape. Their waterproof pouch is great for keeping any kind of thing. Another great thing about this wader is, that every product contains a repair kit for emergency use.
Pros
Waterproof fabric
S-curved outsoles
Additional accessories
Neoprene linings on the boot
Quick on and off buckles
Cons
Prone to damage on abrasive surfaces
---
How to Choose the Best Fishing Waders?
Choosing the right wader for yourself can be a difficult job. That's because there are many options available in the market at various price ranges. You need to understand your priorities and by one according to those.
To do that, you have to know what to look for in a fishing wader. Actually, there are some things you should consider. These are-
Fabric Materials
The first thing you need to look for when buying a fishing wader is what fabric is used to make it. Fabrics materials are the most crucial thing about waders. That is because fabrics provide durability and comfort to the wearer.
That is why you need to choose waterproof and breathable fabrics. Or else you'll either be wet or uncomfortable in your own sweat.
Nowadays, much new fabric technology has been invented for fishing waders. These fabrics are of premium quality and provide the best possible experience. 
Also, look for lightweight materials. Choose one that has 3 to 5 layers of fabrics on the body. Else, it will decrease your mobility significantly. 
Foot Design
The foot design in the wader is also a very important thing to consider when buying one. There are 2 designs available. They are the boot foot and the stocking foot. You need to identify your needs and buy the one you prefer. Normally the boot foot design is popular for hunting. However, they are not as breathable and lightweight. 
For fish surfing, the best foot design is stocking feet. They are very light, waterproof, and durable. These qualities make it perfect for rivers. They are also more comfortable than boot foot. 
Another thing about them is that they provide more stability on the water. They are also very supportive of your ankle. As a result, they won't stress your legs during fishing. 
Gravel guards
Gravel guards are a very necessary feature of any good fishing wader. As you know, the river beds are filled with small and big rocks. These rocks can be sharp at times. As a result, they can damage and puncture your wader and make it unusable. That is why you need to buy one with built-in gravel guards.
Gravel guards are great for trails also. They protect your wader and your legs from any kind of rocky and rough surfaces. So, choose one which has a great abrasive resistant technology. They will increase the longevity of the waders. 
Price
You should always keep in mind the price of the wader before buying one. Generally, the waders come in various price ranges. The premium quality ones cost more. However, the cheap ones are not that reliable. 
So, you need to spend according to your own needs and preferences. If you compromise on some features, you can save money on waders.
Conclusion
Fishing waders are a must-have if you're interested in surfing fish in the river. A good wader will keep you dry and comfortable without restricting your mobility at all. It will give you an overall pleasant experience.
That is why, in this article, I've told you all about the best waders for fishing. I also discussed the factors you should look for in a wader to help you decide.
My personal suggestion would be the Simms Waders

. They're premium waders that include all the important features of a wader. The fabric is multiple layers and uses top-class technology. In addition, it contains various pockets for your use.
All in all, these are the best possible wader you can get for yourself. Thanks for stopping by. Hope you liked the article. Wish you the best of luck.