As an Amazon Associate we earn from qualifying purchases made on our website. If you make a purchase through links from this website, we may get a small share of the sale from Amazon and other similar affiliate programs. You can read our complete
legal information
for more details.
Choosing the right kind of fishing rod can be a daunting task.
I mean anyone can get lost when it comes to digging through all the different features and aspects of the fishing rods like their length, power, action, etc.
Worst of all, not all fishing rods are created equal. There is a difference if you are fishing in a small river, for example, versus deep-sea fishing, and surf fishing.
Here I want to make things a bit easier. This is why I will go through the different aspects and features of a good surf fishing rod. I will also review two of the best rods for surf fishing that I have come across.
Keep this information in mind.
This way you will be able to make an easier decision on your next fishing rod and most importantly of all – you will be able to get yourself a rod that will provide you with great moments worth sharing.
What To Look For When Buying a Surf Fishing Rod
Finding the right kind of fishing rod

that will fill just about right for you is not an easy task.
However, there are certain aspects of the fishing rods that I would like to point out on. Keep all of these in mind when choosing your fishing rod, and you will be able to make a better decision on your future purchases.
1. The Length of the Rod
The length of the fishing rod affects the casting distance. A longer rod will provide for a longer casting distance. This is very important as when you are surf fishing. You want to be able to cast the lure over the breaking waves.
The length of the rod will also affect the feel of the fish when you are reeling it back. With a shorter rod, you will have less leverage.
Especially when talking about surf fishing, a longer rod will do better. The length of the rod that most anglers use for surf fishing is usually somewhere between 9 to 12 feet. The right size will depend on your personal preferences.
Also, a longer rod doesn't necessarily mean a better rod. The longer surf fishing rods are heavy and not suitable for everyone.
2. The Action of the Rod
The action of the rod is one of the important attributes a fishing rod has.
The action refers to how the fishing rod will bend. The action of the rod falls in a few categories:
Extra fast
Fast
Moderate
Slow
For example, the faster a fishing rod is, the more it will tend to bend at the very top. While a Moderate action rod will tend to bend at the center.
Each of the different action ratings has its purpose and benefits. Generally speaking, a faster rod will allow you to cast at longer distances and are a lot more responsive.
The action that most anglers prefer for surf fishing is moderate.
3. The Power of the Rod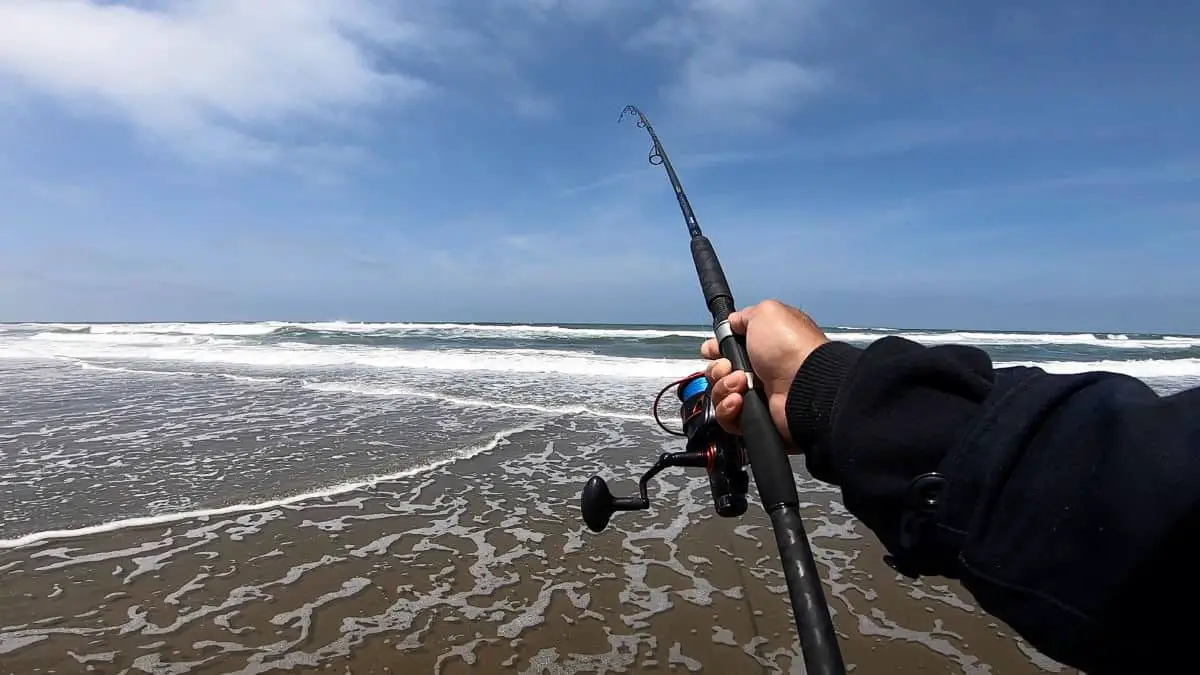 The power of the rod is its strength, or how much it can lift. The power of the fishing rods is categories as:
The most widely used fishing rod power is around the middle of these – medium or medium-heavy.
Medium-heavy rods will offer you the best bang for the money as they are very versatile and you can use them in different scenarios.
When buying a fishing rod, its power is going to influence another thing – the fishing line.
A heavier rod will do better with a heavier line and vice-versa. If you don't match these two, you may risk losing more fish than usual.
4. The Material of the Rod
The fishing rod blanks today are typically made of a few different materials.
Fiberglass is cheaper compared to the other materials. However, they do come with certain downsides like being heavier and overall less sensitive.
Graphite, in comparison, is more expensive. But, they have more power, better sensitivity, and are much lighter.
There are also fishing rods that are a combination of graphite and fiberglass.
5. The Type of Rod
There is a long going discussion about whether spinning or casting fishing rod(and reel) is better.
The thing is both are very decent options for fishing. They both have their particularities.
Spinning reel – Spinning reels are more beginner-friendly than the casting reels. Most of the people I know say that casting with a spinning reel feels a lot easier.
Casting reel – Casting reels are not as suitable for beginner anglers as the spinning reels. They do offer more control over the throws, though.
Which one is better is mostly up to what you will personally feel more comfortable with.
However, spinning reels are usually the preferred choice for fishing off-shore. So a fishing rod that is suitable for spinning reels is generally the preferred type by many.
6. Reel Seats
Make sure to give extra attention to these to make the best choice.
The reel seat is where you place the fishing reel. It needs to provide sturdy mounting capabilities. The material, it is made of has to be non-corrosive (for example, graphite).
7. The Handle
The handle is also important as it needs to provide you with a good solid feel, control, and better sensitivity. A good grip will allow you to better cast at longer distances. Keep in mind that since you will be using a longer rod, you will need the handle not to provide good leverage. The grips are usually made from EVA foam, Cork, or Hypalon.
EVA is used on most of the fishing rods we have today. It is a very light and firm material.
Cork is one of the most widely used materials. It is very light but can be easily damaged.
Hypalon is a little softer than the EVA but durable.
While you are surf fishing, especially if you are in the water, your hands will probably be really wet. So the handle has to be lightweight and comfortable with sufficient grip.
Usually, Cork is used for the handles as it provides excellent grip. It also manages to transfer these tiny and hard to notice sometimes vibrations. However, there certainly is a difference between the different cork qualities and more expensive rods have a noticeably better quality of cork handles.
8. The Guides
The guides can also influence the casting feel and range.
The best type of guides are the ones with ceramic inserts.
Ceramic inserts have several different advantages over the rest of the guides. They generally last a lot longer, and they produce less friction.
OKUMA RA-S-1002MH Rockaway Surf: I Personally Recommend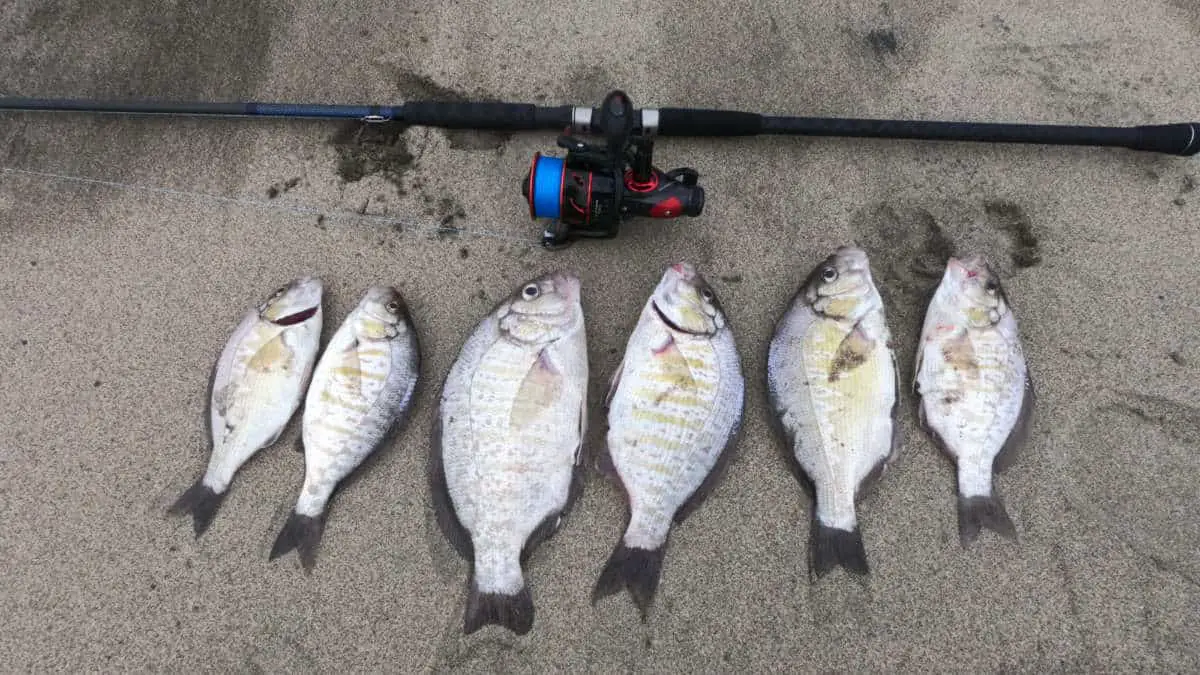 OKUMA's

primary goal is to provide everyone with the ultimate fishing experience.
Here they have delivered one lightweight fishing rod that will make you want to fish for as long as you can.
It is a spinning fishing rod which is making it ideal for every angler regardless of experience level.
It is relatively long, so it is ideal for surf fishing and for anyone who wants light and sensitive fishing rod.
PROS:
Very lightweight.
Very sensitive.
It allows for longer casting distance.
High-quality guides.
Nice and thing grip.
CONS:
As far as I am concerned, there are no cons.

Okuma Rockaway Review
1. Length
This model of the fishing rod

comes at different ranges you can choose from 10 ft 11ft and 12 ft.
This length is ideal for long casting while surf fishing. Despite not being one of the most extended surf fishing rods out there it performs and cast at a long distance.
I have nothing to complain about here.
2. Weight
One of the elements I look for when buying a surf fishing rod is its weight. I find it that a lighter rod feels better to me, and it allows me to fish for a longer time.
It is not just about how quickly we may get tired while holding a heavier rod. The weight of the rod affects so much more.
As I mentioned earlier, it casts really well. And one part of the reason why it casts further than some of the other rods comes from the fact that it just feels light in hand.
For example, the RAS-1002MH

weights at about 261 grams we have mobile phones that are heavier than that!
Will you start feeling the weight with time, of course, but it is very light. And this is one of the strong points of this particular fishing rod.
3. Rod sections
This is a two-piece fishing rod.

There is a lot of argument as to whether or not a one-piece or two-piece rods are better. There are certainly some advantages and disadvantages to each one of these.
However, today, we can enjoy better technology and manufacturing practices. Back in the olden days, it mattered more than it matters today.
Two-piece rods have different action and may have different sensitivity.
One-piece rods are not a practical option, especially for longer rods that may not even fit in most people's cars.
This rod comes with a tip-over butt ferrule that is of high quality and gives better balance and feel.
A two-piece rod seems like the best balance between usability, performance, and comfort.
4. Guides
They have Zirconium inserts that can aid in the casting distance because they create less friction on the line.
Zirconium has even more benefits. It is usually lighter than an aluminum oxide ring insert, and you can use with both braid or mono lines.
Ceramic guides do have certain downsides like being relatively more expensive, and they tend to be more brittle. So you may want to avoid hitting any hard surfaces with the rod. On the other side, they are more abrasion resistant and durable.
Click here for more information and current price

on Amazon.
Daiwa Emcast 1102 MHFS: My Plugging Rod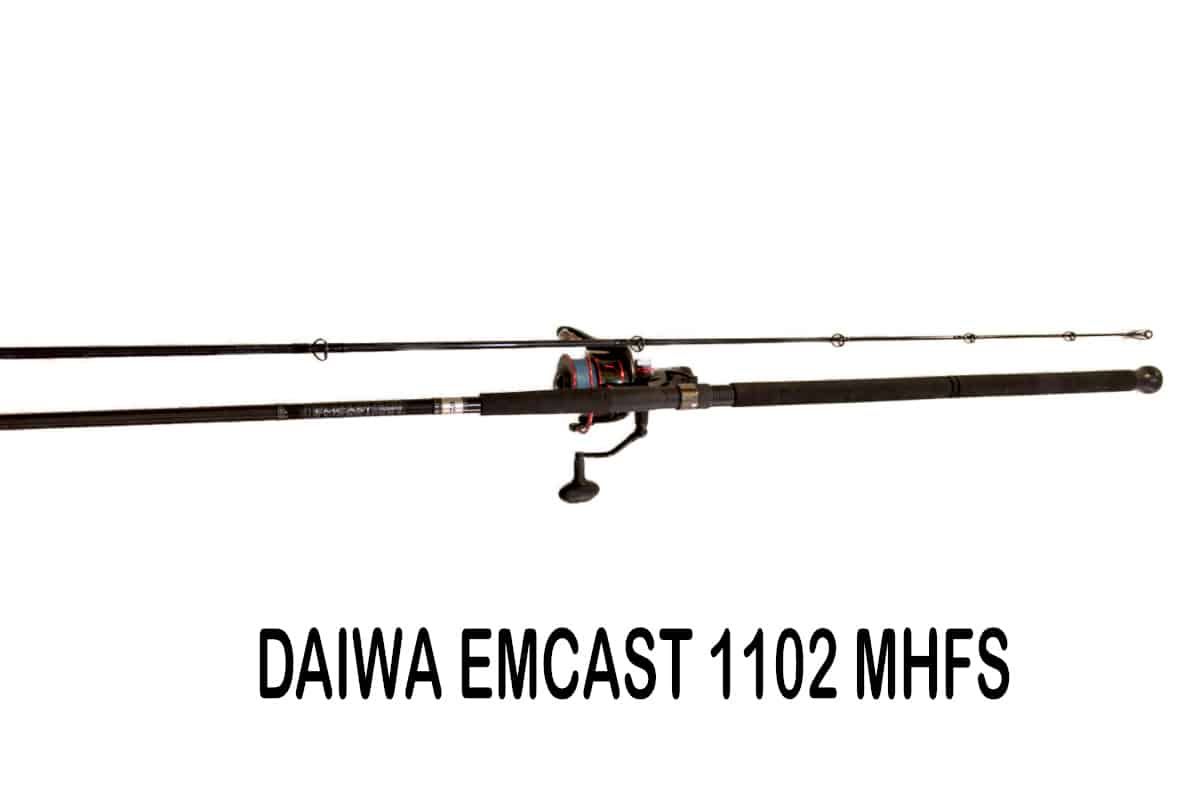 Daiwa has always tried to offer great variety and cover a broad spectrum of different fishing condition with their fishing rods.
This model, for example, is one excellent surf fishing rod

that will leave many pleasantly surprised at how well it performs.
It is a spinning rod that can be used easily by almost everybody.
I believe the weight of the fishing rod is significant, especially if you like to get further into the water. So this too is a very lightweight surf fishing rod

. And it can be used for an extended time without really tiring you out.
PROS:
Very lightweight.
Sturdy.
It allows for a long Casting range.
Budget-friendly.
CONS:
The aluminum oxide guides can be considered not as durable as ceramic inserts.
Why I Choose Daiwa Emcast Surf Rod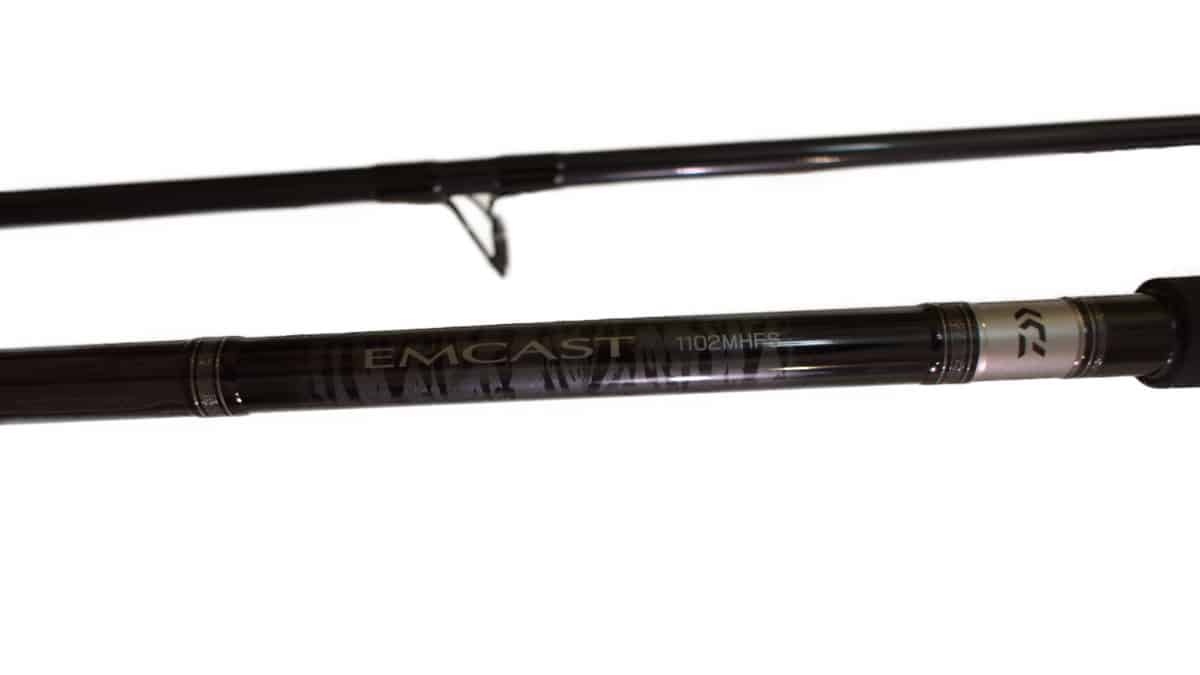 1. The Rod
This rod is made with a durable graphite blank

. It is a spinning reel fishing rod, and that means it can be used by almost everybody, regardless of your fishing experience.
You can get this one in different lengths. But since we are talking about surf fishing, a longer fishing rod is what I prefer.
However, the exact length that will feel best for you is going to be a matter of personal preference. I personally use the 11-foot rod for plugging.
2. Handle
The handle of the Daiwa Emcast

feels really good in the hand. It is made from EVA foam that is providing sufficient grip as well as comfort.
You can't really want anything more from a rod handle.
3. Pieces
This models again is a two-piece rod.
However, due to the way manufacturers design rods nowadays despite being a two-piece, it still offers great sensitivity and a solid feel.
You can even feel the light pickups and bites with this rod.
4. Guides
The guides feel excellent, and the inserts are made of aluminum oxide. Aluminum oxide is an excellent material that manufacturers frequently use for the line guides.
The guides that come with the fishing rods today can handle almost anything that you can throw at them.
If I had to pick one, probably the zirconian coated guides will win with a small lead. They are slicker and more robust, so they will likely handle larger fish a lot better in the long run.
With that being said, aluminum oxide guides can be used with braided lines too, and they will not groove the guides.
Click here for more information and current price

on Amazon.
Final Words
Regardless of which one of the two rods you choose, I feel like both have a lot to offer. They are both of a very high quality that you can feel.
Most importantly, they are lightweight and very sensitive.
These two qualities are some of the most important as they will allow you to have a great experience when surf fishing. Better casting range? Being able to feel the soft bumps from the fish? Choosing the right fishing rod makes a difference.
Because of the quality materials that these manufacturers use these rods will last a long time and offer great value at a very decent price point.