If you are a serious sport fishing enthusiast, you are probably looking for new pairs of wading boots. Many people often buy wading boots without much thought and end up getting boots that do not suit them at all. So, based on different fishing styles, materials, and my personal experience, I have collected the best wading boots for you. 
In my opinion, the Korkers Darkhorse Wading

Boots are the best wading boots in the market. Considering the price, durability, traction, and other features, like the BOA lacing system, the Darkhorse comes out as the winner. 
However, many other wading boots may be more fitting for you. This article will discuss the best wading boots and briefly discuss their features. Apart from our personal favorites, we have also reviewed many popular wading boots for your consideration. 
Best Wading Boots For Fishing
Here are our favorite 17 best wading boots. We have ranked these boots based on their durability, comfort, and traction quality. All of them are unique in their own way. So, pick your wading boots wisely!
1. Simms Flats Sneaker
Let us start with one of the best wading boots/sneakers for fishing in skinny waters, the Simms Flat Sneakers Wading Boots

. Simms has always been famous for producing the most durable wading boots in the market, and Simms Flat Sneaker is also the same. The sneakers are slimmed down to make them a bit lighter. 
These wading boots have an athletic design and look like stylish sneakers. Without scratching the deck, you can walk on the boat as the boots have non-marking rubber outsoles. The gum rubber sole is flexible. So, you will not feel any stiffness. They also provide enough traction needed on the boat and skinny saltwater. 
The synthetic upper with the reinforced scratch rubber on the outside can handle rough surfaces like coral and rock. There is no metal. Thus, you do not have to be concerned about saltwater. 
The boots are easy to put on and take off. You can wear them for hours without hurting your feet and ankles. The mid-height design and the right-angle footbeds make the pairs extremely comfortable. 
Simms sells their wading boots in various sizes for both men and women. For example, if you need a 10 and a half or 11 and a half, you can buy the Simms PG Flat Sneaker for the exact fit. But you may have to get the sneakers a size bigger than your regular shoes. Simms Flat Sneaker

is the first wading boot from the brand that started to offer half sizes. 
Pros: 
Excellent for flat seawater fishing
Great comfort and ankle support 
Offers half sizes
Affordable
Cons: 
Not enough protection
Traction is Okay
---
2. Korkers FB4720 Darkhorse Wading Boot 
Korkers Darkhorse wading boots

are my recent favorite wading boots. They may even become my all-time favorites. As an angler, I always look for durable wading boots that can hold their grip on the ground. The new Korkers Darkhorse Wading boots serve that purpose pretty well. 
What attracted me to Darkhorse is its BOA M2 lacing system. I do not have to spend time lacing my boots anymore. The system has made tightening and wearing boots easy and quick. 
Not only that, the OmniTrax interchangeable sole system of the boots gives me the option to change my boot soles according to my need. It has 9 sole options, which are created for traction for all-terrain! 
The Korkers Darkhorse Wading Boots

come with two soles- Kling-on and felt. You can replace the felt sole with a rubber sole where places do not allow it and put on a rubber sole or a Kling-on sole. You can also get Kling-on and Studded Kling-on, which will give more traction. 
There is an ankle wrap that cradles the ankles and keeps them comfortable. The hydrophobic materials of the boots are durable, some angler says they only have only minor issues even after heavy 6 months of rough use. The molded TPU toe caps provide great protection against abrasive rocks and corals. 
The internal drainage channels of the boots remove the excess water. It makes your feet not feel heavy when lifting them in water to walk around. 
Video Credit: Korkers

Pros
BOA M2 lacing system, easy to put on and take off
Hydrophobic upper material with ultra-absorption resistance
Ominitrax interchangeable sole system
Internal drainage channels
Excellent ankle support and toe protection
Cons
---
3. Korkers Buckskin Fishing Wading Boot
Since we are talking about Korkers, let's talk about Korkers Buckskin fishing wading boots

. My friends often talked about how these boots are exceptional with their OmniTRAX interchangeable sole system. Like the Darkhorse, you also have different sole options for Buckskin. 
The only significant difference with the Darkhorse is its traditional lacing system. Since the laces are saltwater friendly, they are durable. The heel lock system provides great ankle support. The hydrophobic material dries the boots fast, and they will not shrink. 
Like all other Korkers, the Buckskins

have EVA foam midsoles that will make your feet feel super comfortable and protected. The scratch rubber toe and sidewalls on the boots add to the durability. Also, you will see triple stitching that provides strategic reinforcement. Besides, the internal drainage channels will keep your feet light and agile. 
When you buy wading boots from the Korkers series, get at least a size bigger than your regular shoe size. Otherwise, it may feel tight inside when you put on any socks or gravel guards. 
Pros
Budget-friendly 
OmniTRAX interchangeable sole system
Hydrophobic material faster dry time 
Large internal drainage ports
Cons
Finding the right size can be confusing. 
---
4. Korkers Devils Canyon Fishing Wading Boot
The Korkers Devils Canyon Fishing Wading Boots

are best known for lightweight wading boots that provide heavyweight performance. Since the wading boots have come to the market, they have been popular for their swift BOA lacing system. Like its predecessors, the Devils Canon gives you the option to switch soles. 
The Korkers Devils Canyon

is for people who want both agility and stability for wading. Neoprene stretch wrap cuff locks around your Achilles and gives flexibility. The cuffs wrap around so well that sand and gravel can hardly get inside your boots. 
The wading boots are highly durable because of the new synthetic rock guard material. It reduces water absorption, and the integrated water channels drain the excess water. Thus, your feet will not get heavy while walking.  
The Korskers Devils Canyon

is battle tested in harsh conditions, like slippery rocks and swift currents. These boots amazingly held their ground well without getting damaged. These boots are pleasing not only for wading but also for walking miles for hours. The rigid rubber toe caps protect your feet from rough corals and rocks. 
Pros
Flexible and durable
OmniTRAX interchangeable sole system
M2 BOA lacing System quick on/off
Anti-absorption synthetic rock guard material
Neoprene stretch wrap cuff locks for ankle and heel support
Cons
No gaiter hook ring
Little extra weight could provide more stability
---
5. Orvis Men's PRO BOA® Wading Boots
The Orvis Men's Pro BOA Wading Boots just hit the market in 2021. Orvis and Michelin (Yes, a tire company!) worked together to create this masterpiece for fly fishing. Currently, Orvis Pro BOA is the most advanced wading boot in the market. 
The new sole design is a revolution for advanced wet rubber traction. Orvis claims that the outsoles have 25% better abrasion resistance and 43% better wet rubber traction compared to many other wading boots. 
The boots are highly stable for their wider footprint, and the sole design increased the ratio of surface grip. For more traction, you can add studs on the sole. The lug patterns reduce shock and disperse the pressure. Besides, the 3D molded X25 insole provides ultimate ankle support and comfort. 
The quick-drying Clarino microfiber upper maximizes the durability of the boots. The toe cap and heels are covered with scratch rubbers, adding extra protection to your feet. You can easily take off the wading boots by pulling on the large heels. 
Pros
Great abrasion resistance and firm grip
Options to add studs
Higher cut for ankle support and comfort
Quick-drying Clarino microfiber upper
Wider footprint and lug design
Cons
Expensive compared to similar boots 
---
6. Orvis PRO Wading Boot 
The Orvis Pro Wading Boot

 has a unique rubber sole, a compound designed for extreme fly-fishing activities as the Orvis Pro Boa wading boots. Orvis Pro wading boots have all the benefits you get from Orvis Pro BOA. The only difference is that the Pro wading boots do not have a BOA lacing system. 
Anglers who spend their time wading and hiking through terrain and canyons will enjoy these boots for their lightweight. The High-density Phylon midsole of the wading boots offers an optimal comfort-to-weight ratio with minimal breakdown over time.
Our testers have informed us that they have worn the Orvis Pro wading boots for boulder hopping, extreme hiking, and long walks on shallow seawater. These boots withstood all the tests and proved how durable and stable they are. But we recommend you get the optional studs for better traction. 
The ankle support is also excellent. You can walk around wearing them the entire day without straining your feet. They also have reasonable prices. So, you can use them as an alternative to Orvis Pro BOA wading boots. 
Pros
12 strategically placed locations for optional studs
Comfortable Phylon midsole 
3D molded X25 insole for ultimate support
High-density laces for extended durability
Cons
Needs Studs for better traction and stability
---
7. Orvis Men's Ultralight Wading Boot
For anglers who do not mind hiking, Orvis produced their Ultra-light Wading Boots

. Without the extra protective layers, you will get more flexibility for walking and hiking. The EVA midsole of the wading boots keeps your feet comfortable for a long time. 
The Clarino microfiber body of the wading boots makes them lighter than leather but at the same time makes them durable. Because of the short ankle height of the boots, you will have better balance and agility while walking on uneven ground. Besides, the materials dry fast, which is necessary for wading boots.  
The Ultralight wading boots

from Orvis have durable Vibram soles with lug patterns. They have excellent traction on a dry surface. The soles can have good traction on the wet surface if you get removable studs for them.  
You can use these boots for years as the high wear zones are sprayed with abrasion-resistant. The laces are tightly woven and do not get damaged in harsh conditions quickly. 
If you get wading boots from Orvis, always get 1 or 2 sizes larger than your street shoes. The wading boots of Orvis are often smaller than regular size shoes. You may feel stiff and packed inside the boot-wearing extra protection for sand or gravel. So, it is better to get a size bigger.
Pros 
Excellent traction with studs
Great comfort and flexibility
Dries quick
Durable Vibram soles
Cons
Not enough ankle and heel protection
Weak wet grip without studs
---
8. Orvis Men's Clearwater® Wading Boots – Rubber Sole
Want something budget-friendly from Orvis? We have picked Orvis Men's Clearwater Wading Boots based on features and functions as a suitable choice. The upper of the boots are full synthetic leather that is quite durable and comfortable. 
You do not have to worry about feet protection because the boots have scratch rubber toe, vamp, and heel counters. The heavy-duty rubber bumper in front of the toe can face rocks and corals while you wade in aversive conditions. Your feet will also comfortably stand on the integrated EVA foam footbed. 
These budget-friendly boots also have a rubber outsole with an aggressive lug design. Hence, you can add some studs for a firm grip. The phylon midsole and ESS plate provide even more stability. 
Pros
Great features in affordable price
Scratch rubber toe, vamp, and heel counter
Comfortable
High traction and extremely stable
Cons
Need optional studs for better traction 
---
9. Simms FreeSalt Boot
The Simms FreeSalt Boots

are another budget-friendly boot on our list. These boots are made of non-corrosive materials exclusively for saltwater of the coastal and brackish water expeditions. 
Same as the Simms Flat Sneakers, the non-marking rubber outsole is perfect for in and out for boat use. There is a TPU plate on the bottom for cleat retention. The cleats on the Simms Freesalt Boot

sole may not provide stability like the previous budget-friendly wading boots. Still, they are not bad for shallow water wading.  
The rubber on the tip and heels protects your feet from bumping into rocks or corals. Also, the dual-density of the EVA midsole cushions your feet well. Hence, they are quite comfy.
The synthetic upper of the boots makes the Freesalt boot quite durable. You can take them on a seawater-wading adventure for years. However, these boots alone cannot keep your feet warm and clean from gravel. You need to wear waders. So, you must buy a size up from your regular shoes. 
Pros
Great for saltwater expeditions
Durable non-corrosive material
Non-marking outsole
Fully neoprene lined for easy on and off
Cons
Not enough traction for heavy wading
Must be worn with waders
---
 10. Simms Tributary Wading Boot – Rubber Soles
Simms is always experimenting with creating affordable wading boots. One of their recent productions is the Simms Tributary Wading Boot

, released in Spring 2021. 
The boots are cheap, but they are not bad for occasional shallow water wading. The outsole of the boot has multi-directional high carbon rubber lugs. Like the Simms Freesalt Boots, Tributary wading boots also have a TPU plate running through the bottom of the boot for cleat retention. 
Just because the boots are cheap does not mean Simms forgot about adding protective layers! Like any Simms boots, the Tributary boots

have scratch rubber toe and heel cups that add to the durability. 
Then there is a highly abrasion-resistant textile mesh upper with faux leather overlays for durability. The metal grommets on the front of the boots add extra protection. The lacing of the boot is non-cohesive. Thus, the laces are not going to wear out soon.
One of the best things about these boots is their fully gusseted tongue that prevents dirt or pebbles from getting inside the boot. 
Now, you should be aware of a few things about the Simms Tributary Wading Boots

. They do not come in half sizes like other Simms boots. So, you must be sure about the size you are getting. Also, some states may have objections to the materials used in the boot, as they may cause serious health problems. 
Pros
Affordable price
A fully gusseted tongue helps prevent debris from getting inside
Great durability and easy on and off
multi-directional lugged rubber outsole
Cons
Whole sizes only
Prop 65 Warning 
---
11. Simms G4 PRO Wading Boot–Vibram 
Okay, enough of budget-friendly wading boots. Now, let us go back to some heavy-duty wading boots, like the Simms G4 Pro Wading Boots

, which is, of course, one of my personal favorites! Simms targeted to make G4 Pro the king of wading boots. With the perfect combination of durability and agility, The G4 Pro deserves the spot. 
What attracted me to the boots was the Vibram Idrogrip Outsole. That allows me to have great traction on dry or wet surfaces, thanks to its special embedded non-corrosive stainless steel receptacles. You can screw on the special cleats whenever you want for better traction.  
The Simms's G4 Pro Wading Boots is the most strongly built wading boot for extreme wading activities. The highly abrasion-resistant textile mesh upper and vacuum molded TPU welded on the sides ensures longevity and high protection. 
Again, a three-dimensional molded rubber toe cap on the front and three-dimensional molded heel TPU clips. These clips provide a great fit for your heel. The lacing through eyelets across the top of the foot secures the boots. Speed hooks on the upper lock the heel in place. So, you can have excellent control of the boot.
The mouth of the boot is fully lined with neoprene and closed-cell foam. It keeps the water from getting absorbed by the boot. The inside of the boot stays light and keeps you fresh. Thus, you can keep fishing for a long time. The dual midsole and outsole provide comfort and stability. 
The G4 Pro Wading Boots

is also available with a felt sole which, interestingly, accepts cleats for better traction. Again, get one size up from your regular shoe size if you are going for the Simms G4 Pro Wading boots. 
Pros 
Excellent traction thanks to Vibram sole
Provides durability and agility 
Great ankle support and comfort
Prevent water from getting inside
Suitable for a long day fishing expedition 
Cons 
Quite Expensive 
Some may find them heavy 
---
12. Simms Men's Freestone Wading Boots
The Simms Men's Freestone Wading Boots have been one of the best sellers from Simms for years now. This budget-friendly boot comes with all the necessary features. They are durable and long-lasting. If you go fishing on slippery rock riverbeds, then the Freestone wading boot is a perfect match for you. 
The traction of the boots is amazing. You can confidently walk on unseen river bottoms without fear of slipping on mossy rocks. 
Since the boots are appreciated by anglers, Simms often upgrades the boots. While testing the boots, we found the waterproof synthetic leather upper was strong enough to face the rocks and debris that came in the way. 
The strides in the water were also comfortable because of the cushioned midsole. The boot we tasted has neoprene lining all the way down to the boot, which provides all-day cushioning and warmth.
Another change from the previous version of the boots is the plastic plate on the sole. It used to run through the entire sole so that the studs you use can grab and set on to it. But in the new model, the plastic plate is partial but in the right places for the studs. As a result, I felt the boots had become much more flexible. 
Pros
Best for rocky river beds
Affordable price
Warm and Comfortable
Cleat Compatibility
Cons
Needs studs for better traction
Cleats are expensive 
---
13. Simms G3 Guide Wading Boots
Do you want a pair of wading boots that will last for more than one season? Changing wading boots costs money. So, people often look for long-lasting wading boots. Simms understands people's needs, and thus they make wading boots like G3 Guide Wading Boots

. 
The Waterproof nubuck leather upper is layered with a lot of scratch rubber, making the boots super durable. For better customization and fit, you will find long laces. Like the G4 Pro wading boot, there is a molded external TPU heel counter and a TPU molded heel clip. So, you get good ankle support and protection.
Like most other Simms wading boots, the G3 guide boots

also have a durable neoprene lining that keeps your feet cushioned. And there is the same option for Vibram soles and felt soles like G4 Pro. 
The Alumibite Cleats from Simms with the Vibram sole will give you good traction on rocks. Besides, they make minimum noise. In the water, the soles have excellent grip and flexibility. It will allow you to feel the rocks and ground surface texture. So, you will know where you are putting your feet. 
Video Credit: Simms Fishing

Pros
High Quality and long-lasting
Good ankle support
Keeps feet comfortable
Great grip on rocks
Easy to put on and take off
Cons
Rubber is less sticky during winter
The laces can wear off fast
---
14. Redington Benchmark Rubber Wading Boot
Redington has always been super popular for its innovative fishing gears. The Benchmark Rubber Wading Boot

is one of their most sold boots. The boot is astonishingly low in price compared to the features it has. These boots are made for all water types, including saltwater.  
After hours of in-depth research, many anglers say that the wading boots are pretty comfortable walking around from one fishing location to another. The rust-free laces hooks will secure the boot perfectly on your feet. The sticky rubber sole made my movement from the trail to the river bed smooth and easy. 
Suppose you decided to fly-fish in waist-deep water and needed to walk around a bit. Your feet do not feel heavy as the water quickly passes through the drainage shades of the boots. The traction of the Benchmark Rubber Wading Boots

 is also admirable in this budget. 
The boots have a quick-dry technology, hence they dry pretty fast. The lightweight boots also have a shock-absorbing EVA midsole. So, overall, the Redington benchmark wading boots

are quite comfortable. 
Pros
One of the low-cost wading boots with nice features
Made for all types of water bodies
Sticky rubber sole provides good traction
Lightweight and comfortable
Cons
Not long-lasting
Rubbersole may not stick better in winter 
---
15. Redington Prowler Pro Sticky Rubber Wading Boot
Video Credit: RedingtonGear

Suppose you are looking for a better design and traction than the Redington Benchmark Rubber Wading Boots

. In that case, you can consider the new Redington Prowler Pro Sticky Rubber Wading Boot

. We have found these boots to be surprisingly stable with the use of studs on both dry and wet surfaces. Yes, this boot allows you to use studs at such an affordable price. 
The modern design of the boot will surely attract you. It has a wide design and generous toe box. Even so, the wading boots are nimble and lightweight. So, you will not feel fatigued even after wearing them for hours. 
You can walk easily even in the water because of its improved drainage system. Like the Benchmark, these boots also have super-fast drying materials. 
Wading boots can get dirty after hours of use in the mud and river. Taking them off may concern some people. You do not have to use your hands to take off the Redington Prowler Pro Sticky Boots

. The heel step makes it easy to kick them off your feet. 
Pros
Modernized design 
Great price-to-value ratio
Stud-compatible
Firm traction even on slippery rocks
Cons
Laces fray and wear out soon
---
16. Patagonia x Danner River Salt Wading Boot
Video Credit: Patagonia

The best wading boot list will not be complete without wading boots from Patagonia. They are popular in creating heavy-duty and lasting boots with amazing features. The River Salt Wading Boot

is the creation of Patagonia and Danner. This company produces high-grade military and hiking boots. 
The River Salt Wading Boots

are targeted to be extremely durable. One of the best features of the boot it's the sole. It comes with a Mega grip Vibram sole, which has great traction on and off the water. 
You can hike from one spot to another, and your feet will be steady. Moreover, you can also add studs on the sole if you need more traction. 
The boot has a high-quality waterproof full-grain leather upper from Danner in the USA. The speed laces of the boots make them easy to put on and take off from your feet. So, you get style and water resistance at the same time. 
You want to drain out the water as soon as you get out. Thus, the River Salt Wading Boots

have perforated holes on both sides to drain the water. You will also get very flexible ankle support. It will help for walking or crawling on rocks and uneven ground.
The best part of the boot that makes it different from the others is its reconstruction feature. The upper and the sole of the boot are stitched with 1,000-denier nylon. So, you can replace different parts of the boot if they wear out. You can change the sole as well as the upper parts.  
Pros
Designed for heavy-duty and durability 
Mega grip Vibram sole provides great traction
Waterproof full-grain leather
Fast water drainage system
Flexible ankle support
Cons
One of the most expensive wading boots
Can feel heavy 
---
17. Redington Forge Rubber Wading Boot 
We have the Redington Forge Rubber Wading Boot

at the end of our list. These low-priced boots have abrasion-resistant materials and Redington's wide sole design for all-day comfort on and in the water. The wide design of the sole will give you stability in fast-moving water. The grip of the rubber sole will keep you standing on the spot firmly. 
The synthetic upper is breathable and dries quickly, so your feet do not stay wet all the time while you are hiking or moving to different spots. Besides, the EVA midsole is comfortable and gives support to your ankle. The corrosion-resistant lace loops lock your feet and do not easily let pebbles and debris get inside. 
Redington has increased the rubber rand that provides better abrasion-resistant, foot protection, and overall durability of the boots. These boots are lightweight. Thus, you can put them in your backpack when you go hiking and then use the wading boots if you feel like going fly-fishing. 
Pros
Keeps stable in fast-moving water
The drainage system keeps the boots lightweight and comfortable
Wading boots for long days spent fly-fishing. 
Cons
Not long-lasting
Not enough protection for ankle and heel 
---
How to Choose the Best Wading Boots?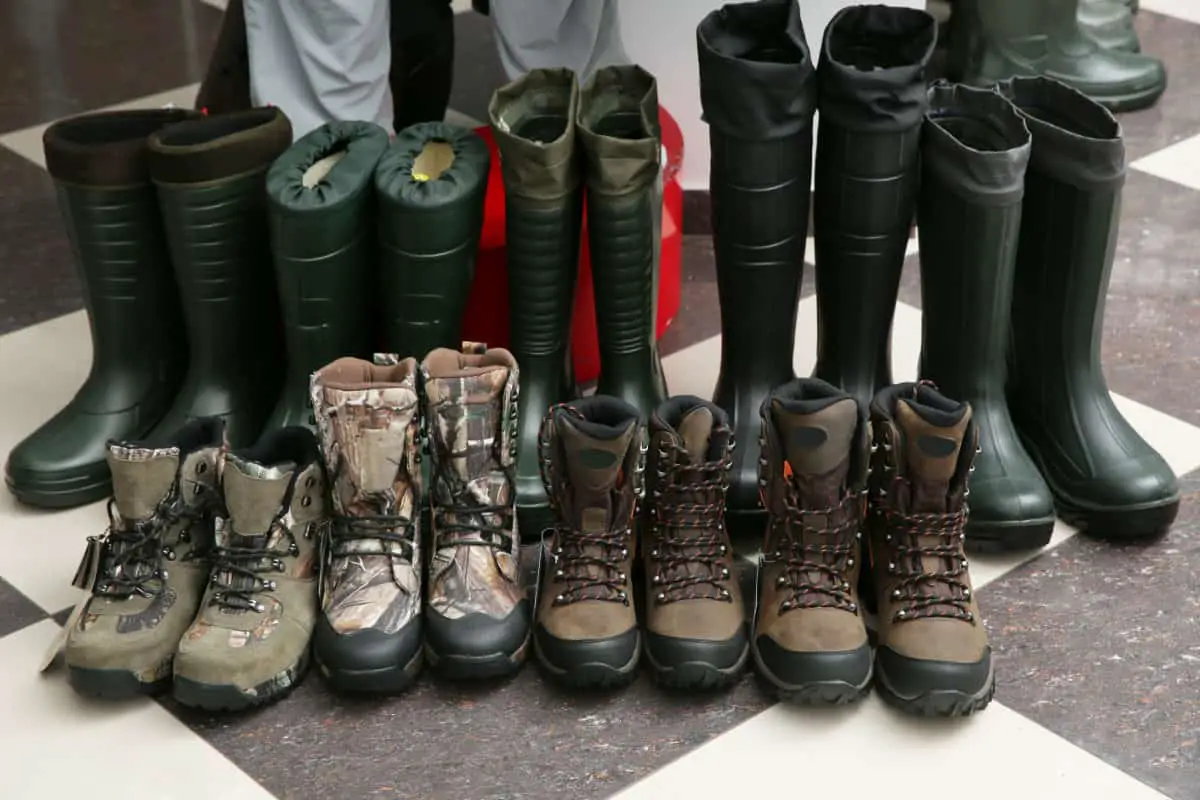 With so many options in hand, it is difficult to choose the right pair of wading boots. Besides, everyone's fishing style and conditions vary. A pair of wading boots suitable for someone may not be suitable for you.
So, you have to consider weight, sole type, drainage system, boot uppers, lacing system, and ankle support features of boots to buy the perfect one for you. Here is what you should have in a wading boot: 
Type of Sole: Felt Vs. Rubber
The sole of your wading boot determines how much traction you will get on different surfaces. The comfort of your feet also depends on them. Felt sole had been the most popular sole type among anglers for years. Felt soles are the best choices for sandy rivers and lakes. Besides, they provide great grim on slippery river beds. 
However, some states of The US

have banned felt soles because they can carry parasites and bacteria from one water body to another. 
Thus, rubber soles are the best options for wading boot soles. They also provide great traction, and they become even better with studs. 
Besides, rubber soles perform better on snow compared to felt soles. They are also the better choice for hiking. You can also choose a wading boot that has interchangeable soles so that you can change them whenever you want.
Weight of the Wading Boots
Your wading boot should be lightweight. Wearing lightweight boots will keep your feet active for a long time. Anglers often have to walk miles to reach their fishing spots and move around different locations. 
Some wading boots can be quite heavy. You may become fatigued wearing them for a long time. However, a little bit of weight is also essential for having stability in the water. So, choose a boot that fits your fishing style and condition better. 
Proper Drainage System
The water going inside the boots should be able to come out fast. Make sure the wading boots you are getting have water passing channels. 
Water will get stuck in the boot if you wear wading boots with poor drainage systems. Then the wading boots will get heavy and interrupt your movements. You cannot move your feet swiftly in the water or on the ground. Your feet will get cold and slippery inside the boot. 
You should get wading boots with inner drainage channels or holes to pass the water. These boots dry quickly and keep your feet comfortable. 
LightWeight Upper 
The wading boot upper should be made of lightweight materials like synthetic leather or microfiber. These materials are durable and flexible. 
Besides, they are water-resistant and dry fast. The materials also let air pass through them, so your feet stay cool in hot weather. 
Laces and Lacing System
Look for wading boots that are easy to lace up. The laces should be non-corrosive and durable for a long time. They should lock your feet perfectly with the boot. 
Nowadays, the BOA lacing system is becoming popular. There are no traditional laces to tie. You just have to turn a knob to tighten and loosen it to take off the boot. Wading boots with a BOA lacing system are also in the affordable price range. 
Boot Height 
The height of the boot depends on your choice. If you hike or walk on uneven ground a lot, then you should get lower-height wading boots. 
But for more stability in water, you need high wading boots. These boots also provide better ankle and heel support if you want both flexibility and ankle support to choose from mid-height boots.
Sizing and Fitting 
Never buy your wading boots without trying them on. You should know the size difference between regular street shoes and wading boots. Sometimes the wading boot size is half or full size larger. 
Besides, anglers wear thick socks and neoprene booties inside the boots for protection and warmth. An exact fit boot will feel tight. Therefore, you should get wading boots a full size larger than your regular shoes. The inside of your boot should have some space for your feet to feel comfortable. 
What Is The Importance Of Wading Boots?
Wading boots are crucial for anglers, but some people do not give much thought while buying a pair of wading boots. They do not understand that a high-quality wading boot has greater features and serves for years. Moreover, they often go for cheap wading boots to save some money. 
 A good quality wading boot provides ankle support. It is important to have ankle support because anglers walk in and around a river with loose rocks and debris. Their ankles can twist unexpectedly, which can cause serious injury.
Moving in the water and shore is necessary for fly-fishing. So, you need excellent ankle support and traction from the wading boots. The sole of a high-quality boot will have a solid grip on the rocks and slippery surfaces to give you stability on the river bed. 
A wading boot with protective layers on the front and heel can protect your feet well. Also, the boot covers your feet from the abrasive environment. They also drain the water fast and keep you comfortable for hours. 
Conclusion
With the right fishing wading gears and accessories, your fishing expeditions become much more enjoyable. The best wading boots we have listed are made for different fishing styles and conditions. 
But judging by all the features of these boots, we recommended the Korkers Darkhorse Wading Boots

for all types of fishing. They provide not just safety but also comfort. You will also get these sturdy boots at an affordable price. You have other options available too. Hopefully, this guide will help you choose your new pair of wading boots.