As an Amazon Associate we earn from qualifying purchases made on our website. If you make a purchase through links from this website, we may get a small share of the sale from Amazon and other similar affiliate programs. You can read our complete
legal information
for more details.
Any angler's ultimate goal is to go fishing offshore as that is where they can find the biggest fish. For fishing in saltwater, you must have a saltwater fishing reel that is durable and corrosion-resistant. But there are so many options in the market. That's why I have listed a few best saltwater spinning reels under $300 in this article to make your choice easier.
Shimano Thunnus CI4 Spinning Reel

is my personal favorite saltwater spinning reel for under $300. It is built with cutting-edge technology, ensuring great longevity, higher performance, and reliable functionality all in one package.
However, there are many other saltwater spinning reels of excellent quality that you can get at this price range. Each has its own sets of benefits and drawbacks. So, in this article, I will give you a brief review of some of the best saltwater spinning reels under $300, along with their pros and cons.
Best Saltwater Spinning Reels Under $300
I've used many spinning reels in my life. Not all live up to their corrosion-resistant saltwater claims. But there are some that deliver their promise. So, take a look at the following list to find the best saltwater spinning reel under $300 for you. 
1. Penn Slammer IV Spinning Reels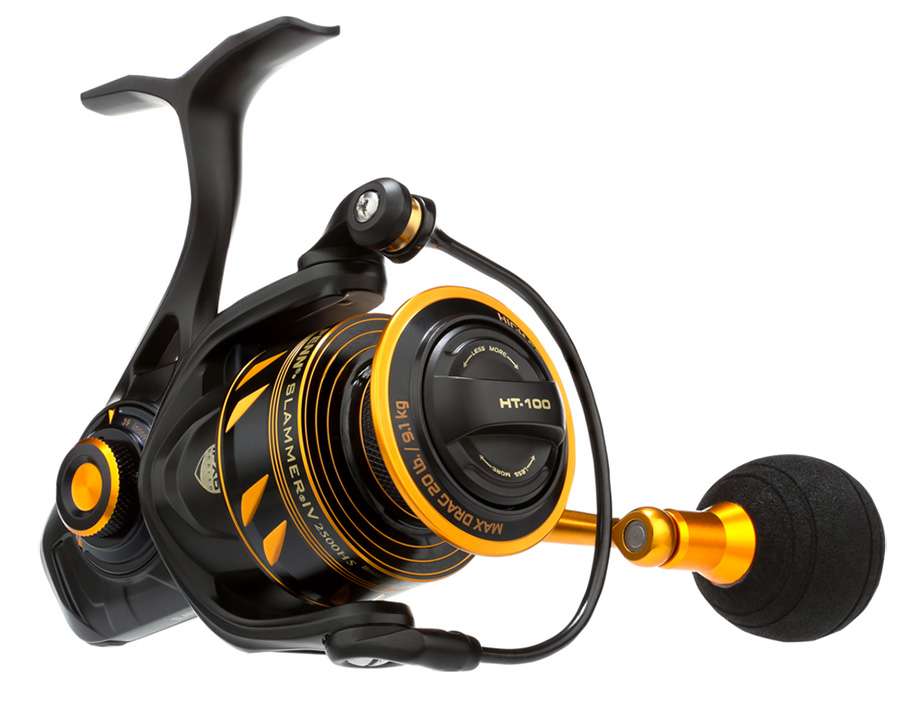 The Penn Slammer IV

is undoubtedly one of the best spinning reels you can get under this budget. The spinning reel has far more features than any other reel in the Penn Slammer series. 
The revised Slammer drag system relies on the brand's renowned IPX6 sealed spool and body. Moreover, apart from being designed for a tighter seal, it also provides a larger variety of useful drag. Thus, the bearing is assisted for additional smoothness. 
Well, The Penn Slammer Series is indeed a fantastic reel, strong, long-lasting, and a real monster on the water. However, Penn has pushed above and beyond to improve it. Here I am talking about a stronger sealed system, improved drag mechanism, 9 ball bearings, etc., making it even more fail-proof than that of the prior generation. 
The aluminum construction of the Slammer IV

saltwater reels features CNC brass gearing that is strong as nails and gives reliable performance. Moreover, the Slammer is properly sealed and can withstand splashing and being submerged.
Besides, Penn has expanded this collection to include a 2500 size, undoubtedly a fantastic addition. The smaller one also has the HT-100 dragging mechanism.
Moreover, you will find a metal ball handle and an extra EVA knob in the package. When you combine all of this, you get a fantastic Penn reel that would last for a long period of time and keep running regardless of what you put into it!
These amazing reels come in sizes ranging from 2500 to 10500. The Slammer reels have a black background with golden embellishments. Unlike many low-quality spinning reels, the Penn Slammer's all-metal design makes it so much more robust and warp-resistant under strain. It is critical if you are after huge saltwater fish that fight back.
Pros
Durable.
Water-resistant.
Easy to use.
Cons
---
2. Shimano Spheros SW Offshore Spinning Reels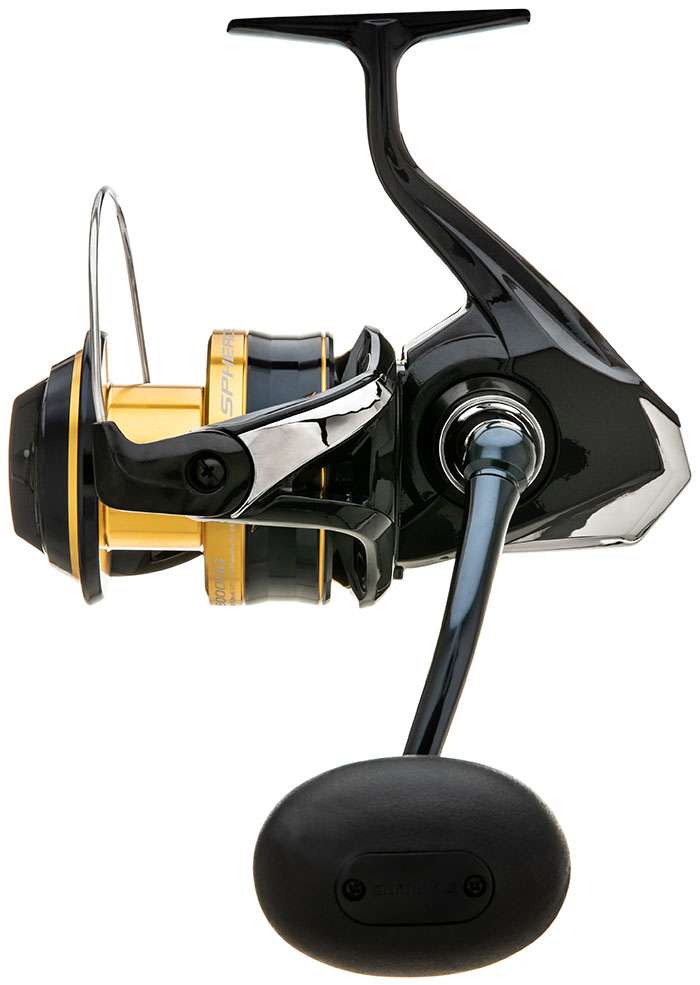 Shimano's Spheros SW Spinning reels are famed for their ability to reel in huge fish even in the toughest and saltiest conditions, all while being relatively affordable. The Shimano Spheros SW is difficult to compete with whenever it comes to an excellent reel under $300.
This spinning reel features the brand's Hagane body concept in the construction. This feature's top-notch quality gives the endurance and rigidity needed to endure the strain of bigger fish species. 
Top-notch quality engineering and materials, such as those found in the Spheros SW

, are prevalent in bigger, more costly offshore spinning reels. However, I am very pleased to find Shimano's cheaper model is of the same high quality. 
Not only that but also the cold-forged Hagane gearing are used in the Shimano Spheros SW

. This is advantageous since you can be confident that the internal components would endure a long period with this design. 
It produces smooth gearing and a robust gear since the gears mesh or fit snugly together. Thus, it gives it a far more solid feel and reduced gear wear. Furthermore,  the spinning reel supports the pinion gear with two bearings at both ends, ensuring that the gears remain perfectly aligned. 
Furthermore, x-shield technology, CF gearing, cross carbon drag system, etc., features are also available on this cheaper model of Shimano. Altogether, the Shimano Spheros SW

is a well-made reel with several features as the costly Saragosa SW reel. So, it won't be a bad choice for anglers looking for a solid spinning reel at a cheap rate.
Pros
Casting is simple.
Completely sealed system.
Great value for money.
Cons
---
3. Shimano Vanford Spinning Reels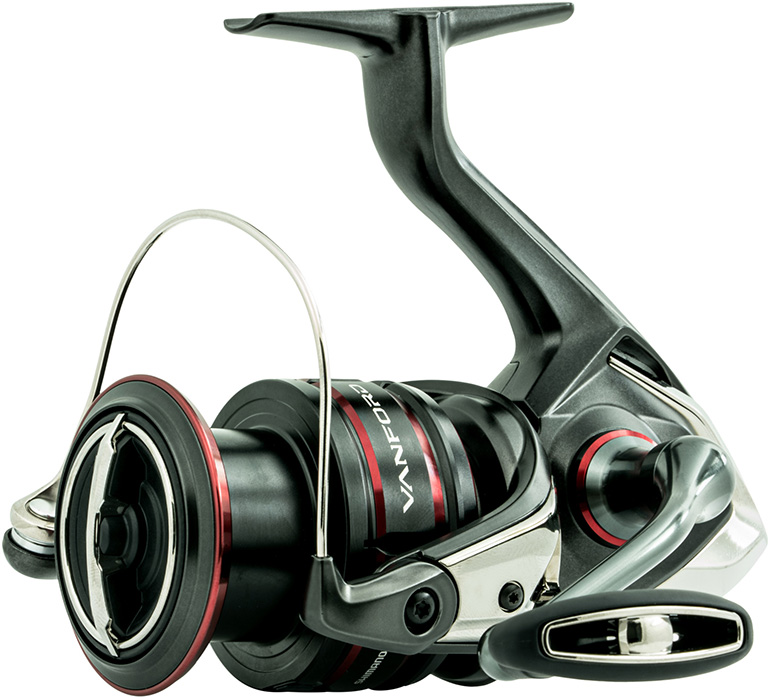 The Shimano Vanford spinning reel

is a new model of the brand that is a terrific update and worth looking into to add to your tackle backpack. Like most of Shimano's latest reels, this reel features an X-shield and X-Ship, a waterproof coat on the gearing that provides enhanced resistance to water. 
It further reduces friction, giving rise to a new height of flawless casting and retrieving motion. The reel's X-Protect system and water-channeling structure promote overall longevity. On the other hand, the Long Stroke Spool technology improves casting range and guarantees a cleaner line throughout recovery.
The Shimano Vanford spinning reel

contains an MGL Rotor offering about 48 percent reduced rotational inertia over conventional rotor for a speedy response in crucial conditions. Shimano's premium technology is featured on the Vanford for better fishing ability and endurance.
Moreover, the wonderful design of the spinning reel appeals to me greatly. The red and black color scheme is reminiscent of the iconic Stradic. Well, the Vanford model and the Stradic share several characteristics. They have taken the greatest features of the Stradic spinning reel that everybody likes and tweaked them somewhat.
The maximum drag, gear ratio, and weight of these two versions are fairly comparable. The Vanford

, however, is typically lighter and includes an extra ball bearing. In short, the spinning reel is a light package combined with the rotor's rapid responsiveness, which makes it excellent for delicate scenarios in which a slight light twitch of a bite may be promptly reacted to.
Pros
Functions super smoothly.
Aesthetic design.
Lightweight.
Very durable.
Cons
The line capacity is not as mentioned.
The drag washers are not very durable.
---
4. Penn Slammer III Spinning Reels
The PENN Slammer III spinning reel

was first introduced in 2016 and has undergone multiple updates to improve its efficiency. This spinning reel is well-known for its dependability, sturdiness, and cutting-edge operating mechanisms. Furthermore, it is quite cost-effective for its high-end features.
The whole frame of the PENN Slammer III is built of heavy-duty corrosion-resistant metal for further durability. This guarantees that the spinning reel will last for a long period, even if one throws, submerses, or bashes it against gunwales. The metal also shields the gearbox, ensuring that it performs best.
Although many companies use the term "watertight" vaguely, the IP scoring system analyzes items to determine whether or not they are resistant to water or what degree. The gearbox and drag system in the PENN Slammer

are protected from becoming wet or being degraded by saltwater, thanks to the IP6 certified body and spool.
The spinning reel not only functions outstanding, but it also looks outstanding. The ordinary Slammer 3 model's black body with gold trim has an immediate eye-catching effect. In the Slammer 3 line, there is also a high-speed variant with a black background with red highlights, which also looks super attractive. It truly looks like a beast of a reel.
Moreover, you also have the option to choose from a variety of sizes, starting with the smaller 3500 and working your way upward towards the 10500, Penn's largest reel. 
When you have hooked a huge fish, you will immediately realize that Slammer III

is ready for the challenge. However, the reel is a bit heavier than many other reels in the market. Besides, the reel is very smooth to use. It readily cranks under strain. So, you can tell the reel isn't twisted at all. Thus, it quickly builds your confidence.
Pros
Sturdy and long-lasting.
The Dura-Drag technology generates a huge amount of drag.
Great line capacity.
Versatile.
Cons
The automated bail trip is not available on versions 6500-10500.
Heavier than a few other reels.
---
5. Shimano Thunnus CI4 Spinning Reels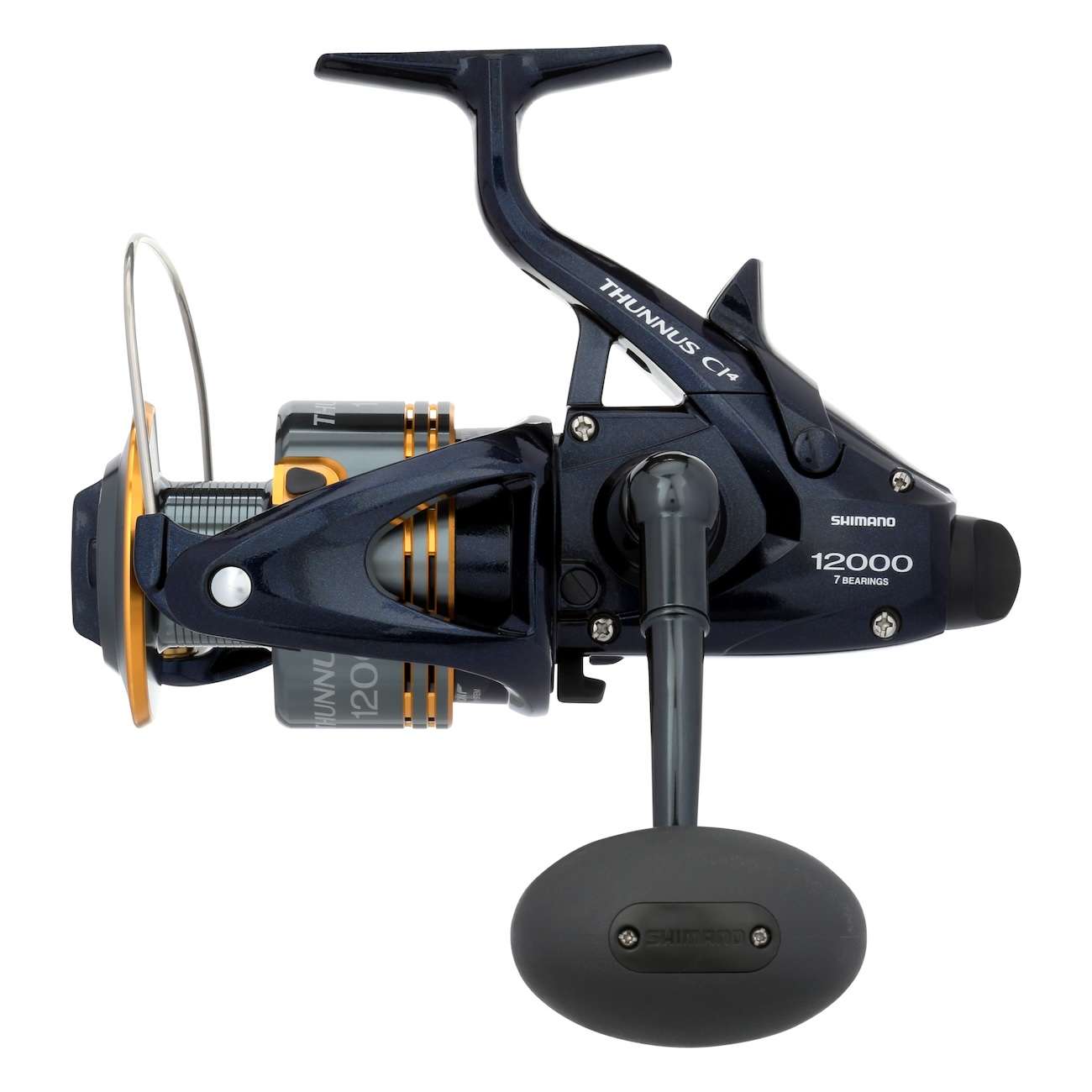 If you are looking for an affordable lightweight spinning reel for your fishing trips, the Shimano Thunnus CI4 spinning reel

is the one for you. Shimano modified the famous Thunnus saltwater spinning reel, replacing the aluminum casing with a lighter Ci4 carbon frame. The body and rotor are both made of Ci4 carbon composite, which is extremely lightweight and durable.
Furthermore, Shimano achieves its famed smoothness by combining cold-forged aluminum drive gearing with reinforced brass pinion gearing. A drive shaft made of such two materials is more durable than one built entirely with stainless steel.
This excellent spinning reel features a special Propulsion Line Control System, a unique Hagane Gear to deliver ultimate fishing pleasure, as well as exceptional Fluidrive II and Dyna-Balance technology for superior retrievals.
Shimano's renowned Baitrunner system is completely incredible. Not only that, but it even boasts proprietary Super Stopper II technology. It helps you avoid the terrible back-play while giving you incredible control over how you establish your hook. Each time one casts the line, this technology will provide unrivaled results.
Moreover, the Shimano Thunnus CI4's ARB category stainless bearings provide excellent corrosion resistance, featuring Six ball bearings, along with one roller bearing. Last but not least, the twin drag system's unlimited adjustability and smoothness help this reel stand out among its competition.
Pros
Extremely long-lasting.
Prevents blowback and knotting of the line.
To prevent wobble, there is a special mechanism in place.
The drag system is perfect for medium and small fish.
Smooth performance.
Cons
Not recommended for retrievals that need a lot of speed.
Pricey.
---
6. Daiwa Saltist MQ Spinning Reels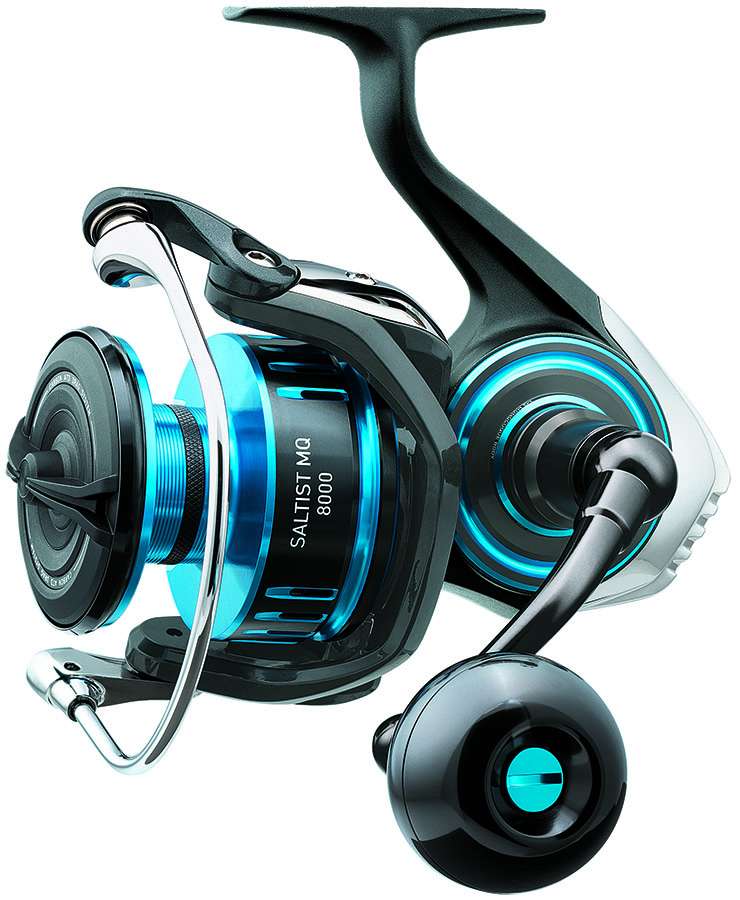 This amazing fishing reel

can withstand the weather and give a superior fishing experience for anglers looking to get as much out of their inshore reel. It offers seven variants to accommodate a wide range of baits and lures. 
The Mag sealed feature is one of my favorite features of this spinning reel. It prevents saltwater, debris, and dirt from getting between the body and rotor of the reel. The method employs a NASA-developed metal grease that renders the reel practically waterproof while preventing corrosion.
Additionally, Daiwa used their metal alloy called Hardbodyz to produce the Daiwa Saltist MQ spinning reels

. The metal makes the fishing reel sturdy and powerful while keeping the weight down. 
Well, Daiwa designed this spinning reel to last a long period. The model is powerful enough to tackle enormous Pelagic fish species by combining top-quality materials and patented technology. 
Moreover, it is very lightweight, ensuring that you remain comfortable while using it. It also implies that you may carry it all day without feeling tired. The best thing is the Daiwa Saltist

comes with a lifetime warranty from Daiwa. Thus, if the spinning reel breaks, the company will repair it for you.
Pros
Very lightweight and comfortable to carry.
Lifetime warranty.
Built with high-quality materials.
100% waterproof.
Cons
Expensive compared to the others on the list.
The company might delay the repair process.
---
7. Daiwa Ballistic MQ LT Spinning Reels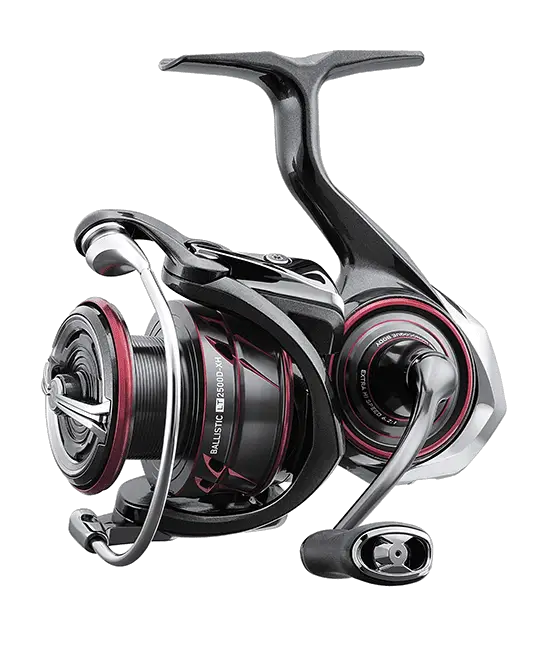 Whenever it concerns manufacturing most of the best spinning reels, Daiwa is undoubtedly one of the leading brands among anglers. Not only is their equipment well-known for its excellent quality, but it is also recognized for being very robust, able to withstand the hardships of fishing.
The brand's Daiwa Ballistic MQ LT Spinning Reel

is widely regarded as one of the best spinning reels available today. The spinning reel comes in a range of sizes, allowing anglers to choose the one that is right for them based on the fish type they are seeking and the sort of lure they would like to use
The reel is available in five sizes, ranging from the light and small 1000 version to the larger 6000 version, ideal for most saltwater fishing forms. The series has 5 distinct reels constructed of corrosion-resistant materials, making them ideal for freshwater and saltwater usage. 
The Ballistic reel is made of a proprietary carbon fiber material, which makes it both lightweight and extremely robust. The reel is built for robustness and longevity, and it performs well throughout every situation. So, it is both light and portable. Besides, the total weight of the Ballistic MQ LT

range spinning reels varies between 6 and 8.1 ounces.
Moreover, this spinning reel also has an Air Rotor technology which is more stable, lightweight, and sturdier than prior models with diverse rotor designs. This element adds significantly to the total rotational balance of the reel and is also a key part of the smoothness of the Ballistic reels.
So, the Daiwa Ballistic MQ LT

is undoubtedly an ideal choice for anglers looking for something durable and lightweight, which they can use in all types of water.
Pros
Innovative and effective MagSealed technique.
Both tough and light.
Very strong frame.
Cons
The spool is a bit small.
Not ideal for catching large offshore fishes.
---
8. Daiwa Saltist Spinning Reels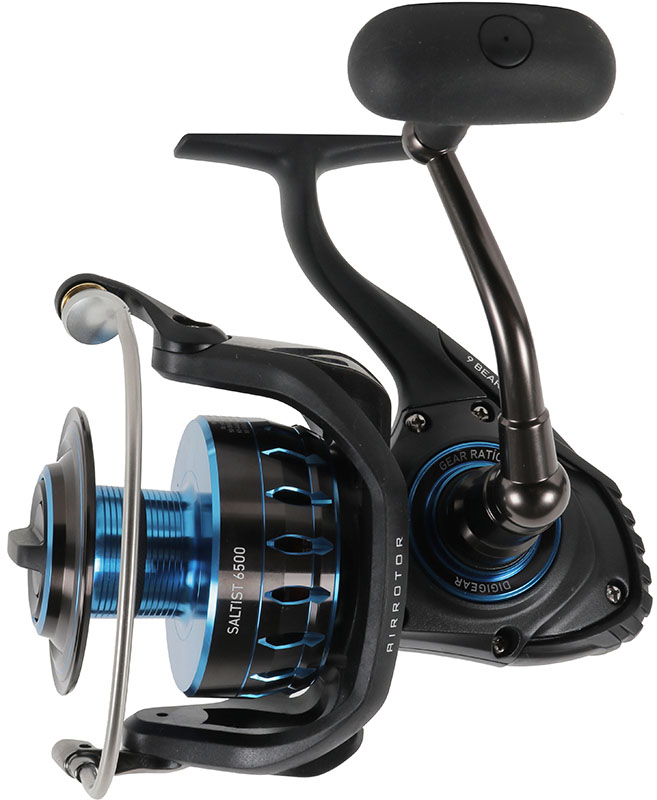 The Daiwa Saltist Spinning Reel

comes in seven different variants, all of which are intended exclusively for fishing in saltwater. Each has its unique characteristics and applications. They are often made of tough, durable materials, perfect for fishing in tough circumstances. Anglers who plan to troll difficult salt waters might consider this product.
The body of the spinning reel is built of a special metal alloy, which ensures that it will last a long time. It provides enough toughness and longevity. Furthermore, the special alloy keeps the reel lightweight without compromising its durability over time.
Besides, the spinning reels also have a digital gearing mechanism with the Daiwa Saltist spinning reel to ensure the best possible performance. The function of this gear causes the cranking strength of each handle spin to be effectively transmitted to the spinning reel's spool and gear. The brand used milled gearing to deliver unrivaled motion and longevity in this digital gear.
Moreover, the metal spool on the reel can hold several line rolls. When fishing for big fish, such line-holding ability comes into play. You also won't have to do any monofilament backing since the spool has a braid on it.
This spinning reel is multi-purpose, although it is primarily for professional anglers who want to troll deep waters. It has a robust drag system, which is extremely strong and capable of pulling heavy animals without breaking. Furthermore, the ABS Spool guarantees the reel's strength and rigidity under stress.
So, the Daiwa Saltist Spinning Reel

is your best opportunity if you are a dedicated angler looking to catch deep-sea species in saltwater areas.
Pros
Ideal for large fish.
Waterproof drag system.
Excellent line capacity.
The design is waterproof to a great extent.
Cons
Heavy.
Quite difficult to handle.
---
9. Daiwa BG MQ Spinning Reels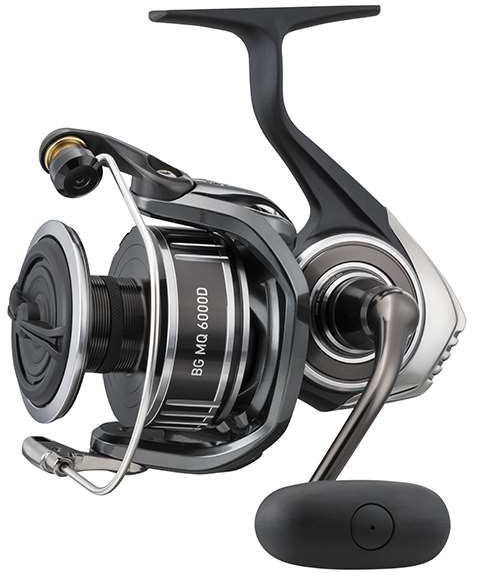 If you have fished the normal Daiwa BG, you certainly know how good this series is. And, the Daiwa BG MQ spinning reel

has increased strength, cranking ability, and endurance. So, you probably have already guessed how amazing this spinning reel might be!
The model no longer requires weak points, screws, and side plates with the redesigned monocoque body. This enables for more compact size and the removal of unneeded weight. 
Additionally, the spool's improved form will result in better line retention while casting. It is said to improve the casting range by about 5 percent. So, when you use it with correct surf fishing gear, a braided line can get you some significant distance.
The Daiwa BG MQ's seal is also a little stronger than the Daiwa BG's. However, there are some weak points, so don't get any wet. Remember that these reels are not suitable to be dipped in water.
Besides, this spinning reel also had Daiwa's Automatic Tournament Drag technology. The ATD method incorporates a newer form of drag oil that helps increase viscosity as the fish rotates it, resulting in a better reaction.
Although the BG MQ offers minor enhancements over the BG, the cost may not justify them. But it is a lovely reel and will serve you for years if you take proper care of it.
Pros
Smooth performance.
Top-notch quality.
Lightweight.
Cons
---
How To Pick the Best Saltwater Spinning Reel?
You have to take a spinning reel's bearings, gear ratio, materials, and so many other things into consideration when picking the best saltwater spinning reel for yourself.
The following are a few of the things you must consider for choosing when best saltwater spinning reel:
Bearings
These will impact how the reel spins when casting and recovering the line. The faster and greater performance you want, the more bearings you will need to have in your spinning reel.
Moreover, stainless steel and corrosion-resistant bearings are best suitable for saltwater fishing since they can endure long. So, consider buying a spinning reel that has high-quality bearings.
Materials
The frame of spinning reels for saltwater is generally made of graphite or aluminum. Although aluminum makes a strong frame, it is prone to corrosion. On the other hand, graphite is inherently resistant to corrosion yet weaker than metals.
As a result, if you plan to catch small fish, a graphite-frame reel will suffice. The metal frame, however, is ideal for large fish. Well, try to choose reels featuring anodized aluminum framing and watertight sections to avoid corrosion.
Gear Ratio
This determines the pace at which the reel picks up your line. I would recommend a moderate gear ratio for most novices and inexperienced anglers. Both slower and quicker baits work well with moderate speed.
However, while fighting a large fish, a quick gear ratio enhances your pace. When dealing with large worms and wobbly heads, it eliminates slack in the line.
Line Capacity
It is a measurement of the length of the line on a spool of the reel. In any event, make sure you obtain the highest spool size feasible so you can slip a huge line in and throw much further.
Weight
Saltwater spinning reels must be lightweight since the water has a low density. Lightweight reels are way more comfortable to use. Thus, you can go all day without getting tired by using light spinning reels.
However, don't forget to keep durability in mind while choosing a lightweight model. Aluminum is more durable than graphite or carbon fiber, although heavier. So, if you are not going to continue pursuing big fish, graphite or carbon fiber are good options. But if you want to catch big fish, it is best to choose an aluminum spinning reel.
Conclusion
A saltwater spinning reel is a piece of must-have equipment for anglers who want to fish in the saltwater. By now, you've got to know about some of the best saltwater spinning reels under $300. Well, I prefer the Shimano Thunnus CI4 Spinning Reel

considering its top-notch quality, tons of features, and excellent durability.
The Penn Slammer III

is not a bad option if you are looking for a more budget-friendly option. However, it all comes down to your budget and preference. Thanks for making it to the end of the article. Hopefully, you've found this article helpful. Take care.