As an Amazon Associate we earn from qualifying purchases made on our website. If you make a purchase through links from this website, we may get a small share of the sale from Amazon and other similar affiliate programs. You can read our complete
legal information
for more details.
Wading jackets are crucial for any fisherman because they help people fish despite bad weather. But not just any random jacket will do. You need to get one of the best wading jackets to get maximum protection. But, which should you get? 
The Simms G4


PRO

is what I would recommend if you are in the market for a new wading jacket. Its advanced features like GORE-TEX fabric and snag-proof exterior come in handy when fishing knee-deep in water. Simms has always been a favorite in the angler community for their superior waders. And the G4 Pro easily lives up to that reputation. 
But, "The best" doesn't necessarily mean best for you. Based on your preference and requirements, something else might be more suited for you. That is why I made this list of best wading jackets so that anyone can find just the right one for them. 
10 Best Wading Jackets For Fishing
I made this list from my experience with these wading jackets over the years. It is based not only on the performance but also on the value for money ratio. Without further ado, let's get into the details:
1. Simms G4 PRO Wading Jackets
Simms is a resounding name when it comes to outdoor gears. It has spearheaded the development of modern outdoor gear. I have owned Simms products, so I was stoked when they introduced the G4 Pro line.
The Simms G4 Pro Wading Jacket

is one of the advanced wading jackets in the market. Even with the material composition aside, the utility features alone give it a head start. As for the material, they used high-quality 3 layers of GORE-TEX fabric.
Despite having a lot of utility features, Simms G4 Pro Wading Jacket

has a rather minimalistic look. The modern, streamlined outlook gives a deceptive account of all the on-body storage. It also has a streamlined design that has a perfectly snag-free outer surface.
I think shingle cuffs are the most wonderful thing after sliced bread. These cuffs help stop water from reaching into your sleeves. G4 Pro's velcro straps will give you a watertight seal on the sleeves.
 One of the coolest features of this wading jacket is the fly patch on the front. It's a retractable canvas that stays below the left front pocket. You could use it to dry your flies or detach them altogether if you don't need it. But I find it very helpful to keep your flys organized.
Pros
Durable triple layer Gore-Tex
Additional Insulation Features
Snag-Free Outline
Cons
---
2. Simms ProDry Fishing Jackets
The Simms ProDry Fishing jacket

is one of the older models of Simms. It is a go-to model for most anglers because of its affordable price range. If you are looking for the biggest bang for your buck, then this might be what you need. ProDry is primarily for anglers at sea. You will see a distinct lack of metal anywhere on the jacket if you focus on the details. The lack of metal makes it resistant to salt-water corrosion. 
If you want to go wade fishing around shorelines, this sort of jacket is a must. I hit many fishing spots around the year, and having an all-purpose jacket is fantastic. ProDry is not a wading jacket. Most Bass anglers use it to combat foul weather at sea. But you can easily use it for Sportfishing because of its features.
You will love the lens cleaner if you are medically forced to wear glasses. The inside pocket of this jacket has a built-in lens cleaning cloth. You can access it with only one hand. That offers a hassle-free way to clean your glasses on the go.
The ProDry Jacket is a long-term investment that will last you up to ten years. But you need to maintain it properly to reach that kind of lifespan. The gore-tex fabric on this does not go out of commission soon. You can even repair puncture damage from fishing hooks with some aqua seals.
Pros
High Durability
Lots of Storage
Sealed Hems
Cons
---
3. Sitka Men's Waterfowl Marsh Hudson Jacket
Sitka Men's Waterfowl Marsh Hudson Jacket
The Sitka Hudson jacket

is one of the most comfortable waterproof vests out there. It is a hundred percent water and windproof. It's made of high-grade gore-tex material to provide the most amount of breathability. 
The Hudson jacket is a staple for fowl hunters due to its camo design. But it has enough functionality to be a perfect wading jacket. The jacket is fully lined with PrimaLoft. So, the insulation of this thing is perfect for any kind of weather.
They use sculpted hood technology, a fancier way of saying skin-tight hoods. This design offers increased insulation. It also offers more visibility from the front. Like most high-tier wading jackets, it also has a sealed cuff and hem. The adjustable straps underneath the sleeves keep the water out if you submerge them in the river.
The front bottom pockets have a magnetic closure. You can place delicate metal objects in those pockets to have easy access. This feature is more helpful for waterfowl hunters. They can keep the shotgun shells in these pockets. It still offers a lot of utility to everyone.
The material of this jacket is not pure gore-tex. Rather they used a flexible version that lets it stretch more. That makes it the most flexible jacket on this list. Normally, you would need to buy wader jackets a bit larger than your body. But this one offers enough flexibility even with a snug fit.
Pros
Very little Movement Restriction
Insulation Against Cold
Breathable Shell
Cons
Not ideal for warm weader
---
4. Simms G3 Guide Tactical Wading Jackets
Simms G3

is another one from the G series. It has been a popular pick for waders for a while now. Before the G4 came out, this was the peak of wading jackets. You will notice some similarities right away between the G4 and G3's core designs. 
Gore-tex is still the primary material for this jacket. It also has three layers of that stuff for added insulation. It is also surprisingly light. People tend to associate bulky, heavy shells with wading jackets. But to me, G3 felt lighter than some of my casual jackets.
The G3 Guide Wading Jacket

also has 9 pockets, though slightly different placement than G4. The fly box pockets at the front are similar and have about the same space. But the handwarmer pockets are placed significantly lower. 
That makes things more comfortable, but you need to keep them zipped when going in deeper water. Otherwise, water will get in. Thankfully all the zippers are YKK water-resistant zippers.
The storm hood on the G3 tactical is far larger than others. I honestly thought it would be too clunky after seeing the size.
They also used a four-point adjustable system on the hood. That allows the user to make it fit as snugly as possible. All while giving the maximum coverage against rain and snow. The nifty thing about G3 tactical is its docking station. The retractable points have a hook to place your nippers or other fishing gear.
Pros
High abrasion resistance
Temperature resistance
Lots of Storage
Hem and Cuff closure
Cons
---
5. Sitka Delta GORE-TEX Jacket
Sitka Men's Delta GORE-TEX Jacket
The SITKA Delta GORE-TEX Jacket

is a classic, all-purpose weatherproof jacket. It has triple layer Gore-Tex and insulation designs to help trap and expel temperature as needed. 
This will take you from early to late season without any hassle. However, you may need to wear a gradient hoodie in the late season. The temperature drops quite a bit during that time in the marshes.
The Delta Wading jacket is perfect for waterfowl hunting, too, due to some features. It has magnetic closure pockets to keep spare flies and other delicate gears.
It has too many comfort features, so I can't find many negatives. The pit zip is an extraordinary addition to a wading jacket. It's a godsend feature for folks like me who sweat a lot. 
The pit zip allows me to expel a lot of body heat without taking off the jacket. See, the marshes and rivers are not always cold. Or even in the cold, I end up working up a lot of sweat sometimes.
The forearms of this jacket are lined with cushioning material. That stuff is resilient and prevents wear on your forearms. This feature is far more useful for fowl hunters because they tend to crouch a lot. The forearms take the full brunt of that kind of activity. These reinforcements are there to protect against tears.
Pros
Many Utility Features
Abrasion Resistant
High Insulation
Durable Material
Cons
---
6. Simms CX Fishing Jackets
Simms CX Fishing Jacket – Simms Fishing
The CX Series

from Simms is a classic line of jackets for anglers. Unlike some of the all-purpose wading Jackets on this list, The CX series is only for fishing. That can be angler fishing on a boat, river, or sea. And, of course, it is fantastic for fly fishing.
The CX is made from a three-layer laminate material. It is Simms's proprietary material, unlike the Gore-Tex. They also added a stretchy nylon membrane underneath to increase elasticity. 
One thing that I love about the new CX is the design. Not the utility or other standard design, no. I mean the visual aspect of it. It has a sporty look that befits the younger generation. A far cry from the dull grey stuff you generally see. 
I like how many layers of protection they added the CX too. Over the 3 layers of breathable material, they added storm flaps to keep the rain out from the zippers. The hoodie also has wind vents to let the air pass instead of blotting up your top on a boat.
The CX features an all-new horizontal front zipper. It is different from conventional zippers due to its hundred percent water resistance. 
The hood is one of the most thought-out things about this jacket. They went out of their way to design a hood that does not block peripheral vision when you pull it close. Even on stormy trips, the hood closes from the side of my face, leaving ample space for my periphery.
Pros
Waterproof
Breathable
Fashionable Design
Sealed Seams
Vents On the Hood
Durable
Cons
---
7. Simms Guide Classic Wading Jackets
Guide Classic Wading Jacket – Simms Fishing
The Simms Guide Classic Wading Jacket

is a minimalist version of the Simms G series. It does not have nearly as many bells and whistles as those. But, it is a very durable jacket made from top-quality Gore-Tex. 
It is a functional jacket that will last for a long time. It just does not feel as glamorous. But it is significantly more affordable compared to the G series. That makes it a perfect choice for people looking for a budget option.
You see, back in the day, it used to be a staple in almost every competent fisherman's gear list. The G series and the newer Hudson models had not come out yet at the time. I had it back then, and It has served me well over the years.
Even today, it stands higher than many newer jackets due to its price to performance ratio.
With most wading jackets, the front pockets are internal things. But the Simms Guide Classic

has two elastic pockets at the front that stretch at the seams to give more storage space. Its handwarmer pockets are deeper than the regular wading jackets. This helps you get the hands deeper for more heat. The material also absorbs heat to keep that place comfier.
Pros
Minimalistic
Highly Durable
Comfortable
Cons
---
8. Simms Bulkley Insulated Jackets
The Simms Bulkley Wading Jacket

has a hilariously misleading name. Contrary to what you would expect, it is not bulky at all. It's one of the lighter jackets I have used so far, and It feels comfy enough.
The base material is gore-tex, just like any other Simms product. But It does not have three-layer protection like the rest. Instead, it has a layer of PrimaLoft underneath that runs into the sleeves.
The hem of this jacket is not too long nor too short. It's shorter than a boating jacket so that you can move around more freely. But it is also long enough to cover your entire waist.
The gore-tex material covers the insulation material from the bottom. It reaches almost halfway up the jacket. So, if you walk hip deep into a river, the insulations will stay dry. 
Normally, I would try to go for a higher price range option for wading jackets. But if I had to stay within a budget, I would pick something like the Bulkley hundred percent of the time.
Pros
Good insulation
Perfect Hem length
Minimalist style
Cons
---
9. Orvis Men's PRO Wading Jackets
Orvis is a tasteful option if you want top-tier equipment on a budget. It may not have the Gore-Tex Material, but the high-quality Nylon fabric still makes it waterproof. Polyester also has the added benefit of being easy to clean. 
The Orvis Pro Wading Jacket

has a three-layer breathable structure that traps heat and insulates against cold. The seams on this jacket are all sealed tight with tape. It also has a fly patch to store all your spare tackles. Adjustable ham allows you to seal the rear end of the jacket. This prevents water from coming in through the waistline, but you also need a pair of waders.
The hood itself has a laminated brim to allow better vision. It has a chin guard below the hood to provide better protection against the weather. I would compare it to the same level of convenience as the G3 Tactical hood. 
The rear end of the jacket has a D-ring for attaching fishing nets. This will save you valuable storage space because fishing nets can be tricky to manage.
You can find retractable rubber tabs at the front of the jacket. These things work exactly like the docking stations of G3 tactical. Except, they have a better grip.
Pros
Lightweight Fabric
Easy to Clean
Durable
Water Repellent Finish
Cons
---
10. Striker Ice Denali Insulated Rain Jackets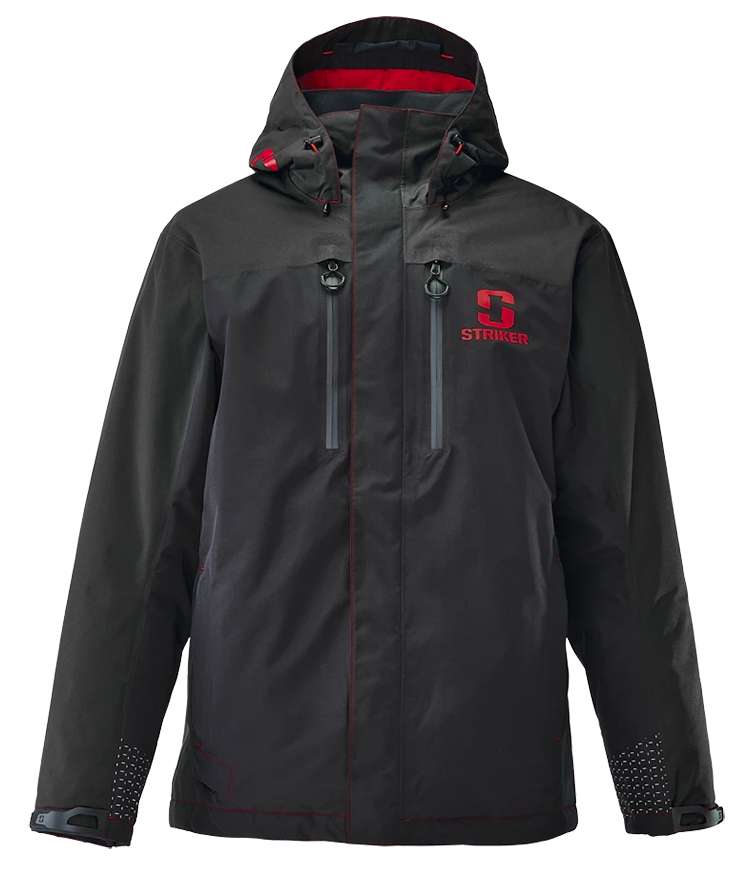 Most of the time, the fishing seasons are rainy and damp. Striker's Ice Denali is a very affordable option for most people looking to get into fishing in those times. Dedicated rain gear like Striker's ice Denali is popular for many anglers.
It is one of the most comfortable jackets in its price range. I recently had a chance to get my hands on one of these when I was out on a trip with a good friend. He recently got it, and it's serving him well. It is worthy of its name because it has one of the best insulation systems I have seen for a while. The material isn't Gore-Tex, unfortunately. But the reinforced nylon gets the job done.
I am not a fan of the striker hood, though. It has a 3 point adjustable hood. But you would need to reach inside the neckline to cinch it tight. I prefer the straps to be outside for easier access.
The double cuff system is one of the niftiest features I have ever seen. So, regular jackets have a strapped inside sleeve that keeps the water out, right? 
Well, the Striker Denali

takes that a step further and adds another velcro strap on the primary sleeve. This material has been seen throughout the fabric as an insulating shell. It gives double protection against water. The PrimaLoft lining keeps this thing warm as a toaster.
Pros
Durable
Very Comfortable
Retains Heat
Easy To Move In
Cons
---
Things To Check Before Buying A Wading Jacket
You have learned about some of the best wading jackets on the market. But how can you tell they are the best for you? Here's a quick list of qualities you need to keep your eyes on while buying these things:
Fabric Layer
Wading jackets need to be insulated well. Even the most high-end material cannot do a proper job of insulating without layers.
Most of the top manufacturers use 3 layers of fabric for their jackets. Sometimes they add extra membrane layers for specific purposes. For example, the Hudson Jacket has an added layer for flexibility and stretchiness.
Breathability
Breathability is an essential quality of wading jackets. It is a modifier that determines how much water the fabric can disperse while keeping the heat in. 
And not all breathability levels are the same. For example, G4 has a much higher breathability level than Orvis because of material superiority.
Waterproof vs. Water Repellent
You probably figured it out that all wading jackets need to be waterproof. It is a quality that makes the fabric resistant to water splashes.
But high-grade wading jackets can take it a step further. Another thing called a water repellent finish is where the droplets slide off of the fabric. Both G3 and G4 have a water-repellent finish.
Also, Gore-Tex is the best waterproof material commercially available right now. That is why a lot of high-end jackets have this material.
Dedicated Features
Most people buy wading jackets for either fishing or hunting or sometimes both. These jackets offer specific features depending on the type of activity it's designed for. You should check what features you find helpful before buying.
For example, Simms G4 has dedicated fly fishing features in the form of a fly patch. Hudson jackets have a magnetic closure and stretch torso material for easier shotgun movement. These features make it better for waterfowl hunting.
Storage
Anglers can never have too much storage. The more storage you have, the better you can sort your gears. That is why you need to check and see if the jackets have enough storage before buying.
Just having storage is not enough, though. You need it to be in a convenient place to reach easily. G4 has 9 different pockets in easy to reach places, which is the type of accessibility you should look for.
Cuffs and Hood
The sleeve cuffs and hoods are very important for a wading jacket. You will either be on a boat or dipping your hands in water to pull out fish most of the time. 
If you don't have a decent hood while riding a boat, your head will freeze. The sleeves also need Velcro straps or any other straps under the shingle to make your wrists watertight.
Conclusion
If you've just decided to get your first pair of waders, then it can be too tough to pick the right one. With so many features and whacky terms wader companies throw around, it is easy to be confused, even for experienced anglers. But I hope this list helps you get an idea of what you should be getting. 
But if you are still not sure, just go with the Simms G4 Pro

. It is undeniably the best wading jacket in the market right now. It should offer you an excellent experience no matter your experience and fishing environment. Thanks for stopping by, and best of luck to you.