As an Amazon Associate we earn from qualifying purchases made on our website. If you make a purchase through links from this website, we may get a small share of the sale from Amazon and other similar affiliate programs. You can read our complete
legal information
for more details.
Wading jackets are becoming more and more popular among fishermen over the years. So, wading jackets are basically drowning the market no matter which price range we talk about. So, finding the right one can be quite daunting. If you are in the market for the best wading jackets under $300, here's what I think would be best. 
The AFTCO Hydronaut Heavy Duty Jacket

is my favorite wading jacket under $300. Not only is the jacket from a well-known brand, but it can also resist extremely cold temperatures and torrential rain. The top-notch waterproof breathable fabric, Velcro cuffs, proper insulation, as well as a 2-year limited warranty makes it the complete package for anglers.
However, there are many other fantastic wading jackets on the market that you can get at this price range. In this article, I will go over a few of the best wading jackets under $300, along with their pros and cons. I will also provide you with a buying guide to help you choose the best one for yourself.
Best Quality Wading Jackets Under $300
As I have mentioned already, there is no shortage of wading jackets at this price range in the market. But, based on my personal experience, here are some that I can recommend. 
1. Stormr Strykr Jackets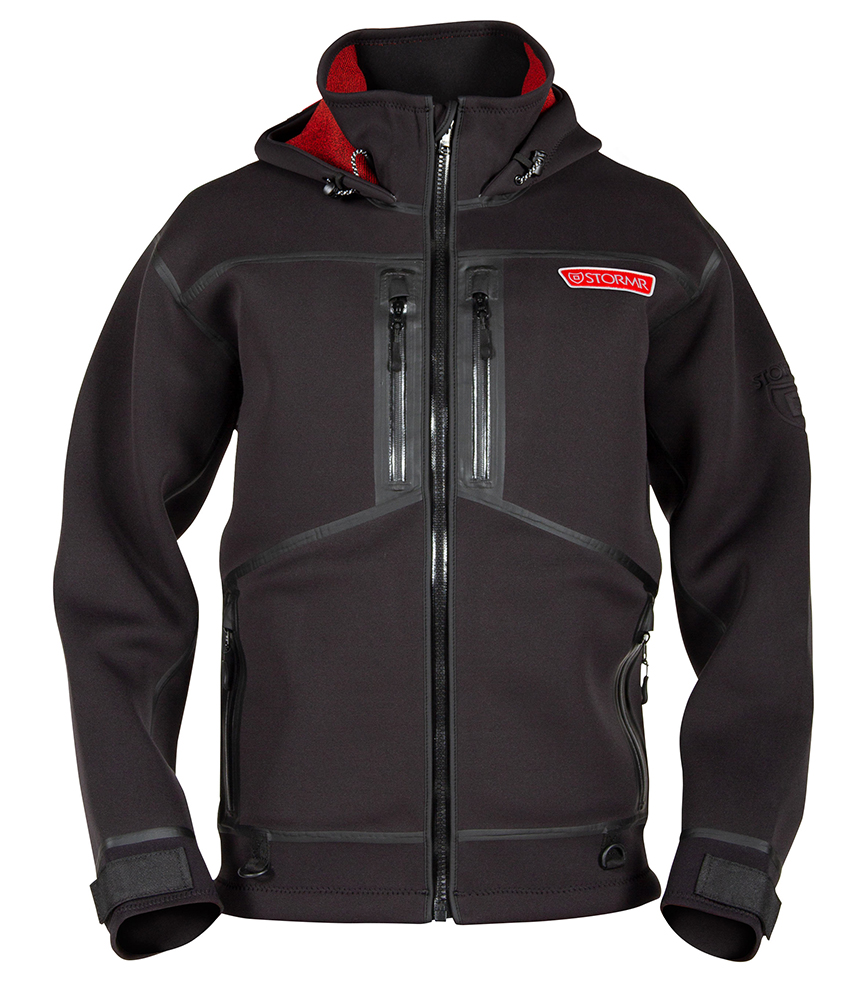 The Stormr Strykr Neoprene Jacket

exceeds expectations and establishes new benchmarks for sailors and extreme anglers who encounter harsh conditions. Neoprene fabric is used in this excellent jacket to create a thin, soft, durable, and highly elastic outermost layer, also moisture resistant. 
Besides, a DWR treatment is applied to the entire external fabric, preventing precipitation from soaking the external face cloth. The apparel remains lightweight and dry as a result of this.
Well, be it snowfall, rain, or sleet, the waterproof jacket with moisture-wicking fabric keeps you dry and cozy! The Strykr Jacket

keeps mariners and fishermen safe and gives positive buoyancy. It provides a lot of stretch for a great deal of flexibility and physical function.
Furthermore, its seams are thermally fused for increased durability and watertight integrity.
The high-quality material and thermally welded outside seam ensure that the jacket will last in any scenario. Furthermore, large pockets featuring non-corrosive zippers give plenty of capacity for any of your necessities!
This excellent wading jacket also has a two-way adjustable hood. The jacket not only looks super stylish but is also extremely durable. The jacket is undoubtedly the appropriate equipment for you if your enthusiasm takes you to cold, rugged, tough, and ever-changing conditions.
Pros
The fitting is perfect.
Well-made jacket.
Suitable for all weather.
Cons
The collar is a bit loose.
The hood is not removable.
---
2. Freestone Wading Jackets
The Simms Freestone wading jacket

is a top-notch jacket, coming with a slew of great features. This jacket is constructed of three layers of Toray fabric with waterproofing tape across all seams. It features adjustable seams, YKK water-resistant zipper, and a Storm Hood that tucks away.
This jacket can resist cold temperatures, as well as torrential rain. The bottom of the jacket can be cinched tight around the waist with an adjustable waistband. Moreover, the velcro cuffs on the Simms Freestone tighten to avoid moisture from sliding up your hands when casting. 
The jacket has two huge external pockets spacious enough for different tackles. Besides, there is an additional internal pocket for mobile or wallet protection. Unfortunately, since the jacket is not insulated, it won't keep you warm in extremely cold weather. 
However, you can enjoy the soft inside fabric, which is gentle on the skin and gives comfort on cold days.
Last but not the least, it arrives with the Simms quality warranty, which ensures complete customer satisfaction. SIMMS will replace or repair your gear if it malfunctions caused by a defect in construction or materials. 
Moreover, the company will make a concerted effort to fix your jacket for a modest charge if it fails due to severe wear, accidents, or material deterioration over time. So, the Simms Freestone Wading jacket

won't disappoint you if you want a high-end wading jacket that will last for years. 
Pros
Breathable Fabric of High Quality.
Extremely Waterproof.
It's light and comfortable to wear.
Storm Hood that tucks away.
Perfect sizing.
Tough material.
Cons
---
3. Gill Tournament Pro3L Jackets
The Gill Tournament PRO3L Jackets

have a standard fit that is pleasant to wear the whole day. These jackets are for extreme rough weather conditions and give fantastic performance yet keep you comfy and dry all day. These Jackets are made for serious tournament fishermen and other professionals. 
Gill Tournament Pro3L Jackets

are perfect for fishing and powerboating since they have completely sealed seams and coated moisture management material with a strong water-resistant exterior finish. 
Well, the jacket features the Vortex hood technology to hold the hood in position when moving at high speed, making it ideal for navigating a powerboat. This sleek fishing jacket is available in taupe or graphite with discreet branding throughout the chest. 
This fishing jacket is lightweight and breathable, featuring zipped chest pockets and roomy side pockets for extra storage. Furthermore, the movable twin cuffs with a PU inside sealing and a YKK Aquaguard zipper at the front provide you with watertight security and comfort.
Pros
Simple yet gorgeous design.
Good build quality.
Lightweight and breathable.
Vortex hood technology keeps the hood in position.
Cons
Not as comfortable as the previous ones.
---
4. AquaSkinz Nor' Easter Full Zip Waterproof Top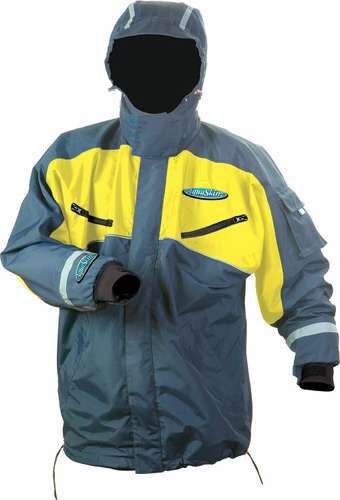 The AquaSkinz Jacket

might become your closest companion, whether you are on a boat, at a beach, a lake, or at your preferred trout stream. The complete zip-up, waterproof jacket is just as suitable for a casual hike, a sporting event, or everyday use as it is for the sea environment.
The jacket's cut is tapered to give you more room in the upper torso. Moreover, to safeguard the lower torso, the skirt area is longer. Not only that but the seams are also fully taped and watertight.
The wonderful jacket is made with a 3-layer breathable fabric that is both windproof and waterproof.
The jacket comes with a stowaway hoodie with three cinch latches for hood adjustment. You can easily keep the weather out with storm flap fasteners and a hoodie visor.
It also has a water-resistant neoprene neck cover that you may adjust according to your preference.
Furthermore, the AquaSkinz Nor'Easter waterproof top's inner latex cuff seals are watertight. Besides, the left chest pocket is resistant to water with a water-resistant zipper. The main zipper is also water-resistant. And, there is a three-channel water drainage system above the main zipper.
Pros
Water sealing works perfectly around the wrists and neck.
Perfect fit.
Affordable.
Cons
Not suitable for hot weather.
---
5. Orvis Men's Ultralight Wading Jacket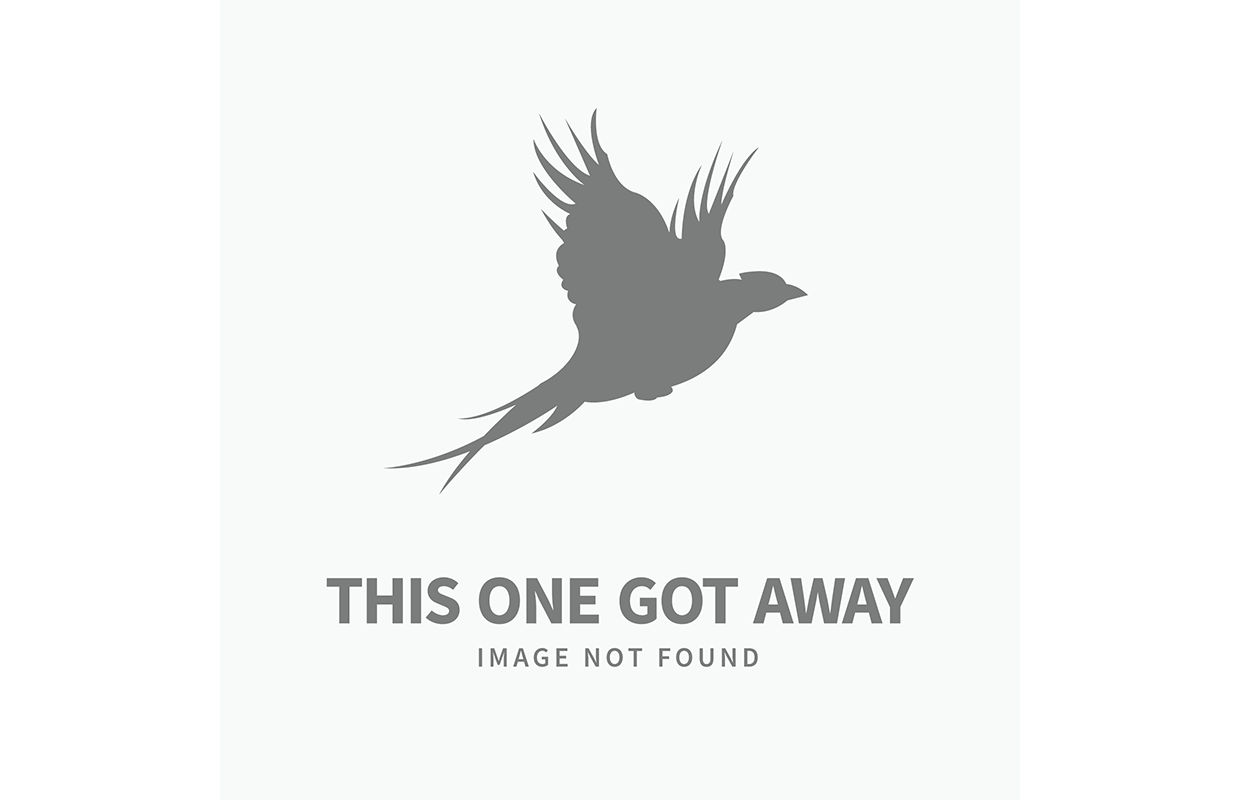 The Orvis Men's Ultralight Wading Jacket is unquestionably the result of manufacturers listening to clients who request and recommend specific wading jacket characteristics. It is described as a "full-featured jacket" by Orvis, and it truly is.
As the item name implies, something that makes the wading jacket stand out is its lightweight: a medium-size weighs only 480 grams! Because of the large reduction in mass, one can carry it in a tiny day pack. 
In terms of rain and wind resistance, the welded, three-layer breathable waterproof nylon fabric, YKK AquaGuard water-resistant zipper, and DWR finishing place it in the heavyweight category. The jacket is also quite comfortable and allows for a lot of movement.
The incorporated Dolphin Skin cuff mechanism for further water resistance while releasing and landing fish is another feature I will like. There is no need to be concerned about soaking your shirt sleeves after a long day of fishing.
Furthermore, the jacket comes with spacious frontal storage pockets and an inner fastened mesh pouch for further storage. Besides, there is a 4-way flexible power mesh in the unique side zip pouches to decrease bulk and promote breathability.
Moreover, this amazing jacket

also has a storm hood, featuring a laminated brim that adjusts three ways. If you are looking for something light and stylish, this jacket is the one for you.
Pros
Sleek design.
Lightweight and compact.
Easy to wash.
Cons
Not completely waterproof.
---
6. AFTCO Hydronaut Heavy-Duty Waterproof Jacket
The AFTCO Hydronaut Heavy-Duty Waterproof Jacket

is an intense jacket that you can use on or off the boat in rainy weather. It is composed of weatherproof Aftech fabric to keep you dry. This jacket was ranked the best at the ICAST 2018 Product Launches Showcase at best.
The Aftco Hydronaut Jacket combines comfort, sturdiness, and longevity to endure the very wet, terrible crap that challenges your willpower. It is constructed with a 20K waterproof two-layer nylon cover and a 100% nylon mesh lining. 
A SpeedVent Airflow hoodie, dual articulated storm cover, concealed chest pockets, top entrance pouch pockets, extendable d-rings. An elastic rear buckle waistline cinch characterizes the jacket, which comes in charcoal gray. 
The AFTCO SpeedVent hoodie on this jacket is created to reduce neck pain and airflow restrictions that you may experience while driving at high speed. Angler feedback was solicited, accepted, and incorporated into designs that address professional anglers' typical requirements.
This excellent jacket

addresses the typical requirements of professional anglers. Moreover, the Cordura strengthened pliers pocket gives a pleasant aspect of fisherman-friendly usability.
Besides, the tricot hand warming pocket and rubbery inside arm cuffs establish reliable foul weather clothing, especially given the type of conditions an angler might face in the water.
Additionally, a "Cyclops Camera Mount" is also available for mounting a camera. Overall, the jacket is well-made, featuring heavy-duty zippers, Velcro, and seams. The sizing is accurate, and it won't restrict your range of motion. Thus, it is no doubt excellent value for money.
Pros
Completely waterproof.
There is a lot of storage space.
Hoodie with a face shield.
Heavy-duty construction.
Cons
---
7. Stormr Surf Top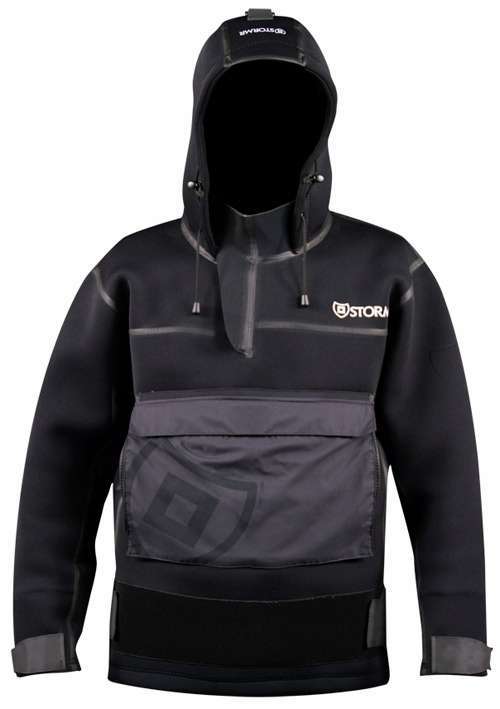 Bid farewell to being soaked and cold when surfcasting or participating in any outdoor adventure by wearing this fantastic jacket. The Stormr Surf Top

will keep you dry and warm in adverse weather through water-resistant treatment. 
The neck sealing, 2-way adjustable hips, waistline seal, inner neoprene cuffs, and movable velcro cuffs all work together to prevent water from getting inside even in severe surf. The jacket also has a huge gear pocket and a hand warmer. 
Moreover, a surf strap is fastened behind the pouch for increased comfort. An adjustable hoodie ensures a great fit, and the inside is fleece-lined to provide you with extra comfort and warmth. 
This wonderful top has thermally sealed seams and, therefore, is bonded and blind sewed. Consequently, you will have a top that will last for years. Attaching the ultra-thin rubber core to the jacket design fundamentally changes the outerwear layout.
As a result, Storm's products offer excellent warmth, buoyancy, and flexibility.
Furthermore, there is also a DWR treatment throughout the exterior fabric, preventing precipitation from soaking the external face cloth. The apparel remains light and dry as a consequence of this. I highly recommend this one who lives in extreme cold weather areas.
This amazing jacket will no doubt keep you warm even at a 5-degree temperature.
Pros
Perfect for cold weather conditions.
Built with good quality material.
Waterproof.
Cons
No zippers.
Poor quality of wrist gaskets.
---
8. Stormr Typhoon Jacket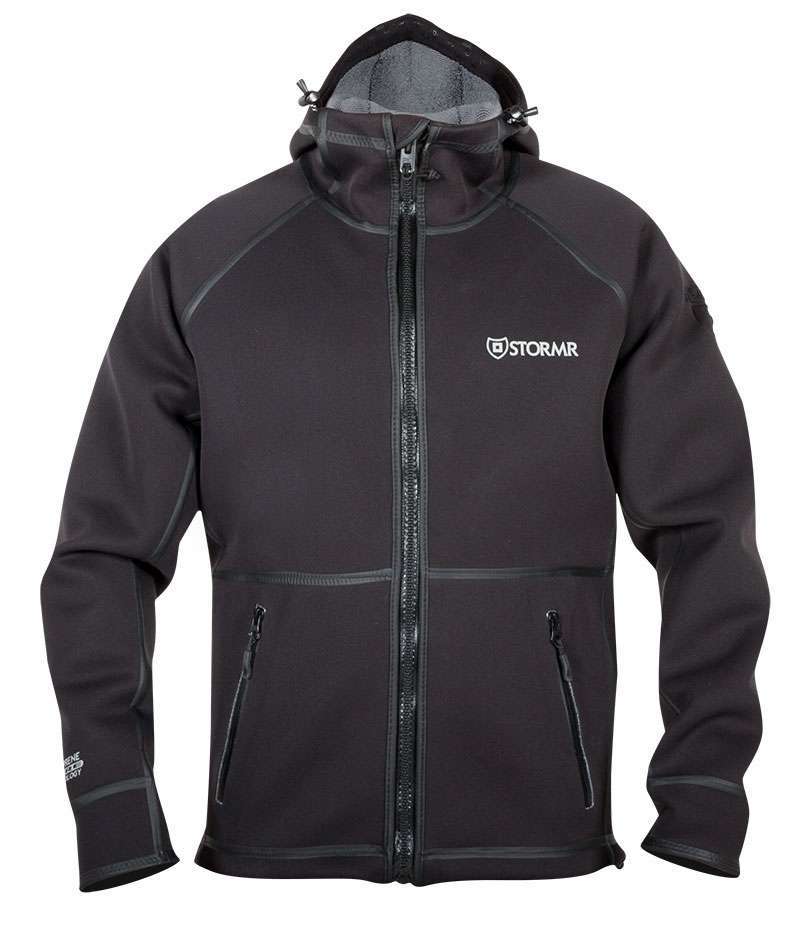 It is one of the most budget-friendly jackets that will help you stay warm and dry on your fishing trips. The jacket's exterior is water-resistant, causing the water to flow off. The inner is lined with moisture-wicking fleece for keeping you toasty even on the windiest days.
Stormr's Typhoon Series Jacket has quickly established itself as a real pleasant and cozy jacket for seamen. It is the backbone of the Stormr range, providing functionality, mobility, and warmth. The distinctive reflective designs and nearly 5 pounds of buoyancy help it stand out from the rest.
The Neoprene Core technology, a top-notch material that offers unrivaled warmth, natural flotation, and flexibility, is no doubt one of the best things about the jacket. The jacket outer is resistant to both wind and water. 
The jacket is all comfortable, warm, and durable, and it also has safety elements. These all contribute to the ability to stay out for a long time. Moreover, the casing sheds water swiftly. 
Besides, the jacket's zippers are of super-strong quality and reasonably smooth. Not only that, but the hoodie is also wonderful because it adjusts to fit your head.
Overall, the jacket is light and airy, allowing you to move freely. So, look no more if you are looking for a tough jacket that can withstand harsh weather.
Pros
Perfect for early and late fishing seasons.
Looks good.
Reasonably priced.
Cons
The sleeves are a bit short.
No loop and hook closing straps on the sleeves.
---
How to Choose the Best Wading Jacket for You?
If you are wondering how you pick the right jacket for yourself, this buying guide should come to your aid. To choose the best wading jacket for yourself, you have to consider your budget, the quality, and breathability of the jacket, the number of pockets, etc. 
Budget
Whether you are a newbie or a seasoned pro, you might have an idea about how costly fishing gear can be. However, like with other surf fishing equipment, there are price and quality levels of wading jackets to suit every budget and requirement. 
First of all, you will have to determine your budget. Then, you can start seeking the best one at that price range.
Pockets
A vast array of pockets and areas to stow small objects can be found in any fishing vest or fishing jacket. A good jacket should contain a minimum of 2 large pockets on the exterior and a couple of tiny pockets inside as well. 
The things you might need but won't frequently utilize. Large expanding pockets are ideal for holding tools, fly boxes, and other items that fishermen typically use during the day. On the other hand, the smaller interior pockets are ideal for storing little goods like lip balms, permits, etc.
Well, it is good to have several pockets as it means extra space to keep your things. However, don't buy one with far too many pockets.
It is because just so many areas to store goods might lead to an unpleasant afternoon of searching through the vest and ending up empty. 
Another important factor to consider when choosing jacket pockets is that a minimum of a couple of them should be watertight. Nothing is worse than falling into a river and discovering all of your belongings have been wrecked by the water.
Breathability
This describes how much humidity the jacket can evacuate from within while maintaining dry outside. Well, humidity from perspiration and condensation builds up while angling in humid, damp circumstances. Different fabrics will breathe better than others. 
However, wearing a jacket with adequate breathability will keep you comfortable and dry even in a wet environment.
Wind and Water Resistance
Wading jackets are not always intended to be immersed in water. Instead, they are made to withstand the weather, including splashes from turbulent water and catching fish.
Ensure the jacket you consider has good water resistance, particularly around the arms, wrists, and neck areas. These places are more vulnerable to water.
The wading jacket is for cold, wet, and windy situations, therefore wind resistance is also a major characteristic to look for when shopping for a wading jacket.
Zippers, Drawstrings, and Snaps
Also, be sure to inspect the quality of the parts used in the manufacture of every wading jacket you purchase. Your jacket should not have any loose threads or single-sewn seams.
Especially, double-stitching around zippers, cuffs, and pockets is essential since they have to face a lot of wear and tear when fishing. 
Sturdy, corrosion-resistant zips and snaps would be easy to operate. Moreover, a drawstring keeps your coat tight around the waist. So, don't forget to look for these features while buying a wading jacket for yourself.
Hoods
The majority of fishermen take hoods on wading jackets for granted. However, I think the hoods must be comfy and spacious enough to accommodate a second tiny cap. 
I prefer the hoods that I may snap-close or fold into the collar around the neck since they give extra protection while I don't use them.
Mobility
Casting and navigating over rocks, as well as other obstacles, is hard enough. However, wearing an insulated wading jacket to the mix can make things even more difficult. 
So, it is critical to choose a jacket that provides the necessary insulation and water coverage while still allowing you to cast freely.
Conclusion
By now, you've got to know my review of the best wading jackets under $300. Well, the AFTCO Hydronaut Heavy Duty Jacket

is the best among all, in my opinion, due to its high functionality and durability.
A good quality wading jacket's protection and convenience can help your fishing trips become happier and longer than you can even imagine.
However, if you want to go for a more budget-friendly one, then Stormr Typhoon Jacket

is not a bad choice either.
But whatever you choose, make sure it has all the features you want in a wading jacket. Thanks for reading through. Hopefully, you've found this article helpful. Until next time, happy fishing!