As an Amazon Associate we earn from qualifying purchases made on our website. If you make a purchase through links from this website, we may get a small share of the sale from Amazon and other similar affiliate programs. You can read our complete
legal information
for more details.
Fishing tackle backpacks are designed with a particular purpose in mind.
They are great for anyone that wants to be more mobile and feel less burdened. With the right backpack, you can easily fit in all your fishing equipment. In some cases, you can even attach the fishing rod and some other personal belongings.
That way, you can more easily traverse and reach some tougher fishing spots that may be off the beaten path. You will not need to carry anything with your hands as you would typically do.
If you are looking for some extra comfort and an excellent alternative to lugging around a tackle box and a fishing rod, a fishing tackle backpack may be just what you need.
Even if you are not interested in hiking trips or don't mind carrying the stuff around with your hands, a backpack will still make your fishing experience more enjoyable. Let me show you how.
Features I Look for in a Surf Fishing Tackle Backpack
Let us first define what actually makes a good backpack.
1. The Storage Space
The primary purpose of a bag pack is to provide storage capacity – if there are not enough storage compartments, pockets, etc.then the backpack has missed on doing its main purpose.
Let's consider all the different equipment and fishing tackles that we usually carry around with ourselves. Although we may not need ample amounts of space since a heavy backpack is going to be the last thing you need, we do need a decent amount of storage to be able to organize our tackles.
A backpack is supposed to make things easier, not harder. So we also need the different pockets and side compartments to be set up in such a way that will allow for easy access and convenient use.
When I was looking for a tackle backpack suitable for surf fishing, one of the essential things for me personally was that it should have a fish rod carrier pocket on it. I feel like this is a neat little feature that anyone would appreciate having.
Some backpacks have compartments where you can fit plastic tackle trays. This can definitely bring order and will make it a lot easier to organize your tackles the way you want them to be.
In addition to that an excellent array of side compartments, different storage dividers, loops, and gear hooks are some other small features that will aid you and allow you to store and use your equipment with ease.
Also, make sure to note down any supplementary accessory holders and compartments you may want your backpack to have like, for example, a waterproof pocket for storing your mobile phone, documents or glasses.
2. The Fabric Material
A backpack needs to be durable.
You will be taking your backpack on fishing trips, hikes and more. You need a backpack that is durable with excellent water resistance.
And generally speaking the materials it is made of should be able to handle the elements reasonably well since it will be exposed to them. The weather, the wind, the sun, and the saltwater can be nasty and unrelenting on the fabric.
Because of that, fishing backpacks tend to be made with a nylon that is high-density and very durable. It is usually the preferred material as it also tends to have low water absorption.
Additionally, since the backpack will be exposed to water consistently, whether it is going to be the rain or the ocean water make sure it comes with tight seams, waterproof zippers, and closures. In some cases oiling the zippers may be a good idea to protect them against the effects of saltwater.
3. The Comfort Level
And last but not least a good backpack needs to be comfortable.
With a backpack, you will be a lot more mobile and free to travel to some fishing spots that may have been relatively difficult to reach before. A backpack is also going to be great for casual fishing trips.
So you may find yourself having to wear the backpack for quite a long time. You want something that will not tire you out after prolonged periods of use.
Most of the backpacks today do come with padded backs and frequently are made of some sort of breathable materials.
Also, padded shoulder straps and waist straps are going to add more cushioning and comfort.
Let's not forget that the weight of the backpack will matter if you have to carry it around for more time. And also having adjustable straps is another desirable feature which makes the bag stay firmly on your back.
Here I will present to you two of my favorite fishing backpacks that I frequently use on my surf fishing trips. I am sure they will cover everything you may look for and need and then some.
Kastking Fishing Tackle Daytripper Backpack: I Personally Recommend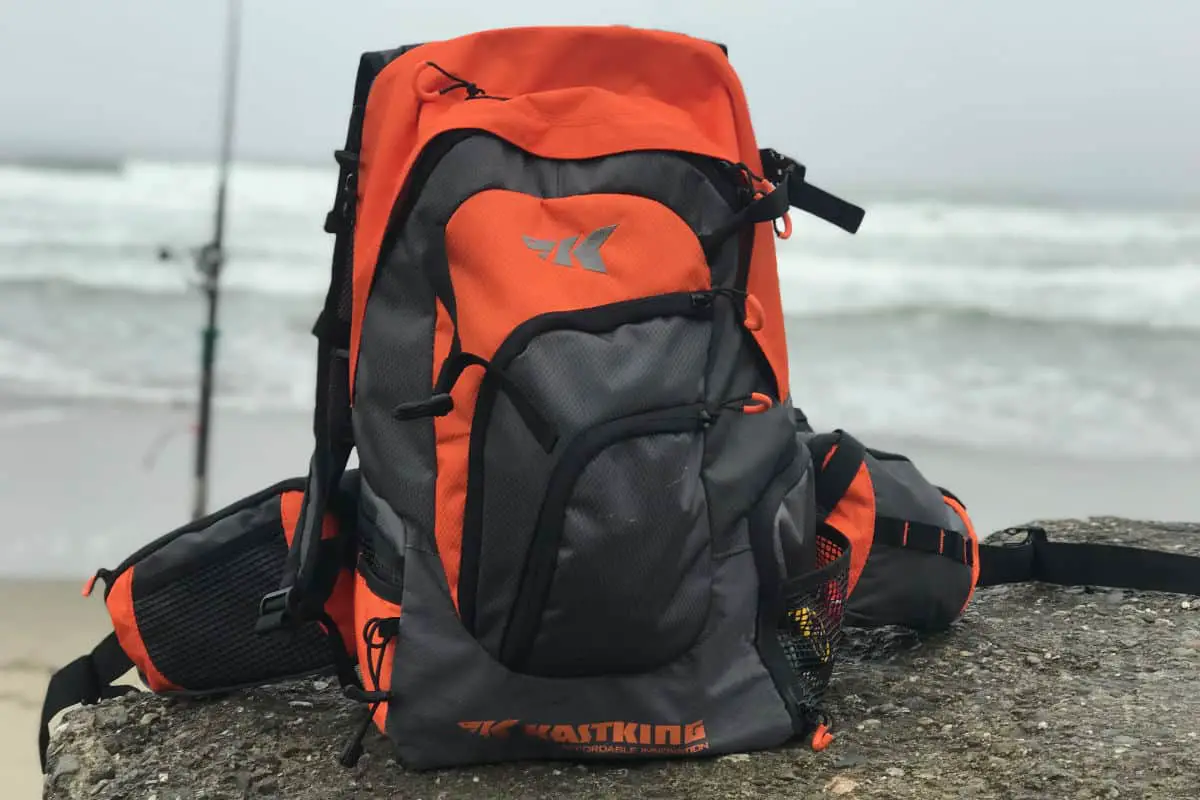 With this fishing tackle backpack, KastKing Fishing Tackle Daytripper Backpack

will offer you a lot of versatility and functionality. All that comes in one very lightweight and stylish looking backpack for surf fishing.
This backpack is an excellent option for both beginner and more advanced anglers that want a decently sized backpack which will last a long time.
Durability and comfort are important to me, and this is why I really love this backpack.
PROS:
It comes with a fishing rod holder.
Lots of storage and organizational compartments.
Good at keeping water out.
It is made of durable and sturdy materials.
Self-healing zippers.
It can hold up to 4 3600 tackle boxes (which are not included).
CONS:
Comes with a removable divider which tends to sag down.
No water bottle holder.
Features of the KastKing Fishing Tackle Backpack
One of the first things that struck me with the Kastking fishing tackle backpack

was that it just looks like a regular backpack.
And it can, in fact, be used as an everyday backpack too if you like. You can easily use it for everything, like camping, hiking, and fishing.
However, it has a lot more going on to it than you might expect.
1. The Material
The material is a 420 D rip-stop nylon which is very durable and tough. This is something that you can expect from a high-quality backpack like this.
KastKing Daytripper Backpack

also coated the backpack with a hydrophobic coating that does an excellent job at keeping water out. On the inside, you will also find that there is a PVC layer on the fabric, which further improves its water protection capabilities.
It is suitable for saltwater fishing and holds up really well.
2. The Storage Space
The main storage compartment offers a lot of storage space.
What I like to do is use it for storing some food, a water bottle, and whatever else I may need. There are also a few smaller pockets insider and a big mesh pocket.
One thing worth mentioning is that this backpack comes with a side zippered pocket which can be used for holding up to 4 3600 tackle boxes.

However, keep in mind that the boxes are not included and you have to purchase them separately if you decide you need them.
Despite the boxes not being included, I think this design is GREAT. I really love that little addition. For one a tackle box is a much better and preferred way to store your lures and various rigs, weights and more. Everything will be right where you left it stored nice and neatly.
The bottom of the main compartment has a removable divider that separates the bottom chamber (where you can fit the plastic tackle boxes) from the upper compartment. The only downside to that is that if you are carrying a lot of stuff, the divider may tend to sag down on the plastic tackle boxes.
It has several pockets at the front that vary in sizes and can fit different tools, equipment, baits, and gear.
Something I like with Kastking daytripper fishing tackle backpack

is that there are pockets on the waist straps. This allows me to keep some of my gear, lures, and baits that I frequently use in there. There is also a molly strap running across one of the pads so you can clip on it some additional tools and equipment.
All this allows for easy access to the most used tools and tackles, especially while fishing with the backpack on my back.
It shows that they have placed a lot of thought when designing and manufacturing this backpack.
3. Fishing Rod Holder
On the side, there is a side pocket which is designed to hold a fishing rod. Something that I was looking for in particular when buying a fishing backpack. It can easily fit a two-piece spinning rod.
It has bungee straps, so you will be able to secure the fishing rod nice and tightly.
4. The Comfort levels
The back has good padding that is designed and molded in such a way as to allow for some proper air ventilation.
The shoulder and waist straps are well padded, soft, and comfortable.
Carrying the back for extended periods will not tire you out which is excellent if you are fishing most of the time with the backpack on you as it is reasonably lightweight (well, depending on how much stuff you like to carry this may change).
For more information and current price on Amazon, click here.

Allen Gunnison Switch Pack, Convertible Day Pack to Fishing Sling Pack.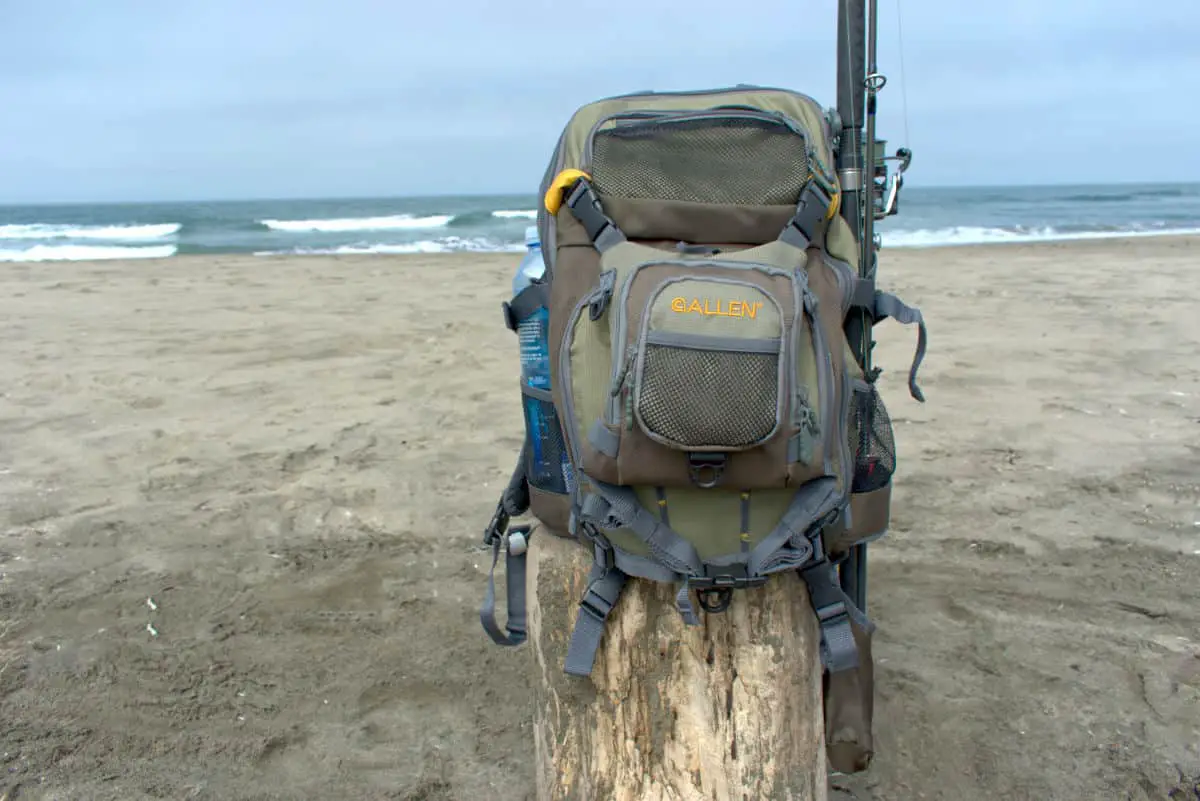 Allen

is offering a backpack that will suit any fisherman. They aim to provide one versatile product that can meet all expectations.
Durable, tough, and able to fit almost anything this backpack

is suitable for anyone that wants to know they have it all covered.
PROS:
Versatile.
Lots of storage options and capacity.
High-quality zippers.
Two fishing rod holders.
Can be used with a hydration bladder.
CONS:
No waist straps.
No Plastic tackle box.
Features of the Allen Gunnison Switch Pack
If you like to carry a lot of stuff with you, then Allen Gunnison Switch Pack

has something to offer.
Especially if you like to go on longer hikes and fishing trips. This backpack has almost anything you may need from a backpack.
1. The Storage Capacity
If I say that this backpack offers a lot of storage space, this may be an understatement. You can probably take your whole fishing gear and still have some unused pockets.
The main compartment is unzippable all the way to the bottom on both sides.
Inside you will find a few smaller sections that have zippers too and one bigger pocket. There is also a pouch for a hydration pack. A tiny little feature that some of you may really like.
On the top front of the backpack, you can find a small pocket which has a water-resistant pocket inside which you can use to store your personal belongings.
On the front, there is a little molly strap kind of loops that are very convenient and can be used for attaching more equipment.
One really cool feature that both on the front and on the shoulder straps you can find buckles which can be used to fit an Allen Chest Pack

. Keep in mind that the Chest Pack is not included and you have to buy it separately.
However, the Chest Pack

is a great way to add even more storage space to your backpack.
You can use the adjustable straps on the front for carrying fishing waders, boots, or a windbreaker, dry bags, jackets, and more.
2. The Rod Holders
It has two-rod holders – one on each side – it is really nice to be able to carry two fishing rods at the same time.
Of course, if you are surf fishing, then chances are you may have some of the long fishing rods.
So what happens if you have a really long rod?
Allen Gunnison Switch Pack

had a great idea.
What they did here is something that I love. They have added an extension pouch that is found on the bottom of the rod carries which can be unzipped and can accommodate longer rods.
3. The Comfort Levels
The back of the backpack is made of breathable material, which is doing an excellent job at keeping your back cooler.
The straps are comfortable. It has a shoulder strap that you can adjust.
However, one downside is that it doesn't have waist straps. These are useful, and there is a reason why they may be considered a must-have on any heavy-duty backpack. They add more stability and balance and are making the backpack more comfortable to carry around especially heavier backpacks.
If there is one feature of the Allen Gunnison Switch Pack

that I want them to include, it's definitely the waist straps.
It has all the bells and whistles you can expect from a fishing backpack. But, overall I love this bag I've been using it for at least three years now for my surf fishing trip.
Check This Video For More Information:
For more information and current price on Amazon, click here.

Final Words on Choosing the Best Surf Fishing Backpack
It is tough for me to compare a fishing tackle backpack with a tackle box. In my opinion, the backpack wins in every possible aspect.
A backpack can not only be more comfortable, with the same, if not more, storage capacity, but it is also an excellent way to keep all your tackle gear, accessories and even personal possessions safe, organized, and at hands reach all the time.
Just the fact that I can have all my gear fitted nice and organized in my backpack (including my fishing rod) and I can carry all that with my hands being completely free is already unbeatable.