As an Amazon Associate we earn from qualifying purchases made on our website. If you make a purchase through links from this website, we may get a small share of the sale from Amazon and other similar affiliate programs. You can read our complete
legal information
for more details.
If you're looking for premium fishing waders, there are many great options in the market. However, picking one can be really tough. That's why today I've come up with a list of the best high-end fishing waders under $900-$500. Hope it'll be helpful to you.
If you want to know about the best wader for fishing quickly, I'll recommend Simms G4Z Pro Waders

. These waders come with a patented durable fabric build, making them very durable and easy on the skin. They also include gravel guards, waterproof zippers for protection. In addition, they have a great storage facility on them. These features make it perfect.
That being said, it's not the only great wader in the market. All of them have their own merits. So, before buying one, you need to consider all of its pros and cons. That's why read through the whole article as I explain them to you.
Best Waders Over $500 Range
Based on my years of experience as an avid wader, I've come up with a list of waders between $900 to $500 that you could consider. When you are paying that kind of money, I'm sure you demand the best of the best. And these do earn that title, according to my experience. 
1. Simms G4Z Wader StockingFoot
The Simms G4Z Stockingfoot Wader

is one of the top fish surfing waders on the market. It is extremely durable and comfortable to wear. It uses a new fabric technology from Gore-Tex. A three-layer Gore-Tex Pro Shell covers the upper portion. On the other hand, the lower section comprises four layers of Gore-Tex Pro Shell for improved performance and durability.
The wader is entirely waterproof, incredibly light in weight. It delivers the best level of breathability thanks to the exclusive fabric technology. As a result, it will be excellent for mobility, congestion will not be an issue.
The waterproof YKK extensible zippers are ideal for simple on/off and quick relief. As a result, this wader is ideal for lengthy sessions of fish surfing.
The Simms G4Z wader

also works well on gravel and rough terrain. That's because it features patented 2mm, abrasion-resistant gravel guards. As a result, this wader is suitable for both conditions. The boots of this wader are likewise compression-molded.
So, they will fit better. For that reason, there's no danger of slipping. The antimicrobial coating will prevent bacterial growth.
These waders come with several storage options. They offer two zipped pockets on the chest with retractor docking ports for quick access to fishing essentials. Waterproof zippers are also included. This wader has an air-mesh suspender system with sturdy and secure buckles.
Finally, all of these waders are handmade. As a result, the quality is excellent.
Pros
Fabrics are made with Gore-Tex technology for extreme durability
Waterproof zipper
Multiple pockets to keep essential
Has Antibacterial finish on the surface
Resistant to the abrasive surface
Handmade in the USA
Great mobility
Cons
Not available for women's size
---
2. Patagonia Swiftcurrent Expedition Zip-Front Waders
The Patagonia Swiftcurrent Expedition Zip-Front Waders

are a great option as well if you're looking to buy a new premium wader for fishing. These waders are completely eco-friendly as the other wader from Patagonia.
That is why these waders are made from recycled materials like polyester and natural rubbers only. Polyester provides more durability, which is also more sustainable. That's why Patagonia chose polyester.
There is a 4 layer of waterproof shell in this fishing wader. This shell provides a very good seal to the inside of the wader. Even when the current is trying to drive water in, the seal keeps moisture out.
They include waterproof, submersible zippers. These special zippers make it easy to go in and out without getting wet once you're in the water. So, it is great for long surfing sessions.
These waders feature knee pads for extra protection. They help you avoid any unforeseen accidental injury, essential in rivers. The best thing is you can remove the knee pads if you wish. The seams in this wader are double taped. So, these seams contribute to the longer lifespan of these waders. 
Like all other premium waders, the Patagonia Switchcurrent Expedition Zip-front waders

have a great storage facility on the body. They feature 2 zippered pockets for storage. Another Flip-out pouch is available on the body. The suspenders are adjustable as usual, and they don't hurt your shoulders. 
Pros
Recycled materials for environmental reasons
4 layer shell for protection
Submersible zippers
Adequate storage facility
Removable knee pads
Adjustable suspenders and belt
Neoprene-free and lightweight booties 
Cons
Might be damaged on abrasive surfaces
Video Source: Patagonia

---
3. Simms G4 Pro Waders
The Simms Men's G4 Pro Waders is another premium fishing wader from Simms and my personal favorite. Like their other products, this wader comes with a variety of important features for all your needs.
This wader boasts a proprietary fabric from Gore-Tex. The lower body of this wader is Gore-Tex Pro Shell with 4 layers for extra protection. On the other hand, the upper body has a 3 layer Gore-Tex Pro Shell.
The wader is entirely waterproof, incredibly light in weight. It delivers the best level of breathability thanks to the exclusive fabric technology. As a result, it will be excellent for mobility, and traffic will not be an issue.
The YKK extensible zippers are waterproof and ideal for simple on/off and quick relief. As a result, this wader is ideal for lengthy sessions of fishing.
A great feature of this wader that differentiates it from others is its storage pockets. It has the usual handwarmer pockets and storage pockets.
In addition to these, the Tippet Tender pouch includes tippet spool sleeves and a retractor docking station. It gives you attachment zippers for removable Flip-out pockets for extra storage.
This wader boasts an air-mesh suspender system with sturdy and secure buckles. Another important feature of this wader is it has built-in gravel guards. These 2 mm non-abrasive guards prevent any kind of damage on rough terrains. 
Pros
Patented Gore-Tex fabric technology for a longer lifespan
Waterproof and attachable zippers
Tippet Tender Pockets with docking station
Attachable Flip-out pockets
2 mm abrasion resistance
Belt loops for added durability
Adjustable air mesh suspenders
Cons
Water might leak into the pocket
No women size available
---
4. Orvis Men's Pro Zipper Waders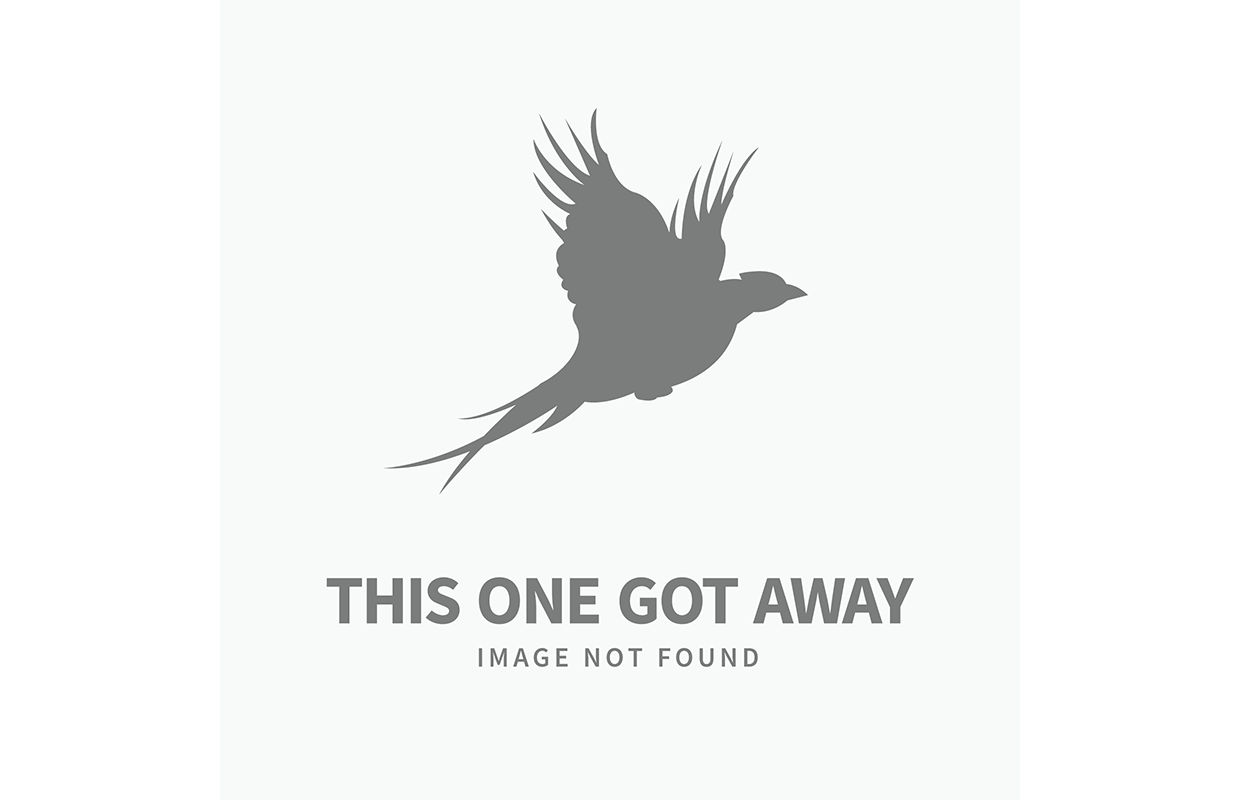 The Orvis Men's Pro Zipper Waders are a popular choice for fishing waders. They are known for a convenient and pleasant experience. These waders are composed of a special Cordura® fabric that is extremely durable.
This wader has a 5-layer fabric shell on the lower legs and a 4-layer fabric shell on the upper legs. So, they have one of the highest quality builds.
Another advantage is that they are simple to put on and take off. This is because they include TIZIP MasterSeal zippers for added ease. The inside of the bag will be dry, thanks to these waterproof zippers. The included gravel protectors provide better abrasion resistance on rough areas and reduce turbulence in the water.
These waders include Split fleece-lined pockets. In addition, two more pockets with YKK AquaGuard® coated zippers are there for additional storage. You will also find another tool docking chain on the upper body.
The chain is a proprietary Hypalon Daisy chain for consistent performance. Along with these, the wader comes in various sizes to accommodate anybody. 
Unlike many waders, Men's Pro zipper waders include knee pads for better safety. These patented OrthoLite X25 provide much-needed comfort and help to prevent any injury. 
You can remove them if you want, but I'd advise you to not do that. The elastic suspenders in the wader are adjustable, providing you with complete control over the fit. 
Pros
Long-lasting patented fabric technology.
Additional storage pockets
Waterproof zippers
Removable knee pads 
Reinforced gravel guards
Various size available
Very lightweight
Cons
---
5. Patagonia Switchcurrent Expedition Waders
The Switchcurrent Expedition Waders

are another great addition to the list of waders that Patagonia makes. Patagonia made this wader completely eco-friendly and recycled materials like all their other waders. These materials are very durable as well. If you're an environmentalist, you should look no further than these. 
The Patagonia Switchcurrent Expedition Waders

have a laminated 4-layer waterproof shell to keep the wearer dry in water. In addition, these are very lightweight as well. These waders come with a lot of storage facilities.
They have 2 zippered pockets and 2 internal drop pockets. As a result, you can carry all of your essential tools with you. They have 1 flip-out patch too.
The anatomical boots are perfect to fit the legs and contribute to better mobility and support. These waders include foam knee pads. The knee pads provide extra comfort to your knees and protection as well.
They also help the wearer to kneel better in the water. The gravel guards are very good at resisting damage on rocky river beds and trails.
The Y-shaped suspenders they include are very supportive. These suspenders are adjustable to your liking and don't put any extra pressure on your shoulders.
Their single-seam design helps you with better stability and seal. It also increases the mobility and the durability of the wader. 
Pros
Recycled materials
Knee pads for extra protection and comfort
Anatomically fit booties
Adjustable suspenders
Adjustable waist belts
Quick-release, adjustable suspenders
Adequate storage pockets
Cons
Video Source: Patagonia

---
6. Simms G3 Guide Waders Riparian Camo – Stockingfoot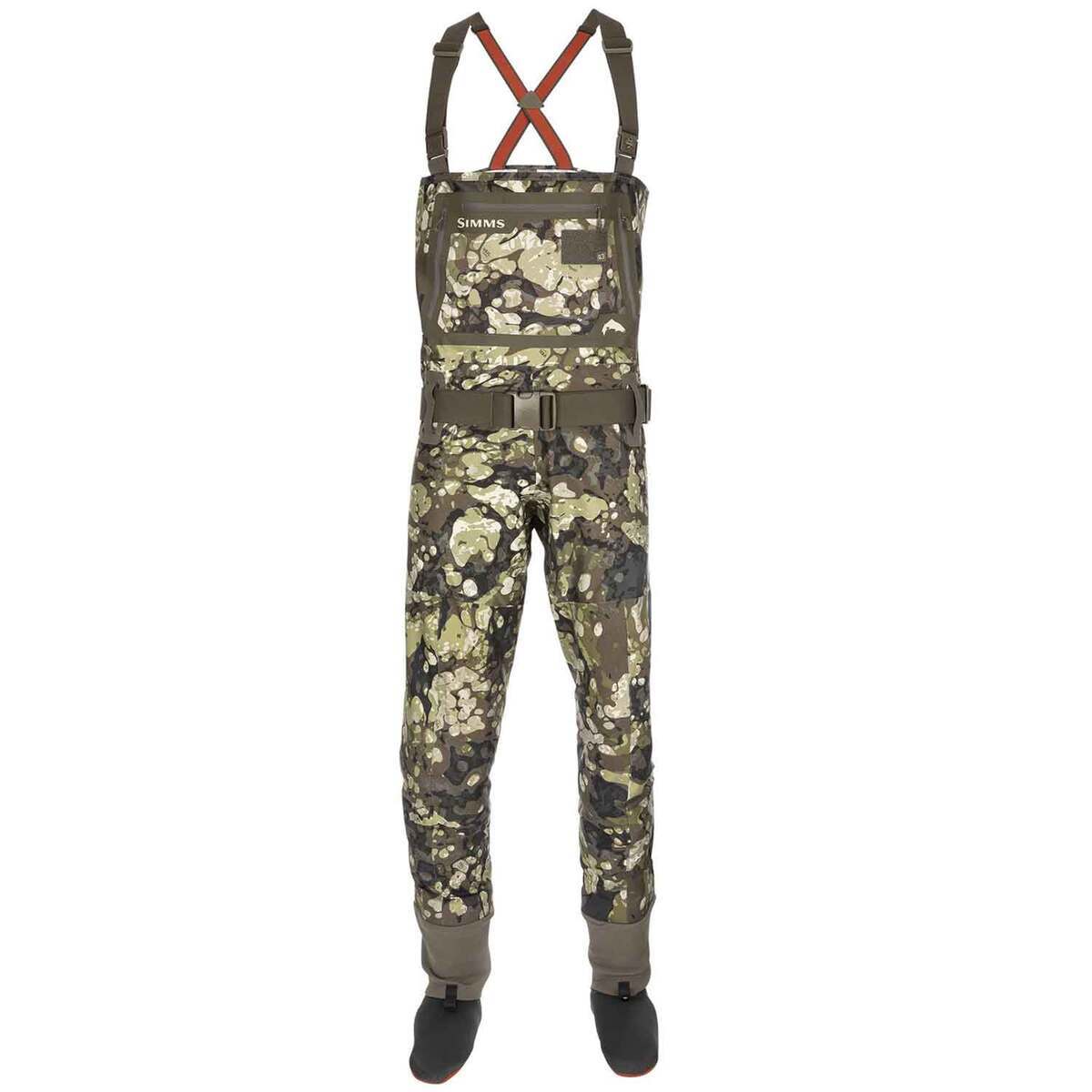 With the G3 Guide Riparian Camo

, Simms provides you with a wader designed to keep you hidden from fish, thanks to special patterning produced by Veil Camo. The wader's camo pattern alters the fish's ability to recognize form and movement, allowing you to set up for the perfect throw.
The patented fabric used in this wader is from Gore-Tex. The fabric is more breathable than older versions. The upper portion of this wader features a 3-layer Gore-Tex shell for protection, while the lower section has a 4-layer Gore-Tex Shell.
This also has gravel guards to protect the wader from any damage from rocky surfaces. So, this wader is extremely durable.
This wader comes with hand-warming pockets with zippers on the chest. Additional zippered storage pockets are also available on this wader. Including these pockets, it contains a patented Tipper Tender Pocket, which includes a docking station and spool sleeves for safety and carrying tools.
The boots in these waders are designed anatomically to provide the wearer with the most perfect fit.
All the zippers on the pockets are waterproof as well. In addition to these, Simms gives you extra attachable zippers so that you can include another flip-out pocket on the chest.
The suspenders, as well as the belts, are adjustable. Both contribute to better stability and support for your body. Proprietary double seams provide better mobility and durability. 
Pros
Camouflage pattern for stealth 
Patented fabric technology
Gravel guards
Waterproof zippers
Front and back leg seams
Microbial coating for antibacterial
Adjustable belts and suspenders
Cons
---
7. Orvis Men's Pro wader The Orvis Men's Pro Wader is specifically designed for professional fish surfers. That's why it is extremely durable and comes with a very athletic fit. It uses the very robust patented Cordura fabric on its body.
This wader has a 5-layer fabric shell on the lower legs and a 4-layer fabric shell on the top legs. As a result, they have one of the highest-quality constructions.
The Orvis Men's Pro Wader also includes gravel guards for abrasive surfaces. So, the wader will be safe from punctures and other damages. One of the convenient features is an exterior storage compartment with a YKK AquaGuard® water-resistant zipper that keeps items dry and avoids loss.
You'll find a hand warmer pocket available on the body as well, which is a nice little feature to have.
The anatomically accurate neoprene booties are more comfortable inside wading boots because they are less bulky and offer a real "sock" feel. When empty, the huge four-way stretch power mesh internal pocket stretches to fit larger goods while remaining out of the way. The front pocket includes a flying patch as well.
The suspenders on the wader are very soft and comfortable. They are also easily adjustable. They include quick-release buckles as well. OrthoLite knee pads are there for comfort and to prevent injury. However, the wearer can take them off as well if they want.
All the storage pockets are removable and waterproof. The wading belt can be altered to fit the waist better. 
Pros
Durable proprietary fabric
Waterproof zippers
Additional pockets
Removable knee pads
Gravel guards
Split fleece-lined pockets
Cons
---
8. Simms G3 Guide Waders
The Simms G3 Guide Waders

are great for their budget. It is composed of a more durable Gore-Tex fabric. The upper section features a Gore-Tex shell with four layers, while the lower section has 3-layer Gore-Tex Shell. The advantage of this fabric is that it is 25% more breathable than earlier generations. 
They feature two warming pockets on the top body for your hands when you're fishing. They have additional storage on the chest in addition to these.
Waterproof zippers are used in these pockets and storage areas. A Tippet Tender pocket is included for storage as well. This pocket is removable too. 
Front and back leg seams are patented on these waders. These waders provide a perfect fit, optimal comfort, and water movement. Suspenders with adjustability make it easier to get the right fit.
They are also soft on the shoulder, and abrasions and injuries to the wearer are avoided with gravel guards. The wader's waist can be adjusted thanks to the built-in belt loops.
Pros
Durable and comfortable 5-layer fabric shell
Very lightweight
Zippered pockets
Adjustable suspenders
Comes with gravel guards
Fits any body and size
Dries really quickly
Less pricey than the others
Cons
---
9. Simms Flyweight Stockingfoot Wader
The Simms Flyweight Stockingfoot Wader

is another great wader from this reputed company. The upper body has Gore-Tex Pro Shell with 3 layers, and the lower body includes 4 layers of the same technology. So, the fabric is very breathable and comfortable at the same time. This wader is perfect for any weather and conditions. 
This wader comes with a protective and flexible gusset in the crotch and arm. So, it will not limit mobility in any way or form. It features an attachable chest pocket with a HEXGRID system which lets you carry your necessary gears. It also has dump pockets and other zippered pockets in the back. 
The gravel guards help with rough and rocky river beds and improve the moisture control system. One of the best things about this wader is its great fishing accessory system compatible with all Flyweight pods and accessories. So, carrying your gear will be super easy when wading with your buddies. 
Pros 
Patented arm and crotch gusset
Great accessory system
Breathable suspenders
Attachable chest pockets
Waterproof zippers
Cons
Not available for women's size
---
How to Choose the Best Fishing Waders?
It is very hard to choose a fishing wader for yourself. There are many options in the $900 to $500 range. That is why you should look at some things before buying. These are- 
Fabric Materials
When purchasing a fishing wader, the first thing to consider is the fabric used in its construction. It is the most important aspect of any wader. This is because materials offer the wearer both durability and comfort.
As a result, you must select textiles that are both waterproof and breathable. Otherwise, you'll be drenched or irritated by your own sweat.
Also, seek lightweight materials. Select one with three to five layers of cloth on the body. Otherwise, it will drastically reduce your mobility.
Gravel guards
Gravel guards are an absolute must-have for any excellent fishing wader. As you may know, the riverbeds are littered with little and large rocks. At times, these rocks may be rather sharp.
As a result, they have the potential to harm and puncture your wader, rendering it useless. That's why one with built-in gravel guards is a must-have.
Gravel guards are also useful on trails. They shield your wader and your legs from any rocky or difficult terrain. As a result, pick one with excellent abrasion resistance technology. They will lengthen the life of the waders.
Foot Design
When purchasing a wader, the foot design is also an important factor to consider. There are two different designs to choose from. The boot foot and the stocking foot are the two types of feet.
For hunting, the boot foot design is preferable. They are, however, less breathable and lightweight. You must assess your needs and choose the product that best meets them.
Price 
Before purchasing a wader, you should always consider the pricing. Waders are often available in a variety of pricing ranges. The higher-end ones are more expensive. The inexpensive ones, on the other hand, are not as trustworthy.
As a result, you must spend according to your own requirements and tastes. Waders can be less expensive if some characteristics are sacrificed.
Some Safety Tips for Using Waders
Waders are great, but if you are not careful, you can cause some serious harm to yourself. There are some precautions to follow when fishing with waders. Let's look at a few things you should consider when wading. 
Never go against the current.
Don't try to walk straight or against the stream with a wader. Walking in that manner in deep water can be quite dangerous. Stagger your feet, lean against the river, and take sideways steps as you move deeper into the water.
Keep your weight on the stationary foot as you step, then move your weight to the stepping foot once it is steady.
Another consideration is that wading softly on a modest downstream or upstream angle may be more convenient than wading directly across the river. Start walking a bit above or below where you want to go, or vice versa, if you're crossing a river.
Ensure two points of contacts
This is critical for your safety while swimming in the river. It will assist you in maintaining your balance at all times; you'll have more stability and safety with two points of contact. 
It's better if you have more than two points of contact. This is something that a wading staff can assist you with. It will provide you with another contact point, achieving a better balance.
Wear the belt correctly.
Wear the wading belt correctly at all times. This is critical because if you accidentally fall into the water, the water will immediately enter the wader and begin to fill it. 
As the water is generally ice-cold, this might be lethal. As a result, this accident may be lethal. It's also difficult to swim and float in this circumstance. As a result, tighten the belt to prevent water from entering.
Proper Foot Placements
Always try to step your foot correctly when you're on the river. This is an extremely important thing to keep in mind. 
Polarized glasses may be used to see inside the water. Because algae on rocks can make them slippery, it's best to walk between them rather than on top. If the river has strong currents, keep between large boulders and be especially cautious.
Conclusion
Fishing waders are a must-have if you want to surf fish in the river. A premium wader will keep you dry and comfortable while allowing you to move about freely. It will provide you with a good overall experience.
That's why I've included a list of the best high-end waders under $900-$500 for fishing in this post. I also talked about what to look for in a wader to aid you in making a decision.
My personal suggestion would be Simms G4 Pro Waders

. These waders are manufactured with unique fabric technology, making them tough, long-lasting, and extremely comfortable.
They're abrasion-resistant and contain watertight compartments and zippers that may be used for several purposes. That is why you can choose this to get the best fishing experience.
Thank you for taking the time to visit. I hope you found the article helpful. I wish you the best of luck in your endeavors.