As an Amazon Associate we earn from qualifying purchases made on our website. If you make a purchase through links from this website, we may get a small share of the sale from Amazon and other similar affiliate programs. You can read our complete
legal information
for more details.
For surf fishing, you need a wading jacket that is lightweight, waterproof, and breathable. You should be able to move fast with it. How would you know the best wading jackets for surf fishing? This article aims to guide you to find the perfect wading jacket for you.
If you do not have time to go through the article, just go with the AFTCO Hydronaut Waterproof Jacket

. Its sophisticated look, protection against water, air, and cold, along with the level of comfort and reasonable price, have made it the winner.
Even after knowing who the winning wading jacket is, insist you go through the article before buying a wading jacket for yourself. Because personal preferences are the most significant factors in deciding what to wear. You will know which one is best for you after judging all the aspects of all available wading jackets of the market.
Best Wading Jackets For Surf Fishing 
It can be easy to get lost while picking a wading jacket that is right for you in such a saturated market. Especially if you are a beginner. Even for experienced anglers, the sheer volume of choices can really get you sweating. So, here I've talked about a few of my favorites. Take a look at them, and I'm sure you'll find something that is right for you. 
1. Simms G4 PRO Wading Jacket
The Simms G4 PRO Wading Jackets

are light, water-resistant, and breathable. They have a storage capacity to contain all your surf-fishing gears. You can wear them in any weather, without getting exhausted with hard labor. It indicates it is very unlikely that you will get soaked or tired while rowing or fishing for a whole day wearing G4 PRO.
To me, the best part of the G4 Pro

wading jacket is the water-tight shingle cuffs. Under the sleeve, you will find an adjustable wrench strap. On top of that, the waterproof top layer shingles down the wrist and acts as second protection against waters pouring from up.
Simms has used three layers of high-tech fabric for making the G4 Pro

. It is rugged, breathable, and waterproof at the same time. That means you will feel comfortable while fishing in cold, rainy, and humid weather with the same jacket. The storage capacity of the jacket is excellent.
You can easily keep your food, hat, or other big stuff in the game pockets. The zippered hand-warmer pockets go around to the large game pockets at the backside of the jacket. You have another zippered stash pocket on the left and a big drop-in pocket on the right inside the jacket. The chest pockets of the jacket can hold big fly boxes.
Pros
3-point adjustable storm hood fights sun and rain
Waterproof and breathable GORE-TEX Pro Shell fabric
Water-tight shingle cuffs with adjustable wrench strap
Big game pockets to keep your hat or gloves dry
Stash pocket for cell phone or fishing license
Sleek, contemporary, and fashionable look
Cons
 Available in a single color. Compromises consumers' freedom to choose
Hard to unzip hand-warmer pockets single-handedly
The vertical flip-out fly patch does not tuck in
Costlier than many wading jackets
---
2. Sitka Gear Hudson Jacket
The Hudson Jackets

by Sitka were primarily designed to be used for hunting. But they can be a good choice for surf fishing too. The fabric is made of a 3-layer GORE-TEX breathable and is completely waterproof. The layer of insulation of the thermal loft will keep you warm no matter how cold the outdoors is.
The jacket is not too heavy to comprise movability despite the insulation layer. The hood is fully adjustable and rotates with your head for weather protection, and it does not restrict your vision.
The Hudson Jacket

comes in attractive timber and marsh patterns. It reminds me of the uniforms of the regimented forces for commando missions. The pattern of the jacket creates perfect camouflage for hunting.
The jacket's cuffs can be set firmly on your wrists using the rubber straps. It protects your hands from being wet. It works even when you have merged your hands under the water. Which I always look for when buying a wading jacket.
I liked the idea of using magnets to keep the frontal shell pockets open. You can use this feature while getting your fishing gears out without any hassle while fishing.
Pros
Waterproof, breathable, and stretchable fabric 
Designed to provide excellent mobility while fishing
Uses PrimaLoft® insulation for good warmth
Adjustable hood rotates with head ensuring clear vision
Magnets to keep shell pockets open when needed
Available in different sizes, from small to 3X-Large
Cons 
Not suitable to wear in humid conditions
---
3. SITKA Delta Wading Jacket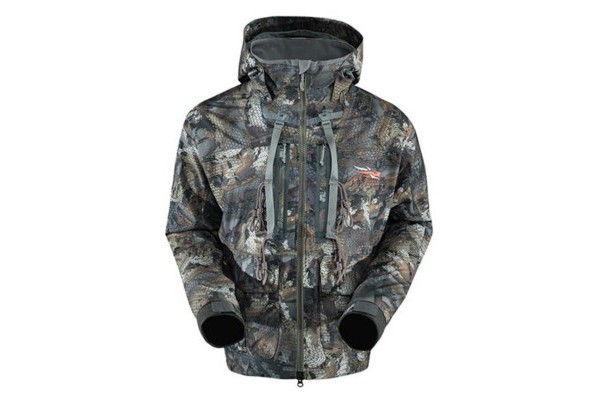 Sitka manufactured Delta Wading Jackets

for hunting in extreme conditions. After 6 hours of research, I recommend this jacket for surf fishing because it is very helpful when fishing standing in deep water. The jacket is made short in height to cope with high waters. You are supposed to wear it with waders.
I liked the pit zips of the jacket. They dump unwanted heat from the inside. You will love this feature while fishing in hot and humid conditions. Another fine feature of the Delta wading jacket is the reinforced forearms. It is very effective in resisting sudden abrasion. 
Another noticeable feature of Delta wading jackets is, it is not lined with insulation layers. That is why this jacket is lighter than many other wading jackets. You can use it as a waterfowl shell in the winter, wearing a warmer cloth inside. And in other seasons, you can just wear it as a water and wind protector. 
Pros
Copes with high water fishing condition
Pit zips discharge excess heat from inside
Reinforced forearm to tackle abrasions
It can be worn in any weather
The water-repellent finish makes the jacket dry quickly
Cons
Short height uncomfortable for many
Arms can feel tight for bulky persons
---
4. Striker Denali Insulated Rain Jacket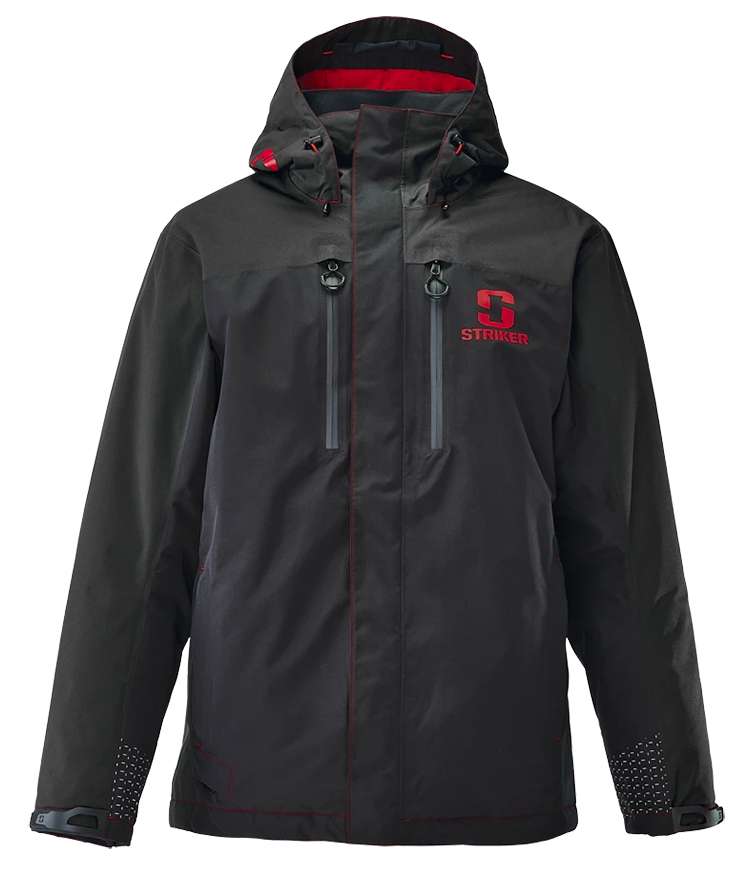 In my view, the Striker Ice Denali insulated Rain Jacket

has a stunningly good look. The overall finishing of the jacket is outstanding. You can easily tell that the manufacturer has invested a lot in researching a good design. Denali rain jackets are found in small to 4X-Large sizes. They are available in black and veil-stryke colors. 
Despite having an insulation layer, the jacket's weight is very little. I guess the stylish appearance of the jacket has made it an all-time favorite of mine.
The Striker Denali Jackets

have a long and steady hood along with extra adjustable support around the throat, covering up to your lips to give you full protection in the rain. The top layer of this wading jacket repels moisture to quickly make it dry.
While surf fishing, you can wear Denali jackets with or without a bib. The design of the cuff is unique. There are two adjustable drapes to be wrapped in and out of the sleeves to stop water from getting into them.
Pros
Stylish smart outlook
Available in 4x-Large size
Very light but effective insulation
Unique double-cuffing system
Ensure full protection against rains
Cons
Storage capacity is low
Not resistant to abrasion
---
5. Stormr Strykr Jackets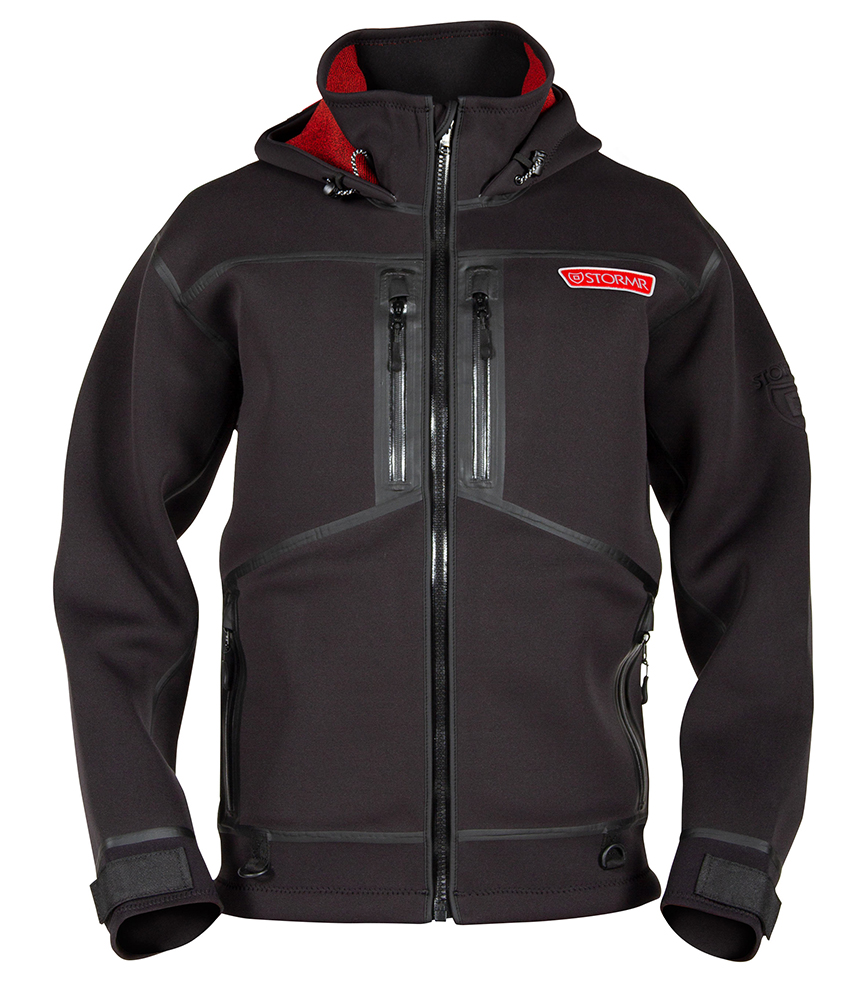 The Stormr Strykr Jackets

have been in the market for some years now. I think the overall look of the jacket is too chubby for a wading jacket, and it is not very lightweight either. Still, it can easily compete with the newest versions of wading jackets due to its high quality. 
Still, I had to put it on the list of best wading jackets because of its superb efficiency against water and cold. The Stormr Strykr jackets

have three main layers. One acts as a water repellent shell, another as a thermal membrane, and the innermost layer works to dehydrate moisture. So it is a complete solution against water. You can see water being bounced from its surface. 
Stormr treats this jacket as one of its flagship products and continues to upgrade it with recent technologies. The first Strykr jacket is much different than the current version of the jacket. I think the biggest change happened in the fabric. Now Strykr jackets can bounce back every drop of water that it encounters.
I like the blind stitching of the Strykr jackets. You will not feel any stitching line inside the jacket at all. Apart from being a good shield against water and cold, this jacket is very good against abrasions. 
Pros
Great water-resistant features
Keeps you warm in extreme cold weather
The seamless blind stitching line
Has great resistance against abrasion
Cons
Hood very short to protect the face from rain
Comparatively weighs more
---
6. Aftco Hydronaut Waterproof Jacket
Aftco Hydronaut Waterproof Jacket's overall design is up to mark. This jacket can protect you from water, chilling wind, and cold very well. It can compete with the finest wading jackets of the market by its noticeably low pricing.
The first thing you will notice about Aftco Hydronaut jackets is their traditional design. Of course, Aftco is one of the oldest jacket producers in the USA, and they have the right to make things look as they did before.
However, you cannot ignore this jacket's efficiency in keeping you dry and warm. Mobility inside the jacket is good. Adjustable waist, double-cuffing sleeves, and the up-to-chin zipper will keep you dry in the rain.
I liked the exit points for air at the rear of the hood. The stash pocket for setting the go-pro camera at chest level is also a cool idea. But the low price is the best part of Afco Hydronaut.
AFTCO Hydronaut Jackets

are trendy among mariners. Whether you are surf fishing, deep-sea fishing, or any sportfishing activities, you can count on its durability. That's why I bought one for myself.
Pros
Fairly affordable
Works well to resist water and cold
Ensures great movability
Hoods with vents to the exit of air
Insulated
Cons
Hardly accessible hand pockets
It can make you look chubby.
---
7. Stormr R615MT-01 Surf Top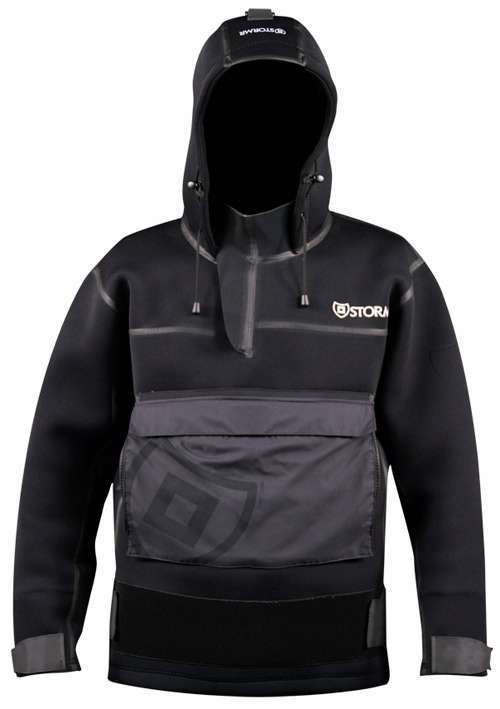 The Stormr Surf Top

is one of the finest creations of Stormr, who has been famous for creating high-end jackets for many years now. It is made from high-stretch, windproof, and waterproof materials. This is also a reason behind its very contemporary look. The only thing that I did not like about this jacket was the kangaroo-style hand-rest pocket. 
This jacket can keep you dry from rain for hours. But it was designed to be semi-dry. That means the jacket itself will get soaked to some extent. However, the sturdy and long high-drape hood, along with the adjustable neck gasket, will keep you dry anyways. I admire the extra synthetic layer at the cuffs of the sleeves that ensures your hands will remain dry while fishing.
The jacket has been in the market with a reputation for some years now. Stormr Surf Top

has thermal-taped seams. This makes it very efficient to keep you warm even in the chilling cold weather. The high-stretch material of the jacket has made it durable. The price is also very reasonable considering the quality and durability. 
You are bound to love the smart outlook of Stormr Surf Top

wading jackets. It is so good-looking that you can wear it on your date. 
Pros
Sleek & Fashionable in look
Very much water-resistant
Durable with high-stretch surface
An extra synthetic layer at cuffs
Very warm in cold weather
Reasonably affordable
Cons
Available only in Black
Not suitable for summer
---
8. Stormr Men's Typhoon Jackets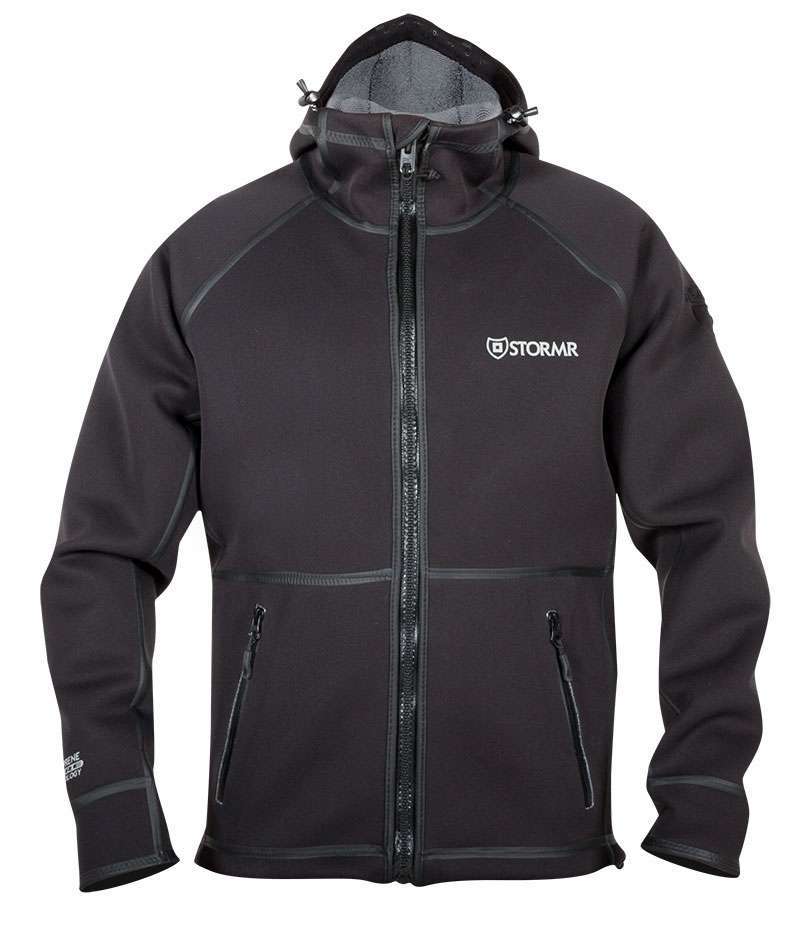 It has been a decade since Stormr Men's Typhoon jacket was first introduced in the market. It takes a lot to be popular for a decade. The following Stormr wading jackets to invade the market are modifications and enhancements of Stormr Typhoon. The design is pretty basic, and you have 4 options for color. Moreover, this jacket is quite affordable.
You will love Stormr Typhoon if you are not bothered with the look of a wading jacket, and saving money matters to you. Like all other wading jackets, Typhoon jackets will keep you dry, warm in all weathers but at a low cost. In the last decade, this jacket has gone through many technical modifications to survive in the market. 
This waterproof, windproof jacket has been popular with anglers for many years now. Now Typhoon jackets have a non-corrosive splash-proof zipper, extra interior flaps to protect you from chilling winds. The inner pockets are now bigger than before. This certifies the good qualities of the jacket.
Pros
Fits people with broad shoulders well
Great mobility 
Fairly affordable
It can be warm on the coolest day
Cons
Not a lightweight jacket
Design is quite basic
Does not have a hang loop
---
9. Simms Challenger Jacket
The Simms Challenger

is a great wading jacket at a reasonable price. The design of the jacket may not look too fancy. But I think it has a sleekness to make you look smart.
I didn't like that Simms Challenger jackets do not have a neoprene wrist line protection against water. Because I believe, nowadays it has become a norm for wading jackets to have wrist-line water protection.
Simms Challenger

will keep you safe from water, wind, and coldness unless you get splashed at your wrist points. It is comfortable enough to wear this jacket in any weather conditions.
The 3-point adjustable hood is very useful to cope with changing conditions. Because it is waterproof and breathable at the same time. 
You can only hand-wash the jacket. This can be a pain if you are accustomed to washing machines. This jacket has a reflective logo for mariners and other adventurers to make you visible to the rescuers when in danger.
Pros
Available in many sizes, including 4X-L. 
Saves from water, wind, and coldness
breathable 
Affordable price
Cons
Hand wash only
No neoprene wrist line
---
How to Choose the Best Wading Jacket for Surf Fishing?
The fishing industry in the USA has an annual growth

of 5.2 percent. Naturally, there is a high demand for wading jackets for fishing. This opportunity to make a fortune by making jackets has inspired many companies to get into the business, resulting in several options in the market. So, what to consider when buying wading jackets?
Local Climate
Wading jackets should be a shell for you while fishing, hunting, or rowing. When choosing the befitting wading jacket for you, you should consider your wearing conditions. 
First of all, consider the weather statistics. On average, how cold, rainy, or windy is your fishing weather? You must make sure that your wading jacket is comfortable, breathable, and works effectively to save you the water you have to deal with.
The Insulation Layer
Some wading jackets come with a layer of insulation to keep you warm on the coldest days. Some others act just as a shell to protect you from wind and water. 
Considering your local environment, you need to check for the insulation status of a wading jacket before buying it. Jackets with insulated lining will make you uncomfortable if you fish in warmer regions. On the contrary, not having an insulation layer in the wading jacket can seem like a crime in chilling weather conditions. 
The Storage Capacity
For fishing, you need to carry a lot of tools and accessories. If you keep them in a separate bag, you cannot get them out quickly. So, you have to take your fly boxes and other fishing stuff in the jacket pockets.
The big pockets of the wading jacket are supposed to be easily accessible. While fishing, you will have one of your hands busy holding the drag. If it takes two hands to open a pocket and get the required accessory out, it will not help you at all. Some wading jackets even have magnets to keep the hand pocket open while you fish.
Protection against Water
While surf fishing, you can be exposed to sudden splashes at any moment. Your wading jacket must be able to protect you in those situations too. Make sure your wading jacket has a water-tight cuffing system at the wrist points and also in the waistline.
The zippers of the wading jacket should also be water-resistant. Your wading jacket should have extra support to cover your throat and neck. 
Mobility
The wading jacket for surf fishing should have so much mobility that you will forget about the wading jacket while fishing. 
Before buying the wading jacket, wear it and move your head, hands, and waist to all possible directions to see if you feel any obstructions while making the movements. 
Precautions for Using Wading Jackets
Do not forget to follow the weather forecast before deciding to surf fishing. If it is raining, you should check the water-tight shingle cuffs and the hood before moving for surf fishing. Use a wading jacket with insulation lining only when the weather is cold. Otherwise, you may become uncomfortable in humid conditions.
According to the labeling laws

of the USA, jacket manufacturers have to declare what materials they have used in the piece of apparel. Go through it carefully to ensure there is no material in the list that you are allergic to or is very toxic for your body.
Conclusion
In my view, the best wading jacket for surf fishing is AFTCO Hydronaut Waterproof Jacket

. Because it is good-looking, comfortable to wear in any weather, gives total protection against water, wind, and cold. Moreover, it does all these at a reasonably fair price. 
The closest competitor to the AFTCO Hydronaut Waterproof Jacket is Sitka Gear Hudson Jacket. But the Denali jacket got the lead for ensuring comfort in all weathers. The Hudson jacket is not good with humid weather and is comparatively heavier than the Striker Ice Denali Rain Jacket. The Hudson jacket also protects against water and wild weather. It is also good-looking and affordable.