As an Amazon Associate we earn from qualifying purchases made on our website. If you make a purchase through links from this website, we may get a small share of the sale from Amazon and other similar affiliate programs. You can read our complete
legal information
for more details.
The seasons are changing, and it is already starting to get cold out. However, that does not mean that you need to hang up your fishing rod. Just get yourself a wading jacket and head out. Now, if you are on a budget, you might wonder which would be the best wading jacket under $200?
The Jacket I'd recommend is the Cabela's Northern Flight Wading Jacket for Men. It is very durable, so it will last you through multiple fishing trips. Thermolite micro insulation on the jacket will also keep you warm and dry due to it being 100% waterproof, windproof and breathable.
Though I'd highly recommend it, there are many other alternatives. And here, I've reviewed them all, including a list of pros and cons for each of these jackets. I will also go over how you can decide which wading would best fit you and your needs. So please read the entire article to learn more.
9 Best Wading Jackets Under $200
There are so many different wading jackets currently on the market. So much so that any new buyer looking to buy one may get confused about what kind of jacket they should get. That is what I am here to help you with.
In this article, I have gone through the best wading jackets and prepared a list of the 9 best that you can get at an affordable price.
1. Cabela's Northern Flight Wading Jacket for Men
The Cabela's Northern Flight Wading Jacket prioritizes warmth and durability. It was specifically designed to keep you warm through the cold seasons. I would love to have one myself last year when I went deep-sea fishing. 
The durability comes from it being fully made of hex-ripstop fiber. It has 100% polyester for the shell and a 100% nylon lining. This ensures you can use it for long durations without having to worry about wear and tear. The jacket is 100% waterproof, windproof while remaining breathable, making it the perfect thing to put on for any weather.
Of the best selling points for this jacket is how warm it is. This is because it has 150 grams of Thermolite micro insulation in the body and another 100 grams in the hood and sleeves, keeping you warm in the harshest weather. 
Another amazing thing about this jacket is the storage. The jacket comes with lower bellows cargo pockets with magnetic closures. It also has fleece-lined hand pockets right next to the cargo pockets.
There are two additional wader height fleece-lined pockets for you to slide your hands in to keep them warm comfortably. Lastly, a called pocket with a magnetic closure as well.
Pros
Lots of storage for all the things you will need.
The magnetic closures make it easy to store things away
The jacket is very warm due to its thermolite insulation
Waterproof, windproof, and breathable.
Cons
The fitting can be a bit awkward due to the shape of the jacket
The zipper is very fine and can be difficult to zip up
---
2. Simms Challenger Jacket
One of the best jackets on the market if all you are looking to do is fishing. The Simms Challenger Jacket

will keep you high and dry no matter the weather. It provides you with incredible protection from the elements with its three-point adjustable storm hood. I wish I had something like that on my last fishing trip that would have stopped me from catching a cold.
The Simms Challenger Jacket

puts your safety as its top priority. Coming with a kill switch attachment at the hem for safety on small crafts. The jacket also has reflective logos to keep you visible both on and off the water, which makes sure people will find you easily in case of emergencies. 
Safety is very important when you are out on the water. I am very happy to see Simms putting in the effort to make their jacket safe and visible for coast guards to find with ease.
The Simms Challenger Jacket

also comes with very convenient storage. It has a zippered pocket located on the chest for easy access to your essentials and an interior sunglass chamois so that they stay smudge-free on the water. Which is perfect for me since I am almost always smudging my glasses.
Pros
It has convenient storage pockets for easy access
Three-point adjustable storm hood
The jacket comes with a kill switch attachment for small boat safety.
Reflective logos for visibility
Cons
For the price, the seams and stitches do not seem to be up to par
Expensive
---
3. Orvis Men's Clearwater Wading Jacket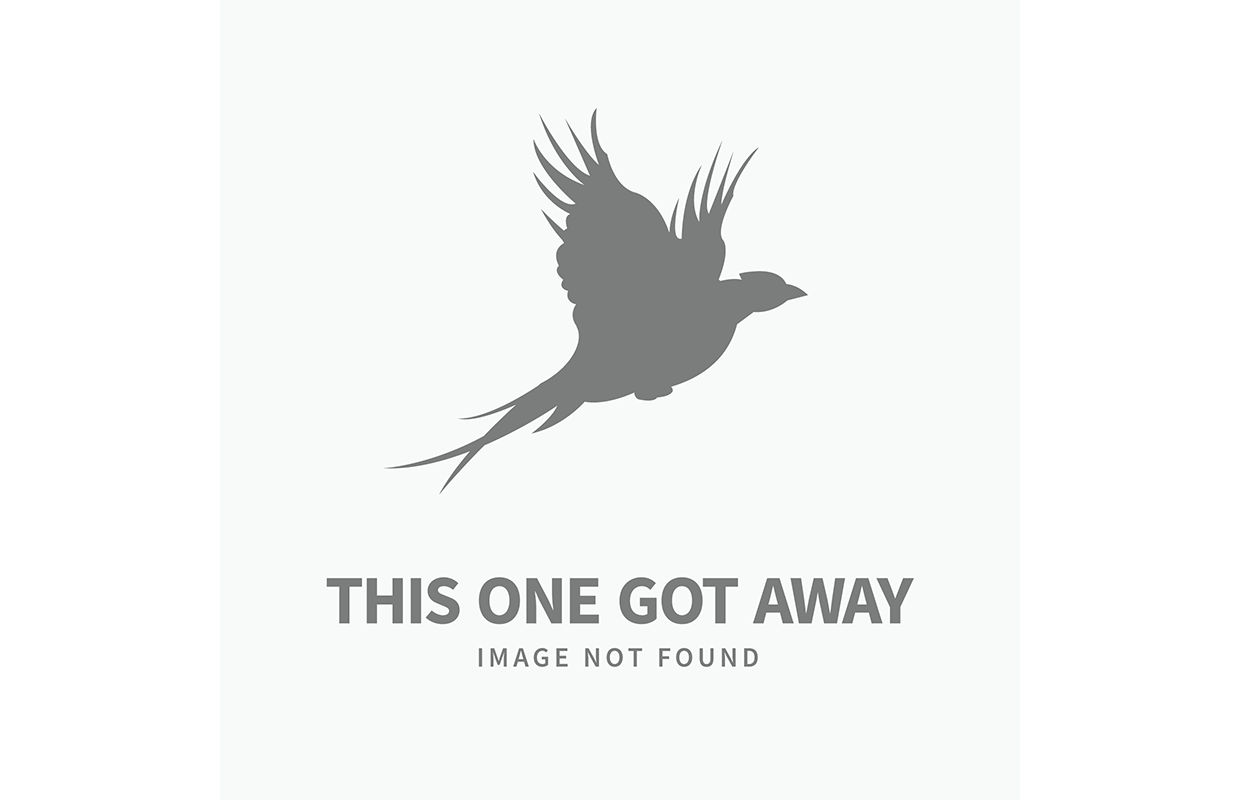 The Orvis Men's Clearwater Wading Jacket is another exceptional wading jacket at this price point. It has a breathability rating of 15k and a waterproof rating of 20k. The jacket consists of three layers of Nylon shell fabric. For a superior level of waterproofing, the seams are fully taped. 
The Orvis Men's Clearwater Wading Jacket comes with two large front pockets and two more handwarmer pockets when it comes to storage. Another feature that I love is the Dolphin Skin cuff system. This prevents seepage when releasing fish or landing, which I always hated, and now I do not have to worry about it thanks to these cuffs. 
It also comes with a three-way adjustable storm hood and an adjustable hem for a better fit. The brim of the hood is laminated for more protection from the water. The whole jacket is also finished off with a DWR finish to repel the water from the fabric's surface. 
Another notable feature would be the front closures. The front closure of the jacket is a KK AquaGuard water-resistant front closure. This ensures that water stays out of your jacket and that you stay dry.
This jacket

is also washable to get rid of any stains. This is very welcome as most of these jackets are not washable. 
Pros
Integrated Dolphin Cuff system which prevents seepage
KK AquaGuard water-resistant front closure
Washable
Cons
The fabric of the jacket is very stiff
Zipper may break 
---
4. Grundens Transmit Jacket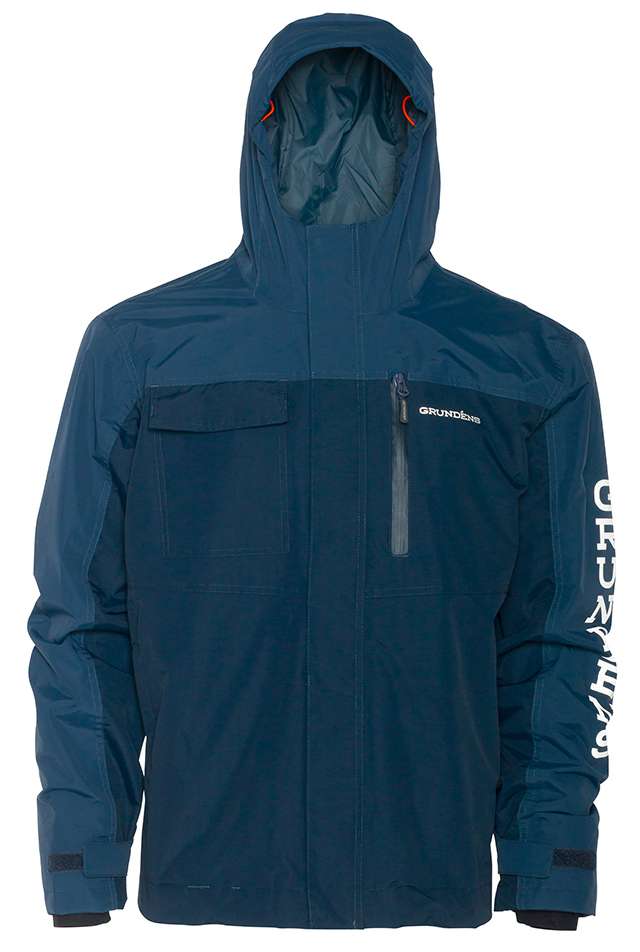 The Grundens Transmit Jacket

was designed to keep your comfort in mind. The jacket's lining integrates a hung taffeta lining, ensuring comfort while keeping you high and dry. That and the conveniently placed pockets make it a great jacket for day-to-day use, not just fishing.
This is something that I have been looking for. I can use a wading jacket not just for fishing but also for day-to-day use. 
It also comes with its own proprietary internal neoprene cuffs. This seals out water so you can focus on fishing without the discomfort of water dripping into your cuffs. The jacket also has a waterproof and breathability rating of 20k. 
The Grundens Transmit Jacket

comes with a kill switch anchor for emergencies for safety purposes. This kill switch allows you to get out of the jacket in case of any sort of emergency swiftly and keep you safe.
Another worth mentioning is that the Zippers for these waders are made using recycled ocean plastic. So, by purchasing one of these, you are also supporting them in cleaning up the ocean.
Pros
The zipper pulls are made with recycled ocean plastic
20k rating for both breathability and waterproof rating
It has YKK handwarmer pockets with zippers that lock
Comfortable
Cons
Better jackets at this price point are on this list
---
5. Stormr Aero Jackets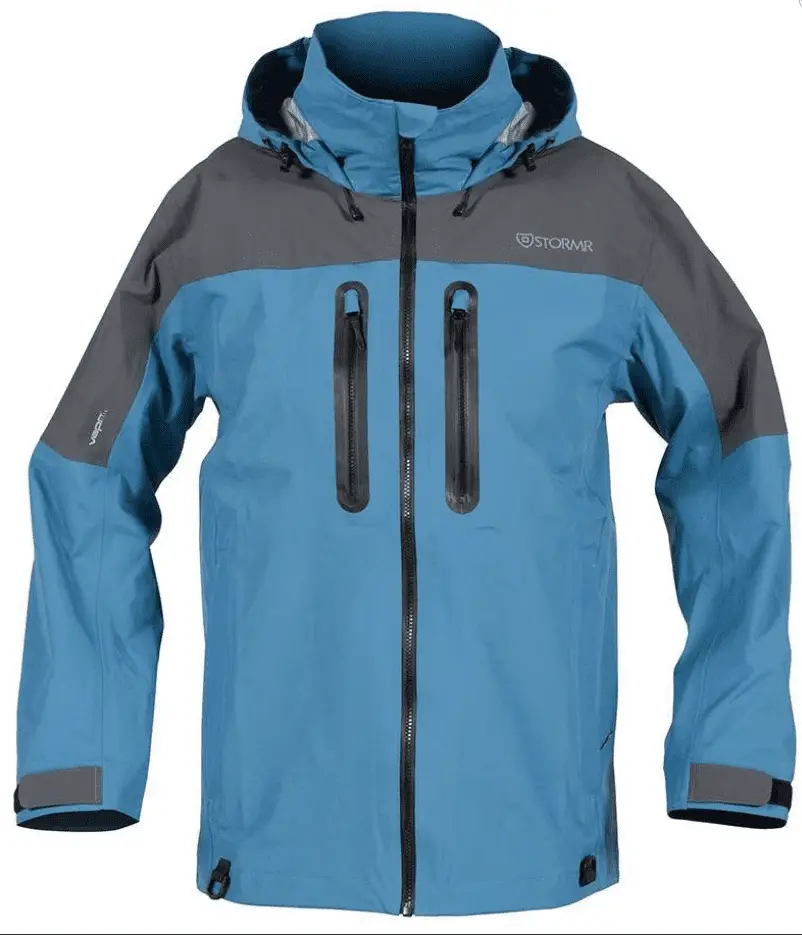 The Stormr Aero jackets

series by Stormr are made for breathability, falling in the mid-weight group. It is extremely comfortable to wear. Despite it not being as bulky as other jackets, it will give you considerable performance no matter the weather. The jackets come with an extremely flexible rain gear system so that you stay high and dry.
Maneuverability is where this jacket truly shines. You will be able to move around much more freely in this jacket than its competitors. Compared to its competition, you will notice the significantly increased range motions.
The construction quality of this jacket is immaculate. Boasting a three-layer, DWR treated 100% seam seal. It also has a waterproof and breathability rating of 20k. The jacket even comes with adjustability options. All parts of it, including the hood, knees, seat, and internal waist, are adjustable to fit you for your comfort better.
This jacket

uses Stormr VAPR tech, a lightweight equivalent of their neoprene core technology. This technology offers you more mobility, comfort, and all-weather protection while coming in unique styles.
Pros
Three layers of waterproofing and breathability
Water repellent treatment on the jacket.
Lightweight
Cons
I would not recommend it for cold weather 
---
6. Stormr Swell Neoprene Hoodie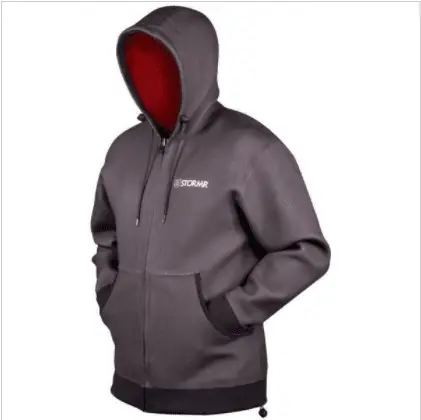 Looking at it first, it might be surprising to see it on this list, as it seems like just your typical hoodie. But the Stormr Swell Neoprene Hoodie

is far from what you would come to expect from a typical hoodie. First and foremost, it will hold almost no water. Being both waterproof and windproof. 
It is warm and oversized, perfect for going out on a run or just going out to fish. The jacket will protect you from the rain, sprays of water while fishing, and heavy winds when you are out for your fishing session.
Another prominent feature of this jacket

is its ability to hold its core temperature. Trapping in heat and keeping the wind out, keeping you nice and warm and protecting you from the elements while keeping you nice and cozy. 
The exterior of the hoodie has a 2mm thick skin of rubber, while the interior lining is with Micro-fleecing for comfort. The jacket even comes with waist cinch cords for an added bit of adjustability.
Pros
A great Jacket to go jogging in
Comfortable to wear
Waterproof
Cons
The sleeve cuffs may come off after rough use 
---
7. Froggs Toggs Pilot II PRYM! Series Jackets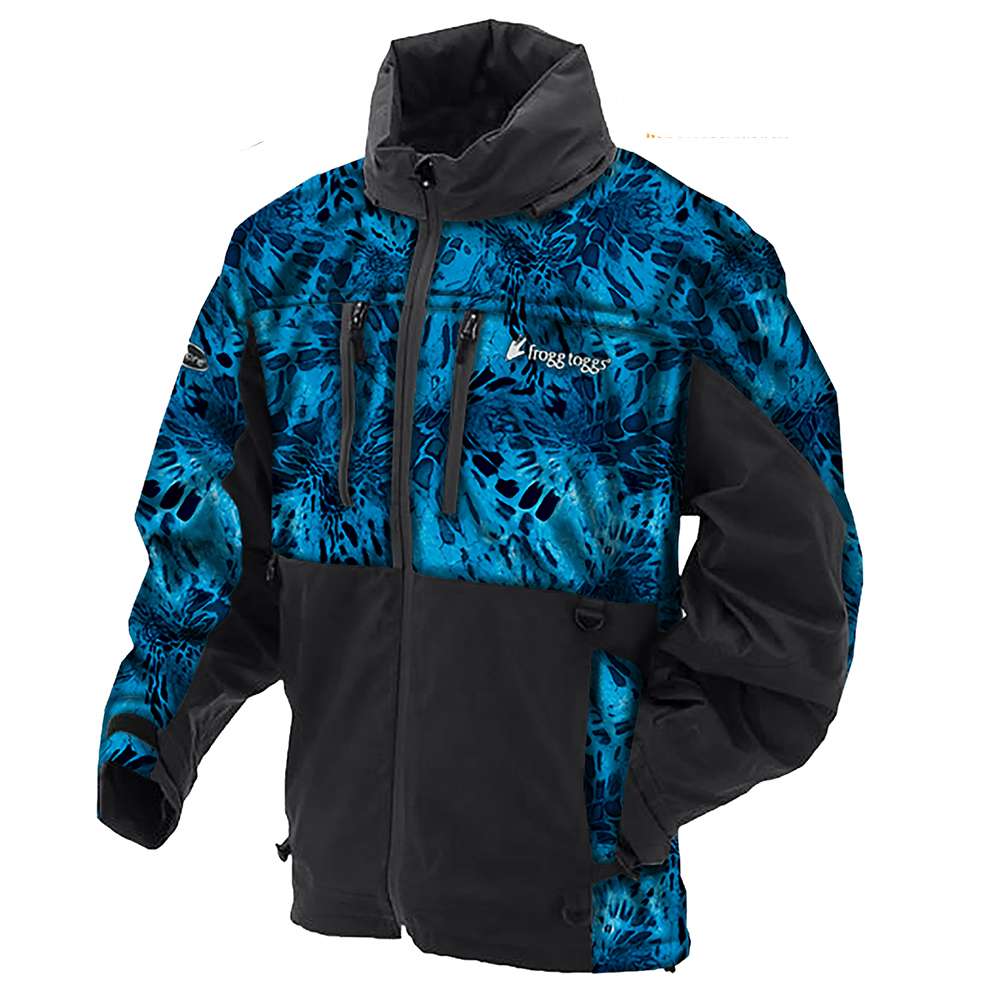 The Froggs Toggs Pilot II Prym

! Series jackets are 100% waterproof due to their DriPore Gen2 layer. This provides you with three layers of protection. The outermost provides you with protection from abrasion, increasing its durability.
The middle layer increases the jacket's water holdout capability, while the innermost layer helps hold heat and makes it comfortable to wear. This gives the jacket an extreme water holdout while allowing you to breathe easily while wearing it. The jacket is extremely flexible, making it perfect for outdoor use. Making it a good budget option.
It is full of features, including a vented, removable hood with cord locks. Giving you the choice of whether you want a hood or not. Not to mention having zipper pockets both for the chest pockets and hand warmers, giving you more than enough storage to put your things away. 
The zippers on the jacket are splash-resistant with storm flaps. This allows for it to stay waterproof while maintaining the circulation of air. The jacket also ensures comfort in the form of an adjustable waist with the help of shock cord locks for a perfect fit.
Pros
A removable hood with vents.
Adjustable waist
Splash resistant zippers
Dripore Gen2 layer
Cons
It is of lower quality.
Not very durable 
---
8. Orvis Men's Ultralight Storm Jacket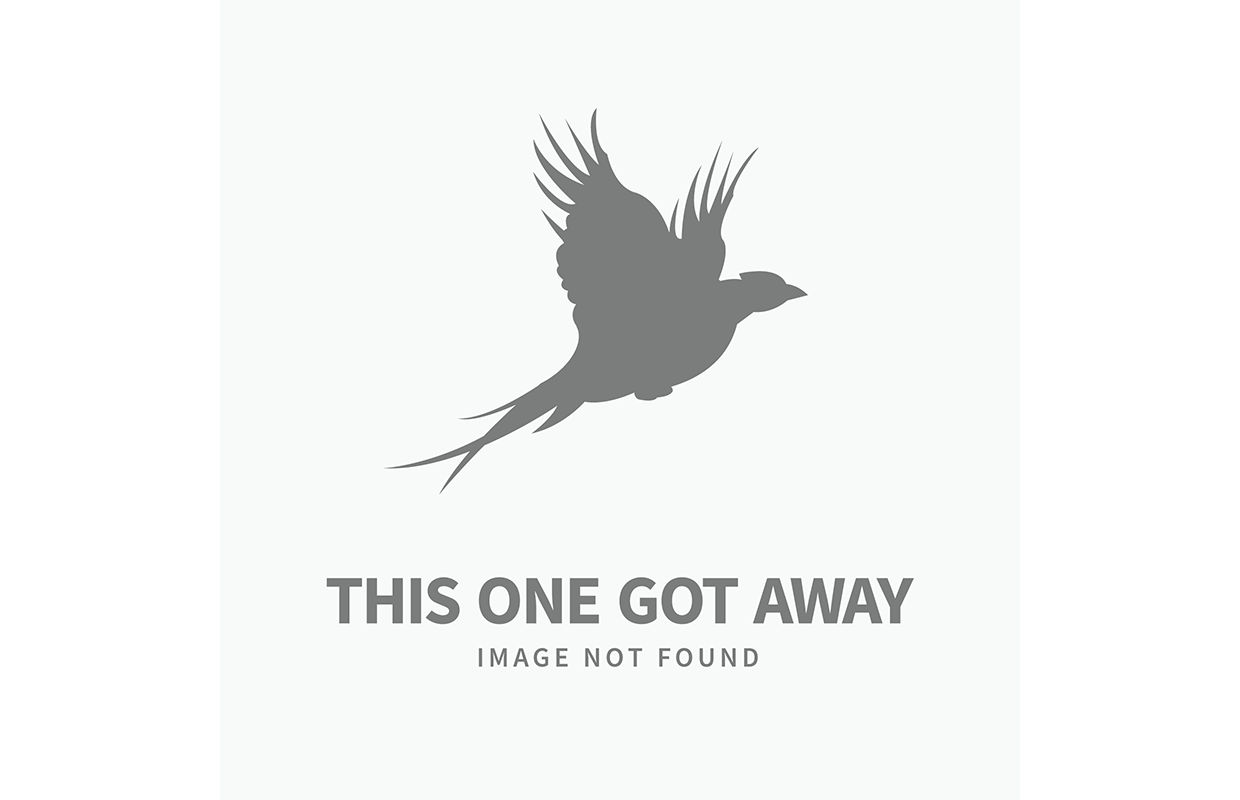 I have another jacket from Orvis here, at a much more affordable price. This Orvis's Ultralight Storm Wading Jacket is designed to be waterproof to keep you dry during storms. Due to it being extremely lightweight, you can quite easily pack it into your carry-on or daypack and pull it out when you need it. 
The jacket was inspired by another one of Orvis's lightweight wading jackets. It features a stretch nylon shell of 2.5 layers to make it waterproof and breathable. The jacket is quite comfortable due to its raised dry-touch coated interior.
It does an amazing job at keeping water out due to its YKK AquaGuard® water-resistant zipper. The cuffs with hooks, adjustable storm hood, and dual cinches at the hem also help to seal you up and protect you from the elements.
The stretch nylon material of this jacket allows a full range of motions to be carried out while wearing it, which is great to have when fishing. My last jacket made even doing the smallest of motions a hassle.
Pros
Dry touch interior
Lightweight and portable
Affordable
Adjustable cuffs and hem
Cons
It is more of a rain jacket, not good for cold weather.
---
9. Frogg Toggs Men's Pilot III Guide Jacket 
The most affordable item on this list is the Frogg Toggs Men's Pilot III Guide Jacket. The jacket is specifically designed to keep you dry and comfortable. It is made up of three layers of fabric, the outermost being polyester, making the jacket durable, abrasion-resistant, supple, and lightweight.
The middle layer of the jacket is made up of DriPore Gen2. This increases the jacket's water holdout capability, ensuring that it is breathable while remaining lightweight and flexible at the same time.
The inner layer of the jacket is made of a nonwoven polypro. This gives you more resistance to the wind while retaining more heat at the same time keeping you warm. The fabric is very soft and comfortable while being breathable and lightweight. Making it a great jacket for this price.
Keeping you high and dry and preventing water from dripping into your jacket. The jacket's seams are fully taped and sealed to prevent water from entering the jacket. The jacket pockets are multi-use dual pockets with drain eyelets that make it easy to drain any water.
Pros
Very durability
Great at holding out the water 
Quite comfortable
Drainable Pockets
Very affordable 
Cons
The sizes are not accurate
The zipper is flimsy and prone to breaking
---
How Do You Choose the Best Wading Jacket?
I've already gone through the 9 best wading jackets for you in this article. But how would you go about buying them on your own? What would you look for? What do you need to consider before taking the leap and purchasing your wading jacket?
When choosing a wading jacket, there are some necessary things that you need to consider. Let us look at how you would go about buying your wading jacket.
What Kind of Jacket Should You Get?
When it comes to a wading jacket, the first thing that comes to your mind should be protected from the elements. Keeping you warm and dry no matter the weather. So, when purchasing a wading jacket, make sure the outer shell is windproof, waterproof, and breathable. This should be at the top of your list.
One thing you must consider is a jacket made of breathable materials. This should greatly narrow down the number of jackets on the market. Whether the jacket is 100% waterproof or not is another way to cut down the numbers. Jackets that meet these criteria are the only ones worth considering.
Next up, look out for whether the jackets cut in a way to allow free movement. Whether fishing or duck hunting, having a jacket that allows you freedom of movement is essential. Even if a jacket keeps water out and keeps you warm, if it restricts your mobility too much, it can ruin your fishing experience.
They also need to be sized for a loose fit. This creates a scope so that the fleece and base layer can be built up later if the need arises.
Another thing to be on the lookout for is what kind of pocket the jacket has. Whether there are enough pockets to hold things that you might need for fly fishing, look for one with enough cargo pocket space that you can carry everything that you will need in them.
Speaking of pockets, another great addition to your wading jacket are handwarmer pockets, especially ones lined with micro-fleece. Perfect for warming your hands up on a cold day. Other things that you may want to consider are removable hoods or storm hoods. And a separate collar to keep your neck warm from the cold.
Considering all this, you should have more or less an idea of what to look for when buying a jacket. It should meet your needs, protect you from the elements, allow you freedom of movement while wearing it. And have enough storage for all your utilities.
Considering DWR
DWR or durable water repellent is another means of keeping you and your jacket dry. It is another way of coating the fabric after laminating. As a result, a protective wall can be formed on the jacket's outer layer, protecting it from water droplets.
This chemical treatment onto a jacket does not make it 100% waterproof, but it decreases condensation and improves breathability. This chemical is not a one fix as you will need to reapply it after using it for over a long period.
DWR does have its drawbacks. As the chemical is applied to the fabric's surface, oils and dirt will easily affect it. A layer of dirt and oil will even start to form on the surface of this DWR layer. As a result, you will see a visible drop in its performance. DWR can be wiped off the fabric without much trouble, so a specific product must be used on it to ensure its performance.
Conclusion
If you are looking to go fishing or duck hunting, you will need a wading jacket, and getting the best wading jacket would be your priority. But that is not a simple task.
I went over the 9 best wading jackets for your consideration in this article. The best in my book is Cabela's Northern Flight Wading Jacket for Men. Its durability, insulation, and storage put it above its competition. The jacket even meets most of the conditions that a good Jacket should meet.
I went into more detail about why I believe it is the best review. I also reviewed 8 other jackets you can consider for your purchase in the article. The buying guide should also help you decide which jacket best fits your needs. Thank you for sticking with the article till the end. I hope it helps you. Goodbye and Goodluck with your purchase.