As an Amazon Associate we earn from qualifying purchases made on our website. If you make a purchase through links from this website, we may get a small share of the sale from Amazon and other similar affiliate programs. You can read our complete
legal information
for more details.
When you are out fishing or hunting, boot foot waders are undoubtedly your best friends. However, you have to make sure you have the right one to keep you comfortable. There are tons of boot foot waders in the market. So, to make your choice a little easier, I've listed a few of the best boot foot waders in the article.
The Simms Men's G3 Guide Fishing

Wader

is my personal favorite on this list. They provide the exact fit and come with many features to make your fishing trips way more comfortable and easier.
However, there are many other options you might like. Each of them has amazing features and functionality. So, in this guide, I will provide you with brief reviews of every boot foot wader on my list, along with their pros and cons. So, let's get into it!
Best Bootfoot Waders For Fishing
I've made this list of 9 BootFoot Waders based on their durability, features, and cost. So, whatever your budget or needs might be, I'm confident that you might find something to your liking. 
1. Simms Men's G3 Guide Fishing Waders
The Simms Men's G3 Guide waders offer the sturdiness and usefulness to assist anglers on the water daily, such as coaches. Thanks to Simms ' large size variety, it also has one of the most exact fits I have seen in waders. Simms has a wider, more diversified size profile than every wader manufacturer, with 23 body men's sizes.
Simms, however, chose to prioritize usability and fit over packability and weight this year. That's great for the tough everyday user such as myself. But keep in mind that G3 Guides are not designed for summertime anglers or people who are always on the go.
Furthermore, these are feature-rich waders with various pockets and a fly-drying area. Besides, these have an anti-microbial coating on neoprene boots, a nice feature, which is no doubt one of my favorite features!
The Simms Men's G3 Guide wader was shown to be capable of robust use in various circumstances. However, compared to the other models on this list, the G3 Guides are a little heavier.
Pros
Excellent Durability.
Various sizes are available.
Made in the United States
Secondary features are effectively utilized.
Suitable for everyday use.
Cons
Made to order only
Can not returned of exchanged
Very expensive.
---
2. Orvis Clearwater Bootfoot Wader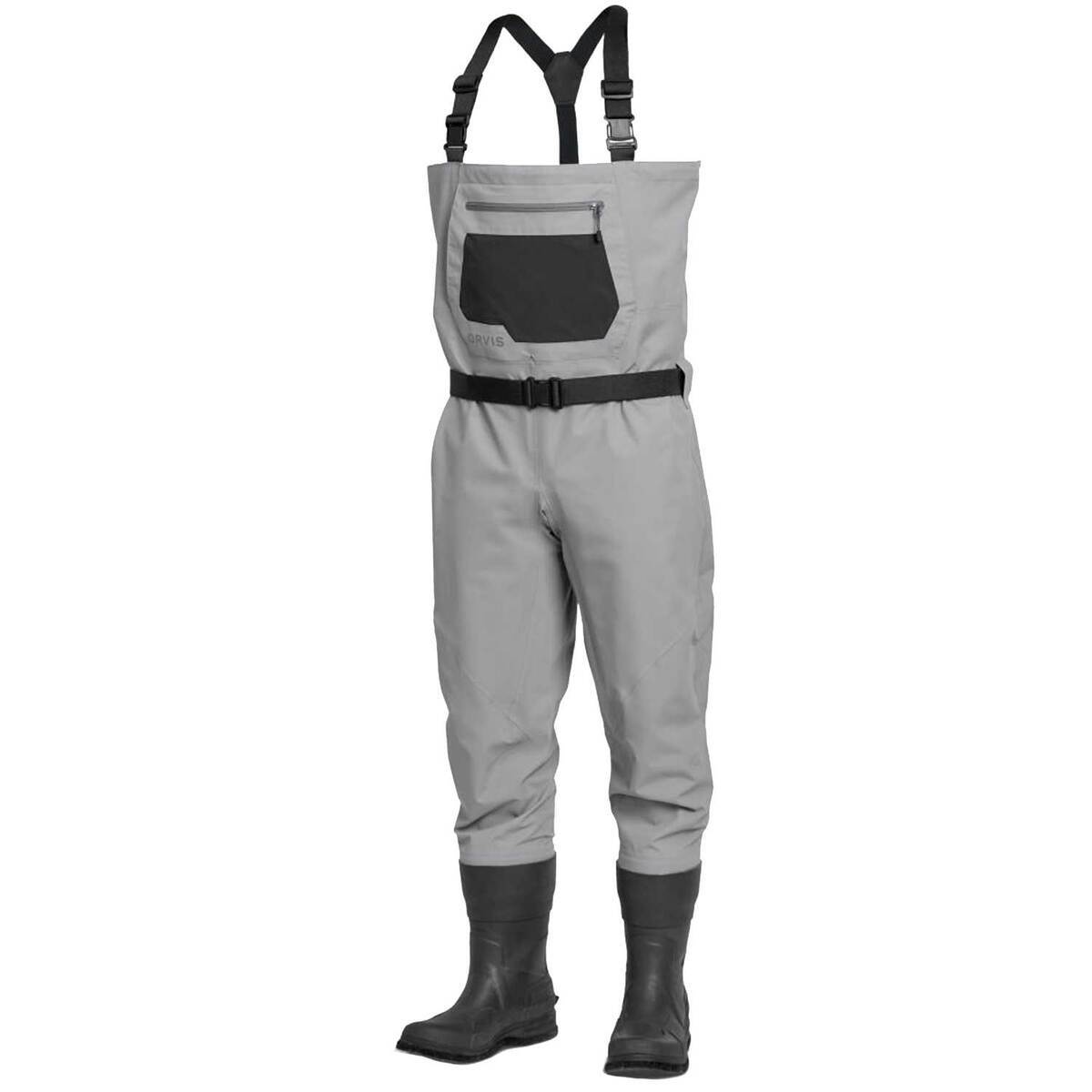 The Orvis Clearwater Bootfoot Waders

have taken the place of the Adventure waders. Yet, they continue to be the greatest bargain in the marketplace. These fantastic waders have entirely transformed the fit and functionality of waders. A modernized fit reduces the problem of wader thickness whilst also letting the fisherman layer up on freezing days.
Moreover, you won't have to worry about longevity, all thanks to the four layers of water-resistant nylon fabric. On days when the temperatures slowly increase, Orvis developed the Clearwater waders featuring the opposition side release buckles. These enable the fisherman to transition to a midriff choice.
Orvis didn't seem to stop yet. It also included anatomic neoprene boots, handwarmer pockets, one storage pocket, and inbuilt gravel shields.
The Orvis Clearwater boot foot waders

allow you to remove all uncertainties while staying within your budget. Thus, these beautiful waders are some of my favorites on the market for ease, durability, and adaptability.
Pros
Good reliable waders.
The rods are incredibly versatile.
Comfortable.
Looks amazing.
The price is reasonable.
Cons
Not very suitable for use in cold climates
---
3. Caddis Deluxe Breathable Bootfoot Waders w/ Eco Smart II Sole Design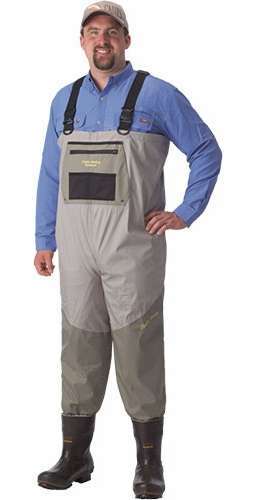 When it comes to buying waders for fishing

, you should opt for breathable material. Caddis Deluxe Breathable Stocking Foot Waders

guarantee them to be so. A porous membrane lets water particles quickly depart while allowing zero moisture inside.
Well, you may sweat less because it stops moisture from building up inside your body. Thus, it is incredibly useful during the summer months or in hotter areas. 
These excellent waders might be a great pick for traveling if you pair them with a set of comfy and lightweight sneakers. Besides, even prolonged treks to fishing areas will not be an issue with these waders. 
Moreover, Caddis Deluxe Breathable Bootfoot waders

are extremely simple to clean. You will simply have to wash these on the low setting in your washing machine.
However, the deluxe edition seems to have the same issue as the basic version. The rubber boots are a bit oversized. So, you might need to get a smaller size. Or, you can also put on one extra pair of cozy socks. Yet, remember that the wading boots must also fit!
Pros
It is both breathable and well-insulated.
Knees are strengthened, and the fabric is durable.
It includes a wading belt, gravel guards, and a repair kit.
Excellent value for money.
Spacious and handy front pocket.
Cons
There are no belt loops.
Neoprene boots are a bit oversized.
---
4. Frogg toggs Hellbenders Chest Waders

The Hellbender Chest Wader from Frogg Toggs

is made of four-ply nylon and has dual-reinforced knees. Besides, to keep your hands free, an enormous multi-functional chest pocket provides enough storage. Moreover, the zipped hand warmer or storage pockets will protect your hands from the weather.
The seams in the waders are also of good build quality. Well, with more seams, there are more possible faults where water could get in. This is certainly not a cause for worry as the seams are adequately sealed. However, it might become an issue in the long haul.
The size and fit are perfect. I used the Frogg Toggs website sizing chart, and everything fits as predicted except for the area of the crotch, which is a touch tight. They have a narrow fit, no sloppy look, and are also pretty stylish.
The good news is that you can also adjust the boots. I tried these on with a thicker socks pair and didn't notice a significant difference in the fitting. They stretch themselves to the shape of your feet, providing excellent comfort.
Pros
Tons of excellent features.
Stylish-looking and well-fitting.
Suitable for all seasons.
Comfortable.
Good deal for the price.
Cons
---
5. Waterfowl Wading Systems Max-4 Neoprene Bootfoot Waders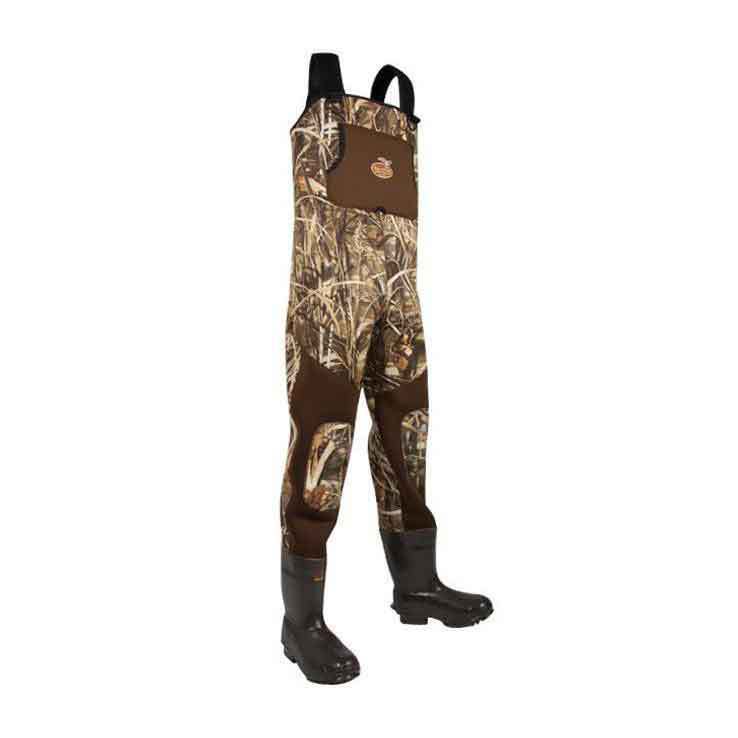 Waterfowlers have four options with the Waterfowl Wading System to meet their needs. Max-4 is my favorite one. The waders are constructed of heavy polyester fabric with glued, stitched, and taped seams.
The Max-4 Neoprene Boot Foot Waders

are reasonably priced. These are ideal for nature enthusiasts who want to utilize these waders for both summertime fly fishing and autumn waterfowling.
These fantastic boot foot waders have spacious frontal storage and handwarmer pockets with broad, flexible suspenders and connected D rings. Moreover, these also come with a complimentary wader belt.
Max-4 The Neoprene Bootfoot Waders are also made with top-notch quality breathable fabric with a sturdy polyester shell. The polyester shell uses CaddisDry technology to let sweat pass through while keeping moisture out.
Pros
Affordable.
Lightweight.
Made with breathable materials.
Cons
Attachment clamps for gravel guards unhinge far too readily.
Neoprene boots are a bit thicker.
---
Alternative Waders That You Can Check Out 
Apart from the boot foot waders mentioned above, you may like some other quality waders. Here are some more from my list of excellent waders that could pique your interest. So, let's check them out. 
6. Caddis Neoprene Bootfoot Waders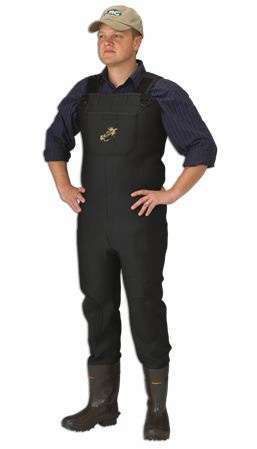 Caddis Neoprene waders are an economical wading solution that gives comfort in chilly conditions while also providing optimal insulation and mobility. I found these to be so comfy that I could wear them for long hours without any discomfort, thanks to the company's novel sizing technique and dedication to excellence.
You can completely rely on the 0.5 inches of wool in the foot sole for warmth and comfort. Moreover, when hunting, plush shoulder straps provide all-day relaxation along with spacious pockets.
The Caddis neoprene boot foot waders

also come with dual D-rings in the front for attaching accessories. I love features like these on waders, as these make carrying around hunting/fishing gear much easier. And when you get them on a low-cost wader like this, it's a match made in heaven. 
Furthermore, triple-sealed seams and strengthened knees ensure the durability of the waders. To discover the correct fit, you can quickly check their website or wader package for simple size instructions. 
Pros
Ideal for cold weather.
The fitting is perfect.
Completely waterproof.
Cons
Highly uncomfortable to hot climates.
---
7. Frogg Toggs Men's Amphib Neoprene Bootfoot Chest Waders
The Frogg Toggs Men's Amphib Neoprene Bootfoot Chest Waders come with a slew of features usually reserved for much more expensive waders. Besides, the boots are insulated with 600 g of "Thinsulate Ultra" to keep you warm during lengthy fishing trips.
You also won't have to think about trash or stones getting into your boots because they are already linked. So, gravel protectors are not necessary. One less thing to be concerned about!
Furthermore, they are also unexpectedly comfy, thanks to the boots' high tops and wide collars. These keep them from rubbing too tightly against your legs, which may be an issue during prolonged fishing excursions. Sadly, the ankle assistance did not meet my expectations.
The neoprene shoulder straps are also adjustable, and they are fastened inside too. While hunting, it might not be an issue because the two hooks for attaching a holder are on the exterior and are about the same height.
Pros
Knee pads are strengthened.
Durable materials.
Boots with good insulation
Neoprene waders provide a lot of flexibility.
Reasonable price.
Cons
Incorrect placement of shell holder rings.
It does not include a wading belt.
---
8. Frogg Togg Cascades Cleated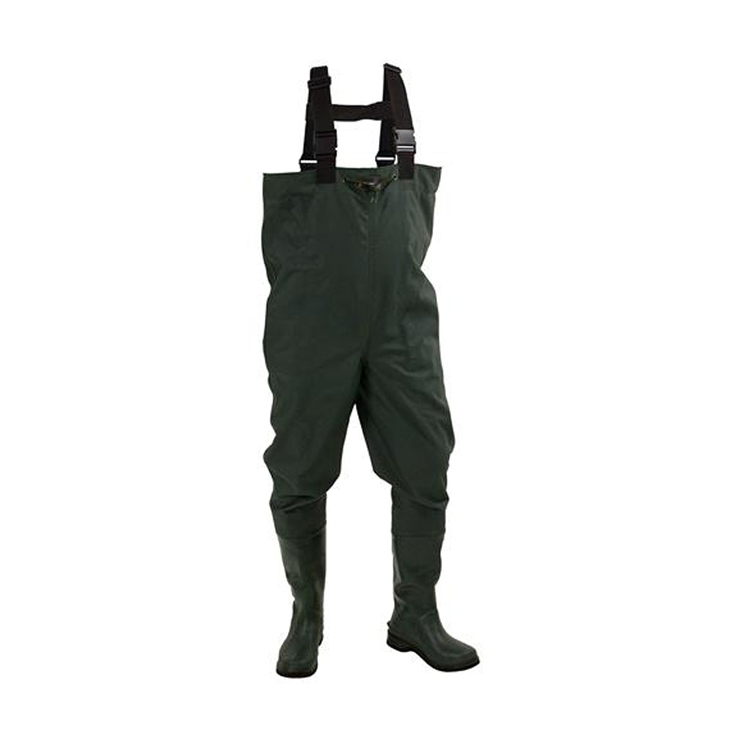 The Frogg Toggs Cascades Cleated

are a pair of low-cost rubber boot foot waders. The metal shank in the rubber boots protects the feet of the wearer. It comes with a flexible web belt leash that features lockable rapid hooks. The leash ensures a comfortable and secure fit.
These are H-shaped, and I felt that they don't dig down on the skin as many wader straps do. They are pretty durable, too, with high-quality stitching.
The quality straps themselves were what got me sold on this. I have my fair share of experience with good quality waders with absolutely awful straps that give up on you when you are in the middle of the action.
The overall build quality is good too. These waders are made of a watertight three-ply rubber consisting of two nylon layers. Thus, it provides resilience against the brushy banks of rivers. 
When you are kneeling to catch a fish, the cushioned knees will come in handy. Moreover, the fantastic cleated rubber outsole will keep you steady in the water. These waders also come with a one-year guarantee.
Pros
Perfect fitting.
Well insulated.
Cool design.
Cons
Not well-made.
Boots leak frequently.
---
9. Piscifun BX Breathable Chest Waders with Boots, Bootfoot Chest Waders
If you want to check this product click the image or here

:
The waders' whole body is made of breathable, water-resistant fabric. So, you will stay dry and comfortable during hunting, farming, fishing, or performing yard chores. 
Besides, the junction between the pant legs and the footwear is squeezed to create a precise bond and amazing durability. 
Furthermore, the joints are sealed with a waterproof compound to ensure that the structure is completely waterproof and robust. 
Again, the excellent S-curve sole design maximizes ground engagement and provides exceptional traction, even in slippery or muddy situations. The protruding slope at the back of the boots allows for easy exit. 
Additionally, the entire neoprene lining gives your feet a considerably more pleasant feeling.
Not only that, these waders come with an adjustable boot hook and detachable hook keepers. Moreover, the package also includes neoprene ankle straps for convenient wear and a watertight phone pocket to safeguard your belongings. 
Besides, you get a couple of insoles to change the fit and keep your feet comfy. These waders also have a repair kit to deal with eventualities. The best thing is that you can enjoy all of these things at a very reasonable price.
Pros
Good grip on rocks.
Very comfortable and lightweight.
Decent design.
Very affordable.
Good quality for the price.
Cons
Narrow boot fitting might be an issue..
---
How To Choose The Best Bootfoot Wader?
Before buying your waders, you must think about several aspects. Like the material, breathability, adjustability, pockets, seam reinforcement, and price. These are the few most important factors to consider before choosing the best boot foot wader for you.
The following are some of the things you must consider to choose the best boot foot wader:
Material
The material used to create your waders will have a big impact on their comfort, breathability, durability, and maneuverability. And, as you might already know, these are a few of the key features of the outstanding waders.
So, choosing the material of your boot foot wader carefully is no doubt necessary. Well, neoprene is one of the most common materials for waders. These are bulkier and thicker than their breathable equivalents. 
However, they are ideal for use in cold water. Since neoprene is very well insulated, it is a good choice if you intend on fishing in chilly locations all of the time.
On the other hand, waterproofing materials like Dri-Plus or Gore-tex

are used to make breathable waders. These are my go-to waders since they are simpler to walk around in and are lighter. Moreover, you can also add layers underneath them if it is cold outside.
However, keep in mind that a breathable wader is way more expensive than a non-breathable one. It is due to the higher cost of materials such as Gore-Tex. But if you have the cash, the adaptability and decreased weight make them worthwhile.
Adjustability
Waders are available in a variety of sizes. Most of them also have adjustable wading belts and straps for a better fit. In the case of waders, I also believe convertibility is an essential aspect of adjustability. It means that some waders are intended to transition from chest to hip waders with ease.
You can just unbuckle the straps and re-clip them over your waist for a more comfortable and cooler pair of hip waders when you are in the water. If your boot foot wader does not fit you properly, you won't be able to move freely. So, consider the adjustability of the wader before buying one.
Breathability
If you intend on fishing or hunting even during hot weather, breathability is critical. Moving around in boot foot waders in any weather traps heat and quickly makes you sweaty and hot. Thus, it will be extremely uncomfortable to wear during summertime. 
So, if you live in an area where the climate is hot, check the breathability of the wader before making a purchase. Besides, go for one with enhanced breathability if you plan to walk a lot.
Seam Reinforcement
It is a crucial point. The seams are among the most likely places for a leak to appear, and it is particularly true of less expensive waders. I don't think I have to explain how uncomfortable it might get if your boot foot wader leaks.
So, check for the words "seam reinforcement" on the wader's packaging that you are willing to buy. It will save you time and aggravation in the future.
Pockets
Most waders offer only enough space for a phone, wallet, and keys in addition to the fishing gear. Your waders will almost certainly have 2 pockets. Some waders, on the other hand, include a few extras. You must buy whichever you think is appropriate for you. I prefer more spacious pockets since these help me keep my hands free.
So, if you come across two boot foot waders with almost the same features and price, I would recommend you buy the one with spacious extra pockets.
Price
Keep in mind that several excellent waders are available for less than $200. If your budget is less than $100, be aware that you will need to take extra precautions to prevent the seams from ripping and holes from appearing.
If you desire something costly, it doesn't necessarily mean you can ignore maintenance. However, it does imply that it will last longer. Look for anything that fits your budget. Get them if you are ready to spend a lot of money on professional waders. But you can easily get a decent one for about $200.
Men's or Women's Wader
Finally, wader companies are beginning to create waders designed exclusively for women. If you're looking for female waders, several brands specialize in providing a convenient fit.
However, the majority of the waders described above are unisex and will easily suit ladies as well. Because waders are not often molded to the skin, the unisex fit is nearly universal.
Durability
Waders that are more costly are generally more durable. That is not to say that you won't have to look after them.
Always allow it to dry before rinsing with cool soapy water. Remember, buying a decent boot foot wader than going for a cheap one will save you much money in the long run.
Maneuverability
For many anglers, it is much more vital than. Trying to cast with tighter loops and fishing for extended days in challenging situations necessitates the ability to move in your waders freely. 
Thus, considering the maneuverability of boot foot waders is a must before making your purchase. 
Comfort
It all relies on your personal preferences for comfort. What seems to be comfortable for me may not be comfy for you, and the opposite. 
However, you will have to go for something lightweight, breathable, and adaptable. Then again, you would not want to sweat or feel restricted while floating down the river.
Warranty
Only a few boot foot waders offer a warranty that covers user damage or leakage. Simms, Orvis, etc., are some brands that give the best warranties on their products. 
If you are purchasing for the first time, it is best to go with a boot foot wader with a warranty.
Conclusion
Fishing is fun in general, but it can be way more enjoyable when you have the perfect boot foot waders that best fits your demands. That's why I have listed above the reviews of the Best Bootfoot waders. 
The Simms Men's G3 Guide Fishing Wader is the clear winner among the listed items due to its top-notch material, excellent functionality, and versatility. 
But if your budget is not that high, you can go for Frogg Toggs Hellbenders Chest Waders. I would especially recommend this for first-time users. Thanks for reading through. Hopefully, you have found this article helpful. Have a fantastic day!