As an Amazon Associate we earn from qualifying purchases made on our website. If you make a purchase through links from this website, we may get a small share of the sale from Amazon and other similar affiliate programs. You can read our complete
legal information
for more details.
There was a time when female anglers had to wear men's waders for sport fishing. But today, we have hundreds of options to choose from. In fact, it can get tough to choose the right waders for women. So, we have reviewed and gathered the best waders for women on this list to help you. 
In my opinion, the Simms Women's G3 Guide Z Waders are the best choice for women who enjoy extreme fly-fishing. The materials of the waders are durable, comfortable, and breathable. Also, they have a wide range of sizes available for women.
However, you may want to consider other options to serve you better. So, in this article, I have reviewed some excellent waders for women that are unique and suitable for different fishing conditions.  
10 Best Fishing Waders for Women 
You will find waders from different brands on this list, and most of them are budget-friendly. So, let's talk about their features to determine which one is the best for you.
1. Simms Women's G3 Guide Z Waders – Stockingfoot   
Let us start with my current favorite, the Simms Women's G3 Z Waders. As a serious fly fisher, I always look for waders that will not tear off easily and are comfortable to wear for hours in a day. Hence, I got the Women's G3 Guide, durable and comfortable in cold water.
Simms used its super durable and thick GORE-TEX G3 material for the waders. You will see a 3-layer GORE-TEX on the upper and a 4-layer GORE-TEX on the lower. Though the waders are thick, the material is breathable. Then there are reach-through microfleece-lined hand chest pockets with zippers to keep hands warm. 
The best feature is the 12-inch waterproof zipper on the left side. This allows you to get in and out of the waders whenever you want. The adjustable suspender straps secure the waders nicely on your body. If you like to carry many things, you will like the large horizontal chest pocket. 
At the lower part of the waders, the front and back leg seams add durability without restricting mobility. Further down, the Simms built-in gravel guards keep the dirt out of your boots. 
The stocking feet are specially designed for women so that the wading boots

can fit perfectly. 
For many women fly fishers, size is a matter of concern. Luckily, you will find 13 sizes of G3 Guide waders, ranging from small to XL size. The color of the waders may not be appealing to many, but the features are all that matter anyway. 
Pros
Super durable and comfortable material
Pockets to keep your hand warm
Anatomically fitting stockings
Easy in and out
Range of different sizes
Cons
---
2. Orvis Women Pro Waders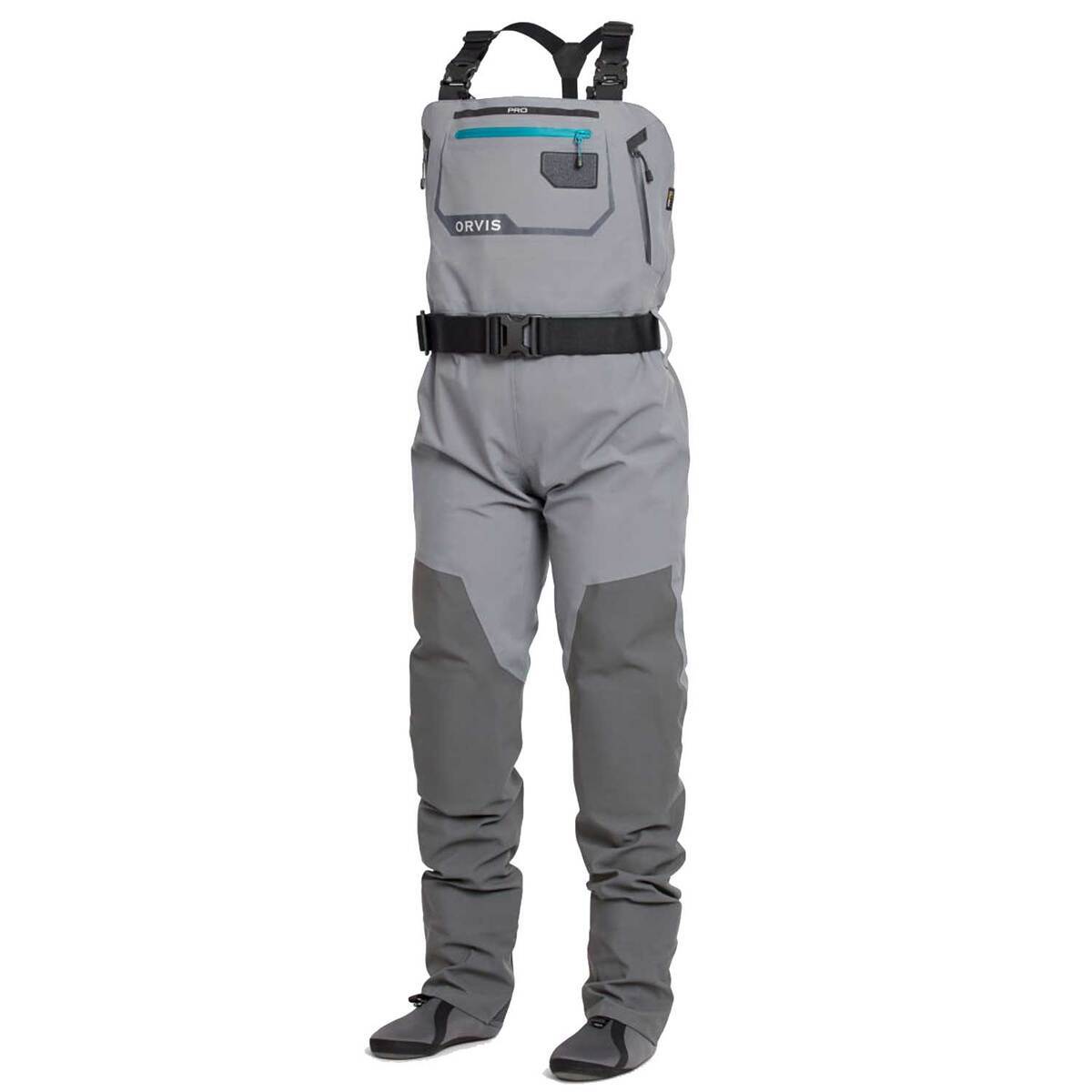 Looking for high-end waders

that will last for seasons? Then, we recommend you the Orvis Women Pro Waders

. The waders are made of a 4-layer Cordura shell in the upper and a 5-layer Cordura shell in the lower. Hence, Orvis Women Pro is the best for fly fishing in abrasive conditions, where getting your waders punctured is a concern. 
Waders often need to carry things for the whole day of fishing. You can keep them in the horizontal zipped chest pocket. The water-resistant pockets keep your accessories dry. And if your hands get stiff, place them inside the handwarmer pocket behind the chest pocket.
The Orvis Women's Pro Waders are made especially for challenging conditions. You can remove the extra protective knee pads if you want more flexibility. 
Orvis also added Streamlined PU reinforced mesh gravel guards on the heel area of the waders. It eliminates drag and water collection.
The waders are suitable for both warm and cold seasons. Adjust the elastic suspenders and turn the wader into waist-high waders when you start to feel warm. 
Pros
Long-lasting and durable in harsh conditions
Ample storage space
Flexible and adjustable 
Streamlined PU reinforced mesh gravel guards
Cons 
Extra layers make it a bit heavy 
Some complaints about fitting 
---
3. Patagonia Swiftcurrent Waders – Women's
We heard Patagonia had brought the female version of its popular Patagonia Swiftcurrent

to the market. The best feature of these waders is the EZ-lock suspenders that make chest-to-waist height conversion super easy. They enable you to convert and adjust the waders according to the temperature. 
You will definitely appreciate the rear-buckle system. It lets you drop the waders lower when nature calls. You can also put the waders back on fast. 
You will be amazed to know that the Patagonia Swiftcurrent Waders

for women are made from recycled materials. The 100% recycled H2No Performance shell is waterproof, durable, and breathable. 
You get two large pockets for storing your things. The inside TPU-waterproof pocket is easy to access, and you can keep your mobile phone there without any worries. Then there is the upper chest pocket with asymmetrical zip to hold your tippet, nippers, spools, and floatant. 
For the comfort of the feet, Patagonia designed sock-like neoprene booties. They fit perfectly in the wading boots and give you comfort for a long time. Same as the previous waders in this list, you can keep your hands warm in the upper reach-through kangaroo pocket. 
Pros
Easy conversion and adjustments
Rear-buckle system drops the seat for when nature calls
Waterproof pockets
Comfortable sock-like neoprene booties
Cons 
Size fitting can be an issue
---
4. Women's Freestone Z Waders – Stockingfoot 
Suppose you want heavy-duty fishing waders at an affordable price. In that case, the Simms Freestone Z Women's-Stockingfoot is the one for you. Simms is excellent at making durable yet affordable fishing gear and accessories. These waders are no different. 
The upper has 3-layer Tory QuadraLam, and the lower of the waders are made from 4-layer Tory QuadraLam. This fabric is strong enough to withstand rough rocks and bushes. Though the shell is lightweight, it keeps your body warm in cold and wet weather. 
Like the G3 Guide Z Waders, there is also a fleece-lined hand warmer to tuck your hand inside. The zipper on the side and dual-fit suspender anchor points give you easy access and out from the waders.
 It has gravel guards on the stocking-foot booties. Thus, debris and sand cannot enter the wading boots. Simms is serious about its product warranty. It offers years of warranty for its products. So, you can get your Women Freestone Z Waders

repaired from the company if you find any issues. 
Pros
Durable product at an affordable price
Lightweight and breathable material 
Easy entry and out from the waders
built-in gravel guards
Cons 
Sizing can be tricky
It may not be suitable for freezing temperature  
---
5. Orvis Women's Ultralight Convertible Waders
Now, let us talk about one of our favorites, the Orvis Women's Ultralight Convertible Waders. These waders are popular among female fly fishers for being extremely lightweight and comfortable. You can keep on fishing for hours without getting tired of wearing the waders. 
Orvis designed these waders exclusively for women to fit their bodies perfectly. The 4-layer waterproof fabric is breathable and flexible. You can convert to waist-high waders during hot conditions by snapping off the FIDLOCK SNAP magnetic fasteners in just a few seconds. You will also get smart pockets to carry your fishing accessories.  
Orvis has updated the wader's neoprene booties for more comfort and gravel protection. It now has a snug sock-like fit. Thus, it reduces drag and prevents water from leaking in. The waders take only one cubic foot of language space. So, you can take it with you while traveling or going for hikes. 
The Ultralight Convertible Waders for women

has 14 sizes ranging from XS to XL. Thus, it is easy to find a perfect fit. 
Pros
Lightweight and breathable material
Waterproof shell 
Smart pockets for keeping accessories 
14 different sizes 
Cons
No pockets for warming hand
A bit overpriced compared to the materials 
---
6. Women's Freestone Waders – Stockingfoot
The Simms Women's Freestone Waders is the lighter version of Freestone Z Waders. If you want waders with great durability at an affordable price from Simms, then the freestone is the best for you. 
In the lower leg, there is a 4-layer QuadraLam, and the upper body has a 3-layer QuadraLam. The layers are durable and breathable to keep you comfortable and protected. Hence, these waders are for adventurous women who follow rough trails and go fly-fishing on slippery river bottoms.  
The suspended buckles are super starchy and allow you to lower them down in warmer climates. The three belt loops with an elastic waist built will keep the waders in place for you.
These also make the waders easy to put on and off. There is an attachment zipper on the inside of the chest part for interchangeable flip-out pocket options. 
You will have another large pocket on the chest, and behind it, there are fleece-lined, reach-through hand-warming pockets to heat your hands.
Gravels and sand can rarely get inside the boot as the legs of the waders have built-in gravel guards with hooks to keep them attached to the wading boots. Then you also have the anatomically fitting neoprene stocking with an anti-microbial finish to keep your feet warm in the wading boots. 
Pros
Great waders at an affordable price
Durable, comfortable, and breathable fabric
Hand warming pockets to keep your fingers warm
Built-in gravel guards 
Cons
Zipless handwarmer pocket and not waterproof
---
7. Orvis Women's Clearwater Waders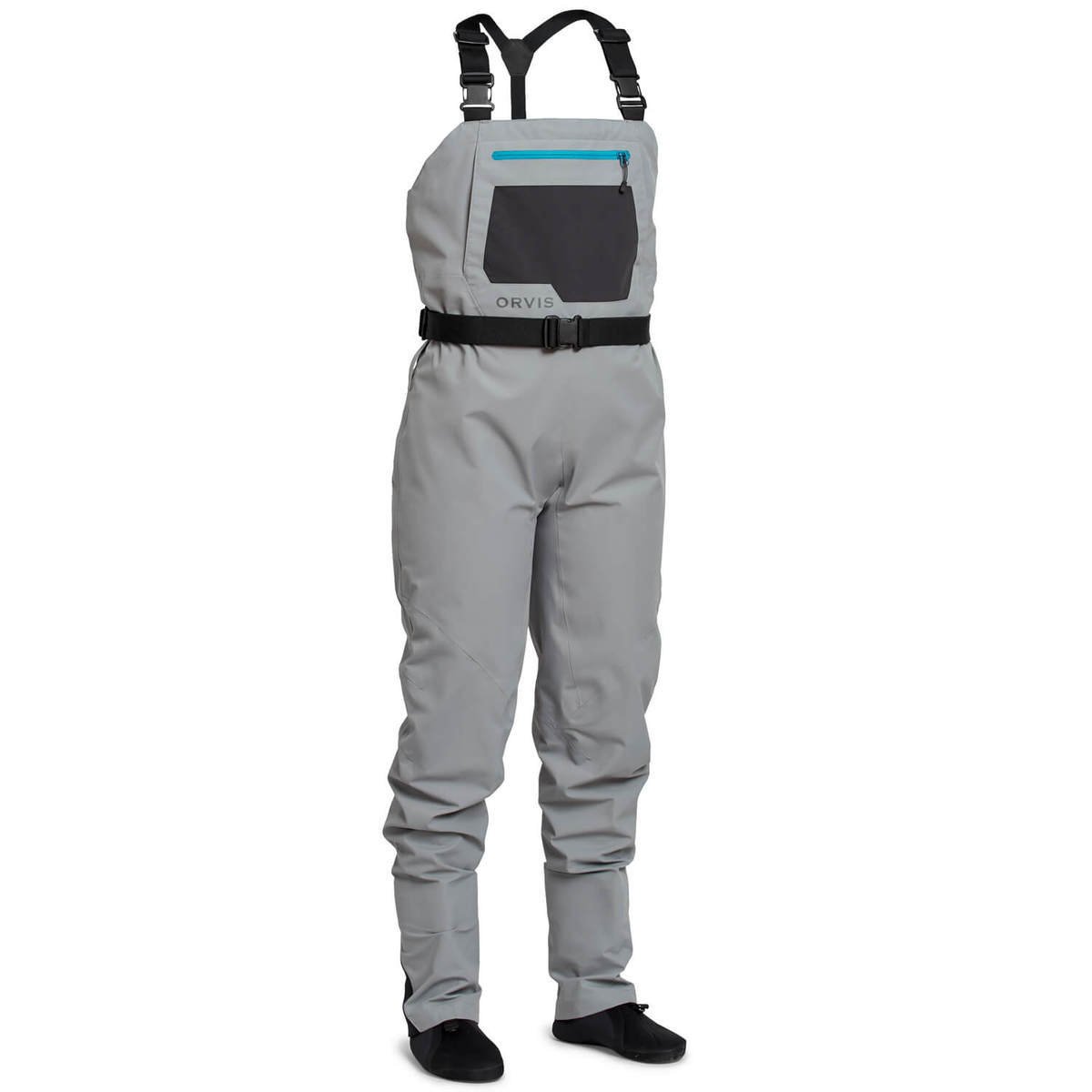 Are you looking for waders on a low budget with convenient features? The new Orvis Women's Clearwater Waders offers nice features on a cheap budget. The waders are designed to fit women's bodies without the bulkiness of heavy-duty waders. 
The fabric is abrasion and puncture resistant. The lightweight material makes it breathable. It might be cheap, but it has all the necessary features. You can use the opposing side-release buckles for adjusting the waders to waist-high. 
Moreover, you will get kangaroo-style handwarmer pockets and an external storage pocket with a stretch panel to keep all the small accessories. 
The neoprene gravel guards cause less drag in the water and prevent water collection. We were surprised to see so many great features on such a low budget. Orvis even kept the anatomical neoprene booties so that the Clearwater waders fit perfectly inside the wading boots. 
 Pros
Best value for breathable waders
Lightweight design
The Handwarmer pocket keeps warm
Comfortable neoprene booties
Cons
Not suitable for all water types and seasons
---
8. Simms Women's Tributary Waders – Stockingfoot
If you are just a beginner-level angler, there is no need to spend so much money on heavy-duty waders. Start with something functional at an affordable price, like the Simms Women's Tributary Waders. These entry-level waders will serve you well while learning fly fishing and exploring steep trails and deep river bottoms. 
This Tributary is designed to fit the female body. The waders allow you to move around in the water, which is important for learning to fly-fish. Polyester 3-layer upper and 4-layer lower keep you warm and dry all day long. When your hands get cold, you can tuck them inside the Fleece-lined handwarmer pocket.
Same as any other waders, you can keep your things secured in the front chest pocket so that you can keep them close. Your feet will stay gravel-free as the gravel guards prevent them from entering the boots. 
Simms produces flawless products, but if you find any faults in the material or making, the company will take full responsibility. 
Pros
Layered upper and bottom keep the body warm
Lightweight and comfortable
Smart pocket and handwarmer pockets
Gravel guards and neoprene stockings to protect feet
Cons
Limited size range
Not for extreme use 
---
9. Redington Women's Willow River Fishing Waders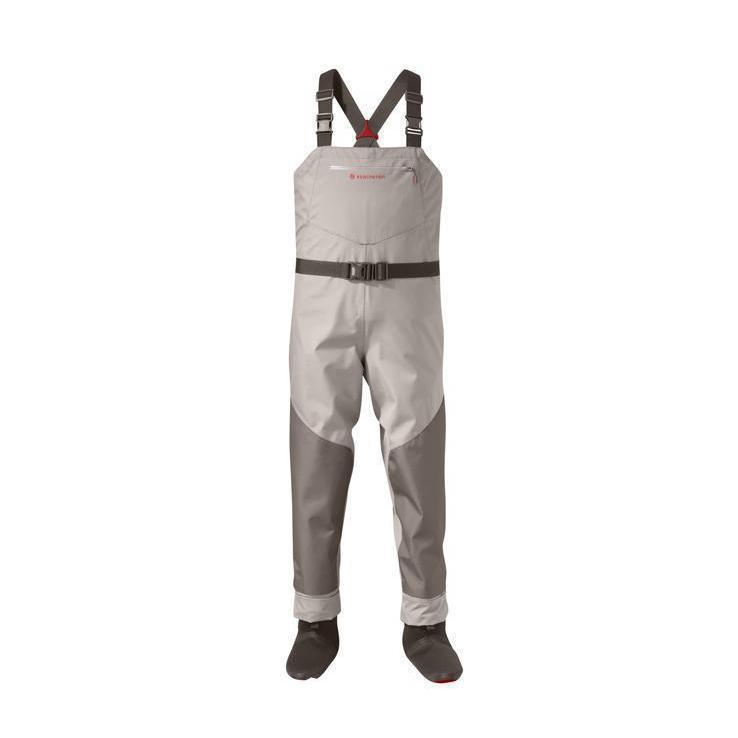 Since we are talking about budget-friendly waders for women, we must keep Redington Women's Willow River Fishing Waders on this list. The waders are created and designed considering the comfort and need of female anglers. Considering the price, the waders are amazing. Beginner-level anglers will surely love their features. 
The Redington Women's Willow River Fishing Waders have a 3-layer upper and 4-layer bottom made from 100% nylon. Hence, it is durable and lightweight. You will stay comfortable for a long time wearing these waders in any weather.
 It has enough room inside to wear extra clothes in chilly temperatures. Your hands can get cold, so the waders also have fleece-lined pockets to protect your hand and accessories. 
One of the interesting features we found in the waders is the built-in suspenders. When you strap them on your shoulders, they provide a nice fitting. Then, in warm weather, you can take them off to use as a belt to convert the waders into waist-high waders.
The neoprene booties are curved for the left and right feet. Thus they will snug on your feet inside the boot. Although there are few colors to choose from, the design is quite attractive for women anglers.
Pros
Durable despite being low priced
Pockets to keep accessories and hand
Comfortable for long wear
Cons
---
10. Caddis Women's Deluxe Breathable Fishing Waders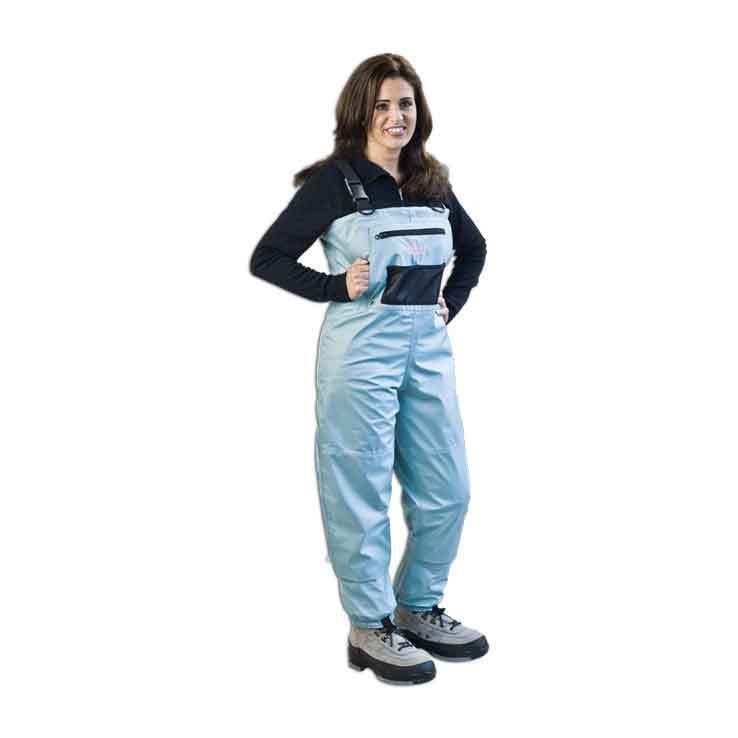 At the end of this product review guide, we have Caddis Women's Deluxe Breathable Fishing Waders for women who want comfort with style. These cost-effective waders are an excellent choice for entry-level anglers. 
The Caddis Women's Deluxe Breathable Waders have all the necessary features anglers need for fly-fishing. The lowers and uppers are made of breathable polyester material. Caddis used its CaddisDry technology to make the fabric. So, you will stay odor-free even if you fish for hours. 
Then there are neoprene booties and gravel guards to protect your feet. The materials are not as solid as other waders on this list but comfortable enough for a casual fishing day.
Caddis also thought about comfort along with style. The waders have shoulder straps and an adjustable belt on the waist to fit with your body perfectly. The chest pocket has enough space to carry your fishing tools and accessories. Hence, the waders have handwarmer pockets. 
 Pros:
Breathable and odor preventive fabric 
Ample pocket storage 
Suitable for different weathers
Cons
---
How to Choose Fishing Waders For Women?
No matter which brand of waders you buy, they should serve some common purposes. Also, the wader material and style should be a perfect fit for you. 
So, here is what you should look for when you are buying a pair of women's waders: 
Materials of the Waders
The materials of the waders should be the primary concern for women anglers. Waders from different brands are made from different materials. These materials can be breathable and non-breathable. Both have their own advantages and disadvantages. 
Therefore, choose a material that goes well with your fishing conditions. I mean, the material should fit the season and environment of the fishing spot. It must be durable and comfortable for long fishing. 
Breathable materials are lightweight and waterproof. Thus, your body cools down faster in warm weather. You will also be less sweaty and smelly. You should make sure the materials are also durable for your fishing adventures. The fabric should be puncture-resistant and withstand abrasive rocks and debris. 
On the other hand, non-breathable upper and bottoms of waders are best for cold and freezing weather. If you go fishing in cold conditions, get PVC, neoprene, or rubber waders. They are durable and less pricey than breathable materials. But they are extremely uncomfortable in warm weather, and they are heavy. 
The Style 
There are different styles of female waders. You can choose the style depending on your preference and fishing conditions (Climate and water type). 
Chest Waders: Chest Waders

are the most common waders for anglers. They look like overalls with adjustable buckles; they extend up to the chest. Chest waders are perfect for both shallow and deep water fishing. Some can even be converted to waist-high waders. 
Waist Waders: Waist waders are great for warm weather fishing and water with currents. They cover the body up to the waist area. 
Hip Waders: If you prefer fishing in shallow water, you can go for hip waders. They will only cover up to the belt area. Hence, they are perfect for some summer fishing adventures when the weather is hot. 
There are different styles. However, it is always better to get a pair of chest waders that can be adjusted and converted to waist-high waders. This way, you can use your waders for all kinds of seasons and water conditions. 
Must-Have Features
No matter where and how you fish, your fishing waders must have some necessary features. When you are buying a pair of waders, make sure they have the following features: 
Pockets: Waders should have many pockets to carry your small gears and accessories. You can keep all your tools at your arm's reach and do not have to take a heavy toolbox. Also, the pockets should be waterproof. Then you can keep your mobile phone in a ziplock bag inside the wader.
Hand Warmer Pockets: You may fish for hours, and your hands can get cold. So, the waders need to have fleece-lined handwarmer pockets. You can put your hands inside the pockets to keep your fingers warm and comfortable. 
Buckles and Straps: Your wader must have adjustable buckles, belts, and straps for securely fitting the waders on your body. The straps must be stretchy and durable for easy access and exit from your waders. They should be easy to operate for your comfort and safety. 
Sizing: Your waders should fit yours perfectly. The chest and waist must fit; otherwise, you will face too many problems. Your mobility will be hampered, and you will feel uncomfortable in the waders. So, your waders should not be too big or too tight. Go to the stores and try them on before you buy them. 
Reinforced Knees: The water beds or the river trails are full of abrasive things. You may lose your balance and fall on your knees. Therefore, your waders must have reinforced knees to protect you. Besides, waders with reinforced knees are more durable. 
Gravel Guards: Your boots are not enough to prevent the pebbles and sand from getting inside. It will be quite uncomfortable to walk in boots full of debris. So, get waders with durable and fitting gravel guards. The waders should have fitting gravel guards to cover the top of the wading boots. 
Advantages of Wearing a Pair of High-Quality Waders
Your fishing experience should be fun and comfortable. Only a pair of quality waders can give you that comfort and security. A chest wader will protect your legs and feet from the cold water and the rough surface. Your upper body will stay dry and warm in cold temperatures. 
Specially designed female waders are making things easier for women anglers. Now, they can spend a long time fly-fishing in different seasons and water types.
The breathable and lightweight material keeps the body odor-free and dry in a tropical climate. The materials and style of a high-quality also allow a fly fisher to bear the cold weather. 
Pairing with suitable wading boots, high-quality waders can enable you for extreme sport fishing activities in challenging conditions. So, choose your waders wisely. 
Conclusion 
Choosing the perfect waders is essential for making your fishing experience enjoyable. Hopefully, this review and buying guide of the best fishing waders for women will help you find the best waders for your adventures. 
Female designers have designed the waders to fit women of different sizes and needs. We suggest you try the Simms Women's G3 Guide Z Waders if you trust our judgment. It might be costly, but it is worth the money to have many convenient features.
Thanks for stopping by, and I hope this article was able to help out all the females who are new to wading. Wishing you all the best.