As an Amazon Associate we earn from qualifying purchases made on our website. If you make a purchase through links from this website, we may get a small share of the sale from Amazon and other similar affiliate programs. You can read our complete
legal information
for more details.
If you're a hardcore saltwater angler, you know how much damage seawater can do to your fishing gear. When a fishing reel that comes in contact with saltwater splashes, it's not wholly damaged. But it gradually loses its flexibility, especially during line retrieval. So, choosing the best waterproof and fully sealed spinning reels is a must.
The Van Staal Spinning Reels

is my pick for the best waterproof and fully sealed spinning reel. These reels are designed for surfcasting and saltwater fishing. They are made out of the aeronautic aluminum fully-sealed structure with a high level of durability.
These reels require only minimal maintenance and last longer. After meticulous analysis, we've picked some of the best waterproof and fully sealed spinning reels to assist you in making a practical choice.
Best Waterproof And Fully Sealed Spinning Reels
There is a lot of saltwater spinning fishing reels on the market. But not all of them have a design to give you the best result. Some particular models will surely meet what a professional fisherman wants from a sealed spinning reel.
We've compiled a shortlist of our top nine picks to assist you in picking your ideal fully sealed spinning reel. Let's proceed to our review section to make an informed decision!
1. Van Staal VS X-Series Bail-Less Spinning Reels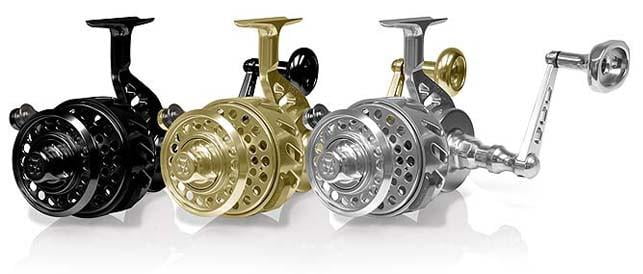 The Van Staal VS X-Series Bail-Less Spinning Reels

are a good choice for those looking for a dedicated surf fishing reel. We appreciate this piece of equipment because of its aeronautics aluminum fully sealed construction. 
It has good tensile strength as well as the ability to resist corrosion.
Another good feature is the X-Treme drag system, which gives a wide drag range. 
When you're fishing on the beach and need added control over your drag, you'll get a sealed drag on this spinning reel that gives you better control.
These fully sealed spinning reels could be a great addition to your fishing journey as it has improved line capacity. 
Its X-Wrap oscillation technology leads to accurate line lay. The flat line lays more cast and allows for high drag pressure while using braided lines.
Van Staal comes with a robust titanium shaft coated with titanium nitride. It gives a shiny look to this spinning reel.
The heavy-duty stainless steel main gear can protect your equipment even in the most stressful conditions. When it comes to setting up a drag system, all you need to do is a MicroClick, and it's ready to go!
This spinning reel also features a comfortable handle for quick access as an added advantage. Van Staal spinning reels are available in a variety of models, each with its own unique set of features designed to meet the most basic needs of its users.
Pros
High quality built
Smooth casting and retrieving
A good range of drag
Fully waterproof and sealed
Solid and durable Titanium-nitride shaft
Cons
Size-wise, it's pretty heavy.
Bail-Less
---
2. Shimano Stella SW C Spinning Reels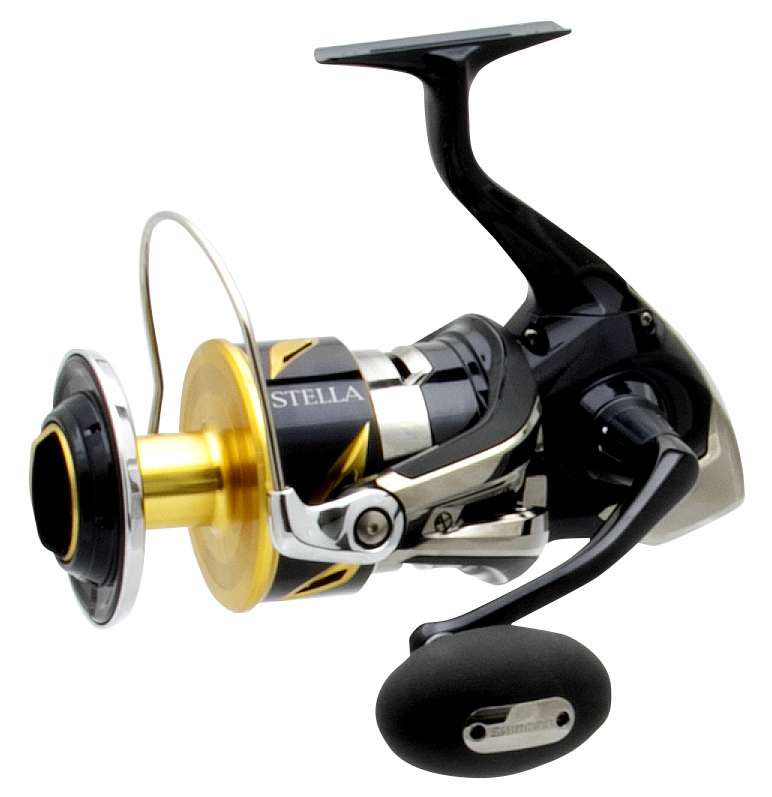 Shimano company has a prestigious history of producing high-quality fishing reels. The latest Shimano Stella SW C spinning reels

are no exception. 
Shimano continues this heritage by employing cutting-edge technology that provides unparalleled strength, dependability, and ease of use for professional saltwater fishermen.
Starting with Shimano's HAGANE body, it's their trademark characteristic. It boasts a solid metal construction, meaning excellent impact resistance and minimal body flex during heavy-duty applications.
This waterproof spinning reel keeps all internal components in perfect alignment to ensure a smooth and continuous performance. Above all, Shimano's HAGANE gears are entirely cold-forged to give you the most stable output.
When the X-Ship was featured in the 2013 Stella SWB, it revolutionized the way anglers think about catching fickle fish with spinning reels. Double-bearing pinion gear arrangement guarantees smooth and easy winding even in the face of intense pressure. Anglers can now pursue many larger fish species than before.
Though X-Ship is a standard feature on most Shimano reels, the 2019 Stella SW C boasts Shimano's innovative Infinity Drive Technology. This feature enhances the winding process by maximizing the torque generated during the winding process.
On top, Stella's IPX8 waterproof frame with X-shield's waterproof construction on the roller line and bearing will work perfectly against the destructive elements. You may choose from a wide range of line capacity and different gear ratios to suit a variety of saltwater fishing approaches with the Stella SW C.
Pros
Smooth drag power
HAGANE body ensures long-term performance
IPX8 water-resistant gear
A cutting-edge infinity drive system for improved winding
High gear ratio for quick retrieval
Cons
It can accumulate a small amount of dust.
---
3. DAIWA SALTIGA Spinning Reel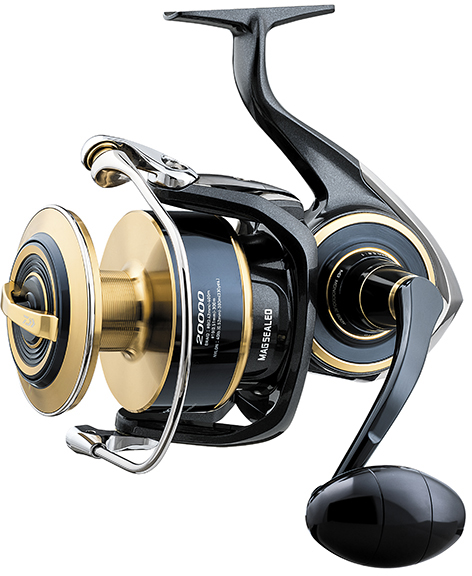 Many anglers' wishes have come true thanks to the Daiwa Saltiga Spinning Reel

. Saltiga stands out with a Monocoque body and cutting-edge cosmetics in the world of spinning gears.
This reel doesn't use a body cover, but it has an engine plate riveted to the body. This eliminates the use of bolts, providing you with hassle-free maintenance. The MQ body boosts the reel strength as well as its water-resistance quality. It also allows a large-diameter gear for easy installation.
Saltiga's rigid aluminum rotor is one of the excellent features, enhancing durability and strength. Its automatic tournament drag demonstrates low viscosity but gets denser as you start to drag. With its long-cast ABS technology, Daiwa can maximize flight distance by nearly 5 percent.
Along with these features, a new metal heat dissipating Drag Knob provides better cooling and heat dispersion. 
What's impressive about the Daiwa Saltiga is its patented Magsealed technology. It features low-friction sealing using Magseal technology on a spinning reel's line roller or main shaft. This prevents water, grit, and dust from entering the reel's internal components. As an outcome, it's a watertight seal with reduced resistance.
Pros
Hassle-free cast with the latest spool technology
A monocoque body provides much power
Magsealed bearings for water-resistant performance
Durable aluminum air rotor for sensitivity and sensitivity
The radiation drag knob facilitates heat dissipation
Cons
Braids can get tangled sometimes.
---
4. Okuma Makaira Spinning Reels 
Using Okuma's 4D concept, these spinning reels are manufactured as the most robust and most reliable reels on the market. Okuma Makaira Spinning Reels

might be your closest friend, no matter if you catch any formidable species in the sea or spend your free time fishing.
The machined cut body and forged aluminum for added support under high-impact conditions. The manufacturers use forged stainless steel on the main gear for more strength and power.
The design is adequate to make complete contact with the outside edges of the carbon washer, delivering maximum drag and efficiency. Its high-output drag system allows an angler to set a desirable drag system based on the target species.
The best big game fishing reels are for their impressive waterproof design. It's intended to survive the harshest ocean conditions. The Makaira Spinning Reels

have all internal systems enclosed and guarded against salt.
This 17-4 metal spool shaft has an oversized diameter to minimize flex. Okuma has built a flexible and conveniently accessible left or right handle to provide you with the most pleasant fishing experience possible.
Pros
Hydro-sealed gear for maximum protection
Customizable and pre-set drag system
Patented anti-reverse system for more strength
Cyclonic Flow rotor to handle the most challenging situations
Ideal for large game fish
Cons
The smallest possible size is 10,000
Slightly heavier than competitors
---
5. Penn Torque II Spinning Reels 
The Penn Torque II Spinning Reels

are a considerable stride forward from their predecessors in terms of performance. They're lightweight, more powerful, and more enjoyable to fish with.
A few features still remain in the latest additions from Penn's ancestors. But the manufacturers omitted some others in favor of more futuristic designs. Whether you're angling from a boat or on land, you won't have to worry about water or other elements getting into your reel. Thanks to its IPX6 sealed system.
Its Slammer Drag System with Dura-Drag offers maximum pressure to handle any situation. This makes it capable of fighting large-scale ocean creatures. There is an anti-reverse bearing system with a silent ratchet for smooth operation.
With 10 stainless steel bearings, Penn Torque II

has adequate strength to tackle most situations. A notable aspect is CNC gear technology in the reel's design. Besides, the super line spool on this rod assures that your throwing and retrieving will always be at their best.
Pros
Excellent line capacity
High gear ratio with 10 steel bearings
Fully metal frame, rotor, and side plate for more support
IPX6 water-sealed construction
Dura-drag technology to produce improved drag
Cons
Line roller alignment is required.
---
6. VISSER Spinning Reels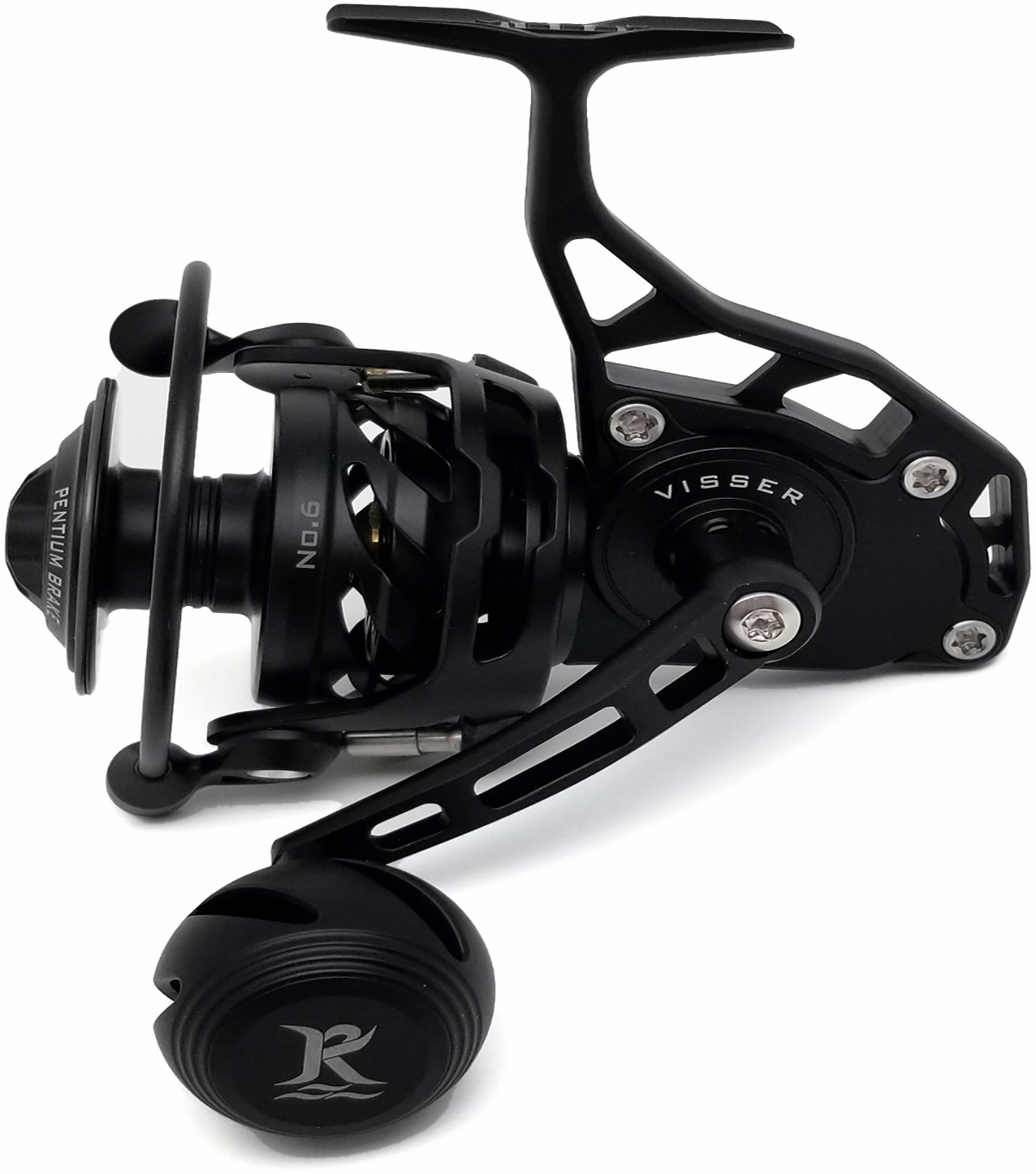 The Visser Spinning Reels

could be a decent deal for anyone who wants to keep a proper balance between style, power, and performance.
The unique characteristics, such as the incredible impact and suitable lift capacity steel gears, are all engineered to speed things up to an incredibly high degree, so cranking right down on giant fish may be done with confidence.
Despite its lightweight design, its aluminum alloy body with digital CNC gears is enough for ocean fighting. Its zero-deflection drive gear helps you to keep control over your reel. The replacement process is so easy as all you have to do is use standard tools.
With a waterproof drag system, you won't have to worry about seawater damage. Thanks to its titanium spool ring, the line capacity on spool rings is much better. With inline bearings, the motion of the oscillation block is free of friction. All moving inner components have special ultra-durable coatings.
Visser Spinning Reels

' unique bail actuator system maintains fully sealed bail springs for reliability and smooth action. It features a large spool capacity to ameliorate casting distance and prevent the spool edge from wrecking due to water splashes or nicks.
Reels with a left or right-handed retrieve are only accessible on some waterproof reels. You can quickly switch the grip of the new VISSER Reels from left to right-hand operation. Even when removing the arm and the cover cap, the reel is still watertight.
Pros
Durable body and gear for stable and precise power
Modular construction allows for convenient transformation
Powerful drag with dual Pentium drag mechanism
Digital CNC gear for absolute smoothness and crank power
Wide capacity spool with super solid and anodize coating
Cons
The spool may be of a smaller size.
---
7. Van Staal VR Spinning Reels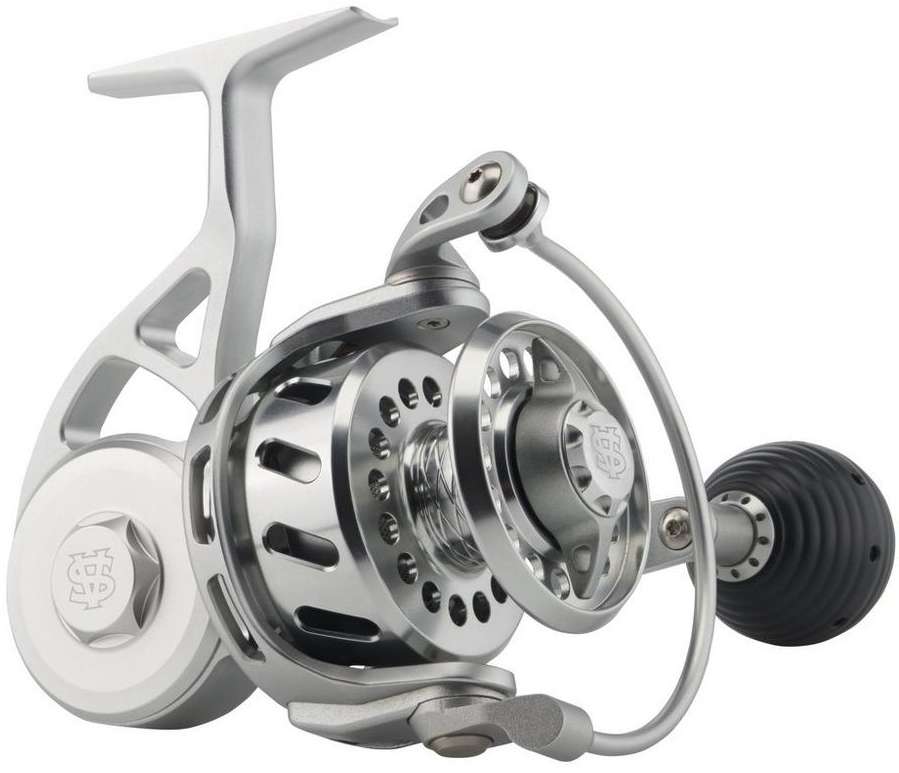 An uncompromising combination of design and production adorns the Van Staal spinning reels. In contrast to top-of-the-line reels built of die-cast aluminum or plastic, the frame, spool, and rotor of Van Staal VR

are all crafted from billet aluminum. 
These reels are no different based on Van Staal's famed power and durability. They've been designed and evaluated to be lighter and solid by Van Staal VR Spinning Ree

l. As far as I know, these reels are absolutely watertight.
No matter how hard you push the reel, the 6061-T6 forged and machined aluminum assures long-lasting service. A completely sealed water-resistant design protects the internal systems from sand, water, and other elements.
Van Staal has minimized the reel's weight to the greatest extent feasible by utilizing a Delrin ball knob. It is exceptionally sturdy and nearly weightless, in addition to removing material from the entire frame, spool, and rotor.
The 42 lbs drag power is perfect for large or small fish species. It has a great line capacity to perform a lot of fishing applications. All in all, if you're willing to get something long-lasting and dependable, this should be a choice.
Pros
Light and smooth operation
Solid and super finish
Fully sealed-gear system
Sleek and durable design
Flexible and easy access grip
Cons
---
8. Van Staal VR Series Spinning Reel Gen 1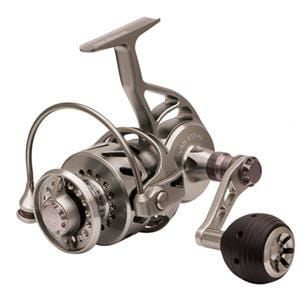 The Van Staal VR Series Spinning Reel Gen.1

is the result of a unique combination of design and manufacturing skills. Van Staal is recognized for its VR Series, a renowned waterproof reel for striper fishing. Reels from the new VR Series are more economical yet still provide saltwater safety.
In addition to their lightweight design, these are way more durable to tackle many fishing adventures. They provide a wide range of fishing options – from surf fishing to boat fishing to bridge fishing. So, you can get the most out of your time on the water.
You can use its aluminum spool with mono, brain, and fluorocarbon angling lines. The spool can hold enough lines to provide sufficient drag pressure using 4.8:1 gear ratio. Besides, the shaft features stainless steel manufacturing. It also has a coating of titanium nitride for excellent control.
Pros
Superb durability
Powerful drag system
Sleek and lightweight construction
Included bail-less accessories
Cons
It's a little cumbersome
The handle is a bit problematic
---
9. Tsunami SaltX Spinning Reels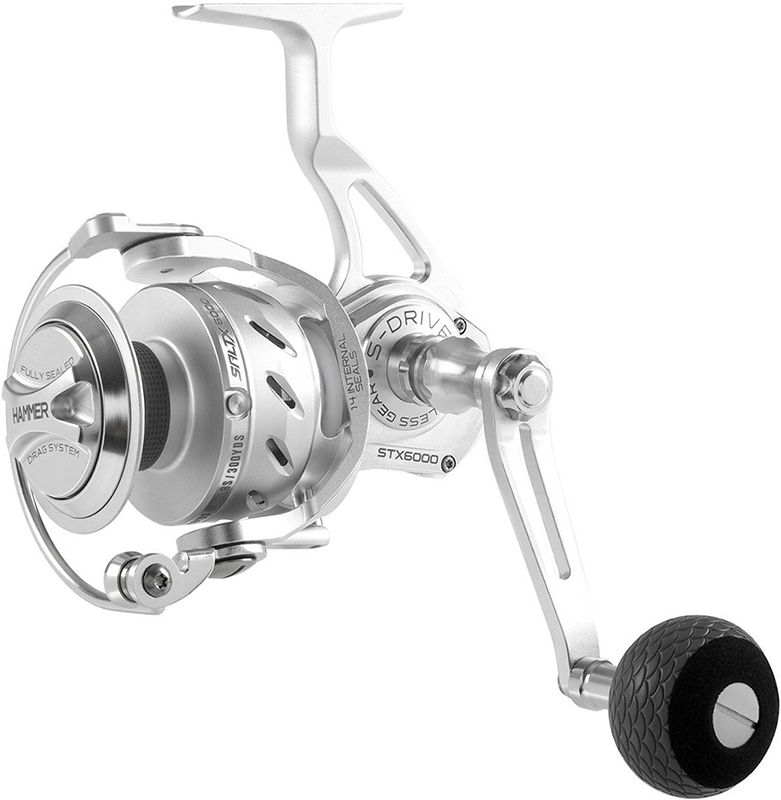 The Tsunami Salt X Spinning Reels

is an excellent example of a fishing reel for individuals hoping to catch large redfish utilizing live or cut bait, a heavy jig, or surf fishing. Both STX 4000 and STX 6000 sizes are available. In terms of color, you have the option of black or white.
If you're seeking something that can tackle the most severe scenarios with ease and precision, this is it! The Tsunami SaltX Spinning Reel

has excellent features, including a CNC machined body, rotor, and stainless-steel gear. 
These characteristics make it tough enough to withstand the most difficult situations. On top of that, the entire frame features a total of 14 seals to keep water out of the gear.
What I like about this spinning reel is its well-built foam handle and a rubber grip on the outer part of the round knob. It can help you to access the handle conveniently. Both 4000 and 6000 models have one roller and seven internal bearings.
Both reels have a maximum of 50 pounds of drag when it comes to drag power. This is more than you require to deal with a ferocious fish. The high gear ratio of the 4000 permits it to wrap more lines around the reel spool than the 6000 STX reels.
Ultimately, the heavy construction of this reel is much suited for surf fishing, pier fishing, or bridge fishing.
Pros
50 lb. maximum drag capacity
Completely protected internal gears with 14 tight seals
Has many lines capacities
Easily handle big or heavy fishing
Rigid, forged, and machined aluminum body
Cons
Not so suitable for inshore fishing
---
Why Choose Sealed Spinning Reels?  
Investing a few bucks on the completely sealed spinning reels will rescue you from redundant costs on frequent reel replacement. These spinning reels need less care yet survive in the long run. As a benefit, you don't have to give it regular maintenance.
Not only water, but these reels also protect internal gears from destructive saltwater elements. And we all know that there is nothing more effective at destroying fishing gear like saltwater. So, an angler can perform well in even the most extreme conditions using sealed spinning reels. 
Suppose you ever want to try your hand at more professional fishing or just looking for some casual fishing. In that case, sealed spinning reels are definitely recommended. 
Things That Differentiate Fully Sealed Spinning Reels
Not all waterproof fishing reels will meet your expectations, as we've already stated. No matter how tough you are with them or how you use them, a good fully sealed spinning reel will maintain its quality.
Completely sealed reel. If you end up buying a non-sealed spinning reel, your reel will get damaged within a day of use. It would be better to settle yourself on a good, to avoid a headache in the future.
Here are some crucial factors that a dedicated angler must appraise before going for a fishing reel.
Material
The construction material plays an important role when it comes to choosing the best waterproof reels. Some materials can effectively repel saltwater.
These are – aeronautic aluminum alloy, stainless steel, graphite, synthetic or mixed components. Your reel should be strong enough to avert saltwater action and other elements.
The most preferred material for fishery reels is anodized aluminum. Aside from being light, it's also sturdy and resistant to corrosion. In a matter of months, a reel without the proper protection will deteriorate and lose its effectiveness.
Protected Internal Gears
The second point when shopping for a waterproof spinning reel – you must check whether the inner gears are well sealed or enclosed. Most popular brands incorporate several cutting-edge technologies to make a watertight spinning reel.
Sealing the reel's most significant elements protects the reel's mechanical integrity. A good reel for saltwater fishing has sealed bearings and a drag mechanism. 
A sealed body means added protection against saltwater corrosion.
Drag Strength
If you're going to fish in saltwater, be prepared to face some obstinate fish. You may have a difficult time catching fish in the seawater.
There are many advantages of using a properly sealed and high-quality fishing reel while out on the water. A quality fishing reel can aid you throughout the process of angling.
If your drag system fails to deliver adequate power, you may lose your catch. If you have an ineffective drag system, you'll find that handling the fish becomes much more difficult.
The dragging mechanism must be both smooth and forceful. The smoothness of the equipment is just as important as the equipment's power. Make sure your chosen waterproof spinning reel has a smooth, reliable, high-strength drag.
Sealed Spinning Reel Buying Guide 
Well, if you want to have the best fishing experience, you need to choose a reel that best suits you. But, how do you know what you really need? Well, try considering the following and ensure that you choose the right one every time. 
Gear Ratio: The gear ratio determines the speed of your reel. Now, faster doesn't always mean better. If you don't know what to get, maybe starting with a medium-speed reel would be your best bet. But, take a moment to think about what type of fishing you are doing and which reel would be best suited for you.
Ball Bearings: The more is always, the merrier when it comes to ball bearings. More ball bearings mean a smoother fishing experience. But it also means a higher cost. So, try to buy the reel with the highest number of bearings within your budget. Even though you might have to pay a little extra, it is totally worth it. 
Anti-Reverse Handle: Try to stay clear of any reel that can go in reverse. It's very easy to reel the wrong way accidentally sometimes on these and lose your catch. And not only that, reels with anti-reverse are usually more accurate. I've made the mistake of using those long ago, and I must say, I belong to a pool of fishers that would rather avoid them.   
Conclusion
Our post adds an evaluation of the best fully sealed spinning reels on the market. Nonetheless, if you're interested in learning more about our sole winner, we would like to mention Van Staal Spinning Reels

. 
Van Staal VS's innovative aeronautic full-sealed construction provides high tensile strength and protects your gear from corrosion. It also has a greater line capacity and a better drag mechanism, which will make your fishing more enjoyable.
If you enjoy saltwater fishing, it's worthwhile to invest in the best waterproof and fully sealed spinning reels. Even if there are many possibilities, finding the ideal one isn't always easy. You can rest assured that none of the waterproof spinning reels we've selected won't let you down!