As an Amazon Associate we earn from qualifying purchases made on our website. If you make a purchase through links from this website, we may get a small share of the sale from Amazon and other similar affiliate programs. You can read our complete
legal information
for more details.
Searching for waders can be frustrating. Especially when they all seemingly look the same. Well, do not worry. If you are a beginner, then it is more of a chore. I scoured all the options and picked the best waders in the $500 to $300 range you can buy right now. 
My recommendation will be the Simms Waders

. They have a solid reputation for producing high-quality waders. They have plenty of fishing waders in the $500 to $300 range that you can choose for your fishing trip.
Now, there are more of where that came from. I've used my fair share of waders throughout my life. And based on my experience, in some cases, personal use, I've made this list of the best waders under $500. 
List Of Best Fishing Waders In The $500 to $300 Range
The wader market is flooded with sub-par products. Things are made worse when you try to compare two products with similar prices. The features and everything start to look very similar. Well, let's change that. 
Whether you are looking to spend all your money on waders or save some and go for the most important features only, there is something for everyone here. Here is a list of the top ones out right now.
The Simms Guide Classic Stockingfoot Wader

is an excellent mid-range option for beginners and enthusiasts alike. But don't be fooled by its generous pricing.
The Simms brand is well known for its excellent quality waders and other fishing gear at humble prices. And so is the case with the Simms Guide Classic wader. 
The first thing that I should mention about the Simms Guide Classic Stockingfoot Wader is its three-layer fabric protection that they link to call Gore-Tex.
This three-layer protection is most prominent in the thigh area as most of the damage takes place. 
The wader comes with two pockets. A large one to carry your essential fishing trinkets like the spool and another small one for carrying your valuables like your wallets, phone, keys, etc.
Simms also took on a unique approach to their suspenders. They have no loop but still, comfortably hold everything together. They are surprisingly comfortable. 
And finally, we have the stockingfoot boots. Their grayish tone is perfect to camouflage your legs in the water.
They are also very tough, protecting from all the dangers that lurk in the waters like sharp rocks, sea urchins, and other creepy crawlies. And you get all of this for under $500. 
Pros 
Durable build quality 
Water-resistant 
Great breathability
Keeps dirt and debris out 
Has large pockets 
Gravel guard for extra protection 
Cons 
Two pockets could seem limited to some
---
If you have been browsing around on the internet, chances are you have at least heard of Patagonia. It is a premium brand with some quality functional apparel.
They have a lot of kinds of clothing. But the wader line is pretty impressive. 
These are high-quality waders that come just under the $500 mark. This is especially due to the materials used, the features, and how comfortable they are to wear.
Those are not things you can say for all waders in the market. But I think it is worth the money. 
One thing that stood out to me is the polyester they use is recycled. That is good for the environment, and you end up with a durable and comfortable set.
So, it is a win-win situation for you here. And who can complain about that? 
The Patagonia Swiftcurrent Waders

will give you ample protection from cold weather and water – which is exactly what you want. Even the pockets are waterproof. This wader is breathable, which further helps with comfort. 
Since it is a single-stitch design, you get very good mobility. You feel free to wear it, and it should not feel awkward when fishing. And the suspenders that use EZ-Lock are quick to attach or take off. 
If you're looking for high-quality things and do not mind shopping very close to the maximum budget, you need to give this one a closer look. You will love the overall build and comfort of this one. 
Pros 
Recycled polyester material 
Comfortable and durable 
Water-resistant 
Easy to use EZ-Lock suspenders
Gives you enhanced mobility
Cons 
The price is very close to the budget limit
---
Patagonia strikes again. This time with their Swiftcurrent Packable waders

. The difference this time is they do not go all the way up to the chest.
They are also a bit cheaper than the last one. However, the same quality materials, comfort, and cool features are present. Just as you would expect from a name like Patagonia. 
The materials used this time around are recycled as well. So, you do not have to feel bad about the environment when wearing these.
They are comfortable and pretty convenient to use. Not only do you get superb mobility when wearing them, but the suspender hooks are also easy to release. 
The quick-release features make putting it on and taking off almost child's play. It is even customizable.
The suspenders can be adjusted just the way you like. This should help you find the sweet spot that works for you the best and be comfortable in it. 
What is not child's play, though, is the fantastic waterproofing. It should not let any water in even under pressure. Now that is quite impressive if I say so myself. Looks like Patagonia paid attention to the important details here. 
And the belt also has a cool thing called Secure Stretch wadding

. All these fancy names aside, it means that the belt will not sag underweight. Did I mention these are easily packable as well? Because they are. Given these are a bit cheaper than the last one, it can be a viable option for many. 
Pros 
Easily packable 
Made from recycled materials
Water-resistant 
Adjustable and easy-to-release suspenders
Allows you to move freely 
Cons 
The quick-release might break easily
---
Let me tell you a little secret, I quite like this as well. Simms makes a return for the 4th product with their Freestone Stockingfoot Z Waders

. And this time, it brings a lot of sizes and cool features that you will love to the table. 
So, what is so great about it? The first thing that will catch your eye is the design. It looks minimal and sort of industrial-looking.
That is not a bad thing, though. Almost all waders look similar, but this one still manages to come out as a Simms product. 
The upper and lower layers are made from Toray Toray® QuadraLam™. It is a 4-layer material that helps it deal with water and makes it very durable and comfortable.
Some cool features include the very convenient front zipper. You can store small items that you need immediate access to here. And they are waterproof as well. 
Feeling a bit cold? Yes, you read that right. Now, you do not have to worry about your hands getting all cold and uncomfortable.
You will love the 2 micro-fleece lined hand-warmer pockets

. All in all, I loved the overall attention to detail here.
It even uses an anti-microbial finish to keep bacteria growth to a minimum. Which is great news for hygiene. That being said, you should still take the time to properly wash and maintain it. 
Pros 
Elastic belt loop 
Adjustable and comfortable
Durable materials
Water-resistant pockets
Micro-fleece hand-warmer pockets
Cons 
---
No one said waders need to be bulky and uncomfortable. Orvis sure does not think so. The Orvis Men's Ultralight Convertible waders are perfect for those who are looking for exactly that – something very lightweight.
The design is very minimal and classy looking. You will not see any unsightly bulk here at all. And I also love the small little touches of color. The front pocket zipper has a bright and hard-to-miss neon color. It adds some character to this wader. 
You can adjust the straps as well. If you choose to pull it up to your chest, you can do it. There is also the option to just have your hand around your waist with a more extended shoulder strap. 
One thing is for sure, it will last you a long time. And you get a very comfortable fit that gives you a full range of motion.
So, you can work and fish in these for longer. Durability is something Orvis

nailed here as well. It is made from 4 layers of tough waterproof and breathable nylon shell fabric. 
There are internal zipper pockets and a low-profile belt loop with a 1.5-inch stretch belt. You get it in different sizes too! 
Pros 
Durable build quality 
Very comfortable to wear
Gives you a full range of motion 
Waterproof materials
Tool dock and front pocket
Cons 
---
Simms's Freestone waders feature a true array of quality features that should get you excited if you are in the market for a wader. This one comes at a relatively affordable price point and features you would want. 
First up is the awesome build quality. One thing that might seem familiar is the Toray® QuadraLam™ 4 layer lower and upper. It is durable and long-lasting, but the design of the pockets and other tidbits are pretty convenient.
It is durable and should hold up to normal wear and tear pretty well. The material used is the Toray QuadraLam 4-layer

, appearing in other Simms waders. And just like those, this wader is pretty durable as well. 
You will also love how breathable these are. They are comfortable and keep you all cool without making them too sweaty to wear. A cool feature for your hands during cold weather is the hand-warming pockets. 
You can keep your hands warm and toasty and ready to get some work done no matter what the temperature is outside. There is a cool flip-out tipper tender pocket with a retractable docking station.
That is not all, though. What about the cool waist belt with 3 belt loops, 1.5 inches each?
Those add more versatility to it, and there are gravel guards built-in as well. 
Pros 
Durable materials
Breathable and comfortable 
Anti-microbial 
Hand warming pockets
Cons 
---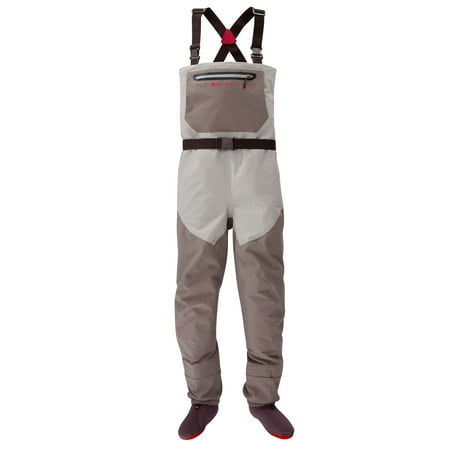 Tell me that I am not the only one who thinks the name of these is pretty cool. I mean, how can something named Sonic Pro

not be good.
Well, these are actually pretty good. And it is not just because of the name – never shop based only on the product name, a little PSA for you. 
Anyway, the stand-out feature is the anti-corrosive hardware, ergonomic neoprene fit, and the highly compatible wading belt. You will fall in love with it from the moment you put it on. 
They are very ergonomic to wear and hug your body like nobody's business. Waders that fit this well are hard to come by, and I am glad this one works nicely.
There are convenient and cool little flip-out pockets too! 
You can put things you need instant access to in those pockets. On top of that, you do not even need to worry about losing them either since they have zippers.
As a bonus, after all, these are the hand-warmer pockets. That is just the cherry on top. 
Pros 
Durable neoprene build
Anti-corrosion
External pockets with zippers
Ergonomic and comfortable fit
Cons
Pretty bland color choice
---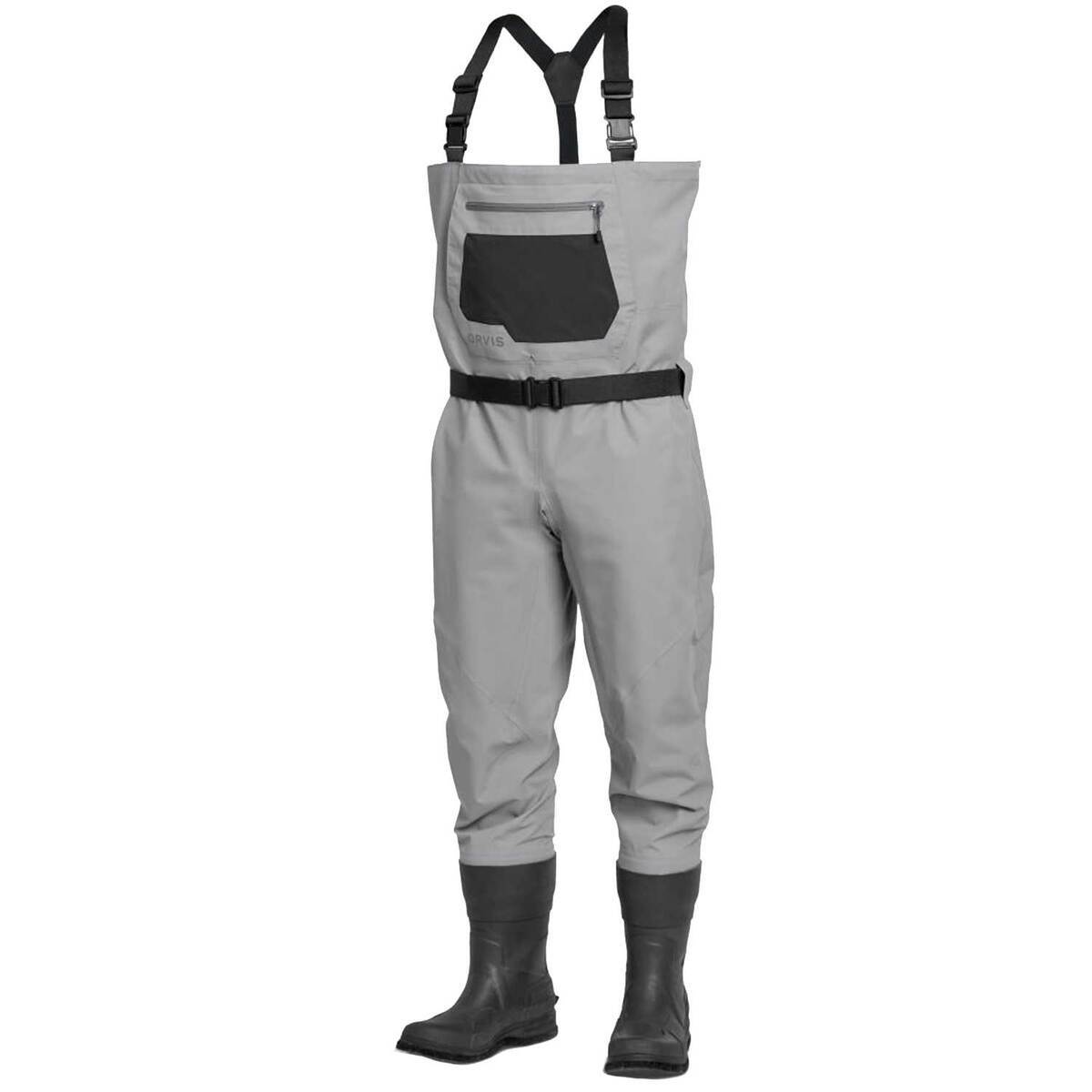 If you are in the market for something under $300 but do not want to sacrifice the quality, this one will be the one to get. You will love just how awesome it feels to wear. And not to mention the durable build quality as well. 
The Orvis Clearwater Bootfoot Waders

fit is quite stylish. It has a modern fit that gets rid of the usual bulk you get with waders. I would not call it a slim fit by any means. It still is a wader.
But it does conform to the body much better compared to other waders. 
External storage pockets will come in handy as well. This will be a lifesaver if you need to store something you require to have easy access.
And just like some of the previous waders in this review, this one also has hand-warmer pockets! How cool is that?
The boots are phenomenal as well. They are tough and will keep you warm. Orvis

went with vulcanized rubber for the boots of this wader. It helps you keep warm. And can I just mention the color of this? It is not special, but I quite like the light grey look. 
Pros 
Hand warming pocket
Durable built quality 
Rugger boots
A modern fit that gets rid of bulk
Cons 
Not everyone might appreciate the fit
---
Best Wader Buying Guide: Things to Look for Before Buying
By now, you should have a pretty good idea about the top waders out in the market right now. But here is the thing, picking from a handpicked list is easy.
While you will surely end up with a good product, you may not end up with the perfect fit for you. 
That is why knowing what specific important features to look for is important. Here are some of the key things you need to keep an eye out for before spending your hard-earned cash. 
Type
There are many types of waders each has its special characteristics. Companies make waders for different hunting, saltwater, and freshwater fishing. 
The design also comes into play. 
You have chest waders, hip waders, and west-high waders. For those who want to fish, chest waders are the best. Waist-high waders work great too! 
But for shallow waters, I recommend going something lower than that. A hip wader will be a perfect choice if a gentle stream's water levels are low.
Materials
The material is probably one of the most important things to look out for. The good news here is that it is pretty to know what materials the wader is using. Depending on the quality of those, it will depend on whether or not the wader will last or not. 
If you want a wader to last, picking one made with quality materials is crucial. Usually, it will be listed right in the product description. And you can also check out the reviews of the product to get a better idea. 
Neoprene is a good choice since they are lightweight, warm, and flexible. You can get it in different thickness levels, and it is also the most affordable. The last thing you want is for it to kick the bucket or tear just after a couple of weeks. 
Then there are breathable fabrics that are waterproof and pretty comfortable to wear in general. They are pretty versatile. You can even add or remove layers which is pretty cool. 
Comfort
When you are fishing, hunting, or whatever it might be, if you are enjoying your time, chances are you will do it for a long time. A comfortable wader, therefore, is very crucial. Some waders are poorly designed.
They can get very uncomfortable very fast – not something you want in the slightest. Make sure you get yourself a comfortable pair of waders to do your activity without feeling uneasy or uncomfortable. 
Comfortability is a huge factor. There is no point if you cannot move freely while in your waders. Breathable waders help here a lot. Also, get ones that give you the proper range of motion. 
Size
Speaking of comfort, picking the right size will also contribute to that. You do not want a wader that feels way too tight. On the other hand, you also do not want one that feels like it will slide off any minute. 
You need to find your measurements and foot size to pick the perfect pair of waders for yourself. A proper size that fits nicely should be the sweet spot you need to hit. A cool thing is you can consult with the brand or look up a size chart to know exactly which one you should get. 
Extra Features
The rule of thumb here is the more, the merrier when it comes to extra features. Of course, you do not need to spend on features you are sure you do not need. There is really no point in that. What you do need to look out for are cool, helpful features. 
For example, hand warmer and external pockets with zippers. Most of these features will be present in almost all waders. But it can be easy to miss one that does not come with these if you assume all of them do. 
So, be a little keen and look around for these nice little conveniences in the wader you want to buy. Something like anti-corrosion can also be pretty cool. These are things you do not realize you need in your life till you have experienced them for yourself. 
Brand and Price
Lastly, there is brand and price. When settling on a brand, all the ones I mentioned in this review are pretty top-notch. They are reputed with years of experience under their belt. So, you are free to go with whichever one works for you. 
As for the price, it all depends on your budget and what features you need and can live without. Just because you have $500 to spend does not mean you should spend it all. However, pay for important features and quality. Those are always worth the money. 
Wrapping Up
Let's answer the big question once and for all then, shall we? What are the best waders in the $500 to $300 range? For me, I still stand by my recommendation of the Simms Waders

. One of the first things about it is the brand. When it's from Simms, you can be sure it will be a quality product.
Simms hit the nail on the head with this one and managed to produce a balanced wader that checks all the boxes (at least for me). It is durable, comfortable to wear, and has cool little pockets to store important things for easier reach.
While it may be a bit expensive and may not have the best design, functionality-wise, it is a winner. But if that does not work for you, there are many other choices on this list.