As an Amazon Associate we earn from qualifying purchases made on our website. If you make a purchase through links from this website, we may get a small share of the sale from Amazon and other similar affiliate programs. You can read our complete
legal information
for more details.
For every angler comes a time when they have an essential decision to make – what fishing waders to buy?
I really enjoy the time spent casting and just overall experiencing the nature around me. And I really wanted to be able to get out there into the water and enjoy the moment.
Because of that, I decided I need a perfect pair of waders for surf fishing.
I spent many hours researching and asking around to be able to make a well-educated decision. I found out that not all waders are created equal.
In this article, I will explain what you need to know when buying fishing waders for surf fishing. That you will be able to pick the right kind for you.
Let's dive in.
Why Do We Need Fishing Waders?
There is nothing quite like it being knee-deep in the water, casting a line and reeling back the fish.
The right kind of fishing waders will allow you to fish for many hours without having to worry about getting wet or cold.
Waders help with fishing, as some fish are best caught while being in the water. And since fishing from a boat is not always a viable option, a pair of waders will give you a fighting chance.
One of the biggest problems is how tolerant you are to cold water. A good quality fishing waders

will keep you protected from the cold water while fishing during the cooler months of the year.
What You Need to Consider Before Buying Fishing Waders
Fishing waders are an essential accessory for almost every angler. But getting your first pair of waders is always going to be a very confusing and challenging task.
First, you need to ask yourself a few critical questions:
What kind of fishing are you going to be doing?
When are you going to be fishing?
Answering these questions will give you a better understanding of what to look for when choosing your first fishing waders.
After answering the questions mentioned above, it is time to consider the features and the different aspects of the waders we can buy today:
1. Types of Fishing Waders
There are three types of fishing waders that you can choose from.
Hip fishing waders – They are best for fishing in shallow water like streams, rivers, etc. They are relatively cheap and suitable for fishing during the summer months.
Waist-high waders – They are suitable for fishing in shallow and relatively deep waters. Ideal for fishing during the warmer months.
Chest high waders – They are perfect for wading in deeper waters like large rivers, surf fishing, etc. They provide excellent insulation and are ideal for fishing in colder weather.
2. Materials Used for Fishing Waders
Generally speaking, material-wise waders fall into two categories: non-breathable and breathable.
Each material has certain advantages and disadvantages depending on where and when you are going to be fishing.
Make sure you check the material in mind when buying your first waders.
Non-Breathable Waders
Non-breathable waders are the right choice if you are looking to get a cheaper pair of waders which will last you a long time. They can easily be fixed if torn and will, generally, keep you warm and dry.
This kind of waders is ideal for fishing during the colder months of the year.
The downside to them is that they are more substantial, and some people may find it a bit harder to move while wearing them, and they can feel more restrictive. Particular fishing waders are breathable.
They can keep the water away from you and at the same time, allow the sweat and heat to get out. This is a good thing when fishing in the summer when the temperatures can get pretty high.
Breathable Waders
Breathable waders are becoming more popular and widely used. Usually, they come with a different number of layers. The layers are connected with their durability and toughness as opposed to how breathable they are.
Usually, they come with a higher amount of layers in the leg and knee areas as these areas are subjected to more abuse, so they need to be more rigid.
Fishing waders made of breathable materials are usually more expensive.
However, cheaper does not always mean better.
And this is the case with waders. Cheaper waders are usually made with thinner material and can be easily punctured and torn.
However, they may not offer as much warmth when the temperatures go really low. This means you may find yourself in need of wearing warmer clothes under the waders.
2. Bootfoot vs. Stockingfoot Waders
One feature that separates fishing waders is the foot area of the waders.
There are two main types:
Bootfoot waders – This type of waders have boots. This can save you some money. However, the negative side of this is that usually, the boots are very basic and may not give you a lot of comfort and support. Some people may have problems with the size of the boots. They also do not offer much sole and ankle support.
Stockingfoot waders – The socks at the end of the waders are sealed to the pants. If you buy yourself a stockingfoot waders, you also need to purchase wader boots. These are usually a better option as you can buy wader boots that give you the best feel and comfort.
3. Pockets
If you are buying fishing waders for the first time, let me tell you that pockets are more important than you might expect.
The size, number, and placement of the pockets are an essential detail that you don't want to overlook.
And here's why.
Having a lot of pocket capacity is good because it will allow you to keep your personal belongings with you and also will enable you to take all the necessary fishing equipment and tools you may need while fishing.
Some essential features you may want to look for are D-rings, handwarmer pockets, waterproof pockets for some personal belongings like mobile phone and documents.
4. Straps, Belts, and Buckles
When fishing the type and design of the straps, belts, and the buckles are essential. This is what will make the fishing waders feel comfortable.
Adjustable straps and belts are a must. They usually come with quick-release mechanisms too.
Having quality straps and belts is not to be underestimated as they will keep your waders tight and not sagging down in which case water can get inside the waders, and this is very dangerous.
Compass 360 Deadfall Breathable Chest Waders: I Personally Recommend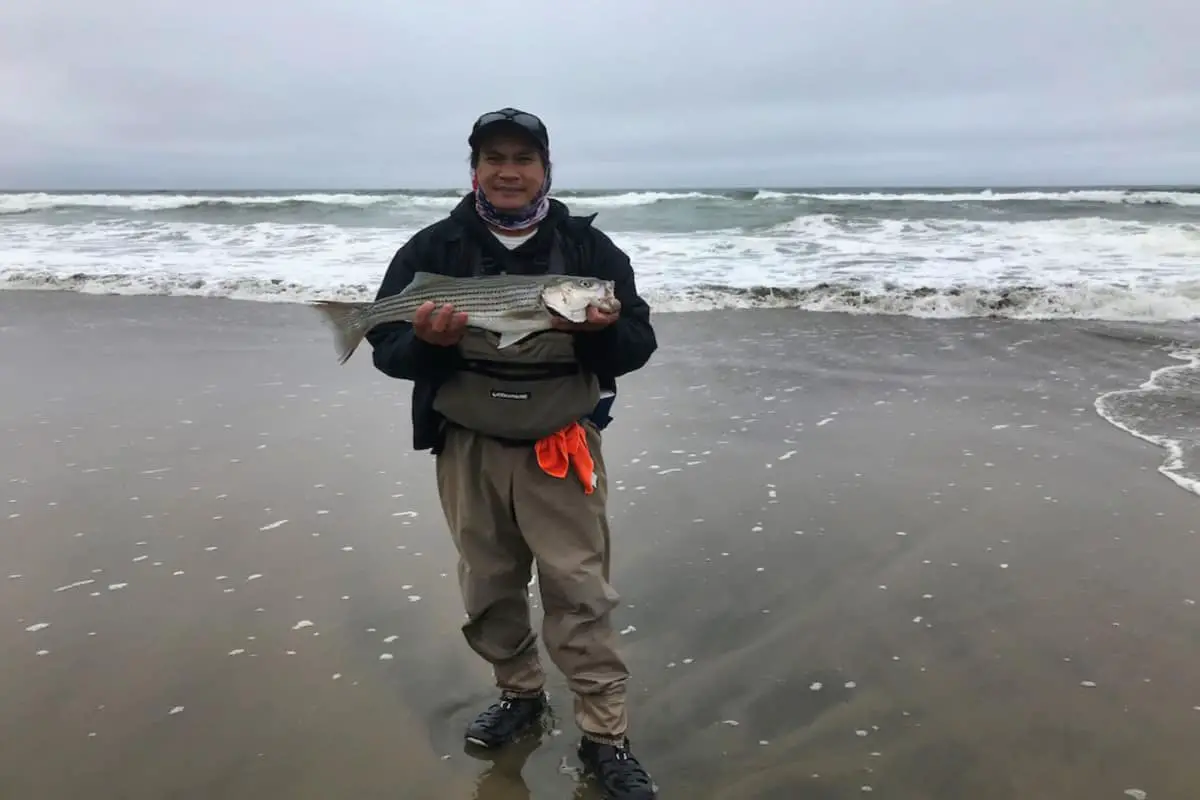 The first pair of fishing waders I'd like to present to you are from Compass, The Compass 360 Deadfall Breathable Chest Waders.

They want to offer one classic and functional pair of waders that come at an affordable price. They designed durable waders that will leave you satisfied.
Really Versatile
They are chest high, and this means you can fish both in deeper and shallower places.
They are made from nylon and can keep you warm even in cooler water. That way you can spend more time fishing during the year. During the colder months, you may need, of course, some extra layers to keep you warm.
Since the material is breathable, it holds up very nicely during the summer and will keep you cool.
It comes with adjustable suspenders (with quick-release buckles) that will give you some nice and snug feel.
The belt is made of webbing fabric, making it very lightweight and very strong.
A Lot of Storage
One of the things I personally am looking for when buying waders is the pock capacity. I really want my waders to have big pockets where I can store my personal accessories and things like car keys, etc.
What I like about these is the zippable chest pocket, and you can flip it inside. This is making it a safe place to store your mobile phone or other personal belongings.
There is also a waterproof chest pocket where you can keep your hands warm when fishing in colder weather.
Lightweight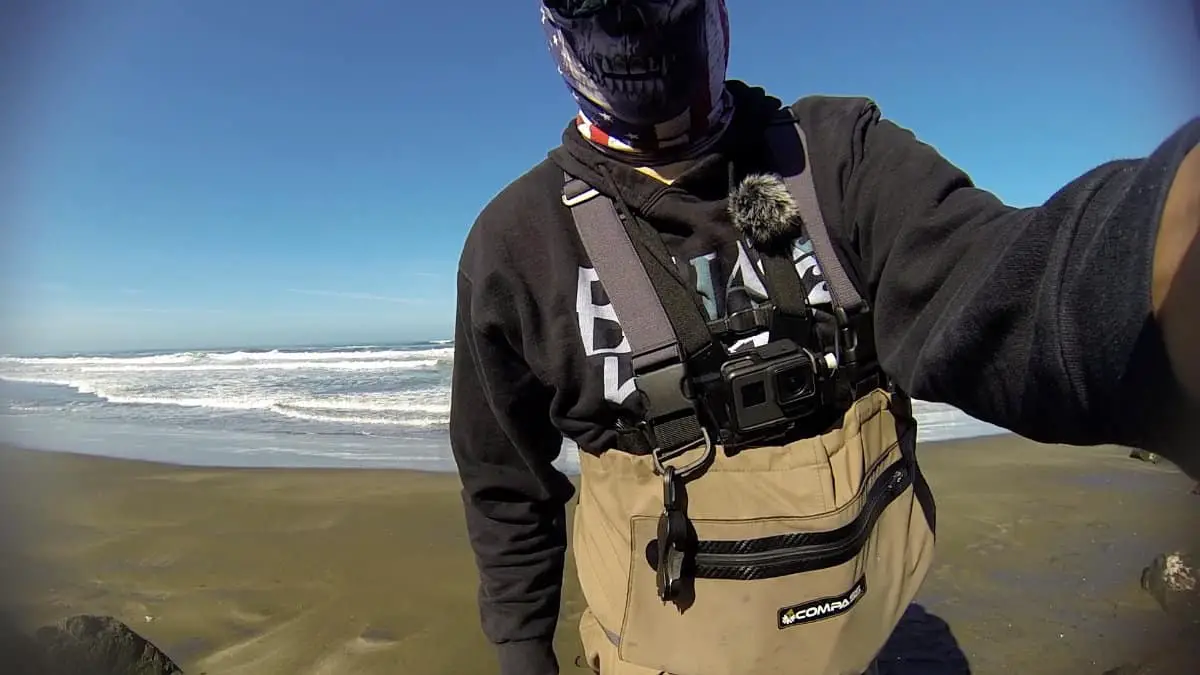 One of the things I like about these is that they are lightweight. While wearing the Compas 360 Deadfall Breathable wader

, you will not feel extremely encumbered like some other waders can make you feel.
Very Durable
As you can expect from any good waders, these too come with extra layering in the knee and shin areas. Compass 360

has two layers of three-ply polyester. The part of the waders that is around the legs is usually the one that is subject to the most wear and tear, and it is more prone to punctures.
The upper part of the waders has three layers of polyester, which is more than enough to last you a really long time.
Stockingfoot Waders
Stockingfoot waders do come with certain disadvantages in a certain way.
You will need to get yourself a pair of wading boots.
These waders come with 4mm neoprene socks that are sealed together with the pants. They offer a snug feel. However, they are thick, which is something you need to keep in mind.
For current price and more information check them out on Amazon.

Frogg Toggs Anura II Breathable Stockingfoot Chest Waders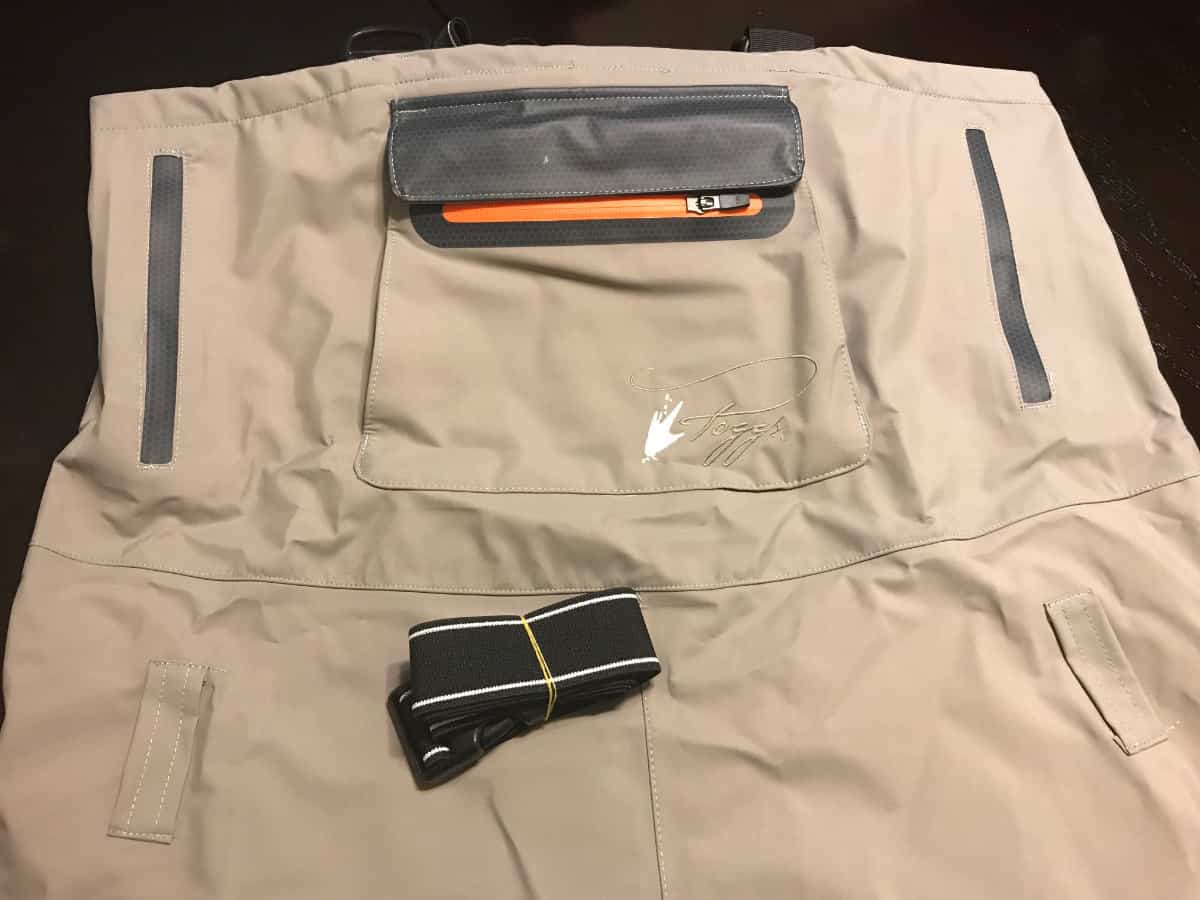 Frogg Toggs Anura II

is my second pair of fishing waders I have, and I am pleased with them. They are a great bang for your buck. What these waders aim to offer is a lot of storage and durability. 
It comes in a variety of sizes so I am sure everybody will be able to get a size that will fit them perfectly.
Features and Benefits
Very Versatile
These are chest fishing waders, too. Which means they will allow you to get deeper and further into the water.
I personally preferred these as they allow for greater versatility. I can fish in different environments ranging from shallow to deeper waters. Do you want to fish in small ponds or streams? You can do that. Are you into fishing in deep rivers and surf fishing? You can do that with these, too!
It comes with suspenders that will allow you to adjust them according to your liking. The belt is also adjustable with a quick-release buckle.
A welcomed bonus in my eyes are the daisy chains on which you can place some extra accessories.
Extended Fishing Time
As I said earlier, one of the essential things for me is the pockets. And I really like the pocket arrangement of these ones. This model comes with six pockets that not only provide me with a lot of storage space, but there is also a pocket for warming my hands.
You can fit everything you may need inside these pockets.
This is very important for me as it allows me to stay in the water and fish for longer without the need to wade back to the shore.
Durable and Comfortable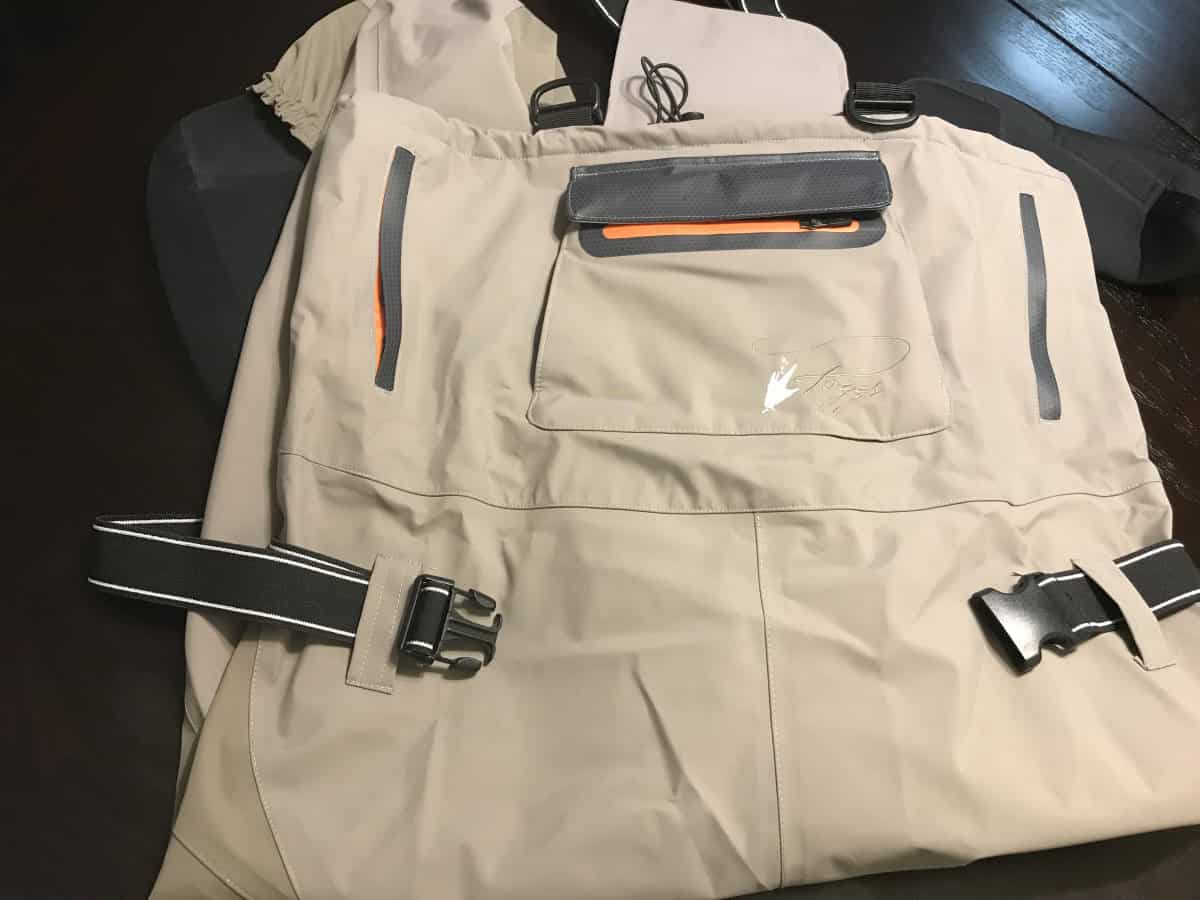 The Frogg Toggs Anura II

is made with very tough nylon that will last a long time.
These waders have six-ply nylon on the legs. And this is what we want to see, this area of the waders is subjected to the most wear and tear.
The upper part has four-ply nylon layers, which is going to make them a bit more durable and long-lasting than the model from Compass 360.
The material is breathable, which is making the waders comfortable during the warmer months. That way, even if you start sweating the material will not hold the sweat inside the waders.
Frogg Toggs Anura II

is also quite comfortable when fishing during the colder months. When it gets colder, I usually add a layer or two of some warmer clothes, and this allows me to extend my fishing time.
Form Fitting – Neoprene Booties
Stockingfoot waders are the preferred option for many anglers. They come at an additional cost as you need to buy yourself wading boots as well. And this may seem like a big downside.
I like the neoprene booties of this wader it fits well on my foot. I've been using this stocking foot wader for over a year now, and I haven't seen any sign of wear yet. I also paired this with my Shimano EVAIR fishing shoes.
For more information and the current price

, check them on Amazon.
Conclusion
Choosing the right kind of waders for the type of fishing you do is of the utmost importance. Both the waders I have reviewed here will do you justice on your next surf fishing trip and will not leave you disappointed.
For surf fishing, we need versatility, storage, and most of all, comfortability and durability. This is why I chose these two models of fishing waders, which I use on my fishing trips.
They both provide great comfort, versatility, and lots of storage space. You can easily use them in colder and warmer water, and they are durable and will definitely last you a long time before having to worry about buying a new pair.