As an Amazon Associate we earn from qualifying purchases made on our website. If you make a purchase through links from this website, we may get a small share of the sale from Amazon and other similar affiliate programs. You can read our complete
legal information
for more details.
Surfcasting is as much fun as the reliability of your tools. One of the most disappointing things is catching a monster and then having the reels break. Or if you happen to get some water inside it and mess it up. Using a waterproof spinning reel is always recommended in surfcasting. 
I would recommend the Van Staal saltwater spinning reels

if you want my suggestion. They perform great, and they are also very watertight. The drag is very smooth, and the build is fantastic. The price is a bit high, though. But it's worth the splurge!
If you want something less expensive, or if your needs are entirely different, there are other reels you can check out. So, dive right in! I've gathered a list of some of the best spinning reels on the market to help you make an informed decision.
Best Waterproof Spinning Reels For Surfcasting
Yes, fishing involves water. When you are surfcasting, you need something that can hold its own when you catch a monster of a fish and one that is tight and waterproof. Who would have guessed? 
All jokes aside, it is way too easy to waste your hard-earned money on low-quality waterproof reels for surfcasting. Here are the nine reels you need to care about. So, let's get on with the detailed review without further ado.
1. Van Staal VS X-Series Bail Spinning Reels
I am starting this off with a bang. A no-compromise waterproof spinning reel is perfect for all kinds of fishing adventures. All the ones in the top three are excellent picks and expensive. But can they back up the price tag with quality? Well, let's find out. 
Van Staal VS X-Series Bail Spinning Reels

first thing you should learn about is the watertight seal. It is a fully machined and sealed waterproof build that helps keep all kinds of water out of it. That means you do not need to stress this reel getting damaged during a fishing session. 
Build-quality, in general, is pretty good. You will love the nickel-titanium manual bail along with the heavy-duty stainless steel spiral main gear. It does not end there, though. The line roller is made from titanium nitrate, and so is the center shaft.
All these fancy material names aside, what it means is that you get a long-lasting and solid performance. The drag system is super smooth, giving you reliable performance every time. And you will end up with a reel that will not buckle under the pressure. 
You might think the price of this one is a bit high. It is compared to some of the other reels in this review. But I think the price point is justified here. Van Staal Spinning Reels

is a well-known brand and is loved by many. 
Thanks to the oscillating wrap system, it allows you to lay a completely flat line. You get further casts and more drag range. 
Pros 
Very long casts
Top-notch durability 
Completely watertight 
Smooth drag system 
Premium materials
Cons 
---
2. Shimano Stella SW C Spinning Reels
Let's get one thing out of the way first. If you thought the previous one was expensive, the third reel almost came to $1000. But hold on for a bit. If you know the brand Shimano, you should expect exceptional performance. And guess what? This reel delivers on all fronts.
The brand introduced the Stella line way back in 1993. Since its release, this reel has been held in high regard as one of the best and most premium reels for enthusiasts. I would not recommend this one for beginners or on a budget. 
But if you are in the market for something that can hold its own and give you a premium experience, this one deserves a closer look. It is the flagship reels from the guys over at Shimano. It looks like the brand has taken its time designing this one. 
The Shimano Stella SW C Spinning Ree

l is perfect in almost every area. The build is super solid. It uses a HAGANE body with incredibly rigid metal construction that gives you very little flex and excellent impact resistance. This durability will come in handy when you catch a large fish. 
This reel targets larger fish. So, if you are hunting sea monsters, this is the one to get. The pinion gears are supported by dual bearings that give you smooth winding when under pressure. 
With its SilentDrive feature, you get very smooth operations by eliminating any sort of gear play whatsoever. The drag is also very smooth. That is pretty cool stuff.
Pros 
Waterproof build 
Premium materials used
Excellent casts
Smooth operation in all conditions 
Long-lasting and good-looking design 
Cons 
---
3. Daiwa Saltiga Spinning Reel Magseal
Okay, I have some good news and some bad news. Let's start with the bad news first. The Daiwa Saltiga Spinning Reel

costs around $1000. But the good news is that the features and specifications make it well worth the money.
You get a very premium and well-built reel that has an impressive spec list to impress even the most hard-core users. The first thing that will stand out is the durable build quality and body design. It is quite high-tech. The Saltiga

uses a MONOCOQUE (MQ) design that eliminates the need for a body cover. There are no screws needed.
What does this give you? Exceptional waterproofing. With fewer open areas for water to go in and out, you will have a fantastic seal and waterproofing even during harsh fishing sessions. Then there is the tried-and-true ABS LONG CAST feature. 
Want to cast far into the depths where the prize fish are? This is the reel you're looking for. Thanks to its low weight and shape, it has approximately 5% more flight distance. Your casts will go further and feel smoother as well. 
All in all, you just cannot overlook the features this packs into its small body. Even though it requires a little splurge, the high-quality aluminum air rotor will help it last a long time. And when you hook a monster, the ATD Drag system is there to assist in bringing the fish on the boat or shore.  
Pros 
Durable build quality 
Impressive waterproofing 
Smooth drag due to ATD Drag System
Comfortable to use
Very reputed brand
Cons 
---
4. Okuma Makaira Spinning Reels
"Top-quality performance with a hydro-sealed body and a very smooth drag system" That is how I would describe the Okuma Makaira Spinning Reels

. The team has done something very impressive here, and I sure am impressed.
As you might have expected, water sealing is one of its coolest features. The body uses what is called "hydro-sealing." The internal mechanisms are sealed so that salt (and water) cannot damage it. What you end up with is a very watertight seal. 
The gearing is nothing to scoff at either. They are made from forged stainless steel. That sounds impressive as is. But you will love this, even more, when you know that they give you the ultimate strength when fishing. 
On top of that, the forged aluminum body is made to last. The build quality is solid – just as you would expect from a metal body design. You do not need to worry about going to the store and buying brand new reels because your cheap ones kicked the bucket. 
The DFD, or Dual Force Drag System, is designed to make full contact with the outer carbon washer. This gives you more strength for high drag outputs.
Pros 
Perfect anti-reverse system
Forged aluminum build quality 
Excellent water resistance 
High drag output 
Separate handles
Cons 
It does not come in a smaller size than 1000
---
5. Penn Torque II Spinning Reel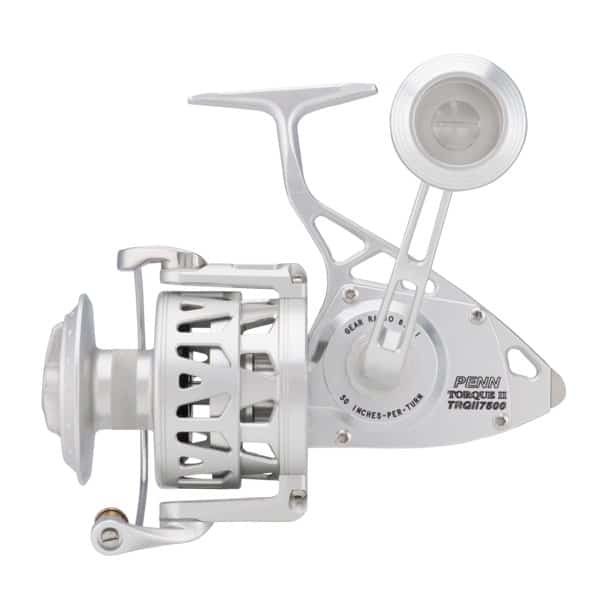 The Torque II Spinning Reel

from Penn is an IPX6 water resistance reel that gives you smooth operation thanks to its 9+1 stainless ball bearing system. Not many reels on the market use that many bearings. And the difference is quite apparent.
You can trust the Torque II

to deliver top-notch performance, whether off-shore fishing or fishing on a boat. The build quality is solid, and it feels like a premium product and performs like one. Plus, the full metal body makes it quite robust. 
The drag system is very smooth as well. Some users loved it so much that they outright called it an investment. And I do not differ with them. This reel will last you a long time, and if you take good care of it, you may even pass it down to the next angler. 
Although, honestly, that is a bit of a stretch still. The quality is here. There are two different colors you can choose from – a gold finish and a silver one. Both look pretty cool and eye-catching. 
It even has different gear ratios depending on what you need. Choose between a 5.1:1, 5.5:1 or a 6.0:1 ratio. The choice is yours. There are line capacity rings to keep everything stable and in place, and the anti-reverse is nothing to scoff at either. 
Pros 
Durable build quality 
Different color choices
Smooth drag system 
IPX6 water resistance
Multiple gear ratios
9+1 ball bearing system
Cons 
---
6. Visser Spinning Reels
If you are looking for something in the $650 to $700 range, you need to check out these Visser spinning reels

. The smooth drag system, waterproofing, and solid construction make it a reel that you just can not go wrong with. 
You will love the ease of use and the attention to detail. One of the first things that will impress you is the build. It is a solid reel made from one piece of aluminum. The alloy body will hold its own during intense fishing sessions, even saltwater.
And then there is the waterproofing, of course. Everything from the body to the drag system is waterproof. So, you do not have to worry about the reel getting a bit wet. It will handle any situation just fine. 
The Dual Pentium drag system gives you smooth drag performance when you catch a fish. It is super comfortable, and you get a lot of fighting strength. A smooth drag is very important when shopping for reels. And I am glad to see that this one has on that front. 
Speaking of important things in a reel, I've included a complete buyer's guide. So, keep on reading. The spool lip ring is titanium, which will help it last a long time. I appreciate manufacturers not skimping out on the materials of the components. It makes for a more durable product.
Pros 
Titanium spool ring 
Waterproof drag system and body 
Modular build 
Robust construction 
Zero deflection main drive
Cons 
Spool a little small compared to others
---
7. Van Staal VR Spinning Reels
If the name of this reel sounds familiar, that means you have been paying attention. I reviewed a reel from this brand. The VS X. That one was quite expensive. For those who are looking for something a little more affordable but do not want to skimp on quality, the Van Staal VR spinning reel

is a great choice. 
You get superb saltwater protection. So, the reel will not corrode during long-term saltwater exposure. Another cool thing is the durable and waterproof aluminum body. It uses 6061-T6 aluminum for its construction. 
That makes it very durable and sturdy. Combined with the solid stainless-steel shaft, you have a true performer in your hands. You cannot go wrong with Van's lineup of reels for surfcasting. They are durable and built to last. 
And, of course, the waterproofing is impressive as well. You can use it for coastal fishing and much more. There are other reels from Van, like the VS series. However, the VR series

has a smoother retrieve than the VS, an added advantage. 
It is lightweight and very easy to maintain. You can easily bust this thing open without damaging it. That helps you keep it working in pristine condition. Remember that if you don't know what you're doing, don't open it. That might damage it. 
Pros 
Very lightweight 
Perfect for surfcasting
Waterproof build 
Durable machined aluminum body 
Easy to maintain and take apart
Cons 
---
8. Van Staal VR175 Spinning Reel (Gen 1)
The VR Spinning Reel Gen. 1

is also a reel from the VR line of Van Staal. The durable build quality, lightweight construction, and titanium spool shaft make it a perfect choice for any angler. And it comes with the same impressive features as you would expect. 
The ball-less conversion kit is included in the package. So, you do not need to spend extra money to buy one. And you can bet on the waterproofing of this one. The Gen 1

model has an impressive watertight body that will hold up well during fishing sessions.
You do not need to worry about liquids entering the body and damaging the parts. The parts are high-quality as well. So, regardless of waterproofing, this reel will handle normal wear and tear like a champ. 
The drag is very smooth with an excellent feel that gives you confidence when fishing. The balance is great, which makes it comfortable to use as well. And when you hook a true monster, you will need all your confidence when fighting it.
And the same ease of maintenance is also present here. You can open this thing up and tinker with it, or make sure everything is working fine and dandy. Overall, pretty cool stuff. It is not that cheap, but relatively less expensive.
Pros 
Durable build
Smooth drag system
Waterproof chassis
Easy to disassemble and maintain 
Cons 
Not cheap
The knob is not that comfortable
---
9. Tsunami SaltX Spinning Reels
I've decided to go with the Tsunami SaltX spinning reel

for my final product. This one is an absolute treat. It is waterproof, durable, and performs like a charm. The price is not that high, but I would not necessarily say it is cheap either. 
The price is that you do not want to go with a super cheap one. Doing that might backfire in the long run. You might end up with a piece of junk, and the reel could break within a couple of weeks. 
Then, you will need to buy another brand-new reel anyway. So, it is better to spend a little extra now and have that peace of mind that you have got a solid reel. The stopping power and the drag system of this one are impressive. 
With a stopping power of 50 lbs., you can reel in large fish with relative ease. And the comfortable knob makes it very easy to use for long sessions. And then there is the waterproofing. 
You can submerge it in water, and it will still come out just fine. While I do not recommend you do that for any reason, it shows how watertight the build is. And this is something you cannot overlook when looking for a waterproof spinning reel.
Pros 
Durable build quality 
Super watertight seal
High stopping power
A very smooth drag system 
Comfortable knob 
Cons 
Knob stitching could have been better
---
What To Look for When Buying Waterproof Spinning Reels for Surfcasting
Alright, now that you know the details about the 9 products, I wanted to leave you with something more. When shopping for reels, it is important to know what specific features you need to look for. 
That will help you pick the right reel for yourself and your needs. You might not need the features of a very expensive reel. If you are well aware of what you want, you may save some money. And that is always nice. So, here are the features you need to look at before pulling the trigger on one.
Durability 
The first thing to think about is its durability. Invest in a durable drag reel from the start. You do not want to end up with a reel that is so flimsy that it does not get the job done. You will thank yourself later.
Look for high-quality materials like aluminum, titanium, or stainless steel. These reels will last longer and save you money on maintenance or outright replacements later. 
Waterproofing 
This one is a bit of a no-brainer. When searching for a reel, it needs to be waterproof. Look for tight water seals for the body and internal components. Some reels will also specify how watertight the drag system is as well.
One good way to tell how the waterproofing performance will be is by looking at the IP rating. For example, an IP rating of IPX6 is good. But it is not the only determining criteria. Check out what the brand did to improve water resistance. 
Anti-Corrosion 
Saltwater can do a number on your reels. If you want to keep the reels usable, get reels with some corrosion resistance level. Regular maintenance will help, but nothing beats built-in anti-corrosive properties.
A lot of the reels in my review are anti-corrosion. So, you should have no problem picking out the right one from the list. 
Lightweight 
Do not think it will be heavy just because a reel is built well. Top manufacturers have the expertise to make reels that are solid and lightweight at the same time.
A lightweight reel will make it easy and comfortable to use. During long sessions, you will not get tired as soon either.
Casting 
Long casts are always desirable. You can reach the prime spots where the large and prize fish are. And, of course, when you can cast further, it also gives you more versatility. 
The chances of catching a fish are increased as well. You may not need to wait as long as the casts were short. 
Gear Ratio
The gear ratio tells you how fast the reel will pull the line. There is not a particular range you should look out for. But having a ratio of 5.1 or 6.1 is generally a good idea. Basically, the higher the gear ratio, the faster you will reel in the fish.
Drag Strength 
Drag strength will depend on what kind of fish

you want to catch. Fish that fight hard or are very large need more drag strength. With a higher drag strength, you will have an easier time reeling in difficult fish. 
Larger reels usually have the most drag strength. So, keep an eye on the drag strength when buying a reel. The smoothness of the drag is also very important. Speaking of smoothness, that leads us to our last factor.
Ball Bearings
Part of the smoothness will come from the number of ball bearings. The general rule of thumb here is the more, the merrier. You get better support and higher performance from a reel that has high-quality ball bearings. 
Anything above 4 or 5 ball bearings should be the minimum. But as I said, the more ball bearings there are, the better it is. 
Wrapping Up 
Let's wrap things up then. Shopping for the best waterproof spinning reels for surfcasting depends on your needs? My favorite is still the Van Staal Spinning Reels

. They just tick all the right boxes for me. 
Whether you are a veteran or a beginner, you can use it. And I am sure you will love it too! The drag system is super smooth, and the durable materials give it longevity. Plus, the watertight seal is impressive. You can count on no liquids penetrating the body and messing up the internals.
The drag system is smooth, and you get many fighting strengths. You just can't go wrong with a reel like that. However, the price might put some people off. For that, the other reels are also great options. Thanks for stopping by!