As an Amazon Associate we earn from qualifying purchases made on our website. If you make a purchase through links from this website, we may get a small share of the sale from Amazon and other similar affiliate programs. You can read our complete
legal information
for more details.
Picking the best inshore rods from a sea of similar-looking choices can be confusing and frustrating. A quick Google search will give you hundreds of results, if not thousands. Luckily for you, I rounded up the best inshore rods you need to care about. 
Just go with my number one pick, the St. Croix Legend Tournament Inshore Spinning Rod

, if you do not have time. It is a well-built and premium rod that checks all the boxes. It will last you a long time and comes in different sizes.
And if you want to know more about your other options, keep reading. I reviewed nine of the top inshore rods money can buy. And to top it all off, there is also an in-depth buying guide. So, let's get started.
Best Spinning And Casting Inshore Rods For Beginners
Finding the best inshore rods can be difficult since there are a lot of nuances you need to keep in mind—things like the balance between power and sensitivity. For someone who is a beginner, this can be confusing. Do not worry. Here are the top 9 you can buy right now. 
1. St. Croix Legend Tournament Inshore Casting Rods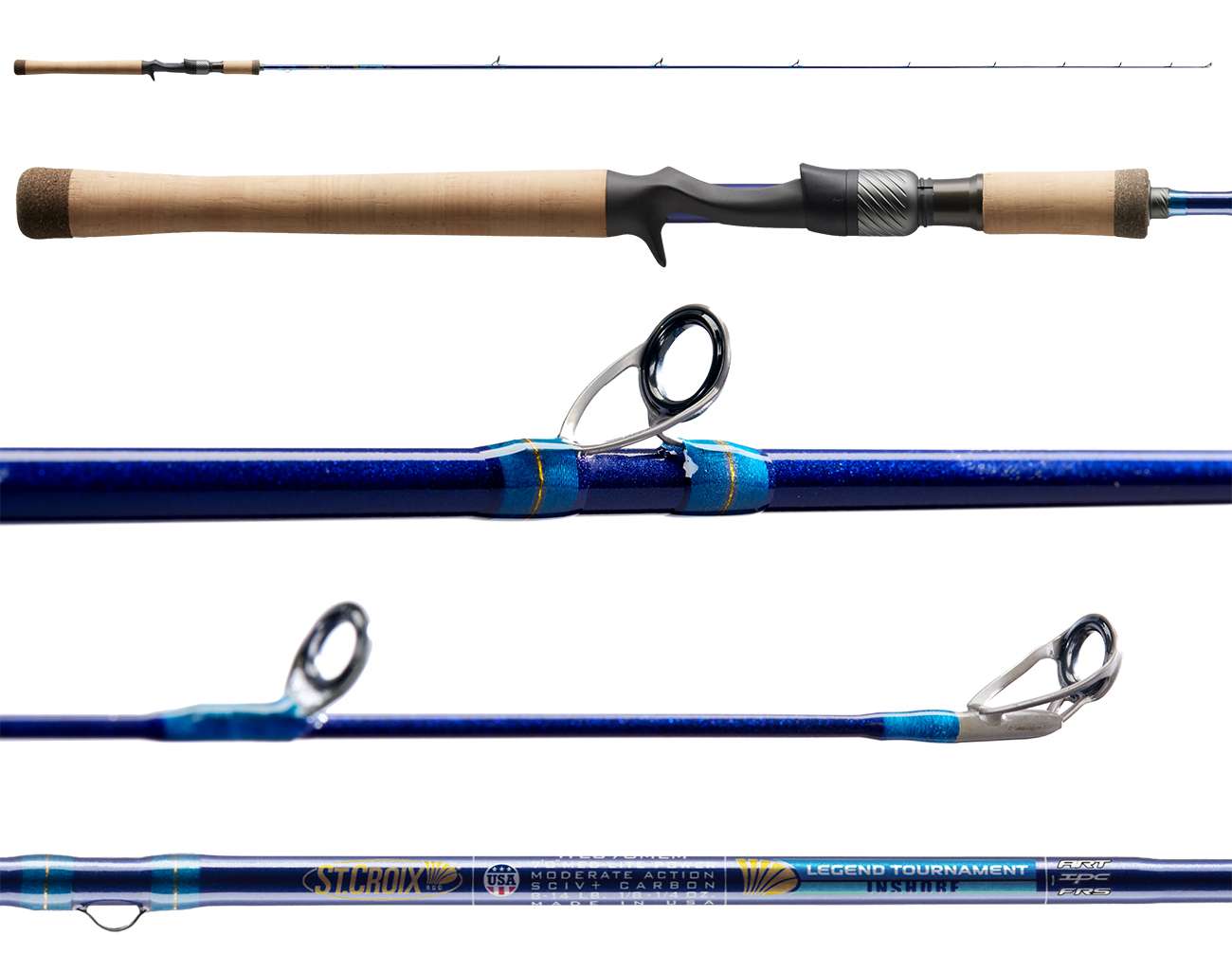 A brand like St. Croix does not disappoint. And they did not, with their Legend Tournament Inshore Spinning Rods

. This one is built to perform, will last you a long time, and give you superior control.
Longevity comes, and durability comes from the materials it uses. St. Croix decided to go with an aluminum oxide build for this one. And that gives you phenomenal corrosion resistance. So, you do not need to worry that much when using it in saltwater. 
This one also has a built-in hood with a quality reel seat to keep it locked in place. Inshore fishing can be tough. Not when you have the right tool, though. And this rod is one of those tools to have.  
The handles are pretty cool as well. It uses good old quality super-grade cork handles that look cool and eliminate any kind of flaking over time.
It might not be the most affordable one on this list, but the features and quality speak for themselves. It is an all-rounded fishing rod trading any excess bells and whistles for a balanced build. It is pretty lightweight, providing you with increased dexterity while fishing. And that is exactly what makes it a personal favorite of mine. 
Pros 
It comes in different sizes
Corrosion-resistant 
Superior built quality 
Solid reel seat
Super-grade cork handle 
Cons 
---
2. St. Croix Avid Inshore Spinning/Casting Rods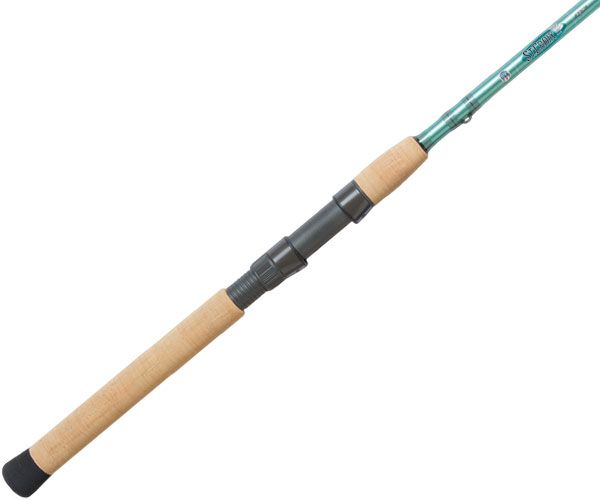 This one is another treat from the same guys over at St. Croix. And it does not shy away from salty environments. It uses solid SCII graphite material to build quality, which gives you two benefits. 
The first one is, of course, the stellar build quality. The second one is sensitivity. When a fish tugs on it, you will feel it. It is as simple as that. I cannot say the same for many inshore rods on the market.
The action is also great, with good fighting strength thanks to the IPC (Integrated Poly Curve) tooling technology. All these are things you want in an inshore rod. And the fact that it comes at a lower price point than the previous one is just icing on the cake. 
And not to mention the cool handles. It uses the same super-grade cork handles. You will not experience any kind of flaking, which is a good thing.
All is not fine and dandy, though. While this rod performs well, you might feel it is underpowered when you catch a true monster. That is why this rod is not the best for larger fish. 
Pros
Corrosion-resistant 
Strong SCII graphite build
Sensitive rods 
Great action and fighting strength 
Cons 
Not the best for larger fish 
---
3. Shimano Teramar Inshore West Coast Spinning/Casting Rods
Contrary to what you might think, I have not become a complete St. Croix fanboy. The Shimano Teramar Inshore West Coast Spinning/Casting Rods

is another top pick of mine. 
The cool thing about this one is just how unique it is. These rods, honestly, look and feel very different compared to most of the rods you can buy right now. That is not a bad thing, though. Build-wise, you get a solid construction. 
It uses TC4 graphite, which gives it superb durability. And the fast action will also help you sense when a fish tugs on it. Besides, fast action is better for casting since it bends at the tip. This one, in particular, is a medium, 8′ inshore rod. There are other lengths available. So, make sure you get one that is comfortable for you.
S.A.L.T is one of the coolest features. The aim here was to make every fishing experience exciting, and I think the brand nailed it with this one. The feature is an acronym for Shimano Advanced Light Tackle. You get awesome casts even with heavier baits with little to no tribulation.
Pros 
Fast action 
It comes in different sizes
Cool color finish 
Curable TC4 Graphite build 
Cons 
A better sensitivity would have been better
---
4. Shimano Teramar Northeast Spinning/Casting Rods
Shimano has two more inshore rods from their Teramar series worth checking out. The second one is this Northeast Inshore Spinning rod

. You can expect to see the same phenomenal build and fighting strength. 
It uses a TC4 graphite blank build that gives you a superb weight-to-strength ratio. That means you get a lot of fighting strength when you catch a fish. The guides are also really good. Your reels will be locked in place thanks to Shimano using Fuji reel seats and Fuji O guides. 
Fuji is a reliable reel seat, and the quality shows on this one. You can't go wrong with this one if you're fishing in northeastern waters. The handle is pretty comfortable too. 
It is made from EVA and gives you a nice cushion when you hold it. The handles will not get slippery when wet. This allows you to have superior control when wrangling a true monster. The action is medium-fast. Faster action would have been better, but the medium-fast action should work well for most people.
Pros 
High-quality build materials 
Comfortable EVA handles
Fuji O guides
Lightweight rod
Cons 
Fast action would have been better
---
5. Shimano Teramar Inshore Southeast Spinning/Casting Rods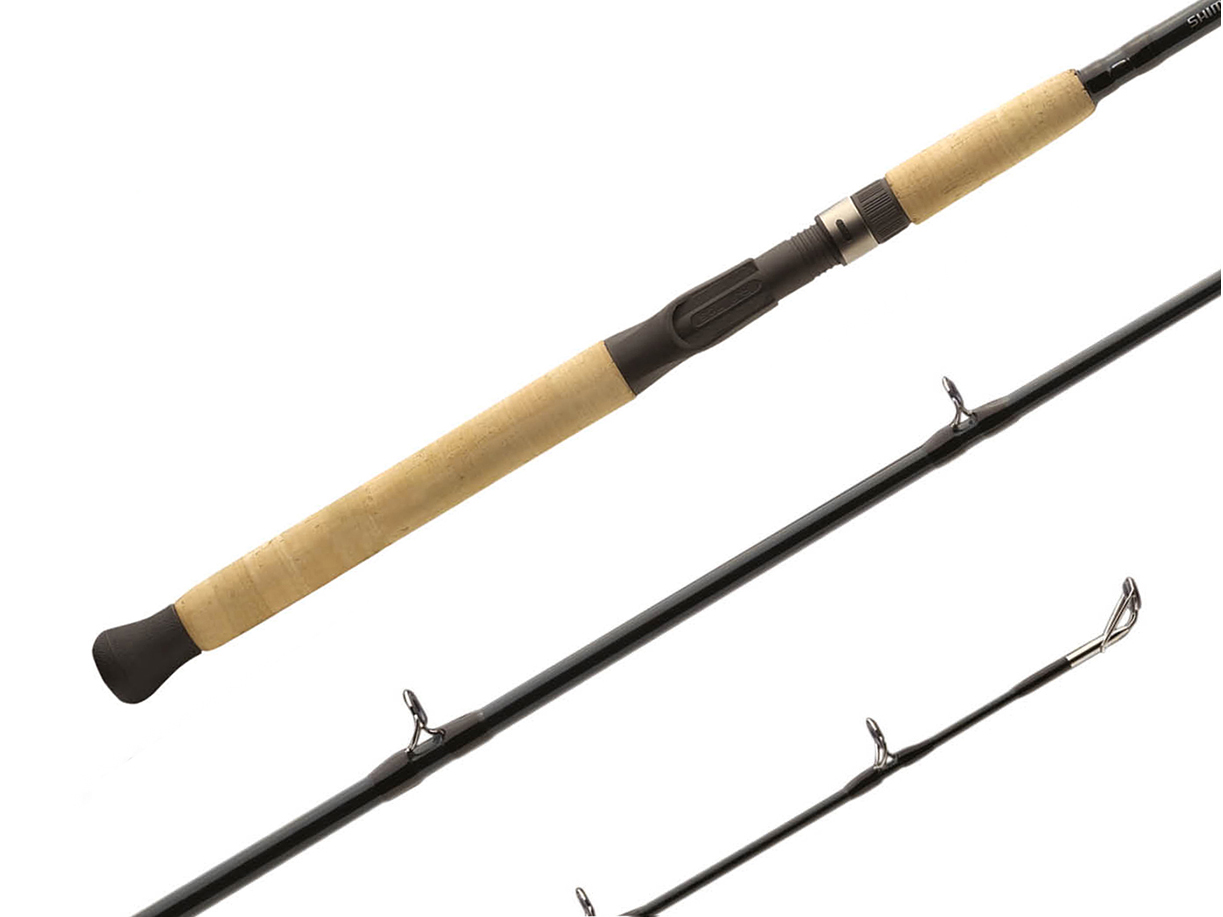 The last one from the Teramar line of products is the southeast rod. It is one of the more affordable ones of the three but still managed to perform admirably. I would describe this rod as an all-rounder. 
The casts are long and very accurate. This will help you reach those prime fishing spots

. And with the accuracy this one has, you will not miss your mark. All the materials are solid too! The TC4 construction gives this rod great durability while not increasing the weight. 
The best thing about this one is how versatile it is. In some cases, rods that are made to last come at a hefty weight. Shimano managed to balance weight and strength pretty well here.
With a weight range of 15 – 30 lbs., you can essentially target all species. You do not have to be picky about which fish you catch since it will handle most of them. See why I call this one an all-rounder? 
St. Croix is not the only brand that uses quality cork handles either. This Teramar Inshore Southeast rod

also uses Grade A cork handles which look attractive. Those who want EVA foam handles might need to look elsewhere, though. 
Pros 
Durable build quality 
Lightweight rod
Perfect for inshore 
Works for most species
Cons 
Prolonged saltwater exposure may cause rust 
---
6. Star Stellar Lite Spinning & Casting Inshore Rods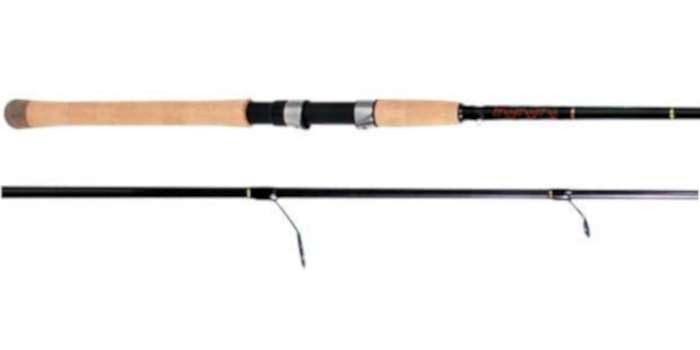 As the brand has been around since 1968, you would expect this brand to know a thing or two about making inshore rods. And looking at this rod, the expertise and experience show! The Star Stellar Lite

is 'stellar' in every way. 
The rod blank is made from graphite. It is durable and sensitive too! So, you will feel it when a fish tugs on the bait. The handle is a cork one. It feels premium and does a good job of translating minor vibrations. 
Then there are the reel seats. Yes, you guessed it. This rod uses Fuji reel seats. The reel stays attached firmly and allows the line to pass very smoothly. In all honesty, I do not think any rod that uses anything else is worth the money. 
You also get a pronounced action feel at the other end of the line. This one is a very cool rod if you are looking for something under the $200 mark. And although it is light, it is not as light as other rods.
Pros 
Superb backbone 
Soft tip 
Durable build quality  
Fuji reel seats
Cons 
---
7. Penn Battalion II Inshore Spinning Rods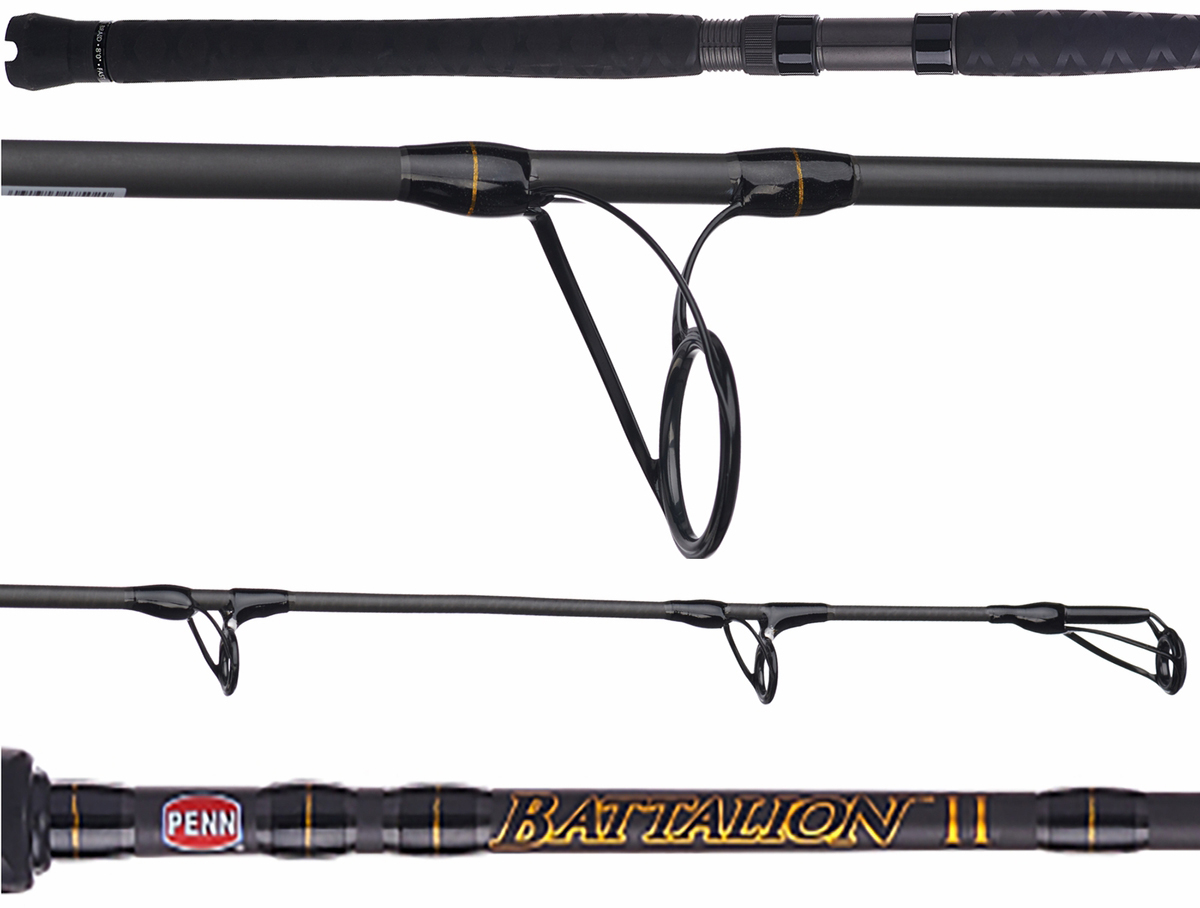 The Penn's Battalion II Inshore Spinning Rods come in just under $100 and perform above their price range. The quality is great, and everything about it screams premium. As you can tell, this is the second iteration of the Battalion series fishing rod. 
The handle is a cork one. But it is a single-handed affair. While I would have liked to see a longer handle accommodating two hands, this still gets the job done pretty well. The casting is great as well. It is super smooth with very low friction. Thanks to the Fuji Alconite guides. And you already know by now how I feel about Fuji guides. They are great.
Penn did not skimp on durability either. Made from SLC2 carbon fiber, this rod is durable and will last a long time. One thing is for sure; you will have great strength to fight fish when they bite the bait. 
The power is not monstrous, though. It's not too heavy. That means you should target small to medium-sized fish with this rod. If you want something that is very powerful and can handle larger fish species, it is best to look elsewhere. But this rod should be great if that is what you need. 
Pros 
Smooth casting 
Durable build 
Nice sensitivity  
Solid blank construction 
Fuji Alconite guides
Cons 
Short handles
Little heavy
---
8. St. Croix Tidemaster Inshore Spinning Rods
This is the last St. Croix inshore rod

I included in this list. With a name like Tidemaster, you can bet St. Croix did not disappoint with this one. So, let's check out what the brand has in store for us. 
Do you need a no-compromise premium inshore rod that you can rely on to get the job done? That is the Tidemaster for you. It's simple and effective, with a durable build and a sensitive tip. That is how I would describe this truly great rod. 
You have to cast very far to reach those prime spots. That is something you will surely love. It increases your chances of catching a true monster of a fish. And as I mentioned, the sensitivity is also there. You will feel it when a fish is caught. 
The components, St. Croix decided to go with are premium as well. There is nothing but Fuji here. The handle material is cork. It has its advantages and disadvantages. But cork is still better than any other cheap, low-quality material. 
As for the cons, I am going to make a drastic call here – I do not see any major cons that would deter buyers. Yes, I said it. This rod has no major cons! That is a statement right there.
Pros 
Sensitive tip
Great blank 
Superb construction 
Casts very far
Cons 
---
9. Shimano GLF Series Inshore Casting Rods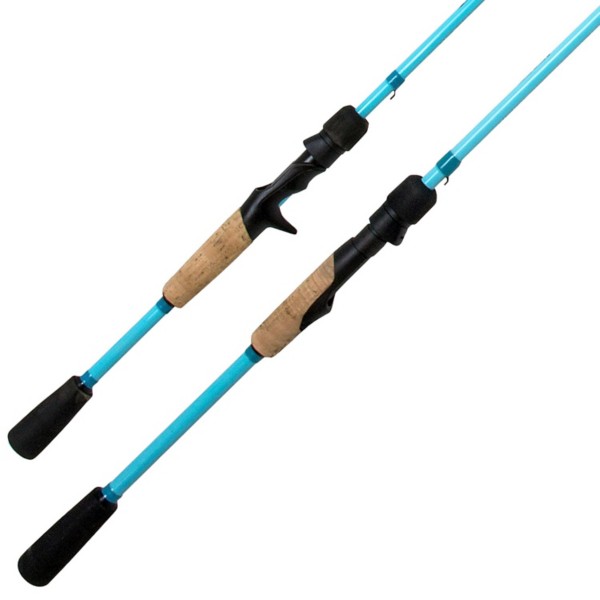 Shopping on a tight budget? Shimano has you covered here. The great thing about this is the low price point at which it comes. But not only that. It also does a great job of actually giving you a good fishing experience. 
This rod is great for catching flounder, redfish, and coastal gulf fish. The guides are Titanium Oxide. That means you get high-quality guides that will keep performing for a long time. 
And the line weight is 8 to 14 pounds with fast action. So, the sensitivity is also there. Even the build quality is nice. The moment you pick it up, you will not be able to tell that it comes at such an affordable price. That shows how much thought and effort Shimano puts into their GLF Series inshore rods

. 
Plus, I also like the classy color. It is a soothing teal-like color that does catch your eye quite a bit. Hey, no one said that your inshore rods could not look good. This one is one of the more stylish ones, and I love that fact.
The handles are high-density EVA with a comfortable grip and Shimano custom reel seats. I would have preferred to see Fuji reel seats here, but you can't have it all.
Pros 
Fast action 
Sensitive rod
Durable build quality 
It comes in different sizes
Cons 
It does not use Fuji reel seats
---
Things To Consider Before Buying an Inshore Rod
Since this review is meant to arm you with the right tool for inshore fishing, I wanted to do a little extra. Knowing what specific features you need to look into is important. 
Your needs might be different. So, if you want to make a more informed choice, you must keep in mind the crucial things to consider before spending your hard-earned money. 
Durability 
There are no two ways about it. A good inshore rod is a durable inshore rod. If you do not get one made from durable materials, you will have a bad time when it accidentally breaks in the middle of a fishing session. 
Carbon Fiber 
First up, we have carbon fiber. It is light and strong. It is the stiffest and lightest of all. With that, it also comes at a hefty price. Carbon fiber rods are some of the most expensive ones you can buy.
But you will not regret it if you are after a premium inshore rod that can get the job done every time.
Graphite
Most of the rods I reviewed are made from graphite. This material is a good blend of durability and stiffness. These are mostly ultralight and also give you great sensitivity. 
It comes at a cost, though. They are not the most durable. I have to put this into context, though. When I say they are not the most durable, I do not mean that a slight fight will break them into a million pieces. 
Fiberglass
Fiberglass takes the somewhat weak graphite and turns it into its strong suit. It is more durable than graphite and is also generally less expensive. However, it is not just stiff or sensitive. So, feeling those small tugs can be tough. 
Some rods use a mix of materials. That can be a good compromise between the materials. You do not need to get a rod that only uses one or the other. Sometimes a careful blend of two materials will give you more strength.
Power 
Power is one of the most important things. It just means how much force it takes to bend the rod. A heavy rod with higher power will require force, whereas a light or ultralight rod will require less power. 
When you are catching large fish, heavy rods are the best. A stiffer blank will increase the power and give you longer casts. 
If you think ultralight means that the rod is weak, you cannot be more wrong. While ultralight does mean that the rod will bend with a modest load, it does not necessarily mean that the rod is weak; it just gives in more. 
Action 
You really cannot talk about power in a vacuum. Power and action together will give you the actual, real-world performance potential. You need to know two types of action when it comes to action: fast action and slow action. 
A fast action rod will remain stiff along most of the rod's length. It only bends near the tip. So, by contrast, slow action will bend nearer to the handle and reel seats. The main difference is sensitivity. 
Fast action will help you notice small movements. When something tugs on your bait or a fish bites it, you will notice it faster and easier since fast action rods have more sensitivity. 
Slow action, however, is good for greater cushioning on the hookset. If you need more time for the fish to engage, I recommend going with slow action.
Guides
Then we have the guides. Let me just say this right off the bat – Fuji guides are some of the bests you can get. They have stood the test of time and are beloved by every angler. 
When you catch a fish, and it starts to fight, the guides are the ones who take the brunt of the force. 
When picking an inshore, you just cannot skimp on the guides. It is a no-no. If you have more guides, that is better for the line. It will reduce the strain on the line.
Handles
You will need someplace to hold the rods. And those are the handles (duh)! When it comes to handles, there are two main choices. You can either go with cork handles or EVA. I have rods in this review that use both of these.
Cork handles look nicer, and there is no debating that. But they are not that durable and do not do well with rough use. On the other hand, EVA foam handles are cooler to the touch and very strong. They fare well with rough use. However, they admittedly do not look as nice.
Another thing you need to keep in mind when checking out the handles is their length. When possible, get yourself a rod that has two-handed handles. It gives you more leverage and fighting strength!
Lure and Line Weight 
Pay attention to the lure and line weight of the rod you are buying. Does it work for you? That is an important question. You do not want to end up with a lower weight limit than you need. These numbers will be marked near the reel seats.
They also vary with the power and action of the rod. You can exceed this limit, but it is not advised since the performance may suffer. 
Wrapping Up
And, there you have it! You should now have a good idea of which inshore rods to purchase. My favorite is the St. Croix Legend Tournament Inshore Casting Rods

due to their overall great performance. 
It is hard to go wrong with a rod that does all these things well and comes in a well-rounded package. The reel seats are very solid. And given how I just explained why the guides and reel seats are important, that is a good point to look into. 
The durability is also there. It is corrosion-resistant and uses durable building materials for its construction. If you take proper care of it, you do not need to worry about this rod kicking the bucket. Its longevity is also something you will like since it does cost more than the others. 
However, not everyone might have the same preference. And that is fine. The goal here is to pick one that works for you. There are other great options you can pick from.