When surf fishing, you need to have the right gear from hooks to baits (whether live or plastic) to sinkers, bobbers, and even handy tools like needle-nose pliers. But where will you store all this fishing equipment?
The best tackle box for surf fishing should be large enough to organize, store, and transport all your fishing equipment. Tackle boxes function as a fisherman's toolbox and usually have harsh surfaces, locks, and handles (or straps) to move around from one fishing spot to the next.
With so many tackle boxes in the market, how do you get one that perfectly suits your surf fishing needs? Read on as we review 10 of the best tackle boxes for surf fishing, and provide a detailed buyers' guide to help you choose the best product.
1. Plano 7771-01 Guide Series Tackle System, Premium Tackle Storage
Plano is a household name when it comes to the manufacture of high-quality tackle boxes. The Plano 7771-01

is ideal if space is what you're after.
The bulk storage allows for the proper organization of baits, weights, hooks, and lures.  
Another great feature of Plano's tackle storage is its four utility boxes that come with dividers.
You'll also love the three spinnerbait racks that are easily accessible and easy to remove.
This tackle box has a transparent top that allows you to view the items placed on the top rack.  
Besides being well-spaced and partitioned, the Plano 7771-01

comes with a molded handle that allows for increased comfort.
The clasps are made from high-quality plastic, meaning they'll hold your fishing equipment in place without breaking.
Measuring an impressive 22x13x13 inches, you can count on this tackle system to accommodate your heavy-duty angling adventures.
It'll easily hold different hooks, floats, lures, jig heads, and leaders, thus allowing you to focus on fishing.  
Pros
Removable spinnerbait racks
Comes with a limited lifetime warranty
Spacious design that allows for easy storage
It comes with a clear lid for easy access
Has four StowAway utility boxes that are removable
Comes with high-quality ProLatch closures for keeping content safe
Made from high-quality plastic
Won't rust or weaken when used on salty water
Comfortable handle
Cons
Might be too bulky for leisure anglers 
2. Calissa Offshore Recon NoN-Corrosive Fishing Tackle Bag
The Calissa Recon Tackle Bag

is ideal for long afternoons on the shore. It is built for maximum comfort and features wheels and adjustable backpack straps that move from one fishing spot to the next easily.
When it comes to surf fishing, you'll need a tackle box or bag made from non-corrosive material.
The Calissa Offshore Fishing Tackle Bag is made from polyester that is both breathable and lightweight.
You don't have to worry about corrosion as the bag, its handles, and zips are corrosion resistant, thus making this tackle bag ideal for saltwater fishing.
This tackle box backpack measures 19x16x10 inches, making it big enough for both leisure and professional angling.
You can also take advantage of the removable dividers located on the top compartment to organize your fishing equipment.  
Another great feature that comes with the Calissa Offshore Fishing Tackle Bag is the rain cover that protects gear from sea spray and rain.
This means you no longer have to worry about rain dripping through the surface and messing up your expensive fishing gear.  
Pros
Has a removable board that separates the top and bottom trapdoors to accommodate big tackle
Comes with a fast-access trap door that fits any 3600 series containers
The package comes with 5 Calissa tackle boxes that allow for easy organization
Has rollers and sturdy feet that keep the bag dry on the sand
Comes with four-rod holders and backpack straps for easier transportation  
12-month factory defect guarantee
Cons
Rollers not ideal for excessive dragging on the sand
3. KastKing Waterproof Saltwater Resistant Tackle Bag
With this tackle bag from Kastking, you no longer have to worry about saltwater or beach atmosphere ruining your fishing gear.
It is made from water-resistant, tough 420D nylon material that guarantees long-term use and performance.  
This KastKing Fishing Tackle Bags

comes with a hydrophobic coating and inner PVC layer, which allow it to provide double protection for all your fishing tackle.
The bottom of the bag is waterproof and compression-molded, features that help to repeal standing water and wet sand on the beach.
While not the largest tackle bag in the market, this bag is large enough to hold up to 12 -3700 box trays either vertically or horizontally in the main compartment and 5 -3600 size trays in the side and front zippered pockets.
However, you'll have to buy the KastKing tackle box trays separately. 
The internal is well-pocketed for holding small items such as your wallet, phone, or keys.
There are seven tackle trays and zippered pockets that provide additional storage for tools, trays, and terminal tackle.  
The problem with most tackle boxes is that they are hard to carry and move around.
But with this tackle bag, you get additional comfort due to its Neo-grip shoulder strap that is extra padded.
For quick access, you can use the double loop zipper that is uniquely designed to allow for one-hand operation.
Pros
The main compartment is large enough to handle several tackle trays
The side and front pockets provide the much-needed extra space
The bottom is compression molded, making it 100% waterproof
Loop zipper ensures quick and simplistic one finger access
Self-healing zippers allow for easy repair
Made from rip-stop 420D nylon that is durable and hydrophobic
Contains an internal PVC layer that prevents water intrusion
Has rubber-coated and large enough mesh pockets that provide quick access to maps, rain gear, tools
The neo-grip shoulder strap is anti-slip and fits snugly
Cons
Tackle boxes are not part of the package.
4. Flambeau Outdoors
The Flambeau Outdoors

is among the best-selling fishing tackle boxes due to its compactness and versatility. It comes with a tray box design that allows for easy movement.
Among its best features is the 3-tray cantilever design that provides smooth access to your tools and tackle.
In terms of capacity, not many tackle boxes compare to this bad boy. You get 32 tackle compartments that come with 13 easy-to-remove dividers. The base storage is large and designed for storing large fishing tools.
Impressively, the top lid also has an accessory compartment that allows you to quickly store the equipment you'd want to access.  
Since starting its operations in 1947, Flambeau Outdoors

has established itself as one of the best brands when it comes to tackle boxes.
This particular product measures 16x9x8.25 inches, making it compact and easy to move around with.
However, the unique, 3-tray cantilever design increases usability, allowing you to store more without using much space.
This highly convenient tackle box comes in different colors such as frost green and black, frost blue and black, frost green and black, red and gray, and blue and gray.
The storage box is built from thick, high-quality plastic that can withstand extreme fishing conditions, whether at the beach, ice, or freshwater.
Pros
Saves on space
Has 32 tackle compartments that allow for easy storage
The 13 removable dividers allow users to customize the setup
Ample base storage for storing large fishing tools
Compact design and comes in different colors
All-weather and oil resistant
High-quality resin construction
Comes with high-quality latches that keep contents safe
Cons
Set up can be challenging for first-timers.
5. RUNCL Fishing Waterproof Tackle Box
RUNCL

sticks to the basics in the design of this handy tackle box. With this model, you don't have to search the inner pockets to find a hook or other fishing equipment as everything is well placed and easy to find.
The frame is both rugged and thick, which allows for increased durability. Need to operate the box with one hand?
Perfect, this bad boy fisherman tool comes packed with heavy-duty, high-quality locking latches that are easy to use and help to keep your tackle safe.
Most plastic fishing tackles tend to allow water to seep in, which can lead to unforeseen losses.
However, RUNCL

uses a waterproof gasket that keeps moisture completely out and offers enhanced protection to your tackle from different elements such as sand and salty beach water.
Another great feature is its removable dividers, which allow you to customize storage to your liking easily.
You can keep your all-important terminal tackle from mixing into other compartments by taking advantage of the removable dividers.
Sun protection is an important feature that is often overlooked as fishing tackle manufacturers prefer salt and rain protection.
However, this tackle's dark brownish appearance ensures the sun doesn't fade or oxidize your lures.
With tray dimensions of 14 (l) x 8.65 (w) x3.15 inches (h), you can easily fit bulkier crankbaits, oversized jigs, and larger swimbaits.
Pros
Larger capacity compared to other fishing tackles
Built using high-quality plastic that is corrosion resistant
Waterproof
High-quality locking latches that allow for single-handed operation
Sun protection
Ideal for organizing tackle
Allows for the customization of compartments
Cons
Could use a better handle design
Not ideal for moving around heavy or extra-large fishing equipment
6. Plano Angled Guide Series Stowaway Tackle Storage
Plano has a reputation for integrating angler-friendly technology in their product releases.
The Plano Angled

, as suggested by the name, presents its utility boxes in the main compartment at a convenient-15 degree angle for ease of use.
This high-quality tackle box comes with a rear pocket that provides additional storage while the DuraView doors and covers allow you to view and easily access your tackle.
Unlike other brands that come with limited utility boxes, you get three 3700 Series Waterproof Utility Boxes, two 3600 series waterproof utility boxes, one 3400 series waterproof utility box, and one waterproof case.  
You can count on this tackle box to fulfill your surf fishing needs, especially when you need to access tackle fast enough.
The use of non-skid rubber also makes it easy to move around in a boat or any surface.
The handle is lengthy and ergonomically designed to ensure you move from one fishing spot to another without any discomfort.
Pros
Well-arranged and compact, allowing for easy access to fishing equipment  
Have several compartments thus allowing for proper organization
Sturdy, high-quality latches and comfortable handle
Comes with a rear pocket for additional storage space
The utility boxes in the main compartment are well-angled to allow for quick access
DuraView doors and covers ensure that you view various compartments without opening the box
Cons
The plastic could break if mishandled, especially on hard surfaces.
7. Yogayet Portable Outdoor Fishing Tackle Bag
The Yogayet Portable tackle bag

is made from high-quality 600D nylon fabrics that are not only high density but also water-resistant.
This tackle bag stands out primarily due to its several storage compartments as well as exterior pockets that allow for proper storage of fishing equipment.
The greatest challenge with most fishing tackle bags is low-quality zippers.
However, the Yogayet tackle bag

uses YKK zippers, which are industry standard, meaning you won't have to worry about replacing zippers.
The YKK zippers are durable and resistant to harsh environmental conditions.
The buckles that hold your fishing equipment in place are made from durable, non-toxic ABS material.
The waist strap has a convenient length of 38.58 inches, while the shoulder straps can be adjusted to suit your shoulder-arm length.  
This tackle bag comes with two side pockets, a single front pocket, and a large main compartment.
The shoulder pads are lengthened to reduce shoulder fatigue.
Pros
Water-resistant
Made from high-density and long-lasting 600D nylon fabrics
The zippers are high quality and built-to-last
Comes with a waist and shoulder strap to ensure a comfortable fit
The buckle is made from high-quality and eco-friendly ABS material
Comes in different colors such as green, camo and khaki to suit your unique preferences
Cons
Not spacious enough compared to large-sized tackle boxes
8. CatchMeister Double Layer Hard Plastic Fishing Tackle Box
This tackle box by CatchMeister

is ideal for carrying fishing essentials from one spot to another.
While not the largest storage for anglers, it is compact enough to allow for increased mobility.
It measures 7.8x 4.2×1.8 inches, meaning it can easily fit into a larger tackle bag.  
Surf fishing means you'll be casting in saltwater, exactly why you need a corrosion and rust-resistant tackle box.
CatchMeister manufactured this tackle box to last and survive extreme beach and salty conditions thanks to its double-layered design and use of heavy-duty plastic.
Another amazing feature of this tackle box is its easily-changeable modular compartments that allow you to organize your tackle.
The package comes with several lures such as frog baits, crankbaits, fish baits, popper bait, jig heads, three copper sinkers, 10 line stoppers, and five stainless steel fishing leaders

with a connector and a swivel.
You also get 30 fishing hooks in different sizes, making this tackle box ideal for immediate fishing.
Pros
Comes with a compact case
Ideal for organizing and placing lures, fishing hooks, and other fishing tools
Made from high quality, double-layered plastic
Joint locks are made from stainless steel to prevent rust and ensure longevity
Comes packed with fishing rig accessories
Compartments can be altered to suit your fishing preferences
Cons
Not enough space to store large-sized fishing tools
9. Magreel Tea-Colored Waterproof Fishing Tackle Box
This Magreel Tea-Colored tackle box

comes with a sealed lid whose joint seal ring ensures it remains 100% waterproof, thus keeping your hooks, lures, and fishing accessories dry.
In addition to the watertight lid, this convenient tackle box boasts high-quality Cam-Action latches that are sturdy enough to safeguard your tackle for years.
Each tray comes with a latch, which helps to prevent the contents from mixing up.
Another great feature is the use of a tea-colored but transparent plastic to block sunlight and ensure that your lures remain in pristine condition.
The transparent design increases visibility, thus giving you quick access to your equipment.
The Magreel Fishing tackle box also comes with flexible dividers that allow you to customize your storage space.
You also get enough space to work with as the box measures 14×8.7×2.2 inches, making it ideal for storing your various fishing equipment.
Pros
Transparent design allows for easy identification of fishing tools
High-quality plastic prevents corrosion when used in saltwater
Flexible dividers increase organization and ease of access
The tea-color helps to sunproof the content, keeping lures fresh
Compact and waterproof
Cons
Not ideal for large-sized fishing tools
10. Berkley Sportsman's Pro Cart
The Berkley Sportsman's tackle box is ideal for surf fishing due to its large pivoting and well-positioned feet that prevent sinking in sand or soft dirt.
This bad boy is strong enough to accommodate equipment weighing up to 300 pounds.
In addition to the perfectly molded wheels that are durable and lightweight, this compact tackle box also comes with a telescopic handle that is firm enough to allow for smooth totting over sand and other surfaces.
All gear is protected from sunlight and other environmental elements by the box's aluminum frame that is corrosion resistant.
Its electrostatic finish and use of heavy-duty fabric will keep your box looking neat and new for long.  
With four easily removable rod holders strategically located on the sides, you'll find this tackle box to be highly convenient as you won't have to carry the rods yourself.
Besides being compact, the Berkley Sportsman's Pro Cart is versatile as it comes with a cutting board and an integrated seat that makes fishing for extended periods easy.
Pros
Made from a firm and highly durable plastic
The aluminum frame has an electrostatic finish that makes it corrosion resistant
Compact design allows for ease of transportation
Four easy-to-remove rod holders
Has large feet that pivot to allow for use in sand or soft dirt
Lightweight molded wheels allow for ease of movement
Cons
Doesn't have too many compartments for easy organization
Factors to Consider When Buying the Best Tackle Box for Surf Fishing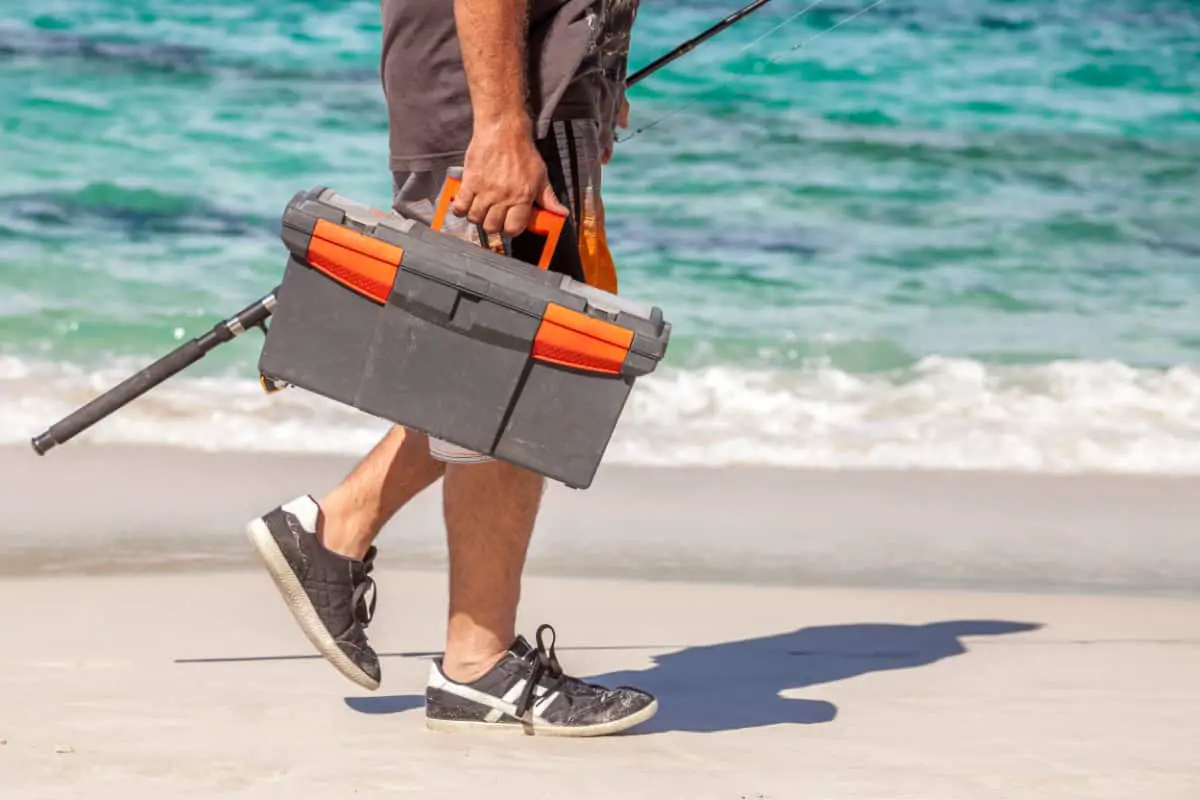 Size of the Storage Compartments
When selecting a tackle box, you should take the time to consider your storage needs. The best tackle box will have enough storage space to allow for proper organization.
You can choose a large box that'll accommodate all your fishing gear or select a small-sized one for the lures, baits, hooks, and other small equipment.
Consider how you get to your preferred fishing spot when selecting a particular size. If you are a first-timer, it is advisable to start with a small-to-medium-sized tackle box.
On the other hand, experts and avid fishers might require large-sized tackle boxes to accommodate their various fishing items.
Organization of the Main and Minor Compartments
Experienced anglers will agree that organization is key to enjoyable and productive fishing.
The last thing you want is to spend most of your afternoon searching for fishing gear in different pockets and compartments instead of fishing.
Due to this, it is advisable to go for storage boxes that are well organized with easy-to-access compartments.
New releases come with customizable compartments that allow you to arrange the tackle box according to your preferences.
While not a necessary feature, it can go a long way in helping you stay organized when fishing on the shores.
Material Used in Tackle Box Construction
Initially, most tackle boxes were made primarily from plastic or metal. In recent years, however, producers have shifted towards the use of both hard and soft materials.
Hard tackle boxes are ideal for professional angling as they tend to last long due to the use of wear-resistant molded plastic.
For surf fishing, it is advisable to avoid using metal tackle boxes as they're likely to rust and weaken over time due to salty conditions.
However, for recreational surf fishing, soft backpacks, and sling bags can come in handy due to their ease of use and maneuverability.
Point to note, though, when using soft materials, be sure they are made from waterproof polyester or heavy-duty nylon.
Trays and Compartments
Besides assessing the size of the tackle box, you'll also need to check on the number of trays and compartments present in your preferred option.
The best tackle box will have enough trays and compartments to allow for proper organization and ease of access.
If you are an experienced angler, then you'll need several compartments to accommodate your hooks, lures, and baits without mixing them up.
Check for features such as sliding drawers and folding trays when buying tackle boxes as they increase usability.
You should also be on the lookout for additional spaces, especially when buying hard tackle boxes.
Always check if the box can accommodate the larger fishing items like spools and reels if you want a large-sized option.
Portability
You'll also need to consider the ease of moving your tackle box around before settling for a particular option.
If you want a large, extra-hard tackle box, be sure to check features such as handles and rollers.
The best options usually have ergonomic handles that are friendly to the hands.
Choose rollers made from molded plastic as they are more durable and likely to resist wear and tear over an extended period.
If you prefer a tackle bag to a storage box, select an extra padded option to provide additional comfort to your shoulders, especially when carrying a heavy tackle.
Extra Features
Newly released tackle boxes come with additional features that make surf fishing a breeze.
For instance, you can select boxes made from transparent plastic to help increase access to tackle.
Also, check on features such as water and sun proofing as you'll need to keep your fishing gear safe if you're going to use them.
Check for extra storage space, especially on the sides and top compartments, as they tend to come in handy for storing easy-access items.
If you choose the hard tackle boxes, check on the latches to ensure they are firm.
For bags, it is advisable to purchase high-quality options with YKK zippers that won't rust easily or fail when exposed to extreme elements.
Always go for tackle boxes that are large enough to meet your fishing needs but also convenient enough to make your surf fishing enjoyable.
Features such as rollers and extended handles can help you out when surf fishing, especially if you intend to move from one spot to another.
Final Takeaway
With several tackle boxes in the market, finding the best option for surf fishing can be challenging, especially for first-timers.
But provided you understand your surf fishing needs such as size, compartments, storage options, and ease of access, you can easily choose a box that'll serve you for a long time.
The above-reviewed products are among the best in the market, and will certainly help you organize your tackle for a smooth surf fishing experience.
Remember, when fishing on saltwater, you'll need a high-quality, corrosion-resistant tackle box to keep your fishing and personal equipment safe.
Therefore, be sure to check on whether your preferred tackle box is waterproof. A sunproof box will also come in handy in keeping your lure and bait fresh, thus allowing for a convincing presentation.