As an Amazon Associate we earn from qualifying purchases made on our website. If you make a purchase through links from this website, we may get a small share of the sale from Amazon and other similar affiliate programs. You can read our complete
legal information
for more details.
Heading out onto the water is one of my favorite pastimes. So, I am always looking for new gear to give me the best chance of landing a big fish. The heavy-duty nature of this saltwater spinning reel drew my attention to the Daiwa Saltiga Spinning Reel.
 It is made to handle the hardest fighting fish in the sea. With its amazing durability and improved features, this reel impressed me. But will it be right for you? Here's what you need to know.
If you are looking for that perfect deep water, big fish reel, the Daiwa Saltiga Spinning Reel is a favorite and highly recommended by many anglers.  Daiwa has been producing this reel since 2002. Over the last 20 years, they have made a lot of changes and improvements to it. 
There are a few big advantages to purchasing this product. This includes:
5 years warranty and service
Suitable for deep offshore use.
Capable of handling saltwater environments without corrosion
Lightweight yet powerful
Long cast ability
However, a few downsides are associated with using this product. They include:
It might be too heavy for light tackle-style fishing
Can be expensive
The knob can be a little slick when wet
If you purchase this product, you will get the reel itself. You will also get a five-year extended warranty to cover any potential damages.
Daiwa Saltiga Spinning Reel Magseal Features
Drag System And Gears
The Daiwa Saltiga is on my favorite list for many reasons. As an avid angler, I have tried many products and always keep this one on a rod. One of the best features I have found about this reel is the ATD drag system. 
This drag system uses a low-viscosity grease that improves after the initial hook-up and activation. As a result, you will receive a smooth drag from the initial hook-up every time.
The new Daiwa Saltiga also features a large diameter gear drive, substantially improving the previous model, the Saltiga 15. There are a few reasons why I liked this approach. 
First, it will be more durable, allowing for more wear and tear. The increased thickness allows it to take more pressure, so I don't need to worry about getting bent out of shape as I am battling a big fish.
This video goes into more detail about how this feature has been improved since previous models:
Monocoque Body
The monocoque body has been a great improvement for this reel as well. This body design has made this reel more water-tight, stopping water from getting inside and rusting the gears and guts of the reel. 
This body design has also eliminated the need for screws to hold the body plates together. This allows more room to install a larger drive gear for a quicker return time.
This video explains more about this technology and why it is so important:
Casting Distance
Another great feature I found with Saltiga is the long cast ability. Often with larger reels, the distance just isn't there when casting. Daiwa has made this reel lightweight and modified its shape. 
These design features have allowed for a longer casting distance. This is a great feature when working a school of fish busting bait on the surface.
These combined features have moved the Saltiga to the top of my preferred reel list. I enjoy the lighter weight of the reel, as some comparable-sized reels can be a bit heavier to hold on to.
The casting distance has made this my go-to for working schools of fish feeding on the surface. I can keep a larger distance and not spook the fish. The drag system improvements have made this a much smoother drag.
Daiwa Saltiga Bay Jigging
This was one of Daiwa's first saltwater edition reels. It is legendary in design and has a smaller reel than the Saltiga. Despite being the smaller version, it still has many of the same amazing features as the Saltiga and is still a mag-sealed aluminum body.
The Saltiga Bay has a one-piece aluminum body with 13 ball bearings to keep the reel smooth and lightweight. 
The brass gear inside is large enough to create a smooth use while being corrosion-resistant. 
The nanofluid inside used for lubrication is cutting edge to change shape and direction with magnetic force.
This reel is designed for offshore and nearshore fishing and jigging. It is smaller than its predecessor, the Saltiga, so it will be great for lighter applications. However, this reel is still not a light tackle setup and may be too big or heavy.
Things To Consider Before Buying A Spinning Reel
Though a few types of reels are available, spinning reels are the most popular. Fishermen love them because of how easy they are to use. Furthermore, they are versatile, allowing them to be used in various conditions. 
Even better, they are easy to use, which makes them a great choice for beginner fishermen. More experienced fishermen might like the baitcaster. While a little is more complex, it will give you more control over the line.
However, there is a wide range of reels on the market. So, how can you ensure you are getting a good model? There are a few things you should be looking for.
First, you will need to consider the type of line. The manufacturer will tell you how much force it can hold. When considering this aspect, consider the species you intend to target and whether the line will be heavy enough.
Next, you will need to consider their weight, especially in relation to how much your rod will weigh. For example, if too light, the rod will become top-heavy. This can make it hard to deliver an effective cast.
Lastly, you will need to think about the materials. This will affect how durable the rod will be. Ideally, it will be able to made from materials that are resistant to corrosion. 
Furthermore, solid construction will allow you to reel in the line smoothly, which is vital when fighting a fish.
Social Proof
I'm not the only person who was impressed by this reel. Customer testimonials reveal that other people were happy with this product as well. Here are a few reviews from verified customers on tackledirect.com

:
Tim said, "This reel is super smooth, looks sexy, nice and light, feels great, and has tons of power. This is my first high-end reel. I have always purchased reels in the $250 range. 

They always work well, but they never last, and I need something to handle bigger fish for offshore fishing. I spooled it with a 55-pound Daiwa Saltiga boat braid, and I have around 500 yards on with a backer. 
Will be able to catch anything offshore around NJ and NY. I let my buddy use it to reel in a 70lbs yellowfin, and he couldn't stop saying how smooth it was and how powerful it was."
Albalissa said, "Paired mine with a Thrasher Elite spinning rod, great for big tuna! The finish is incredible, and everyone on the boat always stops by to admire it."
A third customer, Travis, said, "All I can say is WOW! A solid, incredibly built reel. So smooth and powerful that you could pull a car off the ocean floor. Not to mention how good-looking it is. I purchased a 14K also and have them paired on Zenaq Tobizo rods! I would say go for it if you are in the market and on the fence!"
Alternative Options
While Daiwa is not the only brand, Saltiga or Saltiga Bay are not the only options on the market for offshore saltwater fishing. Here are a couple of others you can choose from as a backup if the Daiwa breaks.
The Okuma Makaira Spinning Reel

is another popular saltwater spinning reel on the market. I have used this reel and like the performance. It is styled slightly differently than the Daiwa.
 It still has many of the same style features, such as the hydro seal to keep it water resistant, cutting down on corrosion on the inside. Rather than using brass gears, it uses stainless steel gears.
This is a nice reel, but it doesn't replace the Saltiga, for me, even with the lower price point. It is not as lightweight as the Daiwa and can be awkward to hold in my hands. 
It does have the dual anti-reverse that handles more pulling pressure when fighting big fish.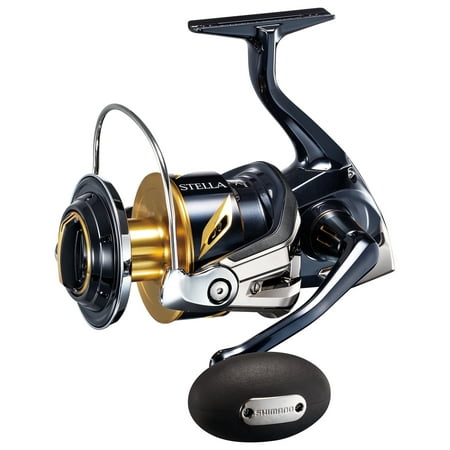 The Shimano Stella SW C Spinning Reel

is very popular amongst anglers. It is produced in larger offshore sizes down to lighter tackle sizes. After several hours of research, I've found it to be a nice reel. 
It is lightweight, water resistant, and has heatsink technology. I keep one of these on hand as a backup.
The heatsink technology allows the spool to remain cooler even during heavy drag loads. This keeps from damaging the line.
The silent drag is so smooth, even under the heaviest loads. The one-piece body is great, too. The shape of this body is less awkward than others.
Conclusion
After countless hours of researching the best saltwater spinning reels

, my favorites are the Daiwa Saltiga, Okuma Makaira, and Shimano SW C Spinning Reels. They are versatile for my style of fishing offshore and nearshore. You can catch all kinds of fish on these two reels.
I recommend these reels used with their name-matched rods. The Daiwa Saltiga is hands down my preferred big fish reel. 
 If the Daiwa Saltiga is not the spinning reel you want, check out my review on the Okuma Makaira Spinning Reels and Shimano Stella SW C Spinning Reel.
These are the top 3 spinning reels for saltwater on the market, so check them out.