As an Amazon Associate we earn from qualifying purchases made on our website. If you make a purchase through links from this website, we may get a small share of the sale from Amazon and other similar affiliate programs. You can read our complete
legal information
for more details.
The reel is the heart of any fishing tackle set.
So choosing the right one can make or break your fishing performance. But with so many different products on the market that we have today, it may be tough to pick the right one.
After all, sometimes the best saltwater surf fishing reel can be a matter of personal choice and individual feel.
I had to try a lot of different fishing reels before I was able to find the right one that feels just right.
I will also present to you two of the best surf fishing reels for saltwater that I have used. Seawater is also an essential factor so that I will elaborate on that and a few more things.
What I Look For When Buying a Saltwater Surf Fishing Reel
The right surf fishing reel needs not only to be durable and able to handle the saltwater but also provide great comfort and ease of use. Saltwater fishing usually requires reels of higher quality.
To pick the best reel for you, first, you have to find the answer to a few questions like; What species of fish you will be after? Are you going to fish in saltwater or freshwater? What are the weather situations where you are located and more:
Here is a shortlist of some of the essential features of any fishing reel.
The Drag – The right amount of drag is going to be an individual thing. Not many people need more than 25 or 30-pounds of drag.
The Weight – A lightweight fishing reel is normally what you want. Heavier reels can cause a lot of hand fatigue if you like to fish for longer.
Is the spool braid-ready? – Braided lines are top-rated. However, not all spools are braid-ready, which means that you may need to use a backing of monoline or some tape before spooling the braided line. That is why some anglers prefer to have a braid-ready reel.
Gear Ratios – The gear ratio signifies how much times does the spool turn for each revolution of the handle. Usually, a lower gear ratio allows for more control and power.
The bearings – The quality of the bearings will determine how well the whole reel works and feels. Good quality bearings are a must.
Line capacity – The line capacity you may need will depend on where you will fish, and the measurement and species of the fish.
The handle – The handle may be often overlooked aspect of the reel, but it needs to be sturdy and provide a decent grip.
For surf fishing you generally need:
A sturdy reel that corrosion-resistant that causes by saltwater
That has the right amount of drag to better stand up to smaller and more significant sized of fish alike.
With a solid body and has a good handle grip.
And last but not least, it needs to have enough line capacity to accommodate the fishing line you have.
The KastKing Sharky Baitfeeder III Spinning Reel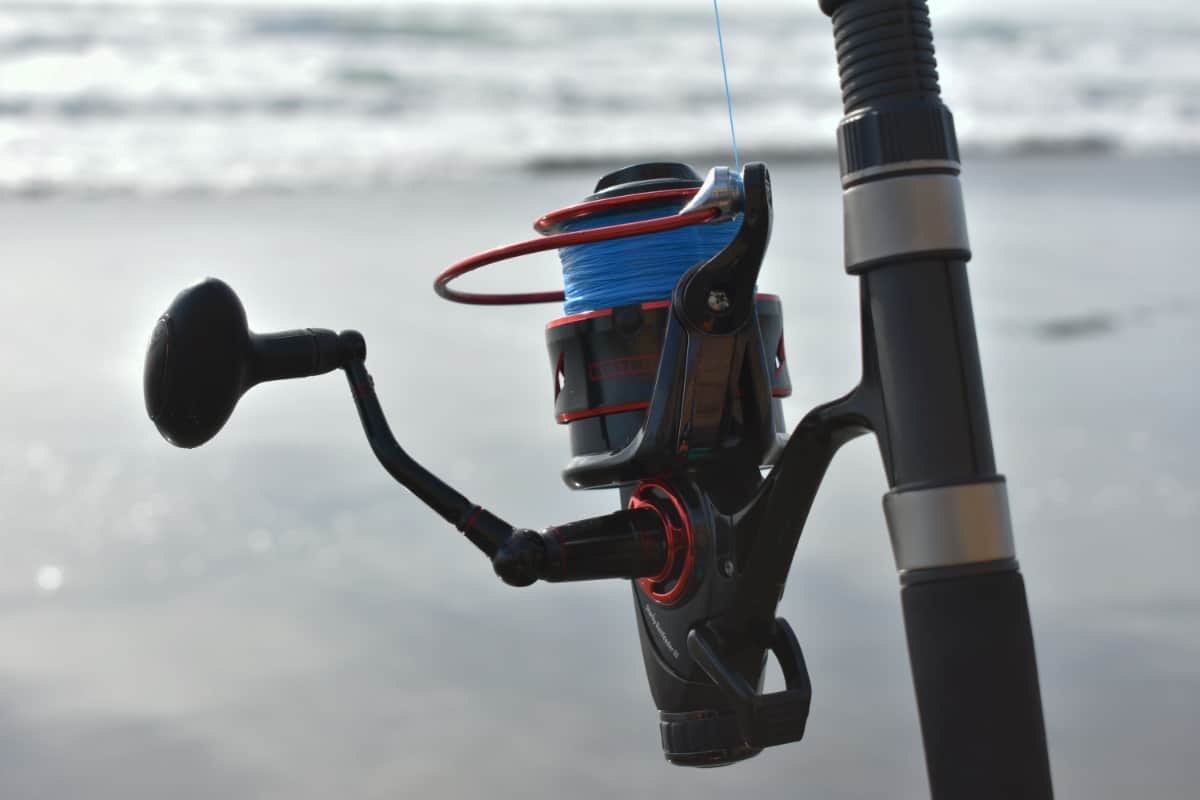 The Kast King Sharky Baitfeeder III

comes in a few sizes, so it is guaranteed to meet your particular needs.
It aims to provide you with smooth fishing experience. KastKing wants to provide one high-quality and all-around spinning reel that will meet everyone's expectations.
PROS:
Lightweight.
Low-gear ratio
It can be used for both saltwater and freshwater angling.
Interchangeable left and right handled.
CONS:
The stem of the reel tends to flex under more stress.
Features of the KastKing Sharky Baitfeeder III
This reel from KastKing

is performing really well in all aspects. It reels smoothly, and the sound of the bait feeder is always music to my ears.
First, let me start by mentioning that this is a spinning reel, which means that it is suitable for both beginners and more experienced anglers. It is easy to use, and it casts really well.
It can be used for both freshwater and saltwater fishing. It is a very versatile reel that will not limit you in any way.
What I like about this model is that KastKing sends it with an extra spool. This is very convenient, especially if you want to have another spool with a stronger line. You can also have one spool with mono line and one with braided line.
Or if it happens to get cut off by some fish while reeling it back in you can quickly swap with your backup reel and get right into the action again without losing any valuable time.
1. The Weight
If you are planning on fishing for many hours, the weight of the fishing reel will matter. And the weight should never be underestimated.
The Sharky Baitfeeder III

is a very lightweight spinning reel which will allow you to cast effortlessly.
Even the biggest Sharky III model, which is the 6000 size, is coming at just 16.1 oz.
2. The Drag System
I especially like how good the drag feels on the Sharky Baitfeeder III

.
It comes with a carbon fiber drag, which is the way to go if you are looking for more fighting power and an overall spinning reel that packs a little bit more of a punch.
Because of the exceptional performance, the carbon fiber gives this reel a maximum drag of 26.5 lbs for the 4000, 5000, and the 6000 sized models.
3. The Spool 
Both braided and mono fishing lines will place stress on the spool of the reel. 
The reel on the KastKing Baitfeeder III

is from CNC aluminum. Aluminum is a better option than plastic (or graphite) as it doesn't crack.
Compared to aluminum graphite can break under the pressure od the fishing lines.
Also since this reel is braid-ready, this means you can use it with both mono and braided lines.
Something a lot of you fellow anglers will enjoy is the bait feeder. It is very audible and easy to hear. This is good even for night fishing as it will allow you to know that something is happening quickly.
Another upside to the KastKing reel is that it comes with an extra spool, which is a great value and allows you to have an extra reel as a backup or a whole different setup.
I want to point out that spool sizes vary from company to company. So always keep that in mind when buying your next fishing reel.
4. Anti-Reverse
The Sharky Baitfeeder III

comes with 10 + 1 shielded stainless steel ball bearings which means two things:
Improved and very smooth retrieving of the line while fighting the fish.
And also that the reel comes with an anti-reverse feature.
A lot of anglers wouldn't use the anti-reverse when surf fishing and fishing for bigger fish, nonetheless it is a neat little feature to have.
The anti-reverse may come in handy if for some reason the drag gets sticky or you want some extra control over the pressure you exert on the fish when reeling it back in.
5. Gear Ratio and IPT Ratings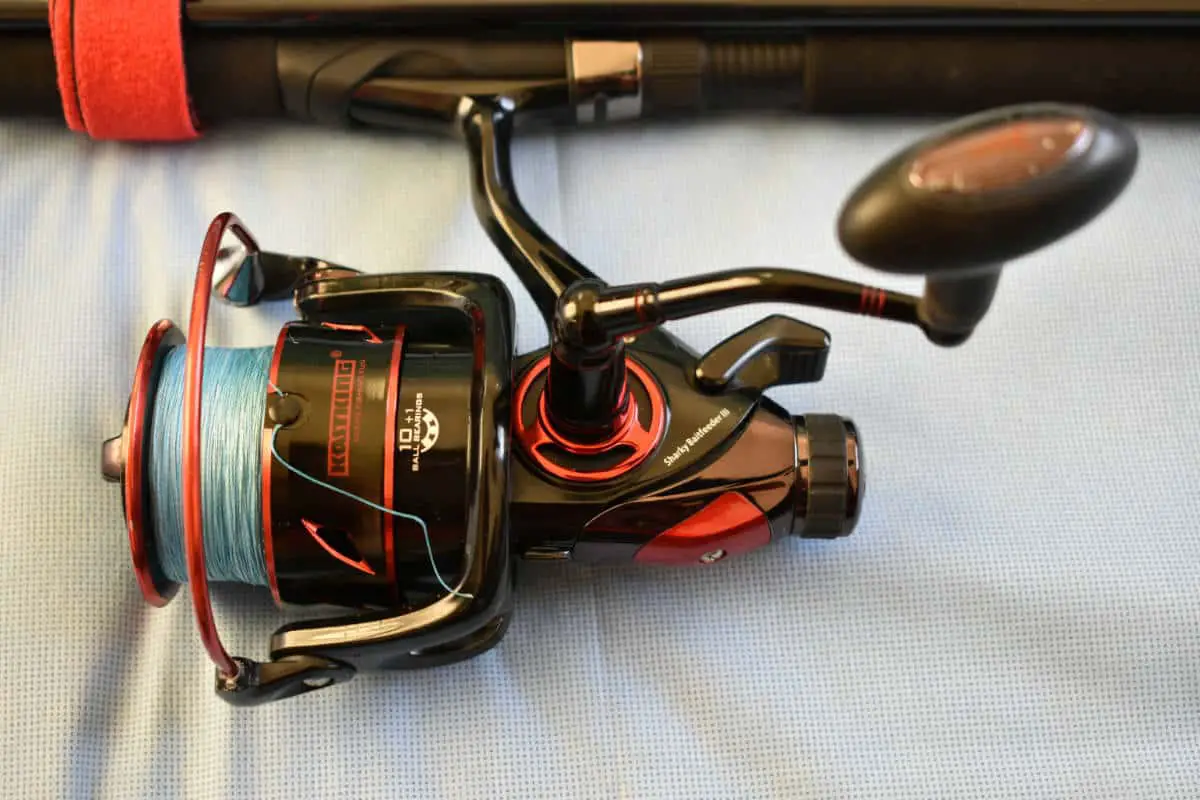 The gear ratio and the inches per turn (IPT) are other essential factors for any angler. Especially when considering surf fishing and having to reel in a big fish.
Or whenever there is a bigger resistance at play.
Usually, the lower gear ratio is preferred.
The Sharky Baitfeeder III 6000

comes with a 5.5:1 gear ratio. It is pretty good and very suitable for surf fishing. This kind of gear ratio will allow your baits to reach the maximum depth when cast.
And a spinning reel

with a slower gear ratio is more suitable for big and heavy baits.
You also can expect to have a better feel for what is happening with your lures.
6. The Handle
The Sharky Baitfeeder III

comes with a T-grip aluminum handle. The T-handle is usually more comfortable and preferred by most anglers as it allows for better grip
While you are surf fishing, you want a handle that offers the best grip possible since your hands will most of the time, be wet and slippery.
Click here

for more information and current price on Amazon.
Tsunami Shield Saltwater Sealed Spinning Reel: My Plugging Reel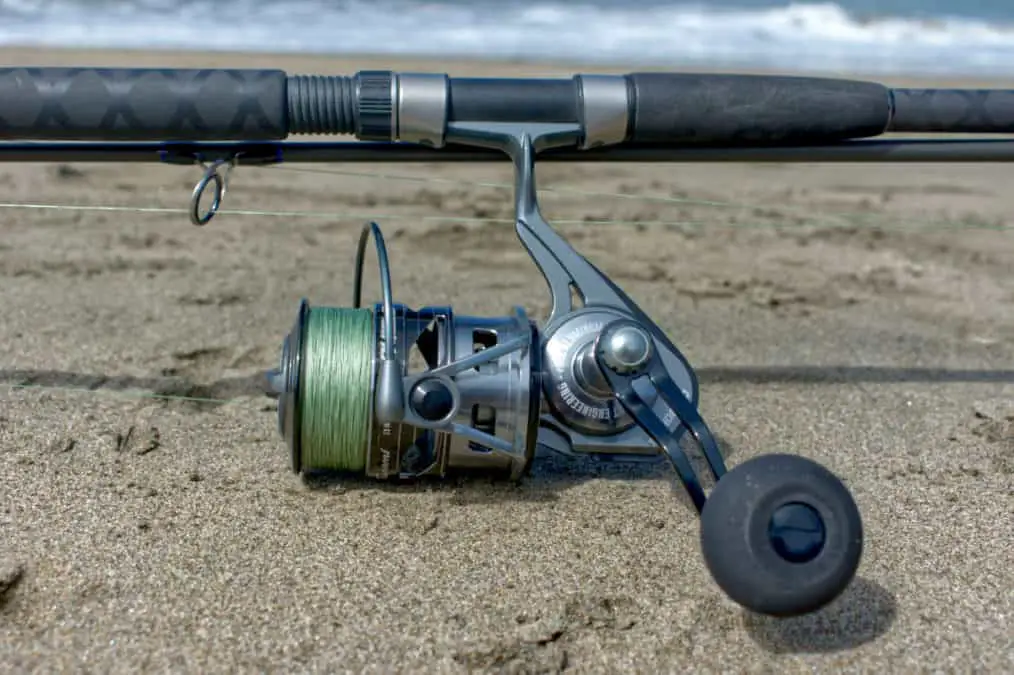 Tsunami has proven that they can make superb fishing gear and equipment. They have been producing a lot of excellent fishing rods.
This spinning reel

from Tsunami aims to please all anglers both beginners and more advanced that like to surf fish.
This reel is ideal for anyone that is looking for a versatile spinning reel with a big reel size that offers excellent sealing features, and high drag.
PROS:
Metal body.
Smooth reeling.
A large number of internal seals
Four plus one stainless steel ball bearings
Slow gear ratio.
CONS:
Features of the Tsunami Shield Spinning Reel:
One of the features that will make the Tsunami Shield spinning reel

stand out from the rest is the sealing. That, of course, doesn't make it a submersible reel but it adds some safety and versatility to it. It can be used for freshwater and saltwater alike.
The body is all metal – which is something that we don't always see nowadays, especially at this price point. It feels solid, and it is screw-less, which helps to keep the water out the internal parts.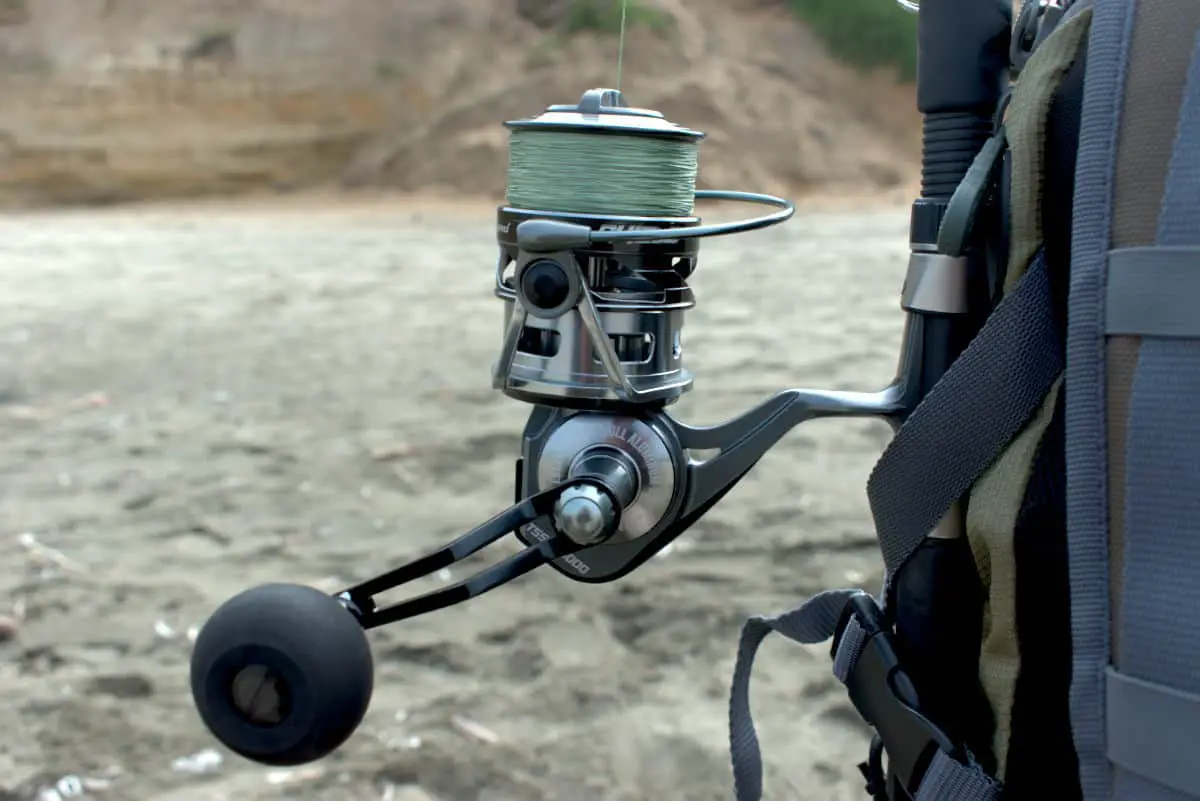 The reel weight at 16.5 oz which is a decent weight for a 6000 sized spinning reel.
1. The Drag System
It comes with an excellent carbon fiber drag system that will provide you with 30 lbs of drag. Which is HUGE. Most people will not need more than 30 pounds of drag. Even for surf fishing, most anglers will go with lighter lines (say 20 or 30-pound lines).
So this reel is not going to cap you in any way.
Let's take a look at the following: The rule of thumb is to have the drag at about 25% of the line's breaking strength. So with 30 lbs of drag, we can go with as strong as 120-pound fishing lines.
Not bad for such a small fishing reel, right?
2. The Handle
The reel comes with an oval handle with a big foam grip. For some reason, I like how big it is. It has a good solid grip.
You can also switch the handle from right to left if you need.
3. The Gear Ratio
Something I like about the Tsunami Shield 6000

is the gear ratio.
It comes with a slow gear ratio of 4.9:1 (a bit slower than the KastKing Baitfeeder III

), which means that the spool will make 4.9 revolutions for every single turn of the handle.
A slower gear ratio like this is perfect for deep crankbaits and other baits that may pull harder like deep water spinnerbaits.
A slower gear ratio is compelling and has more torque to it. Generally, you will find it easier to reel the fish back that way.
4. The Size of the Reel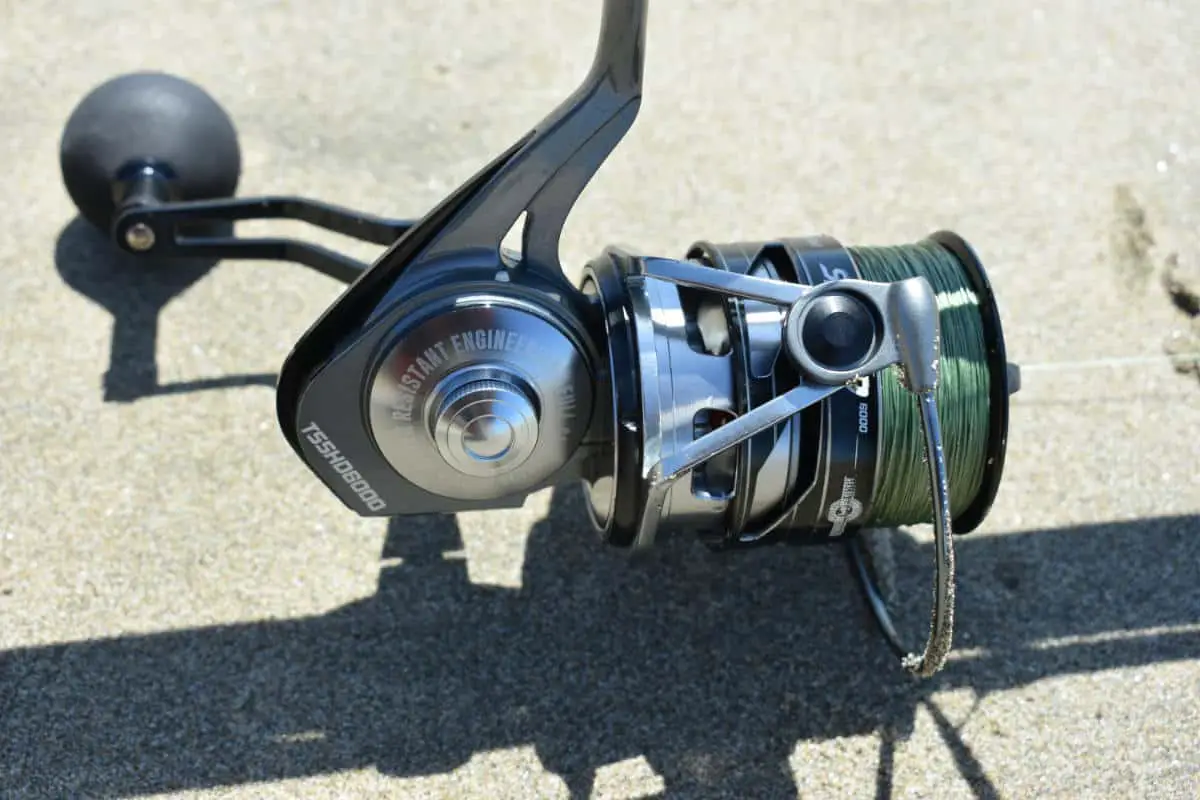 This is a 6000 sized fishing reel.
This is a larger fishing reel that can be used for surf fishing, rock fishing

, and boat fishing too. It will allow you to go for some of the heavier and bigger fish species out there.
The line and the reel size should always be paired correctly. Otherwise, your casting range may suffer.
Click here

for more information and current price on Amazon.
Final Words on Choosing the Best Surf Fishing Reel
Choosing the right spinning reel for surf fishing is not an easy task.
A lot of times, it may be up to personal preference and individual feel. However, it is necessary to be able to make a well-educated decision beforehand.
A good spinning reel

that reels smoothly and fluidly is part of the ultimate fishing experience and one of the things that are worth the money invested in them.