As an Amazon Associate we earn from qualifying purchases made on our website. If you make a purchase through links from this website, we may get a small share of the sale from Amazon and other similar affiliate programs. You can read our complete
legal information
for more details.
You're on an adventure, and you want to record every second of it without the hassle of your battery dying, causing you to miss something important. We understand that, so I have the solution you need to record all day without changing your battery.
To be able to record using your GoPro hero 7 and 8 all day long, you'll be going to need an X-PWR-H8 and H7 from the 3BR Powersports kit and a power bank. This kit allows you to charge continuous power to your Hero 7 and 8 Black in any weather conditions, and also will keep your camera safe and powered up for long periods.
When you go on your next fishing adventure, you want your GoPro to record every second of the action. By reading on, you can learn everything you need to about recording with your GoPro all day long without changing your battery and tips for making your battery lasts as long as possible.
How to Use GoPro Hero 7 and 8 and Record All Day Long in Any Weather Conditions?
GoPro cameras aren't well-known for having great battery life. As the new generations have been released, the battery life has increased over time.
The good news is that even though the battery life isn't particularly good, you have some options to make this battery life last longer as you enjoy your fishing adventure.
The Equipments
Knowing the equipment that you need to optimize your setup can ensure that you have exactly what you need for your next fishing trip. This equipment includes:
GoPro Camera (Hero 7 or 8)
Powerbank
SD Card
Chest Mount
Mic Adapter
Mic
3BR All-Weather Charging Housing Kit
Female USB 3.0 to Male USB-c 3.1
Another USB-C 3.1 female
GoPro Camera (Hero 7 or 8)
The first part of this to address is whether you want a Hero 7 or Hero 8 if you don't already have one.
Whether you already have a 7 and unsure if you want to upgrade or just know which one you want to invest in, this section will take a brief look at these options.
The 8 has a very different design from the GoPro's previous generations, which not only makes it smaller but also makes it easier to change the memory card or batteries out without removing it from its mount.
Hero 8 also has better stabilization. Aside from these differences, they are pretty comparable options that you will be happy with.
Powerbank
You may be surprised at the various options you have here. You could choose an external power bank, an ideal option for most users, or you could even tap into your boat's battery to power your GoPro.
While these are both great options to consider, you may be better off with the power bank.
You can get a power bank which can have a 26,800 AH and could power your camera for potentially 24 hours.
You could get options that have 13,000 AH, which can give you about 8-10 hours of power.
This all depends on what your specific needs are. These long-lasting batteries will only be as strong as the memory card that you're using, so keep that in mind.
SD Card
Your camera is only as good as your SD card. You can have all of the battery life in the world, but you won't get very far if you have to change your SD card constantly.
A faster SD card is great because it can better keep up with the features of your camera.
The problem is that not every SD card is going to work for your GoPro, so you want to make sure that you do your research to pick an option that can keep up with your GoPro needs.
Once you do, you just need to format the SD for your GoPro, and you can get to enjoy your camera.
Chest Mount
The chest mount gives you a convenient, hands-free option that allows you to record while you are fishing.
It won't get into your way, and you can just worry about relaxing, fishing, and having fun.
There are officially licensed options like the chesty, or you could buy an alternative that you think will better suit your needs.
Mic Adapter
Before you can attach an external microphone to your GoPro, you need to be sure that you get a mic adapter.
While the earlier generations of GoPros had audio input ports, the newer models lack this feature, so you are unable just to plug one into your camera directly.
For Hero 8, you could either select a Media Mod or the 3.5mm mic adapter.
The Media Mod wraps around the camera and offers a convenient solution, but these can be more difficult to obtain.
A 3.5mm mic adapter is an affordable option that is very easy to use.
For Hero 7, you need a different adapter to use with the USB-C port and a 3.5mm adapter.
Mic
All GoPro cameras have built-in microphones, but waterproof casings can negatively impact these.
These internal microphones have less than stellar audio quality as well.
If recording audio is that important to you, investing in an external microphone can be a good idea.
However, you do need to pick a good mic for your specific needs.
Some mics are better for recording voices, while others are better for recording background noises or music.
Best All-Weather Charging Housing Kit For GoPro Hero 7 And 8
There are plenty of options for these housing kits, but the X~PWR~H8

and X-PWR H7 are by far the best options out there.
These kits are affordable and often easy to use. It's important to remember that there's a distinct difference between weatherproof and waterproof.
These cases are weatherproof, meaning that the internal part of the camera would be fine to use in bad weather conditions, but it cannot be fully submerged in water.
All-weather, External Power kit for GoPro HERO5, HERO6, and HERO7* Cameras
You can find various products that will help you achieve longer battery life. One option is an external product for the GoPro Hero 7, like the X~PWR-H7.
The problem with solutions like this one is that you run the risk of exposing the camera to the elements, which can be a major problem, especially when you are fishing.
This product is great because it's not as bulky as many other extended battery options.
With this approach, you will need to mode the casing to fit the product in, creating that airtight surface that you want to protect your GoPro.
This solution allows you to connect the product to an external source, creating a more compact and lasting solution for your long-term needs.
You can find the upgraded version for hero7 here

.
All-weather, External Power kit With Aluminum housing for GoPro HERO8 Black
The X~PWR~H8

is another all-weather external charging solution for the GoPro Hero 8.
The biggest difference between this one and the H5 is. The H5 requires the user to mod the case to fit the product, whereas this one comes with its frame.
This is another product that is all about weatherproofing the GoPro so that you can use an external power source without compromising your GoPro.
Other solutions leave the ports on your GoPro susceptible to water damage.
Two Ways to Set it Up
There are two approaches to this: with a mic adapter and without a mic adapter.
When you take the approach without using a mic adapter, you don't need to use the mic adapter or an additional USB and USB-C adapter. Just plug it in directly to your power bank, and you are good to go.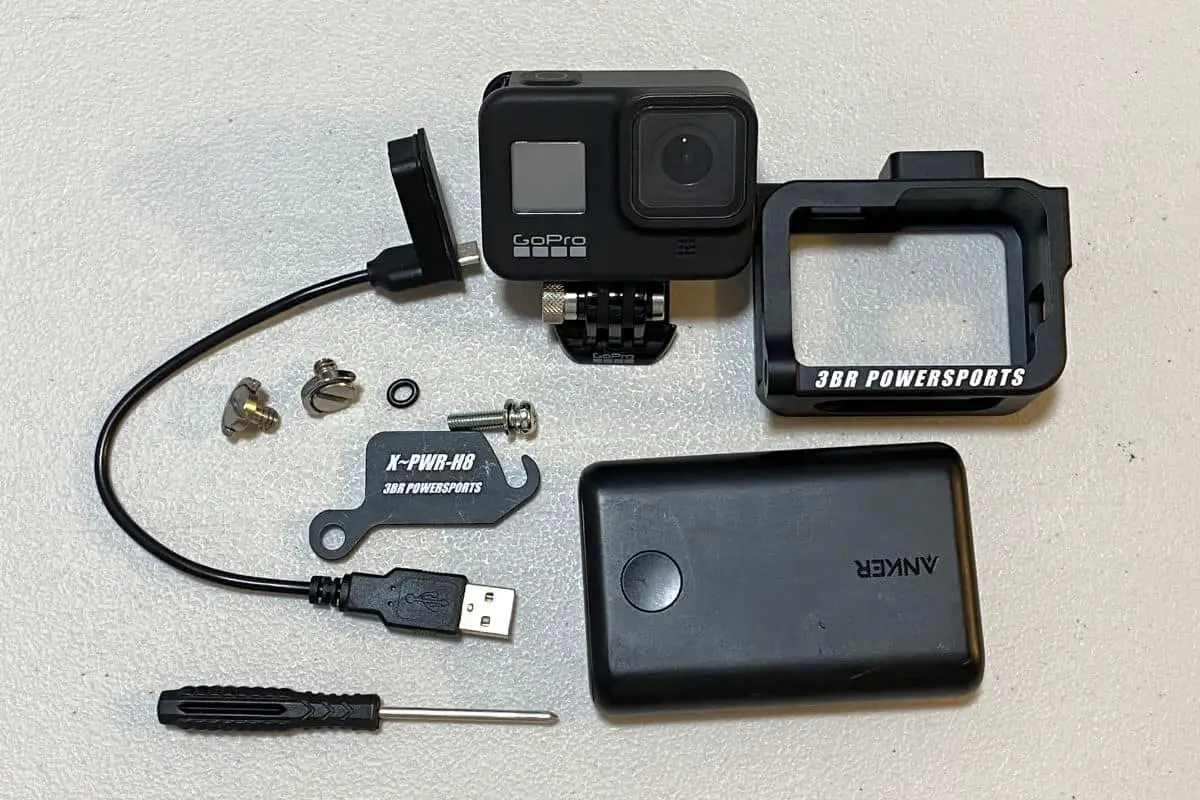 With Mic Adapter
If you want to use a mic adapter, you will be going to need a female USB 3.0 to male USB-C 3.1 (2x), and an additional female 3.1 USB-C to make the mic adapter work.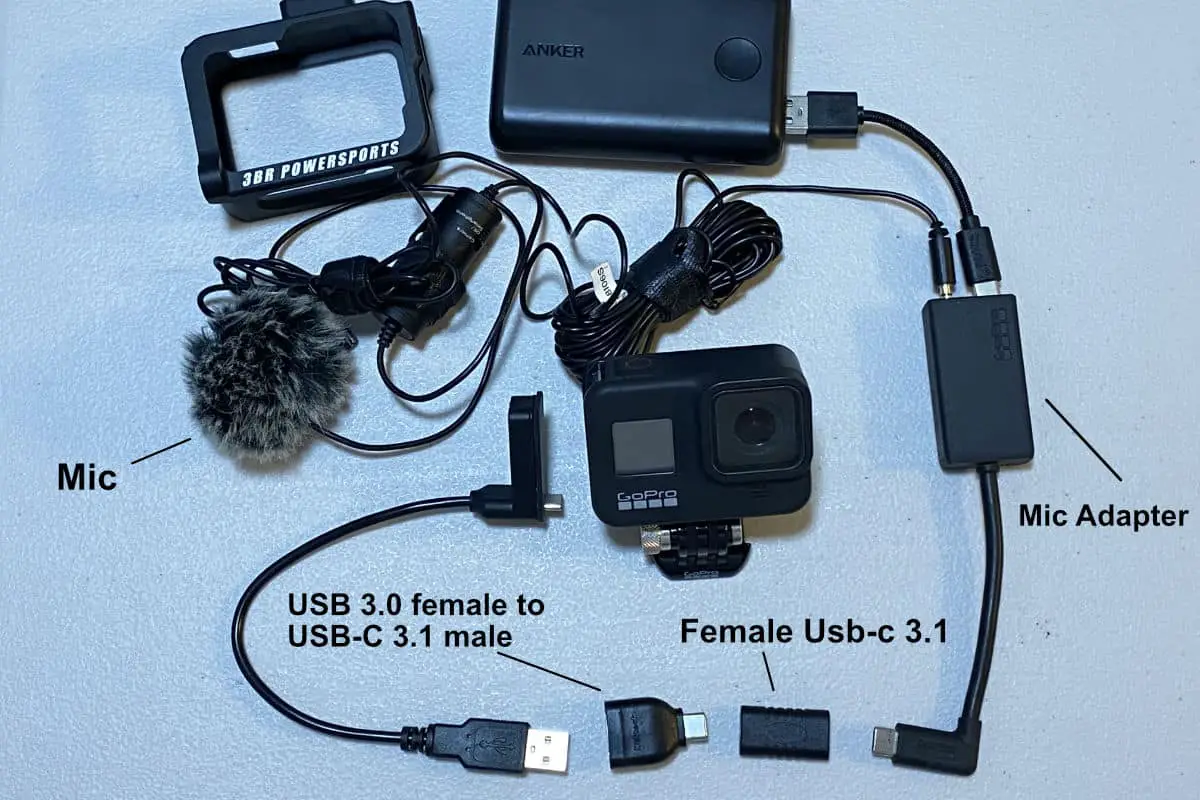 Once you find the right setup for your specific needs, find the right external power source to keep your GoPro running as long as possible.
With some setups, you can enjoy nearly 10 hours straight of filming. There are a few problems with some extended battery setups.
For one thing, they can be incredibly bulky, getting in the way of the activities you are trying to participate in.
Another major issue is that they plug into the USB port, which can leave your GoPro vulnerable to water and poor weather conditions.
Safety Tips: I would recommend removing the GoPro battery when using this setup. This is to avoid the battery from overheating while charging.
Guide and Tips To Record All Day
To record without having to charge, you need to be sure that you have batteries that are always ready to go.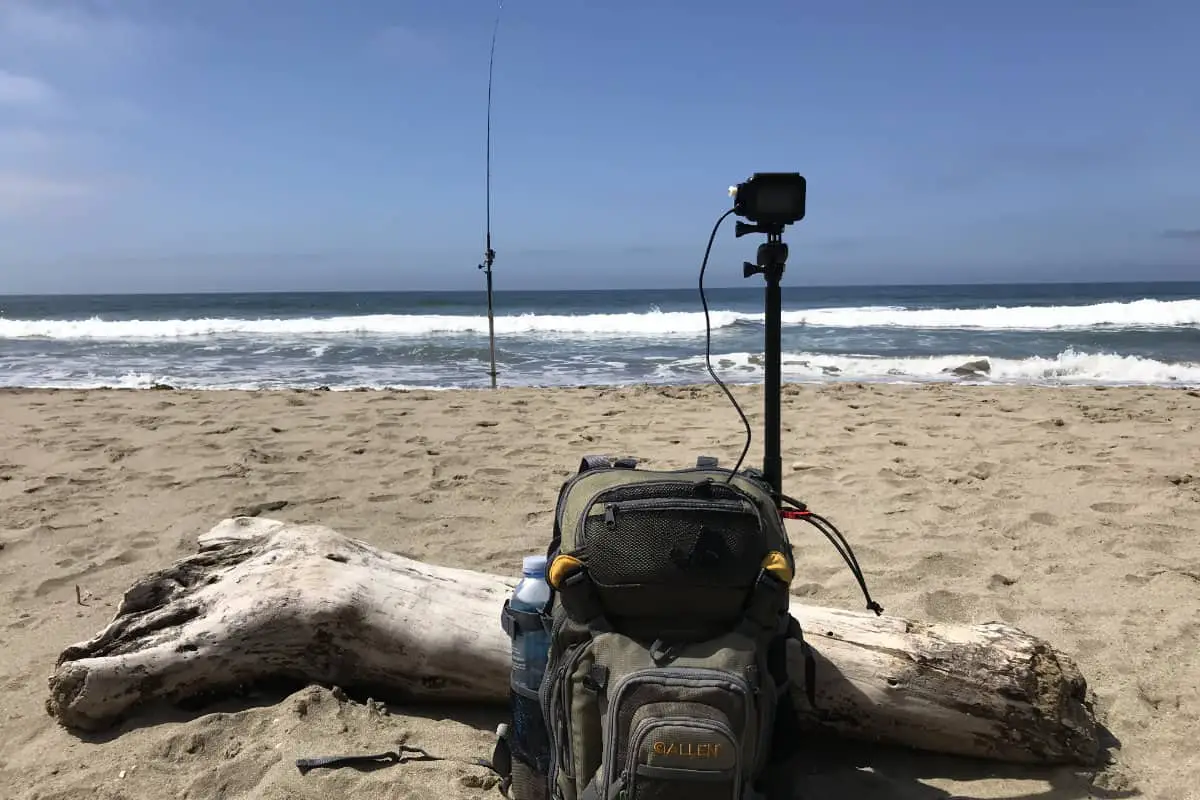 Or you can invest in power banks. When you decide to go the battery route, you will want to make sure that you have several batteries on hand that you can switch out.
However, the problem with this is that you may run out of charged batteries while you are surf fishing. That's where power banks come in.
Anker

produces some of the best power bank options, such as the 10000 or 20100.
These are small batteries that may offer an equivalent life of between 8 and 16 fully charged batteries.
Just remember that power banks like these do require access to the USB powers, which is why you need all-weather kits to keep your GoPro protected from the elements.
Looping Mode
Looping is an incredibly valuable feature that your GoPro is capable of, but it's not used as often as it should be.
Looping allows the video to be continuously captured while overwriting the beginning of your video.
This allows any new footage to be captured while also conserving space on your SD card. This can be a great tool when used properly. (GoPro

)
So how do you do this?
The first thing to address is when it's a good time to use this feature.
This feature is best used when you what to capture something of importance, but you're not sure exactly when it will happen.
For instance, in the case of fishing, you want to do this to capture your big catch.
Instead of having to stop the recording and chance missing this moment to clear up space on your SD card, you can use the looping feature instead.
You will have to keep a few things in mind. First of all, you have to consider your SD card.
The good news is that looping doesn't affect any other recordings on your SD card.
You are looping only writers over data from the same recording. But, it's still a good idea to have a fresh SD card when you are using it.
You want to have as much space as possible, which is why a fresh SD card is the best idea.
Next, you have to decide on the best interval option for your needs. Interval will determine an estimated length of video that you'll have after the recording has ended.
You can get looping in intervals minutes of 5, 20, 60, 120, and max when you are looping while fishing, you will want to go with a longer interval option.
Max isn't an interval in minutes, and rather this means that the camera will continue its recording until your SD card is nearly full.
If you do decide to go with the max interval option, you should format your card before your recording.
Chaptering is a feature that you may use to review your footage on the computer regularly.
Chaptering refers to the way that the GoPro splits long and continuous recordings into smaller files.
When you are looping, you should have 20 minutes of footage left after your recording.
The Video below from Outdoors In Maryland will explain how to set up looping mode for hero 7 and 8.
Video credit: Outdoors in Maryland

What are The Benefits of Looping Mode?
The benefits of looping are simple: you won't miss any action. Surf Fishing is an activity that requires a lot of patience on your behalf.
You can sit around for a long time before you get any catch, let alone that big catch that you can't wait to show off to others.
With looping, you can just let the camera do its thing until the big moment happens.
You are guaranteed not to miss that special moment by having to switch your SD card every so often.
Looping makes capturing fishing significantly easier, and you can just focus on that big catch.
Safety Precautions
The biggest precaution that you have to take is to ensure that you have the proper protection for your GoPro.
Using power banks leave your GoPro vulnerable to the elements, so you need to be sure that you have protective kits that cover the USB ports.
Otherwise, you can say goodbye to the money spent on your GoPro.
You also want to be sure that you use gear like a chest mount when using the GoPro while fishing.
This will prevent you from dropping the camera in the water while fishing.
You can keep the camera going while your hands are free to fish, grab snacks, or do whatever you want while you are waiting for fish to bite.
Other Tips to Make Battery Power Last
Typically, the GoPro Hero 7 battery only lasts for between 45 and 146 minutes and the GoPro Hero 8 records for 70 minutes at 4k resolution.
There are tips that you can do that can help improve your battery life. This section will help you maximize your battery lifespan.
Firmware – You should make sure that your GoPro always has the latest firmware. Firmware is important because it helps resolve any issues that you may have with your camera, but it can also increase your battery's life. Through firmware, manufacturers can fix a variety of different issues, including battery life.
Keep Wi-Fi Off – Be sure that you keep your Wi-Fi off to ensure optimal battery life. This could potentially increase battery life by up to 15 minutes. This will prevent your battery from draining as it searches for Wi-Fi, which isn't usually available while you are on a boat fishing.
Reduce the Settings – To improve battery life, you need to reduce the frame rate and resolution. By reducing these settings as low as you possibly can, you reduce the power that your camera needs to work. You can either set it to 720p or if you want to keep it at 1080p, you can reduce the frame rate to 30 FPS. This can give you a significant improvement in battery life.
Bring Extra Batteries – Keeping extra batteries or power banks on you at all times, you can ensure that you have as much battery life as possible. You don't want to stop your adventure and risk missing that great shot of your big catch by having to stop to replace the battery in your camera.
Summary
Fishing is an adventure that can take up most of your day, and you want to capture it every second. Having the ability to record all day long without stopping to charge your batteries can capture that perfect moment.
A lot of people brag about their big catches, without having the proof for their great adventure. Using power bank setups is the best approach to making sure that you always have the battery life you need.