As an Amazon Associate we earn from qualifying purchases made on our website. If you make a purchase through links from this website, we may get a small share of the sale from Amazon and other similar affiliate programs. You can read our complete
legal information
for more details.
The Sabiki rig is loved and used by many anglers and is commonly known to be great for fishing from locations such as boats and docks. But, with the great baiting opportunities that this rig has to offer, could one use it as a Sabiki rig in the surf as well?
You can certainly use a Sabiki rig for surf fishing except in San Francisco Bay, where you can only use not more than three hooks at most. Also, keep in mind that some fish species only require not more than two hooks to fish them.
Sabiki rigs are, in fact, quite beneficial and useful for fishing in the surf, and the overall functionality of this rig is quite similar to its use in other fishing environments. 
A few things would vary when fishing in the surf in particular, and these should be considered for the best results. I've gathered some of the most useful tips and factors to consider when using a Sabiki rig in the surf.
Can You Use a Sabiki Rig In The Surf? 
Yes, you can use a Sabiki rig when casting from the shore for surf fishing. Sabiki bait rigs are ideal for surf fishing and catching bait, and they are widely available in various stores.
Sabiki rigs have a tendency to get snagged and tangled quite easily when they are stored, making them tricky to unravel and work with.
They do come with special tubular rods where the rig is stored, but these rods are generally more suitable for boat fishing due to the way it casts.
Some anglers have stated that this issue can be alleviated with a DIY approach if it proves to be a problematic factor. An example of this would be by getting an 8-inch piece of 1-inch schedule 40, some hose clamps, and a ½-inch drill bit.
By clamping your reel to the PVC and drilling a hole at around 16 inches ahead of the reel which can be used to feed the line through evenly, you could establish some form of a Sabiki rod that is customized to your own needs and assist in preventing tangled line.
However, a professionally manufactured Sabiki rod which is compatible with your surf fishing goals would be most beneficial and convenient to use.
Using Sabiki rigs

 in the surf is quite popular amongst anglers, and with efficient use and skill, the odds of encountering issues such as tangles are far less likely.
These rigs fly quite smoothly, and the specific type of weight on the bottom will be quite influential in successful use. 
One would generally need to use a Sabiki rig with No.4 or No.6 hooks for using them in the surf zone, paired with a lighter rod and reel setup for best results.
These would need some weight towards the end for best use casting in the surf

, and a few casting sinkers at around 1 – 3 ounces would work well as opposed to pyramid sinkers, which may snag and inhibit you from jigging it efficiently. 
Do You Put Bait On A Sabiki rig? 
You can put bait on a Sabiki rig, and shrimp is a popular option, which would be divided into smaller pieces of meat for bait.
But, bait is not completely necessary for using this rig, since a Sabiki rig

 is comprised of 6 small golden feathers and hooks, which perform as baby baitfish would. 
Its use results in the ability to catch multiple baitfish with minimum harm or injury, which are useful for baitwells.
You can use the bait that is caught whole or cut, but they are healthier and result in a higher chance of catching game fish consistently.
While most Sabiki rigs

 are used for catching baitfish, some are designed for catching larger fish.
How Do You Surf Fish With A Sabiki Rig?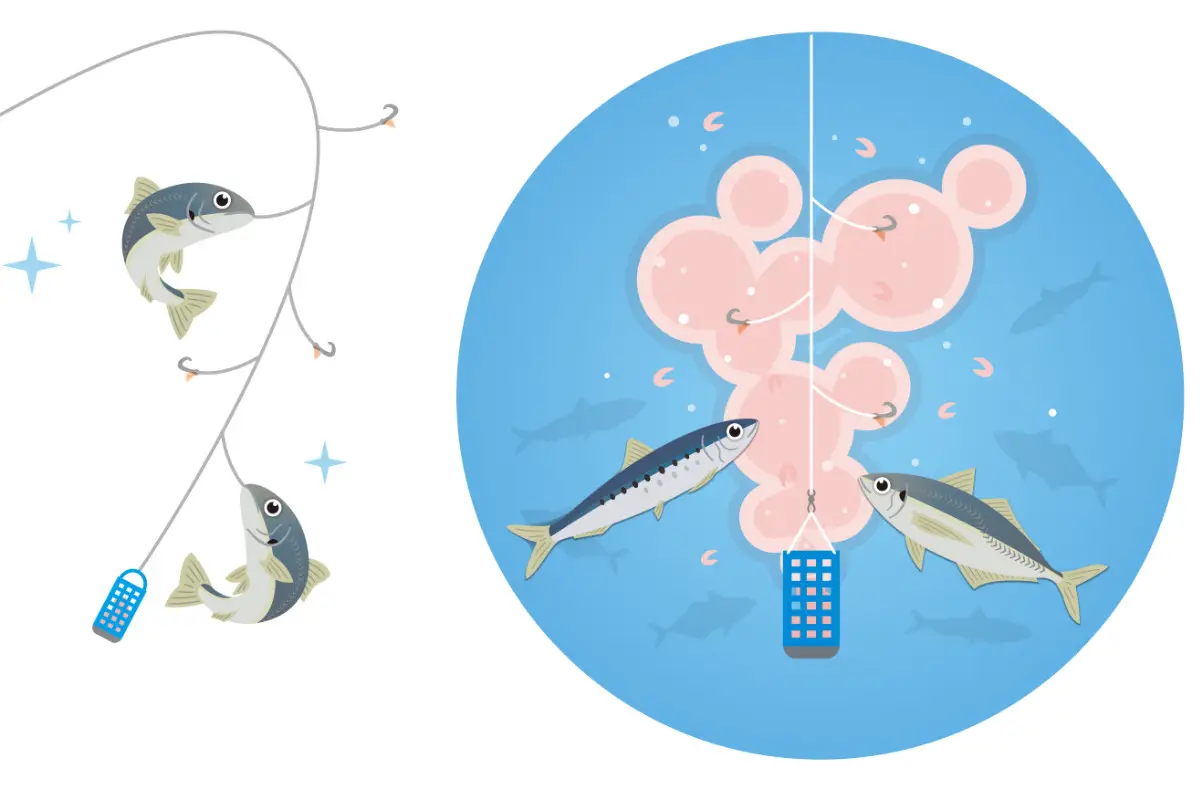 Eyeing the surf zone awaiting the perfect moment would be the best place to start, and this should be in relation to your target species and their feeding behavior.
Some telling signs are the presence of diving birds, as well as using general guidelines on when and where to fish for the species you're looking for. 
In terms of rigging, using a Sabiki rig has two variant options – it's possible to purchase rigs that are pre-tied, or make your own multiple hook rig.
This can be done by threading the relevant hooks onto the rig line and attaching a bait weight and swivel, after which 10 – 12 inches of fishing line should be doubled, wrapped around two fingers, and the hooks should be passed under these wraps twice and tightened for a secure hold.
This should be repeated for each hook, after which lines should be trimmed to the necessary length and connected to a barrel swivel. 
To successfully use a Sabiki rig for surf fishing

, you would need to rig a setup that is light and casts at decent distances – or the distance that your target species dwells at. The simplest way to position a Sabiki rig is by opening the rod's bail and letting it sink. 
If it's being cast out, casts should be short and should be done with an underhand technique to evade tangling. Sabiki rigs

 should be cast out into the breakwaters in the surf, and the demonstration should be mostly vertical to the water column. 
There would need to be some slack, and retrieval should be done in a sink-and-draw motion by jigging it, letting it settle a bit, reeling, and jigging it again.
The goal here is to jig the hooks and bait while keeping the weight at the bottom, and it should not be lifted too hastily since there may already be fish latching onto those who have been hooked, under the impression that they have discovered a feeding frenzy. 
This technique will take some time to practice and get the hang of. But, with some effective practice, you could be reeling in multiple baitfish at a time using a Sabiki rig in the surf

. 
Best Sabiki Rig For Fishing
Selecting a suitable Sabiki rig for surf fishing will mainly be based on the hooks' size, as it will be paired with a light setup for luring species in the surf zone.
They are inexpensive and are a fantastic investment for all your surf fishing goals. Here are some of the best Sabiki rigs and components, suitable for various forms of fishing from the shore. 
This Sabiki kit is an excellent option for those who want to purchase a rig with suitable variants and surf fishing components. As it includes 2 floating de-hookers, 9 packs of Sabiki rigs each including No.4, No.6, and No.8, a 1oz, 2oz, and 3oz teardrop weight which has a similar shape to a casting weight, 1/0, 2/0, and 3/0 circle hooks (3 of each), as well as 2 thin threading weights. 
The circle hooks are made of high-quality stainless steel designed for optimum functionality, with a lower probability of bending and less fish escaping. The hooks are durable, 35% stronger as opposed to regular hooks, and are resistant to corrosion.
Each pack is pre-rigged with a swivel on the rod end and snap swivel at the weighted end. The chemically sharpened hooks and high visibility green beads add to the overall catch rate and functionality, which is further enhanced by the fluorocarbon line.
The variations of weights assist in coping with varying degrees of water pressure and turbulence at different water depths, and the thin 2 weights assist in avoiding tangles by allowing the line to run smoothly through classic Sabiki rods. 
These Sabiki rigs are available in packs of 1 – 10, and the price will vary based on how many are included in the pack. The pack features 25 – 30lbs test line, No.4 hooks which are ideal for surf fishing, and comes in an array of glow-in-the-dark colors such as pink, clear, yellow, green, and red, making it suitable for surf fishing in low lighting conditions. 
This variant offers 6 sharp red hooks with varying size options, tied with P-Line Fluorocarbon. It features a holographic foil body with a real fish skin finish and a strike tempting Mylar flash to attract various species more easily.
If you're planning on catching some slightly larger fish in the surf as opposed to little baitfish, this Sabiki rig may be a good option, with a variety of sizes.
These rigs have feathers and flash, and green glowing heads that function well under low lighting conditions where many fish approach the shore for feeding.
Summary
Sabiki rigs are great for surf fishing, and their efficient use can lead to reeling in multiple catches at a time with minimal harm to baitfish. This rig allows convenience when gathering and preparing bait for catching larger fish in the surf, making it a fantastic piece of equipment to add to your tackle bag before every single surf fishing trip.