As an Amazon Associate we earn from qualifying purchases made on our website. If you make a purchase through links from this website, we may get a small share of the sale from Amazon and other similar affiliate programs. You can read our complete
legal information
for more details.
California spans almost the entire Western seaboard of North America, and that means a lot of beaches for surf fishing and pier fishing. Due to its temperate climate and biodiversity, California is widely regarded to have some of the most fun surf fishing spots in the world. So, where are the best spots to surf fish in California?
Here are 14 fishing spots in California:
Newport Beach
Huntington Beach
Redondo Beach
Point Vicente
Santa Monica Pier
Coronado Ferry Landing Pier
Crissy Field
Catalina Island
Bodega Bay
Oceanside Beach
Monterey Bay
Carmel Beach
Long Beach Harbor
Ocean Beach
Each of these top-shelf pier and surf fishing locations comes with its own set of amenities, advantages, and drawbacks. And these are just a few of them, and there are a lot more spots that are not on the list. Read the rest of the article to learn more about these fishing spots.
1. Newport Beach
Newport Beach

is a particularly diverse area of California's coastline and is considered home to over thirty species of highly sought gamefish.
If you decide to surf fish at Newport Beach, it is recommended by locals that you fish from 28th street north to the river's mouth, as this area of the beach contains many jetties that are attractive for surfperch and other coastal fish.
One drawback to Newport Beach for surf anglers is that during the summer months, this beach can become quite crowded with surfers and other beachgoers, so it is recommended to fish this beach in the early morning or at dusk for the least amount of crowding during this time of the year.
Surf fishing enthusiasts can find many kinds of fish at Newport Beach, particularly halibut, which is sought after for its flaky, delicate-tasting flesh.
2. Huntington Beach
Huntington Beach

is commonly known as Surf City, USA, and features some of the most famous surf conditions in the world. What it is also known for is its good fishing, and Huntington Beach State Park is a less crowded alternative to Newport Beach that is known for its productive surf fishing spots.
While Huntington might be most well-known for its human surfing, one notorious spot near Huntington Beach for especially good for surf fishing, is Bolsa Chica State Beach

.
This area is directly adjacent to Huntington and is a good spot for corbina and surfperch as well as barehanded grunion fishing.
Surf anglers who are planning on an extended campout at Bolsa Chica should be aware that there is no alcohol, no charcoal grills, and no dogs allowed.
Along with surf fishing, Bolsa Chica State Beach is also a great place to check out some local wildlife or go birdwatching at the nearby ecological reserve.
3. Redondo Beach
Rat Beach in Redondo Beach

, California, is one of the best places to go leopard shark surf fishing, and many other types of fish can also be easily fished from this area, such as walleye surfperch, yellowfin croaker, and corbina.
Locals recommend that surf fishermen start fishing at Topaz street and work their way south, as the best surf fishing spots are found in this stretch of Redondo.
Redondo Beach also features a public fishing pier with no fishing license required for those who do not have a California fishing license.
Surf fishers will find good spots in the area near the pier, as the constant baiting activity and the manmade structure attract local fish.
The stretch of beach at Topaz Street also features a jetty that can provide a good spot for fishing.
The only drawback of Redondo is that anglers must be careful not to cast into oncoming surfers, as (like Huntington) this is a very popular California surfing spot.
5. Santa Monica Pier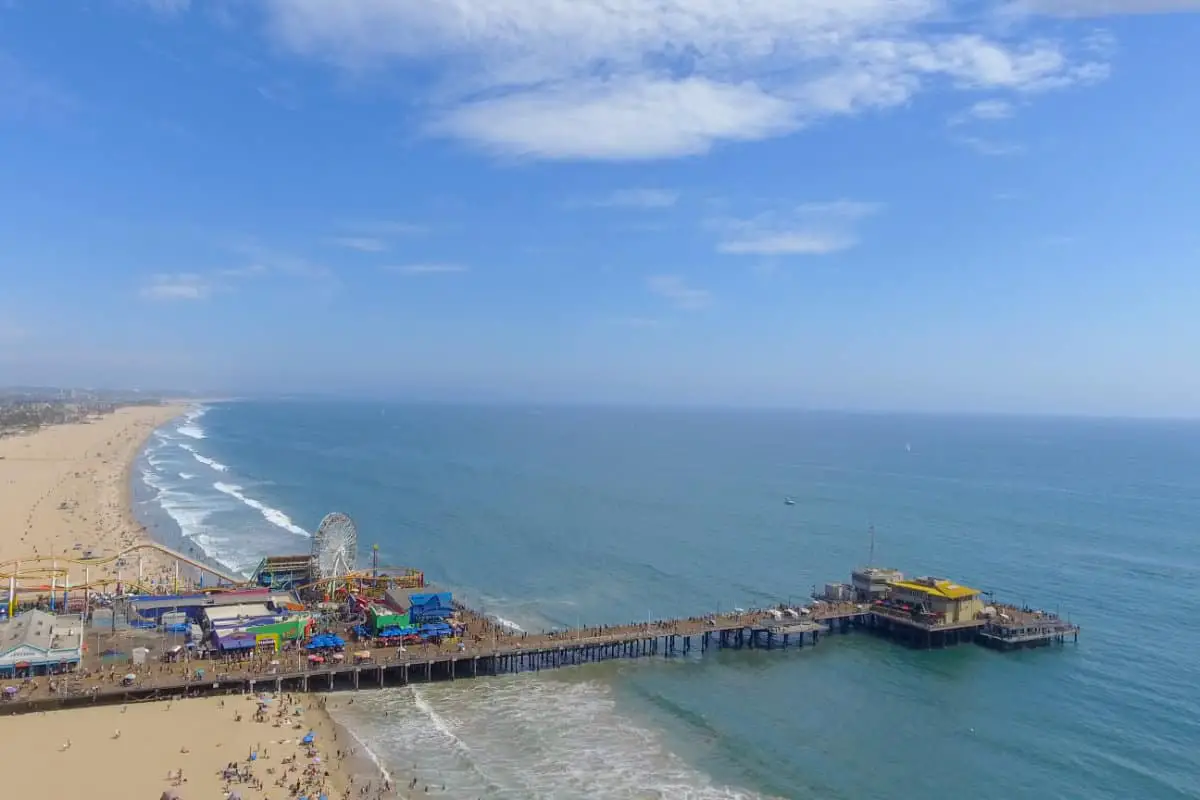 The surf fishing around Santa Monica Pier is good due to the baiting activity on the pier, and then draw the structure has as a shelter for local fish. Santa Monica is a good location for barred surfperch and other mid-sized ocean perch.
The Santa Monica pier itself is a popular location for locals and tourists alike to fish from since it does not require a fishing license to fish from the pier, but nearby beaches provide productive fishing areas as well.
Locals recommend fishing north of the pier and leaning towards lighter gear. Since this is an active perch fishing area and a lot of the surf catches veer on the smaller side, it's more fun to fish with light tackle and easier to feel a bite even with the current.
Plastic grub baits and artificial worm lures are particularly lucrative on this stretch of coastline, and if you use them in Santa Monica

, you'll be swimming in corbina and surfperch in no time.
Related Article: How To Fish From A Pier

4. Point Vicente
Point Vicente

features a picturesque lighthouse and is a well-maintained area that is enjoyed by people of all ages, making it a great choice for a family-friendly surf fishing trip.
However, the state of the bathrooms at the public parking lot is generally filthy, so it's recommended to use the restrooms at the nearby lighthouse museum if you need a bathroom break.
Point Vicente was a very popular surf fishing spot for decades, but in 2012 this area became a State Marine Conservation Area (SMCA).
This currently makes Point Vicente a "no-take" zone where fishing is prohibited, despite the fact that it is one of the best spots to surf fish in California.
Due to this conservation effort, however, local fish populations are recovering

, and in the future, Point Vicente may become open to fishing activity again. California anglers, cross your fingers!
6. Coronado Ferry Landing Pier
This pier is the only public fishing pier on the western side of the San Diego Bay tucked away on the luxurious Coronado Island and is somewhat of a fishing spot secret in comparison to some of the popular California beaches on this list.
The Coronado Ferry Landing Pier

is well-known for its ray fishing, and stingrays are only one of the many kinds of fish that can be caught while fishing in this pier.
The pier is attractive to fish because of its heavy crust of mussels, and fresh baits such as live cockles or chopped squid and are especially productive here.
7. Crissy Field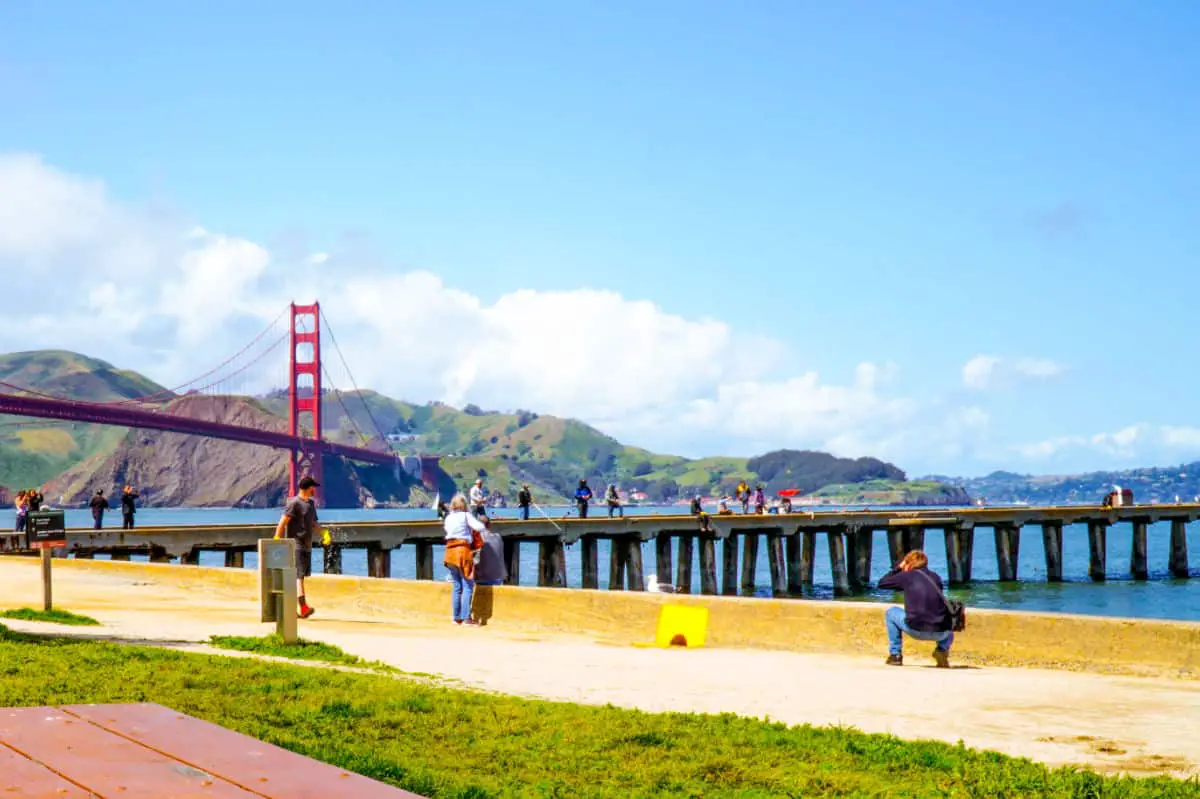 This shallow fishing area is an especially good place to surf fish for halibut among the patches of seaweed cover, but striped bassed is also a popular catch at Crissy Field.
The bottom of this part of the bay is sandy with a gentle slope, which makes it ideal for wading out to fish deeper.
It's important to note that if you plan on surf fishing at Crissy Field, you need to plan on bringing your own bait. The nearest bait and tackle shop to this surf fishing spot is Gus Discount Tackle Shop

, so it won't be a short ride if you have to pick up anything on-site.
For this area, spring is generally considered the best season to fish for halibut

, while bass can be caught during the summer later on in the year.
Halibut are a schooling fish that travel in large migrating groups, so it's likely if you manage to hook one at Crissy Field, there's a bunch more where that came from.
Live anchovies, hair-raiser lures, and spoon lures are popular choices for bait at Crissy Field.
8. Catalina Island
Catalina Island

is surrounded by bays, coves, and reefs, which offers surf anglers a dazzling array of fishing habitat to choose from.
Sand crabs foraged on-site is a popular form of live bait on Catalina Island (as well as much of the southern California coastline).
Catalina Island is an excellent place to surf fish because the schools of fish in this area tend to bite near the shoreline.
But be sure to bring a long rod and strong tackle if you go lightweight; some of the fish surrounding Catalina Island can grow large, and an aggressive catch may snap weaker lines.
One of the most popular types of fish to catch off Catalina Island is the calico bass, also known as a kelp bass.
As the name suggests, these colorful patterned fish are commonly found cruising kelp beds but can also be found around rocky stretches of coast and haunting underwater manmade structures.
9. Bodega Bay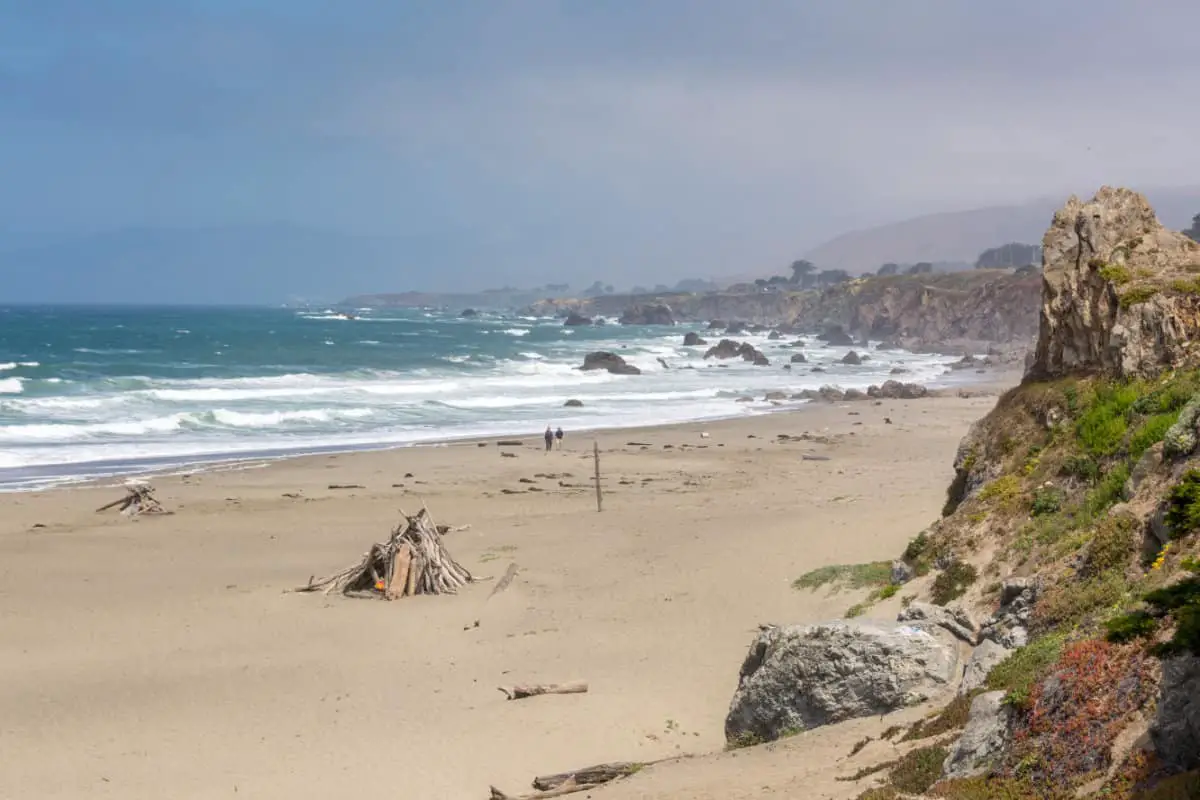 Bodega Bay

and its associated beaches are an excellent location for surf fishing, and anglers who try their luck here can catch a variety of different species from rockfish to surfperch, sculpin to cabezon.
This is one of the easier places on the California coast to find a secluded area for surf fishing.
This area is a good place for perch fishing, especially at night, when the fish are very active feeders. Feather jigs and plastic grubs are good lure choices when night fishing for surfperch at Bodega Bay.
As in many areas of Pacific California coastline, the undertow at Bodega Bay is very strong in areas, so it is recommended that surf fishermen do not wade into the water beyond their ankles, and do not turn their backs on the ocean.
There is a campground at Doran Beach Regional Park

on Bodega Bay, and there is productive fishing off the nearby jetty on this side of the bay.
10. Oceanside Beach
Like Crissy Field, Oceanside Beach

is a fishing spot that is best known for its productive halibut fishing, and the recommended lure for these fish is plastic swimbaits.
During the late spring and early summer, this popular fishing spot is covered up with locals looking to supplement their dinner tables with fresh-caught halibut, sea bass, and other delicacies.
However, due to the high activity of the fish offshore, there is plenty of fresh seafood to go around.
Oceanside is also a good place for croaker and corbina fishing. Crushed mussels, cockles, or pipis are a popular bait used in this area, with the hour after dusk considered the best time frame for larger catches as big fish move in at night to feed on the shorelines.
For those who prefer sea bass to halibut, calico and sand bass are local favorites that are often seen. The most productive fishing in Oceanside is conducted at high and low tides.
11. Monterey Bay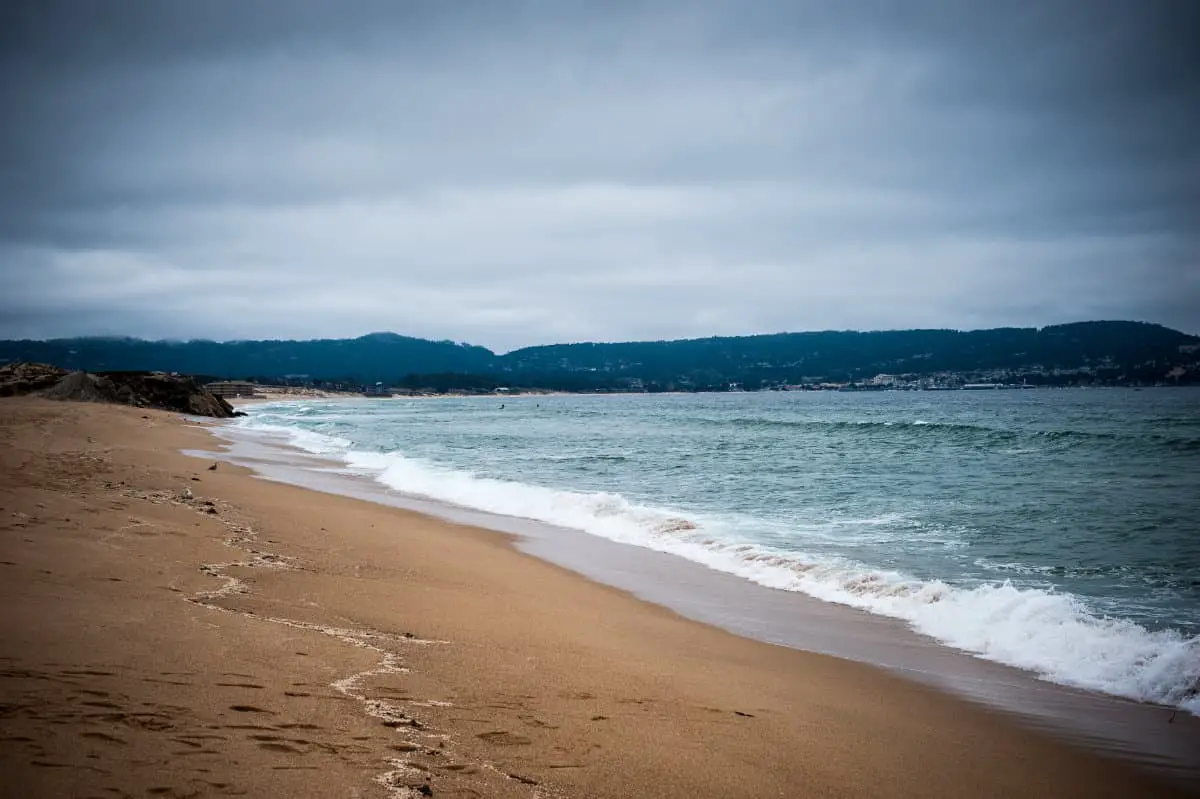 Monterey Bay is most well-known for its massive marine wildlife exhibit at the Monterey Bay Aquarium

, and the city is dedicated to maintaining biodiversity along the Pacific coastline and beyond. It hosts a huge breeding population of California sea lions as well.
Naturally, this is also one of the best fishing spots in California. Monterey Bay is a good option for surf fishing striped bass

, and the area is also known for largely barred surfperch.
Sandworms, bloodworms, and sand crabs are popular forms of bait in Monterey Bay, especially for those anglers going after larger catches like sea bass. For those who would rather take smaller fish on lighter tackle, such as perch, artificial grubs work too.
One of the more unique fish species that can be fished from Monterey Bay is the lingcod. This fish is considered unattractive to look at, but its delicate, lobster-like flesh is some of the most prized eating in the world's oceans.
12. Carmel Beach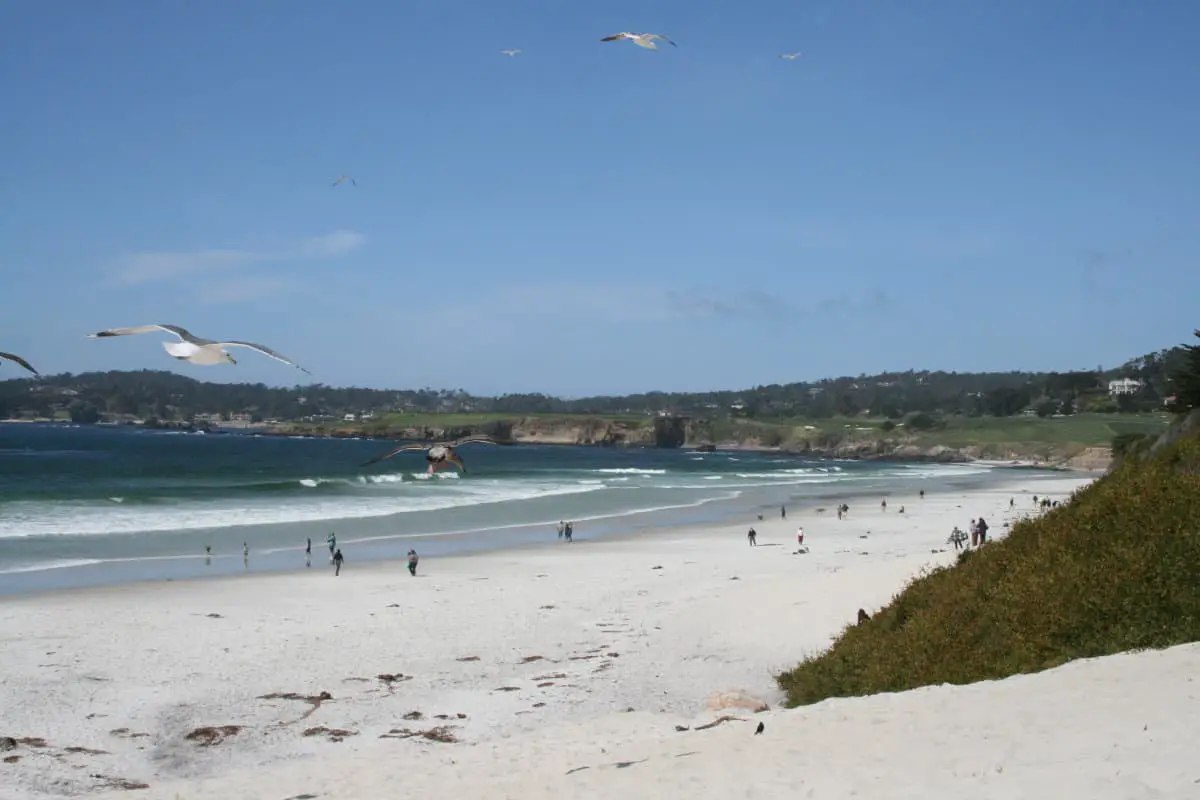 Carmel Beach

near Carmel-by-the-Sea, California, is a great area for surf fishing and especially night surf fishing since bonfire pits are provided for visitor use.
The northern end of Carmel beach is a windbreak and has long been considered by locals to be a favorable surfperch fishing area, so perch anglers should plan accordingly.
Carmel Beach is also a good option for those who want to go out surf fishing with their faithful canine in tow, as it allows dogs on the beach.
The local town can be found to the immediate east of the beach, which makes stocking up on supplies easy when fishing this location.
While the riptides and sudden drop-offs in this area make it fairly hazardous for swimmers, these same underwater features make it an Especially good spot for fishing.
Related Article: How to Find A Best Spot For Surf Fisning

Another advantage of this fishing spot is that parking is free in many areas, which can be a major convenience, but be aware that there may be hourly limits on parking availability depending on time and season.
Parking along Scenic Drive (the main road that runs parallel to Carmel Beach) is free until midnight.
13. Long Beach Harbor
Like Monterey Bay, Long Beach Harbo

r

is regarded as a good place to catch lingcod, but another popular catch in this area is Halibut. Either is easily caught from the shoreline, and both are delicious to eat.
The best spots in this beach to surf fish change frequently as the currents shift and sand is deposited in different areas, changing where the fish decide to shelter and hunt.
The best option for fishermen is to ask around locally to figure out where people are getting the most productive catches for your chosen time of year and condition.
Long Beach also offers pier fishing and features a marina for when you need a break from the coast and want to come in for some snacks, drinks, and some light walking around.
Note: Be aware that some areas of long beach Harbor, such as Colorado Lagoon and the Alamitos Bay Marina, are closed off from fishing activity due to heavy boat traffic.
Be sure to pay close attention to any posted signage and follow it accordingly.
14. Ocean Beach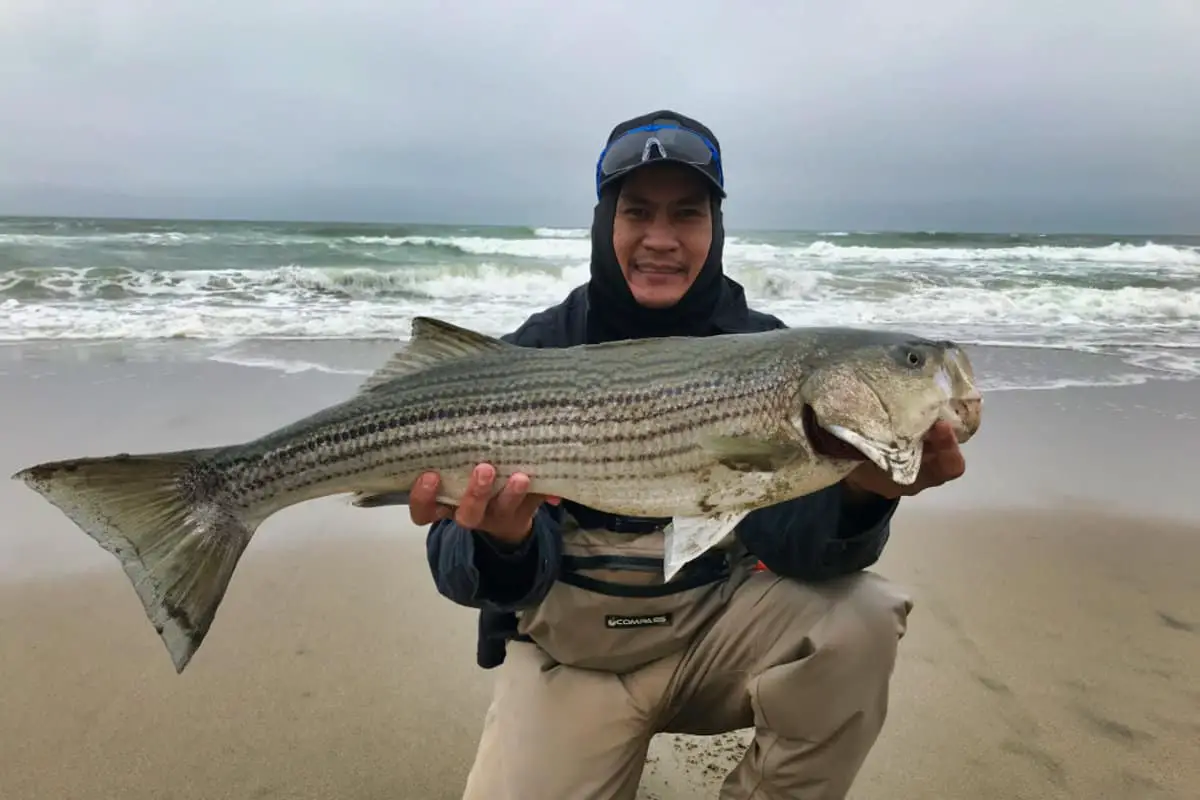 Last but not least, Ocean Beach. While this beach can sometimes have some wild conditions (so check the weather forecast before heading out), Ocean Beach is one of the jewels of California's surf fishing crown.
The Ocean Beach is my go-to beach when it comes to surf fishing, I've caught my PB striped bass

, surfperch

, jacksmelt, and even Dungeness crab

during their season.
Things to consider when surf fishing on this beach is, it gets crowded sometimes. Expect to see some surfers, beachgoers, and dog walkers. Just be careful not to hit them when casting your line.
Ocean Beach is an absolutely great place for surf fishing because the riptide and harsh current conditions make swimming prohibited (Ocean Beach is regarded as California's deadliest beach), but fishing is good to go.
Downside: No parking allowed along the street.
Requirements for Surf Fishing in California
Along with the tackle and bait that you'll need to go shore fishing

, be sure to remember that all people sixteen years of age and up are required to carry a fishing license to do surf fishing or shoreline fishing anywhere except for public piers.
Fishing licenses are easily procured and not expensive, but the fines for not having one if you get caught by Fish and Game can be expensive, and you could even lose your privilege to fish in the state.
So before you start picking which spot in California, you're going to be surf fishing from, be sure to pick up your permit!

Related Articles: