As an Amazon Associate we earn from qualifying purchases made on our website. If you make a purchase through links from this website, we may get a small share of the sale from Amazon and other similar affiliate programs. You can read our complete
legal information
for more details.
Surf fishing at night provides an exhilarating experience and offers you an opportunity to catch more fish. Areas with little to no fish could be teeming with many fish in the cover of darkness. If you've developed an interest in surf fishing at night, you are not alone, as more people are waking up to its benefits. So, how do you go about it?
Surf fishing at night is all about understanding the surf, getting the right tools, and taking all the essential precautions to stay safe during each session. You have a higher chance of catching big (often predatory) fish that come near the shore at night, but you still need proper planning.
The rest of this article will provide a deep dive into everything you need to know about surf fishing at night, including the benefits, the legality of it all, and how to prepare properly. There's also a section on safety tips.
What Is Surf Fishing?
Surf fishing refers to the process of catching fish while standing on the shoreline of an ocean or sea.
Surf anglers mostly go out to saltwater bodies and can use artificial lures and live baits

in the process.
Generally, surf fishing lovers engage in it only during the day.
However, more people have realized that big fishes venture towards the shore at night, a lot more than in the day time.
This is why surf fishing at night is growing in popularity.
Is Surf Fishing at Night Legal?
The lawfulness of surf fishing at night will depend on your location. You need to check your state and local regulations to see what they say about this. In some cases, you'll be required to get a permit.
Even when the state and local laws allow surf fishing at night, the caretakers of the beach you intend to fish from may have other rules.
You'll also need to confirm that the beach will stay open at night.
There may also be restrictions on what type of fish you can catch

or the quantity you can take for a specific species.
On top of the surf fishing permit, you'll need a wider fishing license. All anglers in most US states are required to have one.
The license fee can be as low as $8 for residents, and as high as $50

, it varies every state for non-residents. You'll need to carry the license with you on every surf-fishing session.
What Are the Advantages of Surf Fishing at Night?
There are many benefits to surf fishing at night. Some of them are covered below.
You'll Get Better Results.
Surf fishing at night is richly rewarding because more fish will travel closer to the shore under cover of the dark, most times to feed on leftovers from human or animal activity during the day.
With the higher number of fish congregated along the shorelines, your chances of landing more catch increase a great deal.
Another reason your success rate will increase in the dark is that the fish will be easier to trick with lures and baits. They'll find it more difficult to make out your line and hook.
You Don't Have to Worry About Sunburn or Heat Exhaustion.
In hot temperatures, surf fishing during the day will test your resilience. Standing out in the sun for long will expose you to the risk of deep sunburns and heat exhaustion.
Surf fishing at night, on the other hand, can help you to avoid this problem.
Instead of spending half the time worrying about the sun and upping your sunscreen, you can focus on fishing.
When you aren't getting too tired due to the heat, your overall effectiveness will also increase a great deal.
You Won't Have to Worry About Crowds.
If you are thinking of fishing as a pastime to wind down, you'll love the opportunity to fish in peace and tranquility as offered by surf fishing at night.
You are almost guaranteed to have far fewer people out on the beach at night. You are most likely to be the only one at that time.
This ensures you can focus entirely on fishing and not worry about swimmers and surfers spooking any fish that may have been headed for your hook.
There's Little to No Competition From Other Fishermen
Just like you don't have to worry about crowds spooking your potential catch, surf fishing at night also ensures you don't have to worry about sharing the "loot" with other fishermen.
The more the share of the shoreline you have to yourself, the higher the chances of success.
Although it can be fun to have many other anglers nearby, it is still nice to not worry about having too much crowd, to the point of fishing lines crossing.
However, finding other anglers surf fishing at night with you in the same place is an excellent way to make friends that are highly dedicated to their fishing.
You Won't Face Seasickness.
Even while surf fishing, it is possible to suffer from seasickness

. This is especially true while fishing from atop a fishing pier.
The oceans' heavy movements during the day can leave some people feeling dizzy, even while they are not on a boat.
Do you get this type of seasickness? You'll love surf fishing at night since the water is usually calmer then, compared to the peak of the day.
What Are the Disadvantages of Surf Fishing at Night?
There are two main downsides to surf fishing at night. They are discussed below.
You Have to Deal With Reduced Visibility
The darkness that makes surf fishing at night a rewarding experience also makes it very difficult. You'll have to rely on guesswork and intuition instead of using your eyes.
Things like changing your plug will be more challenging, and you won't be able to see where your line or lure has landed after casting it.
You'll need to give your eyes some time to adapt to the low-light environment before you start fishing.
You'll also need to find a way to quickly light up your supplies or your immediate environment when necessary.
However, you have to ensure the light isn't too bright as it could scare away the fish around the area, forcing you to move to a different part of the shoreline.
The Waves Can Be Challenging
Even when the water is calm, you'll still have waves crashing onto the shore. Depending on the strength, each wave could destabilize you, especially when you've caught fish on your line.
In your first rodeo, this could be a big challenge that may lead to losing your catch. However, with more practice, you'll get the hang of it.
As you acquire more experience with surf fishing in the dark, these problems will no longer be an issue for you.
Top Tips for Surf Fishing at Night Successfully
If you plan to enjoy success in your night surf fishing sessions, there are a few things you have to do. All the important ones are discussed below.
Plan Your Trip Carefully
Planning your night surf fishing trip properly is very important for your safety and the peace of mind of your loved ones at home.
Regardless of how confident you are in your abilities, there's no telling what will happen while you are out at the beach at night.
You should come up with a plan and leave a copy with someone at home or anyone you trust.
The plan should contain check-in periods and include details on your arrival spot, where you have your fishing gear, contact details, medical conditions, and other such information.
You'll also need to keep your phone protected from moisture so you don't trigger any false alarms just because you can't be reached on your damaged phone.
Get the Right Equipment
You need to gather all the fishing equipment you'll need for the surf fishing trip. From fish finder rigs to rods, you need to be sure you have all the necessary surf fishing

 equipment.
Make a list of what you'll need and buy or rent any options you don't have. You don't want to discover that you've not packed a critical item when you are already out on the beach.
Find the Perfect Location and Get Familiar
You don't want to arrive at an unfamiliar terrain at night for your surf fishing expedition.
This is why you should scout the shoreline for your fishing during the day to find the best spot.
Don't forget to take notes of the directions or find any obvious marks to guide you back to the place at night. A map can also help.
Use the low tide

 to look for areas with hollows, sandbanks, dips, or any other structures where fish might congregate to feed or hang out when the high tide returns.
Other things you should check out in low tides include the access and safety of the position, location of sandbanks, and casting distances to rocks.
Get Help From the Locals
Is there a thriving community near the spot you'd like to fish in? Going into any shop that sells fishing gear could be all you need to do to find the perfect spot to fish.
Talk to employees and other customers you can find. They'll tell you where to find a rip in the shoals

 and other little details that can make all the difference.
Pay Attention to the Tides
As an angler, you need to understand the water body's tides in focus when thinking about surf fishing. You only need to get a simple tide chart for the area.
You should try to fix your fishing so that it coincides with the high tide. The big fishes are more likely to get drawn to the shoreline at this time.
You should avoid slack tides as this is when the fishes are least likely to be near the shoreline.
For the best results, try to arrive at your designated fishing spot a couple of hours before high tide, and then continue fishing another four consecutive hours.
By the end of the six hours, you should have all the catch you can realistically get from that spot.
Watching the tides also ensures you don't go fishing when the tides are rough. Accidents are likelier in such tides.
Pay Attention to the Weather
You can't ignore atmospheric conditions if you intend to go surf fishing at night.
Apart from the fact that it is doubly difficult to fish on a night when it is raining, high winds and rough surf reduces your chances of catching any fish at all.
Your standard weather app is all you need to know the forecast for the day.
Learn How to Set Your Fishing Rig
Knowing how to set your fishing rig

 is an essential part of the surf fishing process.
Successful fishing depends on what kind of rigs you are going to be using. Also, prepare at least 2- to 4 pre-tide rigs just if you got snagged and lost your rig. 
Use a leader wallet and organize your rig so that you can easily reach the sinkers, hooks, and leader materials when you need them.
Remember, low visibility makes things a bit more difficult.
Carry Decent Light
You most definitely need decent light when you are surf fishing at night.
The best option is a headlamp that you can quickly turn on when necessary, as it enables you to keep your hands free when you have to handle your bait, unhook your fish, or do anything else.
To avoid disrupting your night vision, you need red light headlamps like Ultra Bright CREE LED

. They ensure you don't need to spend time readjusting your eyes from bright light to darkness.
Also, even the brightest red lights will not spook fish in the way standard white lights would.
If you find that wearing a headlamp gives you a headache, you can wear it around your neck, only moving it to your head when you need to use it the most.
This is not to say you don't need bright lights at all. You should have a bright, normal flashlight in your bag as you'll need it when it's time to unhook any fish or when you have to head back to where you parked your car.
Prepare for Bugs
You should know that shorelines are crawling with insects, and they come out in force at night.
When you are alone on the shore for miles, and you've got your headlight shining, you will most likely attract many of them.
This is why its ideal to wear protective clothing and also hold a bug spray in your bag.
Go With the Appropriate Live Bait
The appropriate live bait to go with when surf fishing at night depends on the type of fish in the area or what you expect to catch.
Some of the best examples of live baits include shrimps, bloodworms, ragworms, sandworms, squids, mullet, and shell crabs.
This is another point where you should talk to other people with some fishing experience in the area. They'll tell you what type of bait works best for the fish there.
Go With a Fishing Buddy
Depending on your level of expertise, you might need someone to help you set up the rig. You'll also need all the help you can get when your line draws in a large fish.
If you can't find an experienced fishing buddy to go with, it is still always a great idea to go with someone. It's an excellent way to ensure accidents don't happen. It doesn't hurt to have a second pair of eyes.
Don't Go Into the Big Surf.
Unless you are highly experienced, going into the big surf at night is not a good idea. The large waves can come in quickly, and you'll be knocked over before you know what's happening.
Always take precautions and think of all the things that could go wrong if you get knocked into the water. You'll probably lose your phone, headlights, and anything else you've got in your pocket.
Go With Multiple Rods
It's never a great idea to go fishing with only one rod, especially at night. You need multiple surf rods as you never really know what will happen.
If you have a few rods, you can set up multiple rigs and fish with multiple baits. Also, if you somehow run out of baits, you can use an extra rod for fishing for bait.
The best set up you can go with includes a spinning reel

with bait runners. This ensures you don't have to worry about a potential catch drawing your entire setup into the water.
Some examples of spinning reels you should consider include KastKing Summer and Centron

 and the Pflueger President XT. You can also consider the spinning reel and rod combos offered by brands like PLUSINNO

 and BlueFire

.
California Department of Fish And Wildlife recommends

 (CDFW) a 10-12 ft rod, and it must be rated to 2-8 oz casting, partner it with a spinning reel or conventional reels.
The reels must be capable of holding 150 up to 250 yards of 20 to 30 lbs test braid line if you are into heavy fishing or plugging.
They also recommend a 7-9 ft rod for light bait fishing or using lures like swimbait and grub. Either use a spinning reel

or bait casting reel, with a 6- to 12 lb test line.
A 1-oz sinker is ideal depending on the condition of the surf; if too rough, then you can go up to meet your needs.
This is the guide that I've followed when I was starting to surf fishing, and it works well for me. It's important to know what fishing techniques and fish species you're trying to catch when surf fishing at night.
Additional Safety Tips for Surf Fishing at Night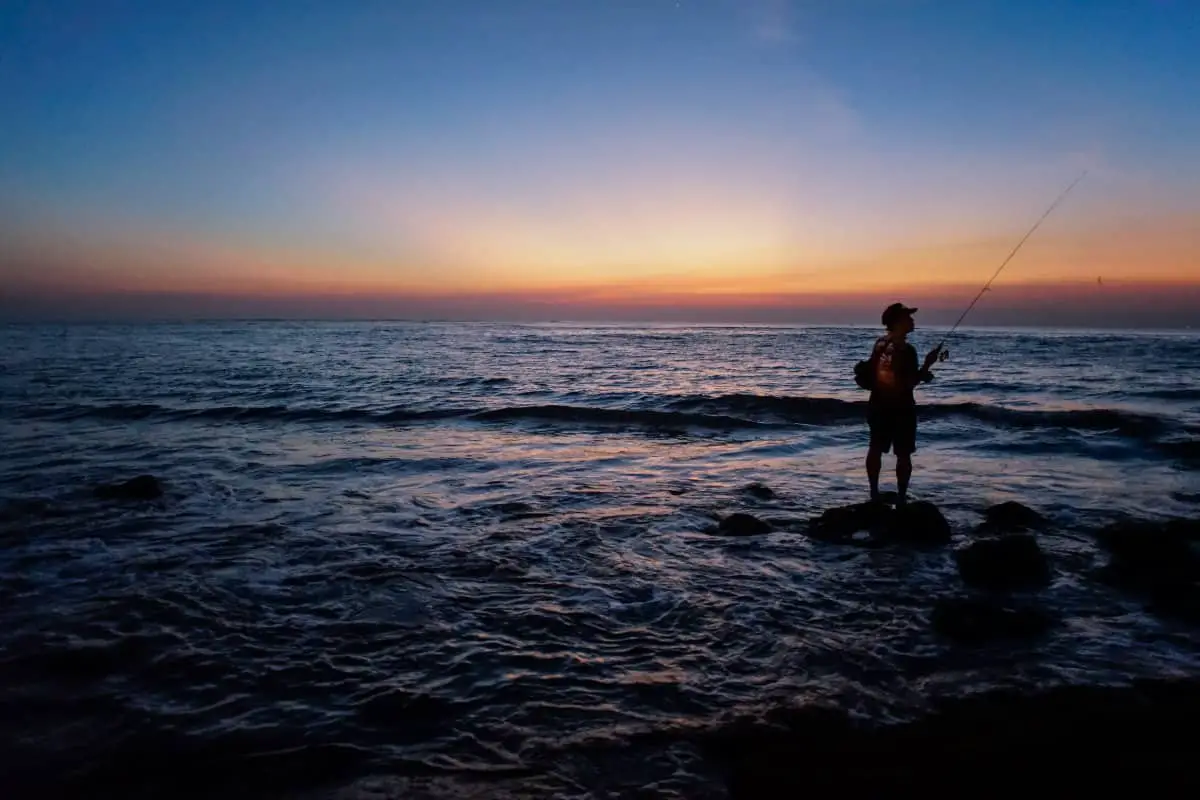 You've already seen some tips that will ensure your safety while surf-fishing above, but there's more:
Always avoid undertows as much as waves, as they always pose a threat to your safety.
If you don't want to buy waders, you should go with a wet suit. The increased buoyancy can keep you safe even if you get knocked into the surf accidentally.
Make sure you land and unhook your catches in a stable position to avoid falling into the water.
Avoid littering your space on the shore, neat and tidy. Lures, baits, and hooks lying around will cause injury if they come in contact with any part of your skin.
Keep your spare flashlight close by just in case you lose your headlamp, or it stops working suddenly.
Don't take unnecessary risks. Stick to spots you have already scouted under better light conditions. If you find yourself going further into the water than you originally bargained for, retrace your steps as quickly as possible.
Make sure you have some fishing knife and any other sizable weapon. They could come in handy when dealing with some big predatory fish or even water snakes.
Don't go with only one as you'd be stranded if it breaks. Go with a first aid box that has some methylated spirit to clean any cuts, cotton wool, and bandages. 
Should You Use Lures While Surf-Fishing at Night?
As you've seen above, it's perfectly normal to use fishing lures for night surf fishing. Whether it will work or not depends on a variety of factors, including the type of lures you are using and the force of the waves.
You should choose lures that are not too heavy for the best results but are still very durable. Here are some of the best you should consider:
Acme Kastmaster

: This is a highly durable fishing lure that is also resistant to corrosion. It is made from brass and comes in different shapes and sizes. You should choose based on the size of the fish you are targeting.
Kikitoy

: This is a good fishing lure to go with when targeting big and middle-sized fish. The size means the fish won't miss it. The lures come in a range of colors and are made from high carbon steel.
Alwonder Bucktail Jig

: The Bucktail lure comes with 3D bulging eyes to grab the fish's attention. It is also corrosion-resistant.
Transcend 4.7

: This fishing lure is another great option to go with when targeting predators that fishes like. The lifelike appearance of the lure makes it a hot target for any hungry fish.
Aorace 3D

: This is another magnificently designed fish lure for saltwater. It is made of durable material and comes in a variety of colors. The steel ball inside ensures it can be cast far into the water.
All the above options are great for surf fishing at night. You only need to ensure you have picked the right option for the fish you are looking to catch.
Don't make your judgment based on the colors alone. This is because most fish don't care as long as they can see the bait. Darker colors, however, will ensure the lure blends into the fish's surroundings and won't spook it.
Should You Use Glow-in-the-Dark Lures for Surf Fishing? 
Unless you can't find any other option, you should stay away from glowing lures while surf fishing at night. Even the faintest of light emitted from the lure is enough to spook the fish you are targeting and make them move further away.
This is not to say that you won't catch any fish with lures that glow in the dark, but it will reduce your chances of success a great deal. Always use standard lures if you have them.
Will Live Baits Work While Surf Fishing at Night?
Live baits work all the time, even when you are surf fishing at night. Your success or failure will come down to the type of fish you are after, as well as the kind of live baits you can find.
As you've seen earlier, shrimps, mole crabs, sandworms, and bloodworms are always excellent bait for most saltwater fishes.
If you are uncertain of anything, don't hesitate to talk with the bait shop staff. You can trust their expertise to help you in the bait selection process.
Final Words
Surf fishing at night is an amazing and adventurous activity to engage in. If you'd like to see what it looks like, here's a video

. However, don't get carried away. Remember that it requires more skill and a bit more planning than surf fishing during the day.
However, if you play it right, you will come home with more catch than you'd get from daytime surf fishing. Don't forget to pay attention to all the safety recommendations above, especially going with someone else.
5 Tips For Beach Fishing At Night