As an Amazon Associate we earn from qualifying purchases made on our website. If you make a purchase through links from this website, we may get a small share of the sale from Amazon and other similar affiliate programs. You can read our complete
legal information
for more details.
Choosing the right rod and tackle combo is not an easy task. There are a lot of tiny little details and aspects that you need to keep in mind when buying one.
It has to offer the right balance between performance and price.
It has to be suitable for the type of fish you will be catching.
You want a tackle combo that will make fishing enjoyable and fun.
And here I want to share with you a lightweight tackle that is suitable for surf fishing

that does all that and then some.
And actually choosing the best one may be hard sometimes, especially for beginners. You don't want to go for the low-quality tackles as they can make the whole experience just another ordeal.
So I wanted to make sure I will get the best value for my money. I spent many hours researching and asking a few close friends that are experienced anglers.
After gathering the necessary information and comparing prices, I choose to go with the KastKing Sharky III combo.

The Sharky III light tackle combo proves to be a perfect solution for anyone that wants to get into surf fishing at an affordable price.
I've owned the Sharky III tackle combo

for more than two years now. I have used it to catch anything from Surf Perch

and even Stripers. 
Here I want to share with you what are my observations and what are the different aspects that you need to look for in choosing a lightweight tackle combo to get the most bang for your buck and why the Sharky III combo may be the one for you.
What to Consider Before Buying a Surf Fishing Tackle Combo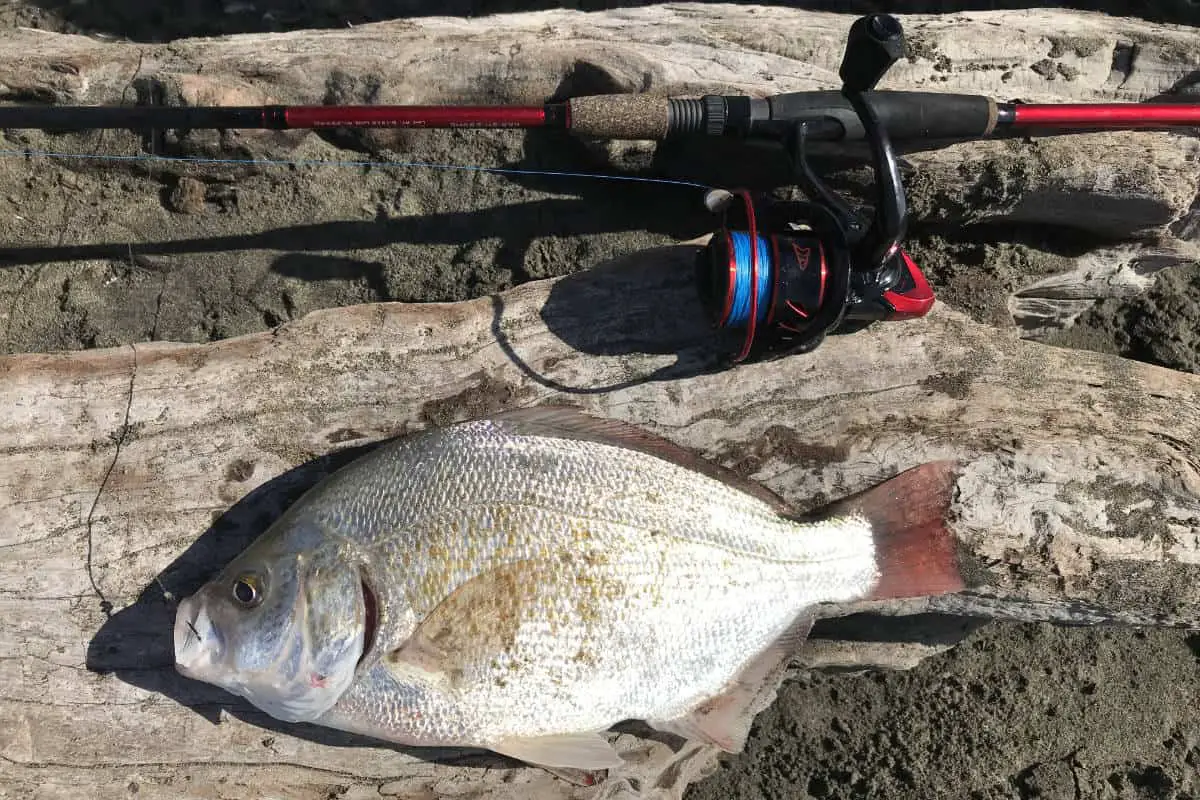 There are several essential features you need to be aware of.
All of these will help you in choosing and make a well-educated decision on what is the ideal fishing rod and reel combo for you.
And, knowing the mechanics behind your rod and reel is also a good thing. You will be able to know what lures, lines you can use, and more.
1. The Type of Fishing Reel
There are two main kinds of fishing reels you can get. When I was new to surf fishing, I was always at a loss as to why do we need two types of reels when they actually seem very similar.
So we have:
Casting reels are usually more expensive and not really recommended for beginners.
They do come with some excellent advantages, like being lighter and able to accommodate long lines. They also tend to provide higher amounts of drag.
They have a brake system, and by using it, you can control the casting distance.
This also helps in avoiding backlashing from occurring. Backlashing is when excessive amounts of the line that can get out of the spool when casting, which can lead to the line getting tangled. Some anglers really appreciate that, especially when bass fishing.
Spinning reels

are the opposite.
They are cheaper and considered ideal for beginners. One of the downsides is that they tend to be heavier and with lower line capacity compared to the casting reels.
Generally speaking, there is not too much to learn about these, and they are very straightforward to use. This is making them perfect if you are going to be fishing with friends and family where you may have kids using your tackle.
2. The Rod Size and Length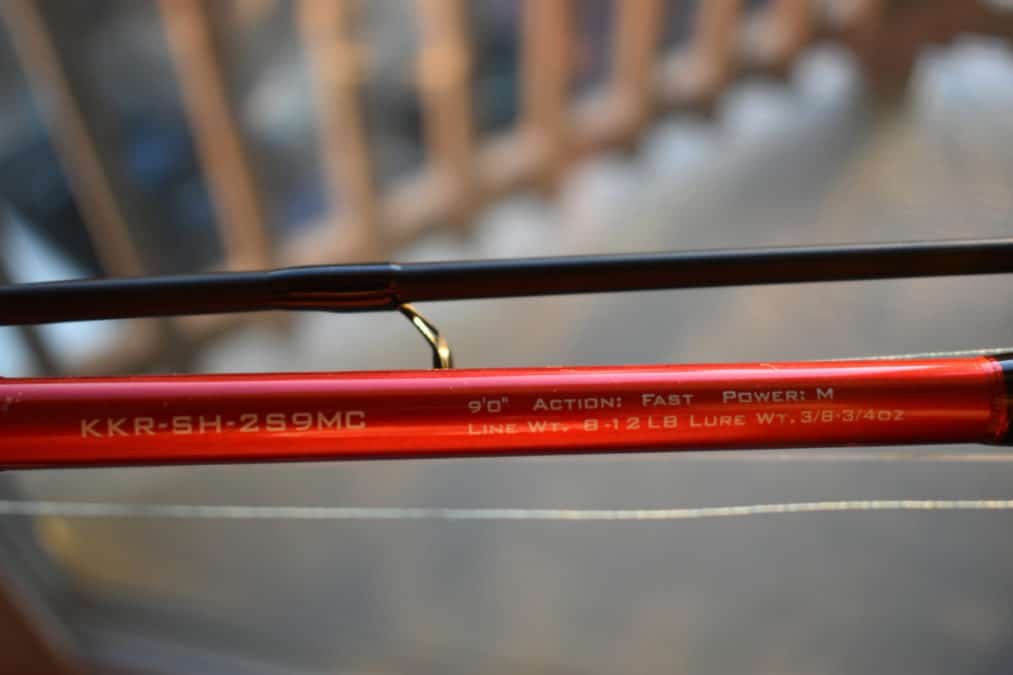 One of the most essential things about any rod is its length. You always need to consider the place where you will be fishing.
Imagine trying to fish in a smaller spot where they may be overhanging trees or power lines with a really long rod. That would be terrible, dangerous, or just impossible.
A longer fishing pole will allow you to cast farther away than a short one. Since we are talking about surf fishing, generally you will have a lot of space around yourself. So here a longer rod will be a better choice.
Different people usually have different preferences when it comes to the length of the rod for surf fishing.
You can easily stumble to anglers using anything between 7 to 12 feet long rods, but usually, most people will settle for the middle grounds of about 8 – 10 feet.
Don't be afraid to test and experiment what feels best for you. The rods that are above 12 – 13 feet will feel really cumbersome and hard, and this may actually hinder your ability to cast very far.
A lengthy rod will also make the fish feel a lot heavier.
5. The Action of the Rod
There is a lot of confusion when it comes to two of the main ratings of any fishing rod (the action and the power).
The action refers to the area the rod will bend or flex when being under stress. The way the rod bends will affect your casting distance and the overall feel of the rod when casting, fighting the fish and reeling it back.
In terms of action, fishing rods can fall into several categories:
Slow – Bending at the lower part of the rod.
Moderate (or Medium) – Bending at the top half of the rod.
Fast – Bending at the top.
Extra fast – Bending at the very top.
A rod with faster action will be quicker to respond. Faster rods are generally used for bass fishing as they will generate more force when you pull back the fish. They will also have better sensitivity.
6. The Power of the Rod
The power may sound very confusing at first.
This is the strength of the rod. Think of it as in terms of how much it can lift. For example, more stiff and sturdy rods can cast heavier baits, leads, or lures.
The power number refers to the actual pressure that the rod can withstand before flexing. Rods falls in several different categories in terms of power:
Ultra-Light
Light
Medium
Medium-heavy
Heavy
Extra-heavy
All of these have a purpose and used for different things.
You can catch fish with any of these.
But you will benefit from picking the right fishing rod depending on the conditions and the type of fish you are after.
For surf fishing, usually, a medium-heavy rod offers the best versatility and use.
The Sharky III Light Tackle Combo: I Personally Recommend
You can catch fish with almost any tackle combo.
But something else is more important. Whether or not a particular tackle combo will make catching fish satisfying for you is the real question.
A lot of anglers enjoy the interactivity between them and the fish.
And this is what the Shark III light tackle combo

sets out to offer you.
This tackle combo offers premium quality at an affordable price. It combines a rod that is sensitive enough, allowing you to feel the fish with a reel that just feels smooth with a good drag.
It is a very versatile tackle combo that will not leave you disappointed, and you can use it in different types of fishing.
Pros:
Great quality spinning reel with smooth feel, and good drag.
Overall very lightweight tackle combo.
A fishing rod that offers good sensitivity.
Easy to use and perfect for beginners.
Cons:
The rod may not provide good casting distance when fishing with lighter lures.
The rod can be a bit more brittle. So you may need to take extra care.
Sharky III Combo: Features Review
When buying a tackle combo, it is only natural to break it down to its comprising components and go through their individual features, and good and bad sides.
Which one is more important – the fishing rod or the fishing reel is one of the eternal questions that we all ask ourselves at some point. And the answer is not entirely clear.
The general consensus is that the rod is more important.
So, let's start with the fishing rod.
1. The Fishing Rod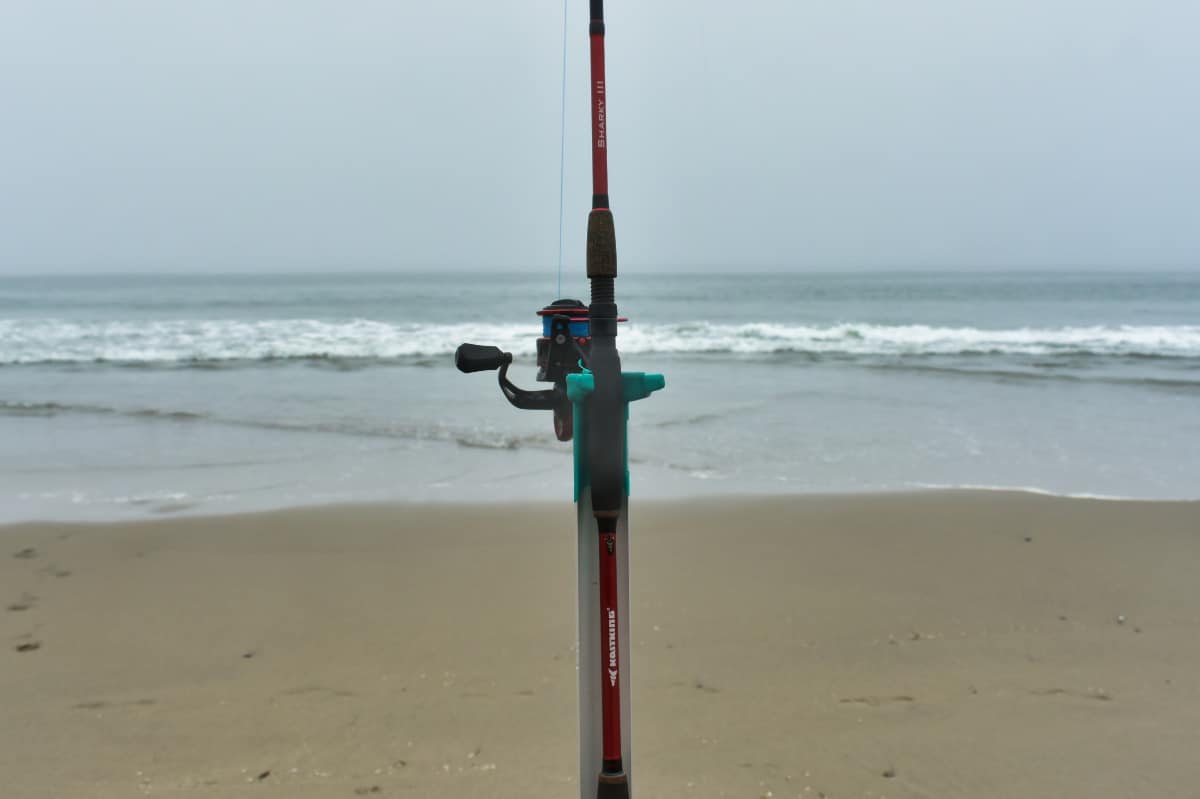 Finding the right rod that will feel just right in your hands is essential.
Whether or not it feels right is dependent on a few things like, length and the material.
This one comes at a very decent length of nine feet.
It is a two-piece rod. Usually, there are a lot of concerns when it comes to whether or not a one-piece is better than a two-piece rod. This is a topic of the past.
The difference that may have existed was a lot bigger before. So if any, the only difference is that you can store it in smaller places.
Let's see the most critical part of any rod – the material.
This tackle combo from KastKing

comes with a rod made from carbon fiber (also called graphite). It is extreme and lightweight.
However, one of the downsides to the carbon fiber rods is that they can be more delicate and brittle sometimes, so this needs to be kept in mind.
Graphite usually offers excellent sensitivity and feel. That would depend on the modulus rating. A higher rating will mean that it is more sensitive and light.
The modulus rating is connected and related to the power and speed of the rod.
This is a high modulus IM7 rod.
Generally, the higher the rating, the more costly the rod will be. At the same time, it will tend to be stiffer, with lower strength, lighter, and more brittle.
So how does the IM7 compare?
The IM7 is about 44 million modulus, and you can consider this to be the golden mean in a certain way. It offers the right balance between being lightweight, very sensitive, and not too expensive.
The rod guides is another aspect that can make or break a fishing rod.
KastKing uses premium quality Fuji guides. You can use mono and braided lines with them.
The layout of the guides is good, and they do not have a lot of friction to them, which provides for a decent casting range.
While we are talking about Fuji, KastKing uses a Fuji reel seat that will have your reel fastened securely on the rod.
2. Sharky III Spinning Reel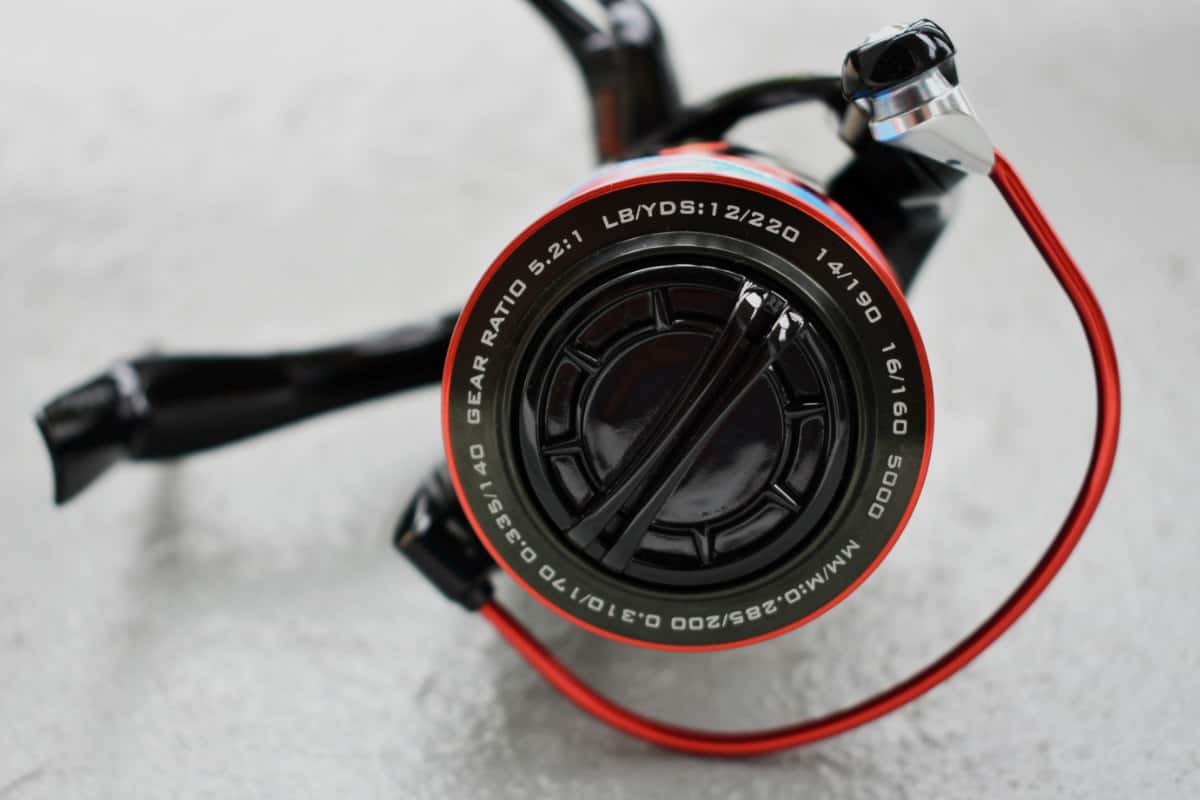 This tackle combo can come with different size spinning reels ranging from 2000 to 5000.
The Sharky III 5000 spinning reel

, which I personally use is incredibly lightweight and ideal for surf fishing. It weighs at just 10.2 oz. Its frame is from graphite, which is the reason why it is so lightweight.
It reels very smoothly, and the maximum drag it can offer is the impressive 39.5 lbs. The drag feels very smooth, which will prevent the line from breaking or the mouth of the fish from tearing.
Kastking printed this and more information on the front of the reel, which is a nice little touch if you need to check the information on the spot.
Something that I am sure you will enjoy is that distinct noise some reels make when the fish starts pulling in the line. The drag is audible, which means you will hear it when the fish gets on the hook.
You can use the reel for both freshwater and saltwater fishing because it comes with shielded stainless steel ball bearings.
It is critical to note that the reel is not waterproof. It is, however, water-resistant. So it will offer some extra safety when it comes to dust, dirt, and water.
The bail arm and roller are one of the things I always make sure to check when buying a new fishing reel. What I like about the Sharky III

is that they made the bail arm very sturdy and solid. It is not one of these tiny arms that will dent by hitting a rock.
Something that I didn't expect to like is the handle. The EVA foam handles manage to offer perfect grip even when my hands are wet. And if you are wondering – you can easily go from right to left-hand use.
Sharky III

has one feature that many anglers will love. It's the rubber inlet on the spool that is perfect for braided line use. This little attention to detail from the KastKing means there is no need for creating a backing and will stop the braided line from slipping.
Final Thoughts
This tackle combo

is going to offer a great balance between performance, feel, and most importantly, price.
Both the spinning reel and the fishing rod are going to offer a lot of versatility. They have the features that can make them useful at any fishing trip. Even if you bring your family and friends with you, this combo is very beginner-friendly as well as perfect even for kids if you really want to introduce your little ones to the world of fishing.
This light tackle combo

is excellent for surf fishing, and KastKing has managed to match one premium quality fishing reel with an excellent rod.
You can find more information and the current price of this tackle combo

on Amazon.